Every Monday, theScore's Daniel Rouse breaks down the week that was in English football. Welcome to the "Eye on England."
The Premier League introduced Video Assistant Referees without consulting fans. The overwhelming backlash, then, should come as no surprise.
Supporters feeling underappreciated is nothing new, but to exclude them from the decision was inexcusable. The technology would radically change the sport and everyone was simply expected to accept it.
"Sometimes VAR gives, sometimes it takes away," David Stowell, who commentated on Saturday's meeting between Manchester City and Crystal Palace, said when VAR overruled a penalty issued by referee Graham Scott. "Your opinion of it depends on which side of the fence you're standing at the time that the decision is made."
That's simply not true. Supporters are more than blind devotees to their own cause. First and foremost, they are football fans. If they were so tribal, why would the home and away ends at Premier League grounds be united in their disgust at this technological invasion?
"F--- VAR" and "It's not football anymore" are slogans chanted by supporters on both sides of game-changing VAR decisions. Even fans who profited from incidents such as the scything of Nicolas Pepe in the 18-yard box, to lend an example from Saturday's scuffle between Arsenal and Sheffield United, have become disillusioned. Nobody likes it. Nobody's happy.
Match-going fans, in particular, condemn video review because they feel ignored. The in-stadium communication regarding decisions is pitiful and, most importantly, the visceral release sparked by goals has been sullied by the unshakeable concern that someone is monitoring millimeters in the review booth. It's draining the life out of the sport.
That moment when a goal is scored, when nothing else in the world matters and your day-to-day concerns are temporarily forgotten, can be perfect. Whether you're growing disenchanted with your job, worried about the current political climate, or troubled by anything else happening outside the stadium, football is supposed to serve as a release. That's the sport's purest form. VAR is robbing fans of that.
And it's not just those in the stands who are angered by frozen images and slow-motion replays hacking away at football's capriciousness and chaos. There is still no indication that anyone - not the Premier League, nor its overbearing broadcasters - will ask any set of fans if they actually want VAR. The season-ticket holders, paid-up members of supporters clubs, and folks who fork out huge television subscription fees to watch the Premier League haven't been asked if they want their hobby to value rigidness over actual entertainment.
The opinions of fans don't seem to matter anymore.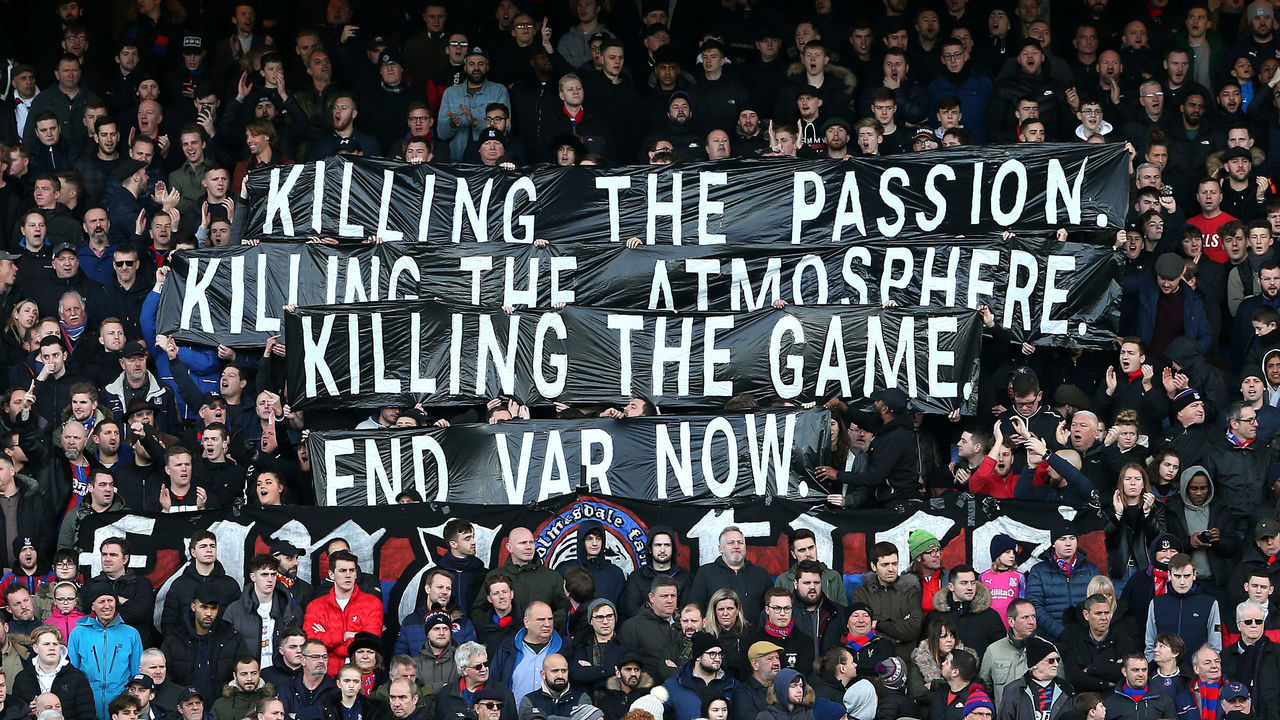 And sometimes it's easy to forget the players are - or at least were - also fans.
"VAR is affecting the game, you can hear the fans singing about it," Wolverhampton Wanderers captain Conor Coady complained after his side's narrow loss to Liverpool in December.
"It is so disappointing that we are stood here talking about VAR rather than the game and the way Wolves played."
Declan Rice also spoke out following West Ham United's slender defeat to Southampton earlier this month: "I think they are the thoughts of every Premier League player, not just me - pretty much everyone doesn't want VAR in the game."
Supporters have been treated as a submissive entity, nothing more than a tiny figure that contributes to the all-important statistic of the Premier League's net profits. The lack of fan respect isn't unique to English football; domestic associations' greed has no limits while the "super cups" of European leagues are staged in countries with abhorrent human rights records, to highlight just one example. But it's not too late for the Premier League. The VAR backlash proffers an opportunity to buck the sport's growing trend.
"Whether you love it or hate it, it's here to stay," Stowell added in his commentary at the Etihad Stadium. It doesn't have to be, though.
So far, the Premier League's adoption of VAR has been shamelessly undemocratic, but the big wigs can still put the question to the top flight's disciples and simultaneously make them feel valued: Do you want VAR?
Judging from the response in the stands, it would be a landslide result.
Further thoughts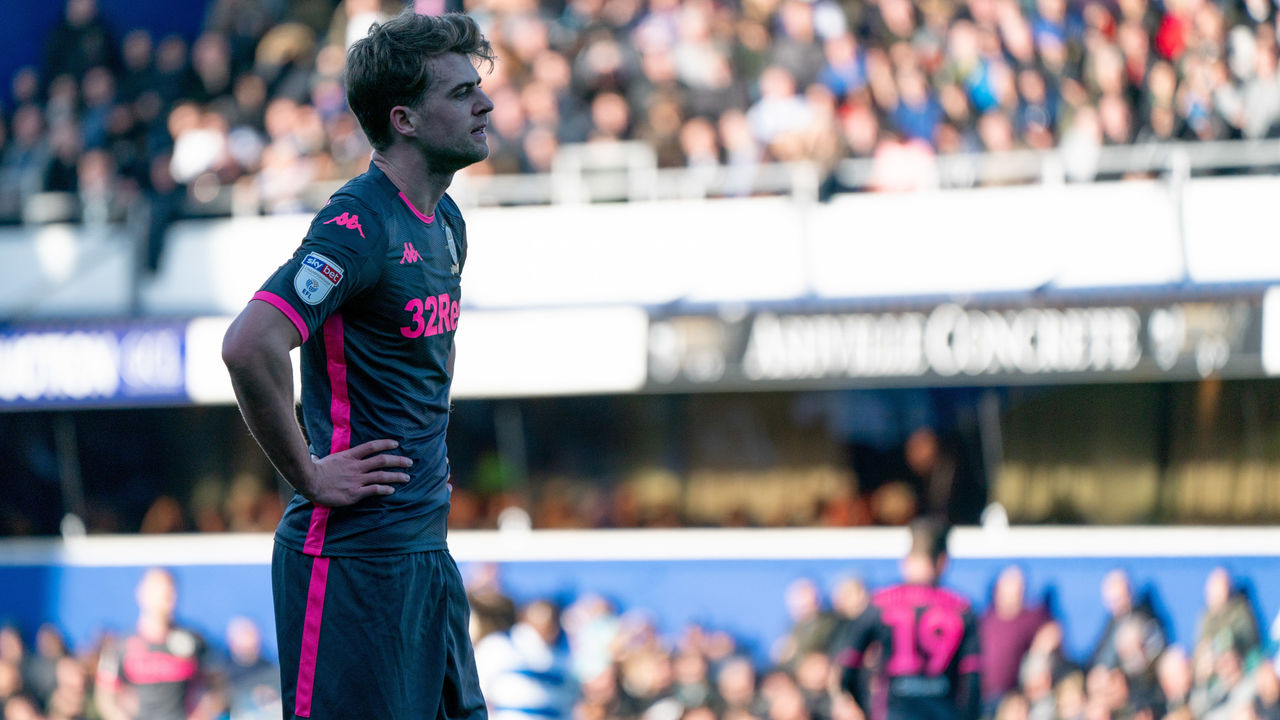 Pat missing a trick
Marcelo Bielsa is Patrick Bamford's biggest fan. Kemar Roofe and Caleb Ekuban were dispensed with in the summer, but Bamford stuck around. Eddie Nketiah barely troubled Leeds United's starting XI while Bamford was fit, and prematurely ended his loan spell to return to Arsenal earlier this month.
And a lot of the time, Bamford is a source of frustration. Yes, his work ethic is commendable and he's scored goals in the Championship for Middlesbrough, but he squanders a lot of chances.
The popular narrative for Bielsa's teams is that his demanding training sessions result in fatigue over the second half of seasons, and therefore a startling dip in form. But this time around, Leeds may be condemned to a 17th campaign outside the first division by the eccentric Argentine's over-reliance on Bamford. He's Leeds' only out-and-out striker, and that's not good enough.
Bamford's penalty miss in Saturday's 1-0 loss at Queens Park Rangers allowed Fulham, Brentford, Nottingham Forest, Swansea City, Millwall, Bristol City, and Preston North End to all close in on Leeds in the promotion squabble.
Tosun turn
Cenk Tosun, making his full debut after moving on loan to Crystal Palace this month, took his first big step in flipping fans' opinions by scoring in Saturday's 2-2 draw at Manchester City.
The Turkish target man unnecessarily made enemies in Croydon when, months after he almost joined the Eagles in the summer of 2017, he expressed relief that "the move failed." He left Besiktas for Everton in the next transfer window.
Now, following two unimpressive years on Merseyside, Tosun is relying on Roy Hodgson to revive his career before he embarks on Turkey's Euro 2020 campaign. It will be the country's second major tournament in 12 years, and Tosun was substituted at halftime in his only start at Euro 2016.
The striker is hungry for international pride and, for the first time since Christian Benteke forgot how to play football around two winters ago, offers a genuine focal point in Crystal Palace's attack. His loan from Everton could be extremely beneficial for both parties.