Premier League is back: Analyzing busy Boxing Day slate of action
Just like that, the Premier League is back. theScore examines the most important developments and biggest talking points from a jam-packed slate of action in England's top flight on Boxing Day.
Nothing changes for Spurs
Far too often, the absence of one or two players makes the rest of Antonio Conte's side crumble. Rodrigo Bentancur being unavailable left Tottenham Hotspur short of midfield industry during Monday's 2-2 draw with Brentford, and they'll lack bite in both defense and attack while Cristian Romero and Richarlison are out of commission.
The squad's brittleness could be one of the key reasons for Tottenham's poor starts to matches. Spurs conceded the opening goal in each of their last six Premier League outings - their longest run since the latter days of Tim Sherwood's reign in 2014 - and that bad habit stretches back nine matches when you consider games in other competitions.
How Spurs fared after falling behind in last nine matches
| Competition | Match | Result |
| --- | --- | --- |
| Premier League | Manchester United (away) | Lost 2-0 |
| Premier League | Newcastle United (home) | Lost 2-1 |
| Champions League | Sporting CP (home) | Drew 1-1 |
| Premier League | Bournemouth (away) | Won 3-2 |
| Champions League | Marseille (away) | Won 2-1 |
| Premier League | Liverpool (home) | Lost 2-1 |
| League Cup | Nottingham Forest (away) | Lost 2-0 |
| Premier League | Leeds United (home) | Won 4-3 |
| Premier League | Brentford (away) | Drew 2-2 |
The fact that Tottenham lost only four of those nine games indicates the individual character and quality in the squad, and perhaps also the impact of a Conte team talk. They've gained more Premier League points from losing positions (14) than any other team this season.
Spurs were 2-0 down at Brentford, but an excellent Harry Kane header suddenly gave them purpose. Dejan Kulusevski's enterprising wide play - something Spurs sorely missed in October - and Pierre-Emile Hojbjerg's finish then put them in the ascendancy. After their sluggish start to the fixture, Tottenham created enough chances to take three points.
"To have another comeback is positive, but on the other hand, we need to be more stable," Conte said post-match.
This is a huge source of frustration. Tottenham are often reactive and seldom proactive. They must address the issues behind their poor starts - low confidence, a lack of motivation, and preparation that is either inadequate or damaged by player absences could all be blamed - if they are to fulfill their huge potential this campaign.
However, the fact that Spurs are falling into the same traps following a gap of over six weeks without a competitive fixture doesn't bode well for the rest of the season.
Newcastle didn't skip a beat
The unprecedented World Cup hiatus came at an inopportune time for Newcastle United, who were soaring up the table on the back of five consecutive Premier League wins. How teams would respond upon the resumption of the domestic campaign, particularly those that had built up significant momentum - like Newcastle - was a fascinating wrinkle created by the unique timing of the tournament in Qatar. Would clubs in good form have their progress halted?
Newcastle answered that question in emphatic fashion Monday.
The Magpies blitzed Leicester City, scoring twice in the opening seven minutes en route to a commanding 3-0 win that provisionally lifted Eddie Howe's side to second place in the table. Newcastle, led by Bruno Guimaraes and Miguel Almiron, looked sharp from the opening whistle, cutting through Leicester with relative ease. No rust needed shaking off here.
Almiron, who scored a picturesque goal at the King Power Stadium, typifies Newcastle's meteoric rise. Once frustrating and profligate, the Paraguayan has taken his game to another level this season.
Since their lone league loss of the season in late August, Newcastle are undefeated in 11 matches, a run that includes eight wins.
Progress was expected under Howe and the club's wealthy new ownership group. But nobody quite expected this type of immediacy. A title challenge is no longer a preposterous suggestion. Newcastle, who haven't yet showed off the full force of their newfound spending power, are already a threat to the perennial contenders. That's a frightening prospect.
Their meeting with Arsenal on Jan. 3 could very well be a top-of-the-table clash. Who could've possibly predicted that?
Nketiah stakes his claim
How would Arsenal cope without Gabriel Jesus? In the wake of the Brazilian forward's knee injury at the World Cup, the Gunners' ability to maintain their unexpected title push without a vital contributor dominated the discourse around the club as the Premier League return neared.
Eddie Nketiah did his best to assuage those fears on Monday.
The 23-year-old delivered a standout performance in his first league start of the season, scoring an exquisite goal in Arsenal's 3-1 comeback win over West Ham United that showcased both his talents inside the penalty area and how he's different from Jesus.
Jesus, with his boundless energy, is more active in the pressing and buildup game for Arsenal, connecting with his teammates and taking up various positions on the field that create fluidity within Mikel Arteta's attack. Nketiah, on the other hand, is a more well-defined striker. What he lacks in the all-around game compared to Jesus, he makes up with more clinical finishing.
"I'm not here to replace (Jesus), I want to be my own player," Nketiah said after the match.
Nketiah will find the net if he gets the opportunities, just as he did during a red-hot run near the end of last season. The way he rolled his defender before picking out the bottom corner with pinpoint accuracy against the Hammers was textbook. Nketiah could thrive with consistent minutes on a side that has several creative players crafting openings for him. He'll get those chances in Jesus' absence, even if Arsenal are active in the January transfer market.
"We have more faith in Eddie every single day," Arteta said ahead of the league's resumption. "We see every day what he brings to the team, what he is as a human being, and the way he is developing as a player ... He is ready."
It sure looks that way. And it bodes very well for Arsenal.
Quick free-kicks
Nunez is pure chaos
Nobody knows what Darwin Nunez is going to do at any given moment. Not even Darwin Nunez. The Liverpool forward is an irrepressible ball of chaotic energy, constantly whizzing around the field like a Tasmanian devil hopped up on caffeine. As a neutral observer, his frenetic and unpredictable style is intoxicating. Physically dominant and blisteringly quick, the Uruguayan uses his athletic ability to consistently take up excellent attacking positions. From there, though, all bets are off. Anything from an inexplicably bad touch or decision to a breathtaking goal is on the table when Nunez receives the ball in a dangerous area. That's a rarity in football - he's something of a unicorn with few, if any, comparable peers. Nunez squandered four glorious chances in Monday's 3-1 win over Aston Villa, but his eagerness never waned. He simply kept buzzing around the pitch, running into the channels, putting defenders under pressure and making himself available for his teammates to find. He had more shot attempts (six), shots on target (four), and accumulated more expected goals (1.15) than any other player in the contest. He was eventually rewarded for his unyielding industry, playing a key role in teenager Stefan Bajcetic's late goal that clinched the victory. Nunez truly is a treasure.
Wolves need Podence to be consistent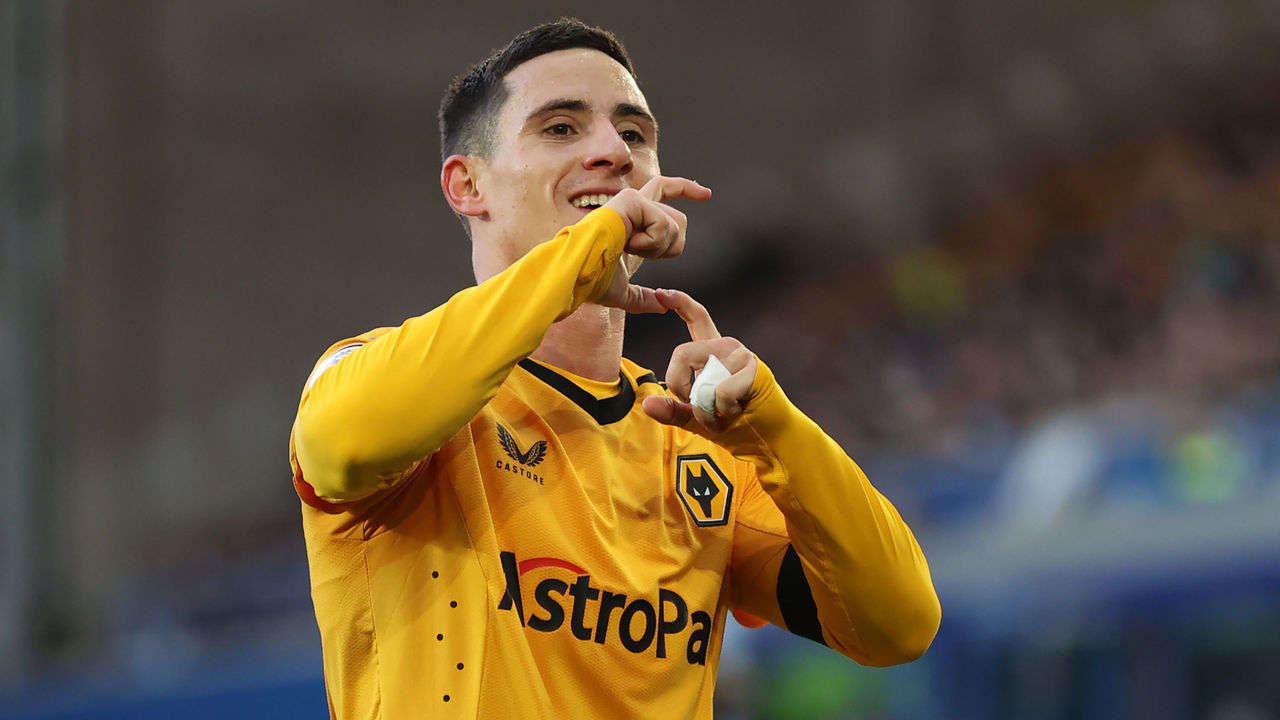 Like many players at Wolverhampton Wanderers, Daniel Podence has struggled for form since last winter. So it was encouraging to see the Portuguese playmaker - in tandem with promising full-back Hugo Bueno - flourishing down the left in Julen Lopetegui's first league game at the helm. In addition to his controlled finish for his team's equalizer in the dramatic 2-1 win at Everton, Podence was Wolves' most involved attacker, constantly taking risks to ensure Nathan Patterson had a rough outing. Getting more out of Podence - and, indeed, other attackers like Adama Traore, Raul Jimenez, and the sidelined Pedro Neto - must've been near the top of Lopetegui's priorities when he arrived. Fans should take confidence from Podence's display on Merseyside after the 27-year-old was among a group of players who disappointed in the midweek League Cup win over fourth-tier Gillingham.
Should Saints backtrack on youth movement?
Nathan Jones' temptation to bring in more experience may have heightened during Southampton's 3-1 home defeat to Brighton & Hove Albion. Adam Lallana's headed opener somehow squeezed through the hands of 20-year-old goalkeeper Gavin Bazunu, adding to calls for Alex McCarthy, Jones' former Yeovil Town teammate, to be recalled to the starting lineup. Other players like teenager Sam Edozie are undeniably talented, but asking the league's second-youngest squad to deal with the pressure of hauling the bottom-placed team to safety is a lot. The Saints look in dire need of recruitment in January, but they've only signed two players on loan over the past three winter transfer windows, so it may be wishful thinking to believe a goal-scoring striker and creative midfielder will be added. For the second time in his managerial career, Jones may live to regret leaving Luton Town for a bigger job.
Fulham unexpectedly firing
The 3-0 win at Selhurst Park comes with the major caveat of Crystal Palace having two players sent off, but Fulham's rise is still no less impressive. It's largely built on a previously unheralded attack that has scored seven more goals than Manchester United. Aleksandar Mitrovic's Premier League record prior to this campaign was 24 goals across 104 appearances, but he's raced to 10 goals in 13 outings this season while Marco Silva has fielded committed runners behind him. Andreas Pereira is thriving with regular football after his early-career routine of impressing during Manchester United's preseason tours and doing little else thereafter. Bobby Decordova-Reid is a menace off the ball. And Willian, the former Chelsea winger who's now 34, has been a surprise hit after joining on a free transfer following a sour end to his second spell with Sao Paulo club Corinthians.
Stat of the day
Andy Robertson stands alone in the Premier League era.
Tweet of the day
Tough break for Gary Lineker.