There are few more iconic Premier League sights than Rory Delap mopping a wet ball before whipping it toward a menacing, towering troupe of Stoke City players.
The midfielder's throw-ins were a vital component of Tony Pulis' direct style and the undoing of many elite English clubs.
Delap caught up with theScore during a brief break from his duties in Stoke's coaching team. He discussed Pulis' structured training sessions, the tricks that opposing squads would deploy to upset his routine, and exactly why Liverpool hired a throw-in specialist.
Was there a point in your playing career where you made a conscious effort to observe managers and pick up tips for when you moved into coaching?
Rory Delap: I wouldn't say there was a precise point. I always made a mental note of what worked and what I enjoyed.
But I would say from about 30, when I broke my leg, I probably did start making more note of what managers were doing and asking managers and coaches if certain sessions were about the opposition or us.
Can you remember one particular coaching session that you really enjoyed?
RD: There's a number. If you ask any player what sessions they liked, they'll always come up with five-a-sides and crossing-and-finishing sessions. But I preferred some of the shape and tactical sessions that you see come into fruition during a game where you need to get a result.
Was there a particular manager whose training focuses came into fruition during matches?
RD: A lot of them. Nearly all of the managers I've worked with have had long, successful careers.
I wouldn't say certain ones stick out more than others, but Tony Pulis and Gordon Strachan were very structured. You might be stood a yard one way or the other, and they would say, 'No, we don't want you there, we want you a yard to your right.' You might not notice it much during a game but it does make a massive difference: you fill a space so a team can't pass through or someone on your team might be able to find you with a pass. You see the difference a yard can make.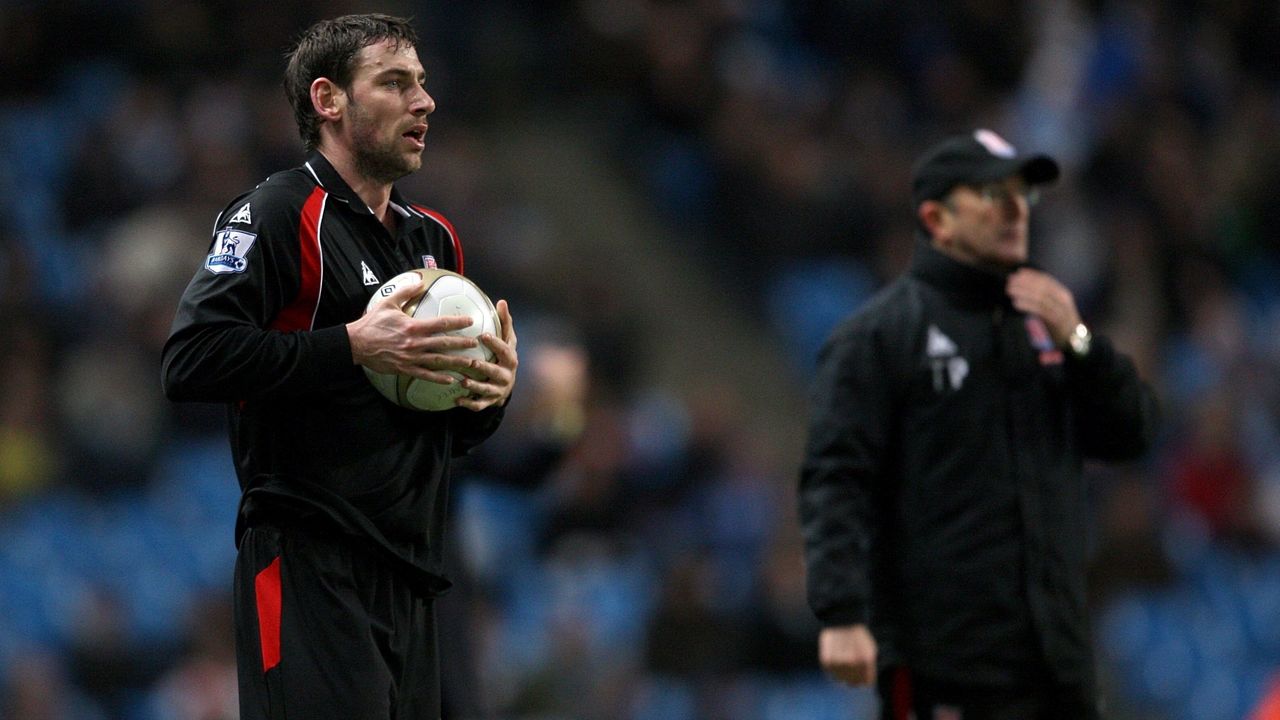 Do you want to be a manager?
RD: I'd love to have a go at it one day, but I don't want to go in too early and make a mess of it.
I'm really enjoying the work at the minute. Unfortunately, it's been a tough time results-wise at Stoke and I'm on my third manager in 18 months. That shows you how vital it is that, when you do take that step up, it's the right time and you're in the right place to make a good go of it.
Do you miss playing?
RD: No, I'm too old. I got to the point where my body couldn't handle it and was fine in my head that my time was done.
There are times you miss the atmosphere. The feeling when you win is brilliant as a coach, but it's very different when you're a player and you've been out there putting 90-100 minutes of hard work into the game.
Are you proud of your reputation as a throw-in specialist?
RD: People only really talk about the throw-ins and that, but it doesn't really bother me. I had a decent career. I would've liked to have won a few more things, but I played at the highest level in England for 12-13 years. I was pleased with that.
No one mentioned the throw-ins until I went to Stoke, really. It's more to do with the players that put their head on the end of it than me throwing it in. If we hadn't been scoring goals off it, no one would've spoken about it.
But no, it doesn't bother me, to be honest.
But, to be a midfielder playing in the Premier League, you need decent feet. Don't you think being defined by your throw-ins - an aspect of football that isn't about your feet - devalues you as a footballer?
RD: Yeah, people probably think that's all I was about. But the people close to me are all I'm bothered about, and they knew what I was like. I played just under 400 games in the Premier League, and I'm sure I wouldn't have amassed that amount of appearances if all I could do was throw a ball.
Were you a javelin thrower in your younger years?
RD: Yeah, as a kid. I was heavily involved in athletics, more to keep my fitness up for football, and that's when I realized I could throw things and was pretty handy with a javelin.
I had to make a decision at about 15, 16 whether to take javelin or football seriously. There was only one winner.
How aware was Pulis of your throwing ability when you joined Stoke?
RD: He knew about it. I used it to varying degrees throughout my career. I used it with my first club, Carlisle, and Ireland. I used at Derby but more to get from a defensive position to over the halfway line. At Southampton, if we were losing by a goal in the last five or 10 minutes, sometimes I'd go and take a long throw-in.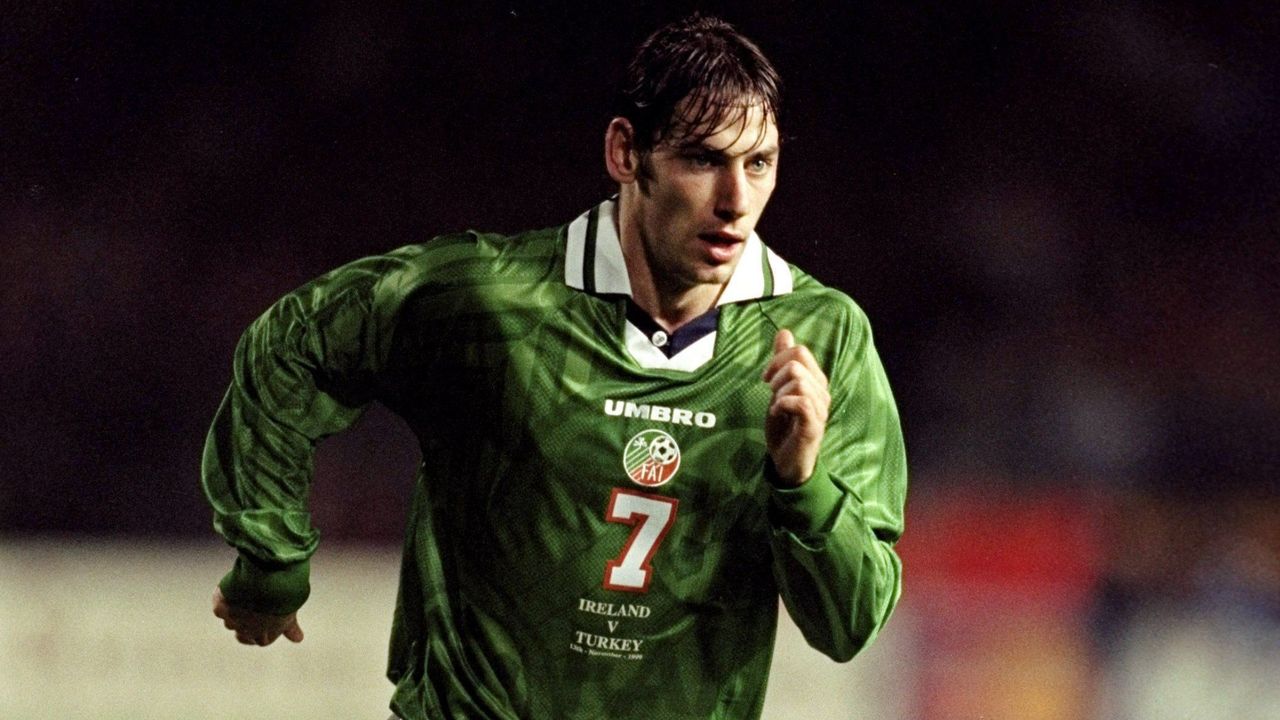 It was just at Stoke we had about eight or nine players that were 6-foot-2 and above and brave to go with it. So they probably made my throw-in more famous than I could ever make it.
Did Pulis know from Day 1 that he was going to get Ricardo Fuller underneath your throw-ins?
RD: Well, he mentioned it. He asked how my back was - I'd had a couple of back injuries - and if I could still throw a ball because it was something they wanted to utilize if I ended up signing.
You used a towel to dry off the ball, but did ball boys sometimes not hand towels to you?
RD: Yeah, on away days. At home it was fine; there was a rule that, if you provided a towel, it had to be for both teams. Eventually, the manager took away the towels at home because opposition teams at Stoke started using the towel to waste time. He said if I wore a vest we wouldn't have to provide towels.
And it looked like you wore a vest that was custom-made for drying the ball.
RD: I hated using Under Armours or anything because I used to get really hot once we started running about, so I wore a Fruit of the Loom T-shirt. The kit lady at Stoke, Winnie, just cut the sleeves off and the back out of it. There was nothing technical or inventive about it, she just cut the back off the T-shirt. It wasn't exactly cutting edge.
Teams that faced Dave Challinor, Tranmere Rovers' former throw-in expert, used to move the sponsor boards forward to shorten his run-up. Did any teams ever pull that trick on you?
RD: West Ham and Burnley did it. A couple of teams tried to bring them in. Instead of having the advertising boards a good distance away, they brought special ones in and put them a meter or so off the pitch. There were ways around it.
Do you think there's now a greater appreciation for throw-ins? Liverpool hired a throw-in coach at the start of the 2018-19 season.
RD: It's a funny one, really. It's not about making throw-ins longer, it's a set-play routine in the same way people work on free-kicks and corners. When you've got a throw-in you're actually a man down on the pitch, so why wouldn't you get an expert to work out little movements and things to be able to get the ball?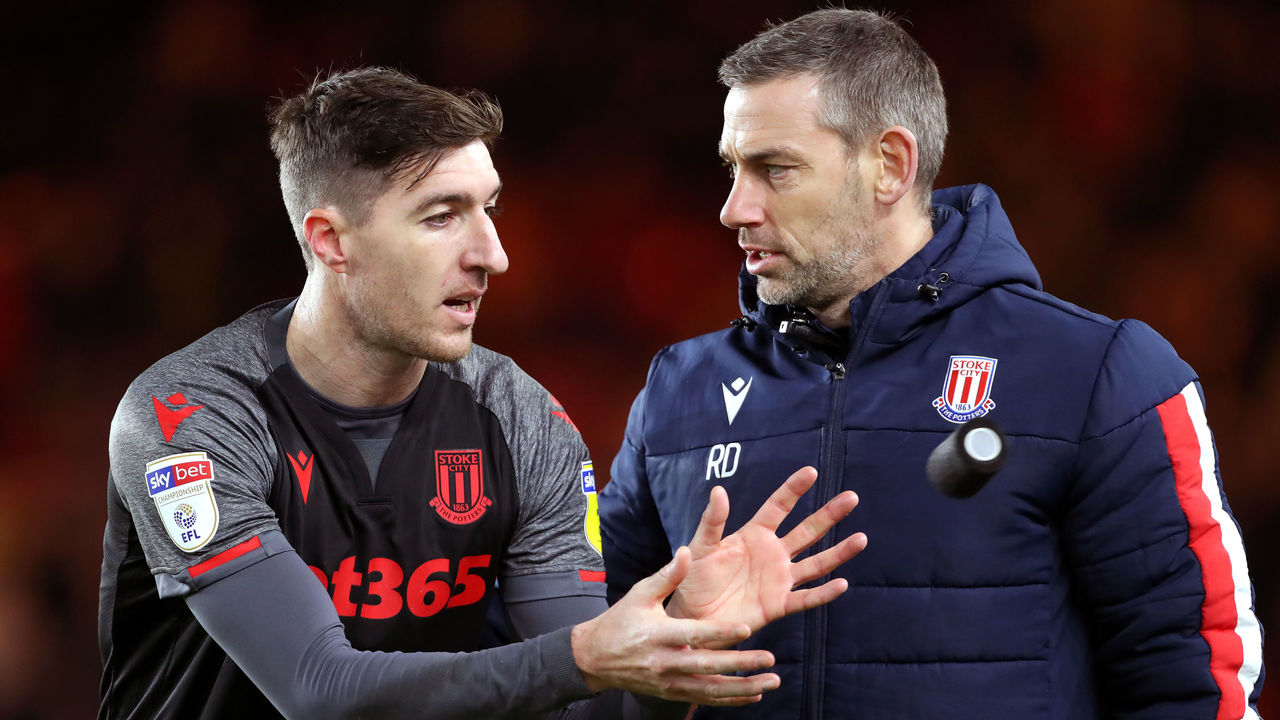 At Stoke, we work on throw-ins all over the pitch. In general, teams aren't very good at retaining possession from a throw-in.
You can see the work Liverpool have done. You can see the movements and the little routines they have to retain the ball from a throw-in.
In baseball, knuckleball pitchers sometimes mentor young players on their art. Do you teach budding footballers the art of flinging it?
RD: No. People ask how I did it and I don't know. I was always able to throw things far from a young age.
I had people measuring my arms and looking at the muscles in my back, but they couldn't work it out. You can teach people, you can work physically in the gym to strengthen, run faster, jump higher, throw further - but that's far more technically advanced than where I am. I just got the ball and threw it and knew very little about the science of how I did it.
Do you ever get a bit irritated with Stoke players during throw-in practice and just grab the ball and hurl it further than everybody else?
RD: Haha. My back's gone. I can't throw it anymore.
When you move into management, will throw-ins be a valuable piece of your attacking weaponry?
RD: I think it's an important part of the game. On average, you get between 20-25 throw-ins a game. I'm not going to be out there for hours teaching them how to throw it long, but you've got to give them a bit of information and work through routines of how to retain possession.
If somebody's got a long throw-in, it would be daft not to utilize that if you've got strength and height in your team, but I'm not going to base my managerial career on trying to find someone who can throw a ball.
This interview has been edited and condensed.