Miguel Cabrera is nearing 3,000 hits during Latino baseball's golden era
Dylan Buell / Getty Images
Throughout December, we're writing stories about records, spotlighting a fresh or overlooked angle behind sports' biggest milestone chases. Read Part 1 about Steph Curry and Part 2 about Alex Ovechkin.
Unless the MLB lockout delays the start of next season, expect to celebrate Miguel Cabrera in April.
Cabrera is 13 hits away from stroking his 3,000th. He'll be the 33rd batter to reach the fabled career mark and the seventh to do so with 500 home runs.
The accomplishment is towering. It also affirms that great hitters hail from Latin America.
When Cabrera gets to 3,000 hits, the number of Latino players in the club will have doubled in five years. The club's most recent entrants, Adrian Beltre and Albert Pujols, are Dominican legends. Cabrera is set to make Venezuelan history.
Growing up in Venezuela, Cabrera's uncle made him run laps when he pulled the ball at the plate, he once told Sports Illustrated's Tom Verducci. Singularly powerful for an all-fields hitter, he batted cleanup as a 20-year-old rookie in the 2003 World Series for the champion Florida Marlins.
Between the Marlins and Tigers, Cabrera racked up 180-plus hits for 10 straight seasons from 2005-14. In Detroit, he became the first Triple Crown winner since 1967. He was American League MVP in 2012 and 2013.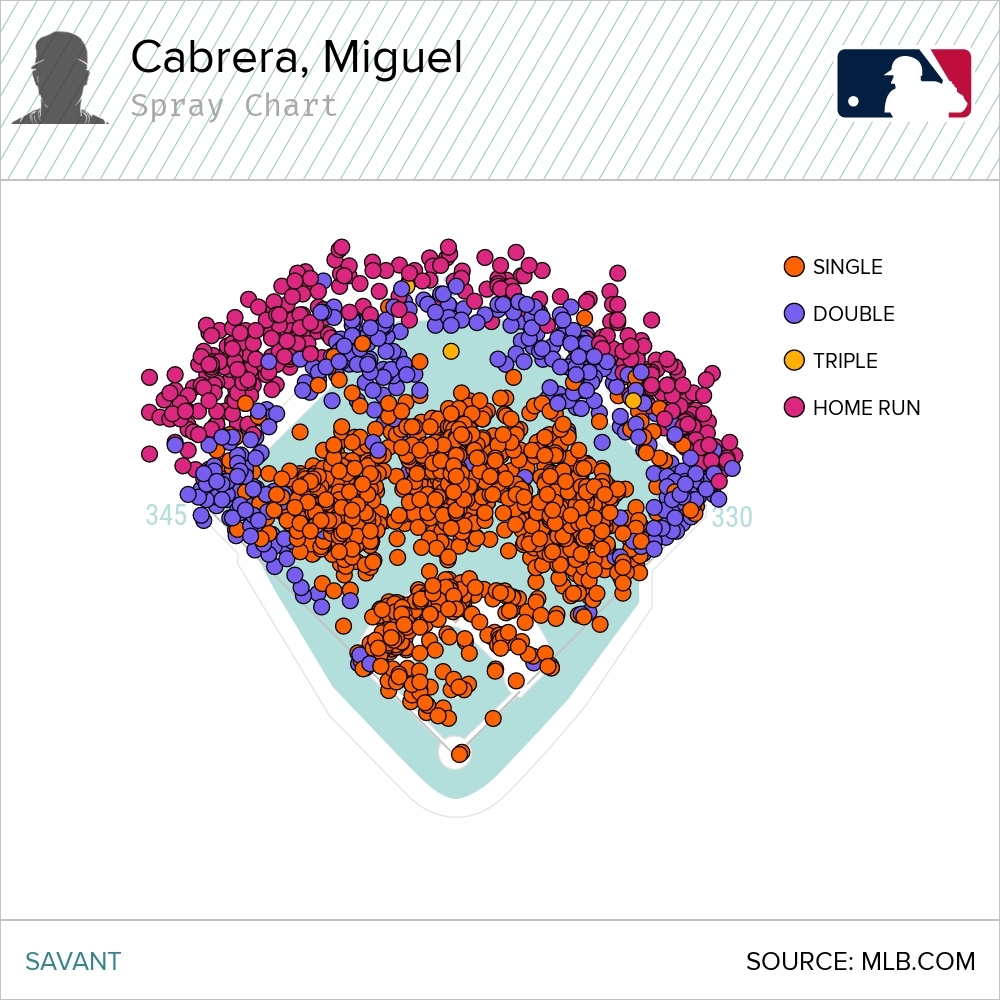 Contact, brawn, and longevity came together to produce Cabrera's 500th homer. On Aug. 22, facing the Toronto Blue Jays on the road, Cabrera pounded Steven Matz's sixth-inning changeup 400 feet to right-center field. The ball landed in Detroit's bullpen, and the Toronto crowd stood to applaud him.
He'll be cheered again at 3,000 hits. Consider this context for Cabrera's feats:
About 20,000 players have appeared in the majors since the National League formed in 1876. That means 0.16% of them have amassed 3,000 hits, 0.14% have hit 500 home runs, and 0.03% have done both.
Of the 28 players with 500 homers, Cabrera and Ted Williams are the only guys who've won at least four batting titles.
Hank Aaron and Willie Mays are the only members of the 3,000-500 club who maintained a career batting average above .300. Cabrera's career average is .310.
"In a half century of baseball," Verducci wrote about Cabrera in August, "he is one of one."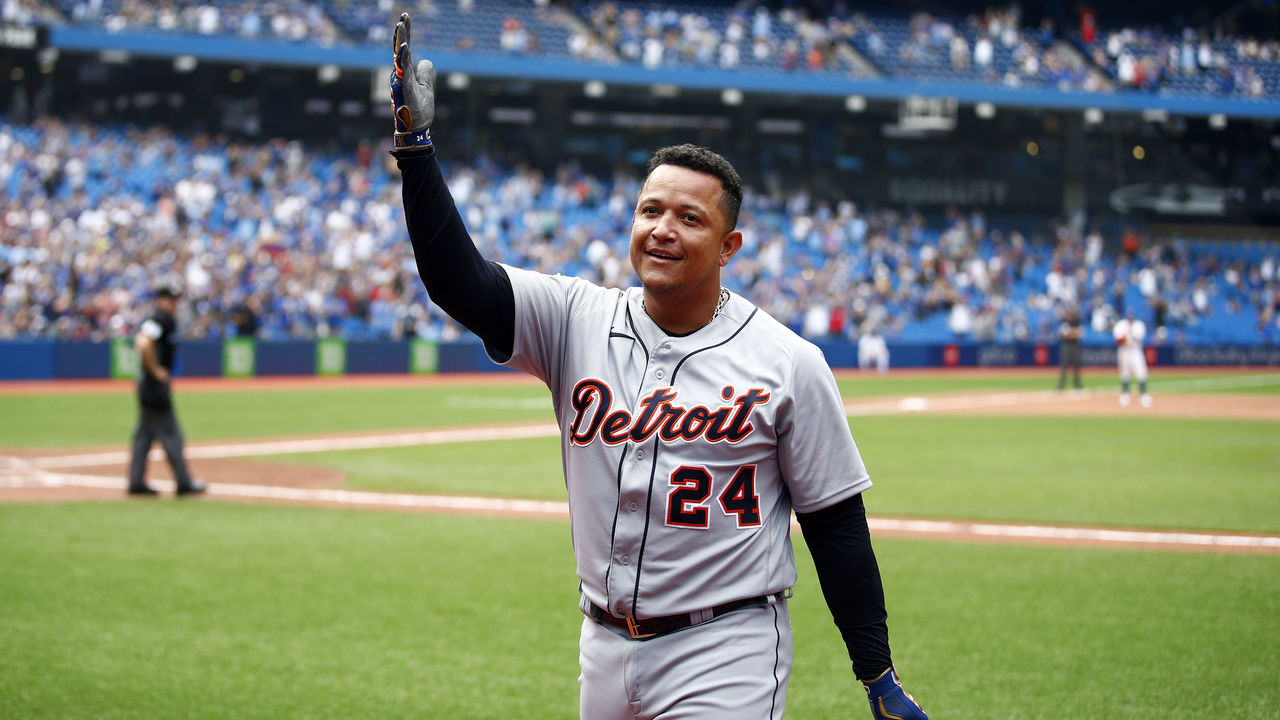 Three of Cabrera's Latino forerunners in the 3,000 club - Roberto Clemente, Rod Carew, and Rafael Palmiero - reached the benchmark in their respective final MLB season. Clemente's 3,000th hit, a double in September 1972, was the last of his life; he perished in a plane crash that New Year's Eve on a humanitarian mission to Nicaragua.
Beltre's 3,166 hits rank 17th all time. Pujols - a free agent who's staying sharp by playing in the Dominican winter league - needs 19 more hits to surge into the top 10.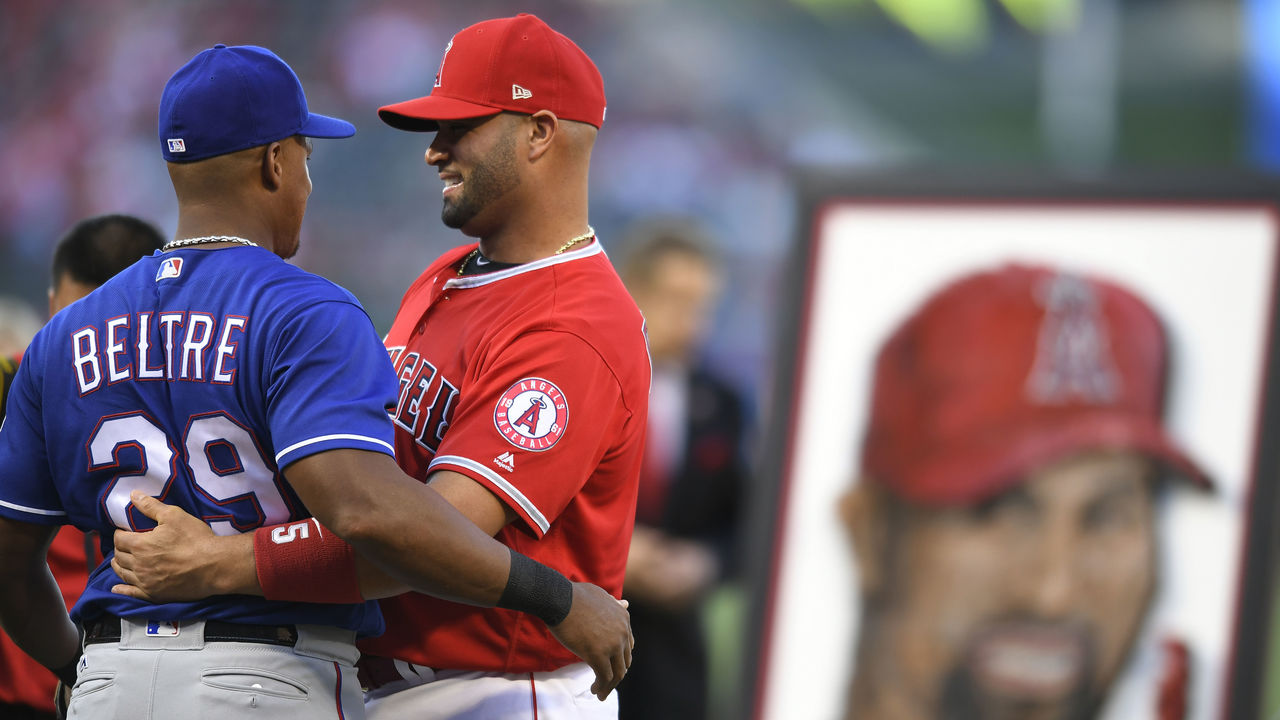 Beyond Cabrera, who's next? Just five active players have 2,000 hits right now, the fewest since the 1950s - in the aftermath of superstar hitters being pressed to serve in World War II. After Cabrera, no player is more than 34% likely to achieve 3,000 hits, Dan Szymborski of FanGraphs projected in September. (Jose Altuve has the best chance, followed by Freddie Freeman at 28%.)
Strikeouts, walks, and home runs are paramount in baseball now, which suits the game's brightest young stars just fine.
Juan Soto, Vladimir Guerrero Jr., Fernando Tatis Jr., and Ronald Acuna Jr. probably won't get to 3,000 hits; Szymborski estimates their chances range from 11% to 20%. But they're all on track for 500 homers, FOX Sports noted in August.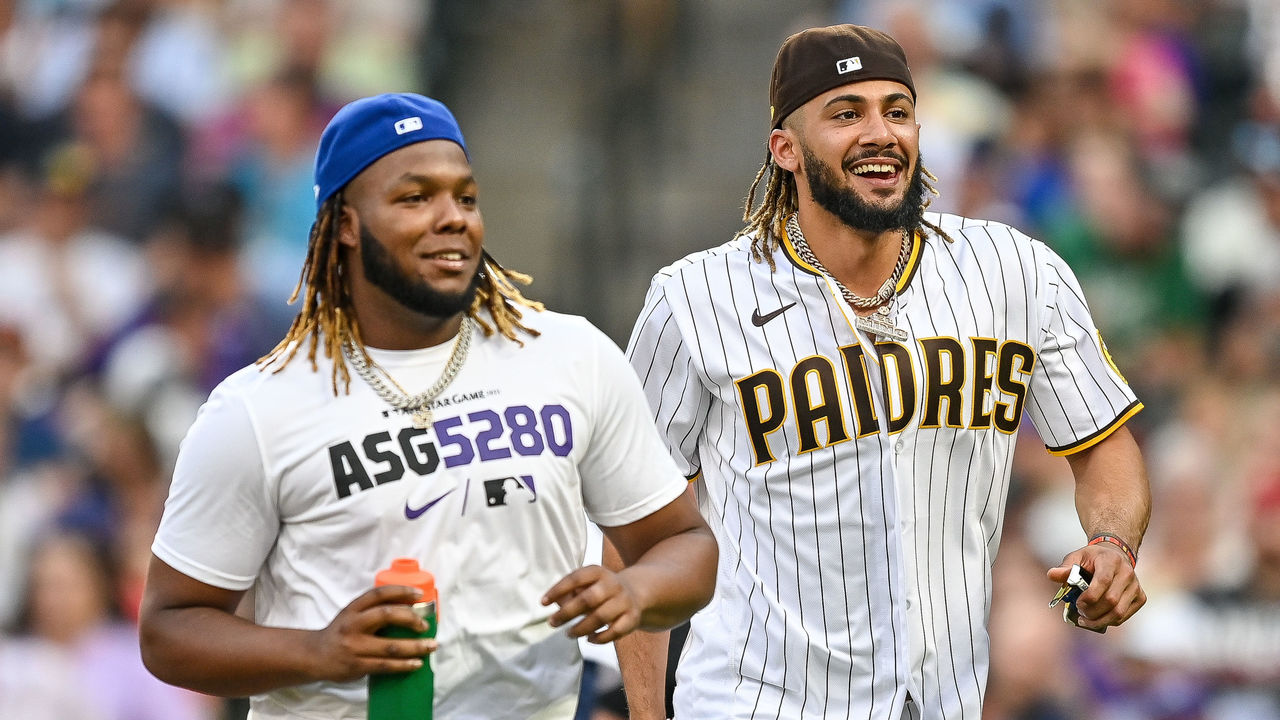 These players mash the ball. Each of them is Dominican or Venezuelan, and each is magnetic in his own way. Soto's plate discipline is peerless, as is Acuna's blend of power and speed, plus Tatis' exuberance and swagger; if Shohei Ohtani didn't hit and pitch so well, Guerrero would have won AL MVP this season.
Soto and Tatis finished second and third behind Bryce Harper in the NL MVP race, respectively. Meanwhile, the top five AL Rookie of the Year vote-getters were Latino players: Randy Arozerena, Luis Garcia, Wander Franco, Adolis Garcia, and Emmanuel Clase.
Here's an experiment: imagine getting to watch, or having to face, this Under-25 Latino All-Star team.
That leaves Franco, the Tampa Bay Rays' 20-year-old Dominican shortstop, to DH.
In 1985, well before these wunderkinds were born, 11.3% of MLBers were Latino, per SABR. By 2005, it was 27.8% and has held steady since.
Latino players have changed baseball's complexion, and the best are streaming into Cooperstown. Of the 14 Latino MLBers who are members of the Hall of Fame, five got the call between 2015 and 2019. Two Cuban stars, Minnie Miñoso and Tony Oliva, were omitted for decades before the Golden Days Era Committee elected them this month.
David Ortiz is newly eligible for induction in 2022. Beltre and Carlos Beltran will debut on the ballot in the next few years, as will Pujols and Cabrera once they retire. As Latino baseball historian Adrian Burgos Jr. has noted, induction weekend is likely to retain its "Latino flavor" heading forward.
"For certain, the living members of the Hall of Fame will be more Latino than ever before," Burgos Jr. wrote at La Vida Baseball in 2019, the year Mariano Rivera and Edgar Martinez were enshrined.
"This will influence the perception of what a Hall of Famer looks and sounds like for the current generation of fans."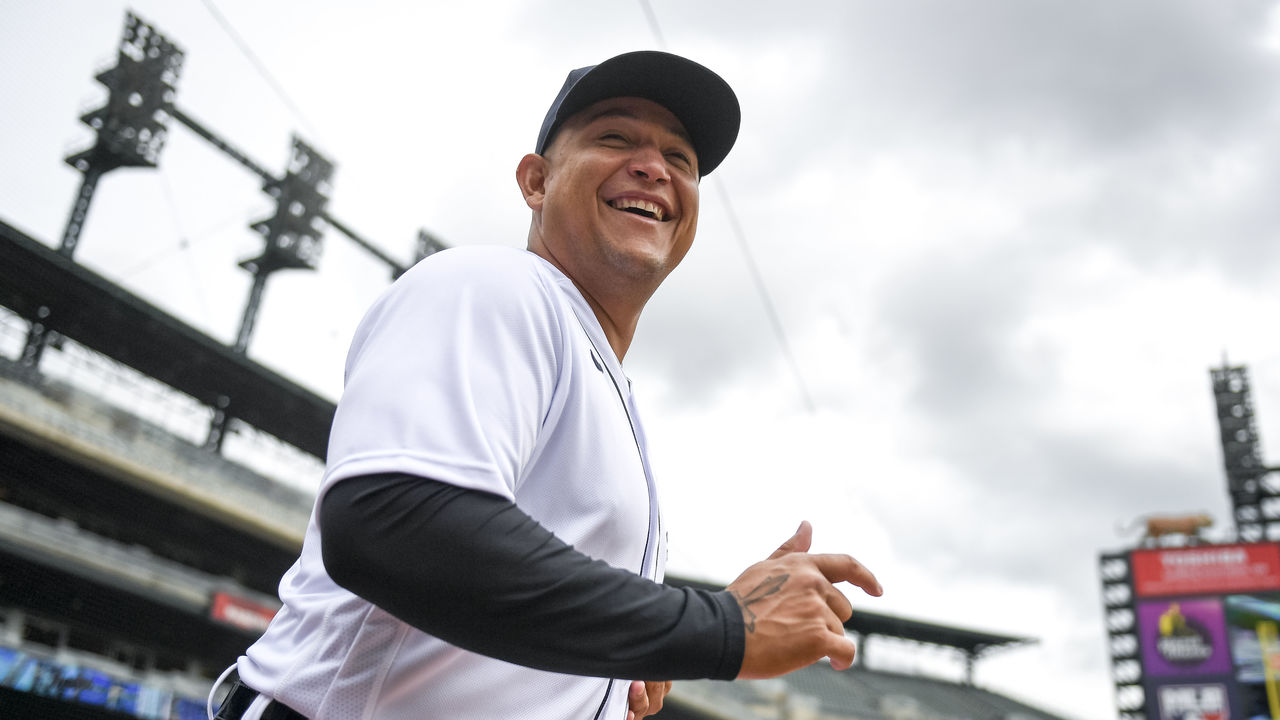 Cabrera has constructed his resume in Detroit for 14 years and counting. He hasn't resembled an elite batter since 2018 when injuries limited him to 38 games. The pandemic shortening the 2020 season stopped him from reaching 3,000 hits sooner. But he continues to DH with spot appearances at first base, and he plans to play through 2023 when his contract expires.
Until then, he'll mentor Detroit's foundational talent. The Tigers went 77-85 last season, the rebuilding club's best record by far since 2016.
Hoping to contend soon, the Tigers on Dec. 1 signed Javier Baez to a six-year deal worth $140 million. When Baez spoke to reporters right before the lockout began, the Puerto Rican shortstop said the chance to play with Cabrera was alluring.
As he put it that day, "Everyone wants to learn something from Miggy."
Nick Faris is a features writer at theScore.
Comments
✕
Miguel Cabrera is nearing 3,000 hits during Latino baseball's golden era
  Got something to say? Leave a comment below!