Bellator champ Sergio Pettis motivated by underdog role: 'Overlooked my whole life'
Lucas Noonan / Bellator MMA
Sergio Pettis grew up right before the eyes of MMA fans.
He turned pro a few weeks after his 18th birthday and had already made three UFC appearances before he was the legal drinking age in the United States.
During his early fighting days, Pettis was simply known as the younger brother of Anthony Pettis, a former UFC lightweight champion who was one of the faces of MMA at his peak.
Now 28 years old and in his physical prime, the younger Pettis has more than made a name for himself. He emerged as a top UFC flyweight contender before moving to Bellator in 2019 and winning the promotion's bantamweight title against Juan Archuleta earlier in 2021.
Pettis is set for one of his biggest tests to date: his first title defense against former UFC contender and Bellator champ Kyoji Horiguchi, which headlines Bellator 272 on Friday in Uncasville, Connecticut.
theScore spoke with Pettis about his win over Archuleta, what it's like to be a champion, the Horiguchi fight, and more.
Editor's note: Interview edited for length and clarity.
theScore: How does it feel going into your first fight as a champion of a major organization?
Pettis: I feel like it's the lead-up to any other fight, honestly. Nothing's really changed. I just have to stay focused. I know there's a belt on the line, but that doesn't really affect my head, honestly. I know this Friday is the only thing that matters.
theScore: How has your life changed since you won the Bellator title?
Pettis: I feel like I train more now. I train every single day. Nothing's really changed. I'm still with my fiancee, got two dogs. Life is exactly the same. Maybe a little bit more money in my bank account. Other than that, life has been exactly the same.
theScore: As someone whose brother was a UFC champion, did you have any expectations for what being a champ would be like? If so, how do they compare to what it's really like?
Pettis: I didn't really have any expectations. I saw Anthony's lifestyle and how he was before and after the belt, and it's exactly the same. He's been "Showtime" his whole life.
I got the belt, and I feel like my love and my potential has raised a lot - my love for the sport and seeing how much I can progress with hard work. It only makes me want to work harder, to be honest.
I'm all-in now. Before, I had plan B thoughts. Now, this is no more plan B. This is it for me. This is all I want.
theScore: Did seeing Anthony win the title, be champion, and lose it prepare you for your own championship moment?
Pettis: Yeah. He had little guidelines for me - what to follow, what to watch out for. At the end of the day, we're two different individuals. Anthony's got his own lifestyle and his own perspective compared to me. I feel like I'm kind of just learning my journey.
theScore: Do you consider your title win against Archuleta your most complete performance to date?
Pettis: I definitely do. I went out there and did everything I trained to do. I stopped the takedowns, I hit him with some good counterstrikes. I went back and watched the fight recently, and I think there's still a lot more that I have to show and a lot more that I can do. I think it was more of a, 'Wow, I have potential,' and I beat someone who was 25-2 at the time and hadn't really lost inside the Bellator cage besides against Patricio Freire and walked through a lot of other people he fought.
I think it just showed me my potential - to just believe in myself. I think I can let loose more now. I can go out there and show what I'm capable of doing. This Friday, that's what I plan on doing.
theScore: What was missing from the Archuleta win?
Pettis: I feel like I could've shown a little more aggression on things. There were openings that I could have taken advantage of and times where I had counterstrikes that I didn't pull the trigger on. I'm still a little hesitant at times, honestly.
And then with my cardio, at the end of the fourth round, I look over at my corner and I'm just like, 'Man, I am not even tired at all. I could go for another four or five rounds if we really needed to.' So I think with this fight, I want to go out there and push the pace a little bit and just test my body. I'm at a point in my life where I want to see how far I can take this - not just the sport, but just me as an individual, the stuff that my body can endure and the challenges that I can face and overcome.
theScore: When you were new to MMA, you were known as Anthony's younger brother. A lot of people thought the Bellator title win is what finally separated your career from his. Do you think that's true, or did that happen a long time ago?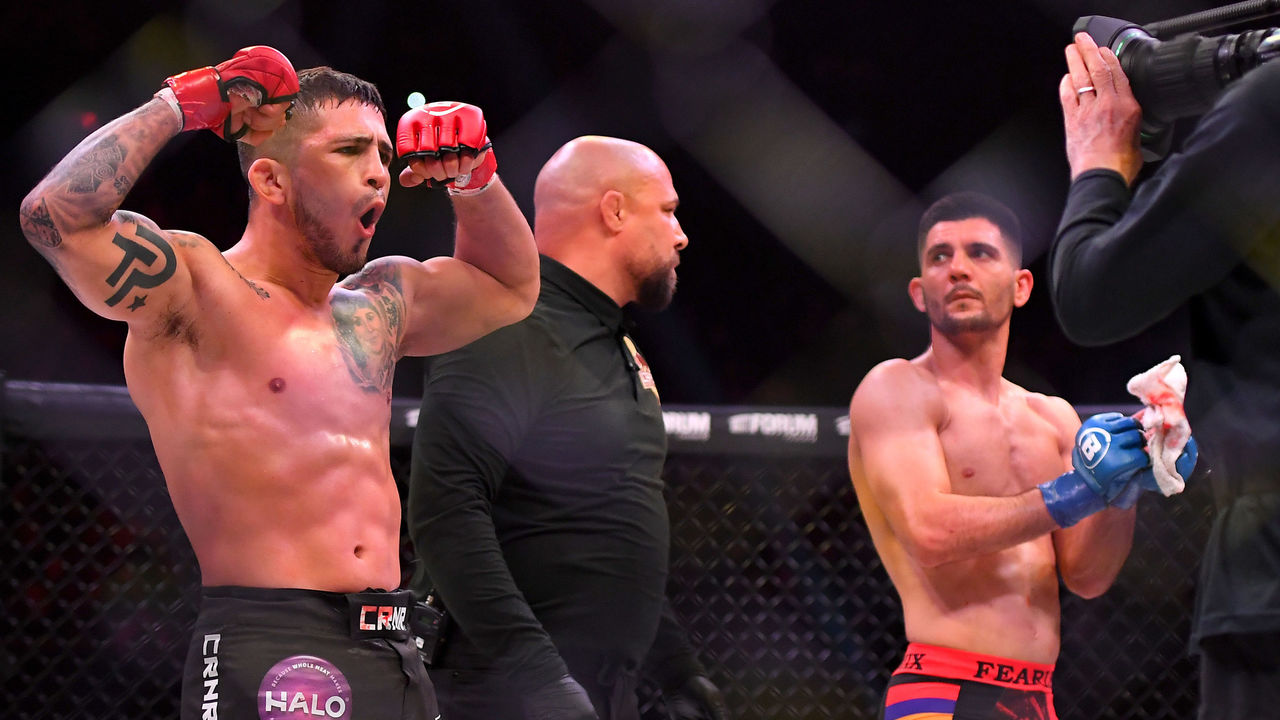 Pettis: Personally, I feel like it happened a long time ago. I had to get to an age where I started realizing I'm not Anthony or I don't live the same way my brother lives or think the way he thinks. We're two completely different individuals. I feel like a long time ago, I separated myself. But I think from everybody else's perspective, I feel like earlier in my career, you started seeing the difference between me and Anthony when I started becoming a flyweight contender and making my way up.
This win over Archuleta just signified my potential. Everybody had me losing that fight. They were like, 'I don't think Sergio can do it. He's not strong enough, he's not fast enough, Juan's going to be better than him in every aspect.' And I went out there and shut everybody up. That was where people really started seeing my potential.
theScore: Where does Horiguchi challenge you the most, and where are you better than him?
Pettis: We're going to see how many improvements I've made. He's definitely challenging all around. He's got a good MMA game. He's got stand-up, he's got jiu-jitsu, he's got wrestling. Anywhere it goes I feel like there could be an edge to him, or maybe I can just shut that shit down and pick him apart.
Personally, I think my range is going to give him some issues. He's an in-and-out fighter and I'm a counter fighter, so that kind of plays into my game really well. Once I go out there and hit him with some counterstrikes and start taking over that space and get in his face, I think he's going to have an interesting night.
theScore: You've fought a lot of elite fighters - Henry Cejudo, Joseph Benavidez, Brandon Moreno, Rob Font. Where would you say Horiguchi ranks among the toughest matchups you've been in?
Pettis: I would say Horiguchi is probably top three. My three hardest fights are Cejudo, Font, and then Horiguchi. But those are all different points of my life.
When I fought Cejudo, I was 23 years old, and, no excuses, I went into that fight with the wrong mindset and got a little sick and shit.
Rob Font, a lot of people don't know this, but on the day of weigh-ins, I went to the hospital. I didn't even know if I was going to fight Rob Font. I was dealing with some issues and got cleared, so I was like, 'F--- it, I'm just going to go out there and do what I have to do.'
theScore: What happened before the Font fight?
Pettis: I was just having some weird issues on my side. No excuses. He jabbed the f--- out of me. That doesn't matter. But I was just having this weird issue on the side of my rib. I had it for about seven or eight weeks. It wasn't my actual rib; it was internal. I was just hurting throughout the whole weight cut week. I was like, 'Damn, this shit sucks.' The day of weigh-ins, I went to the emergency just to get checked up. I'm like, 'Man, I just want to make sure I'm good to go. I don't want to f--- myself up any worse.'
I kind of went into that fight with that mentality of, 'Damn, I'm not good right now, but I still have to go through this and endure this.'
theScore: You've said going into Friday's contest that you don't feel like the real champion because Horiguchi had to relinquish the belt in 2019 and did not lose it inside the cage. Did you feel that way as soon as you beat Archuleta, or more so once Bellator booked the Horiguchi fight?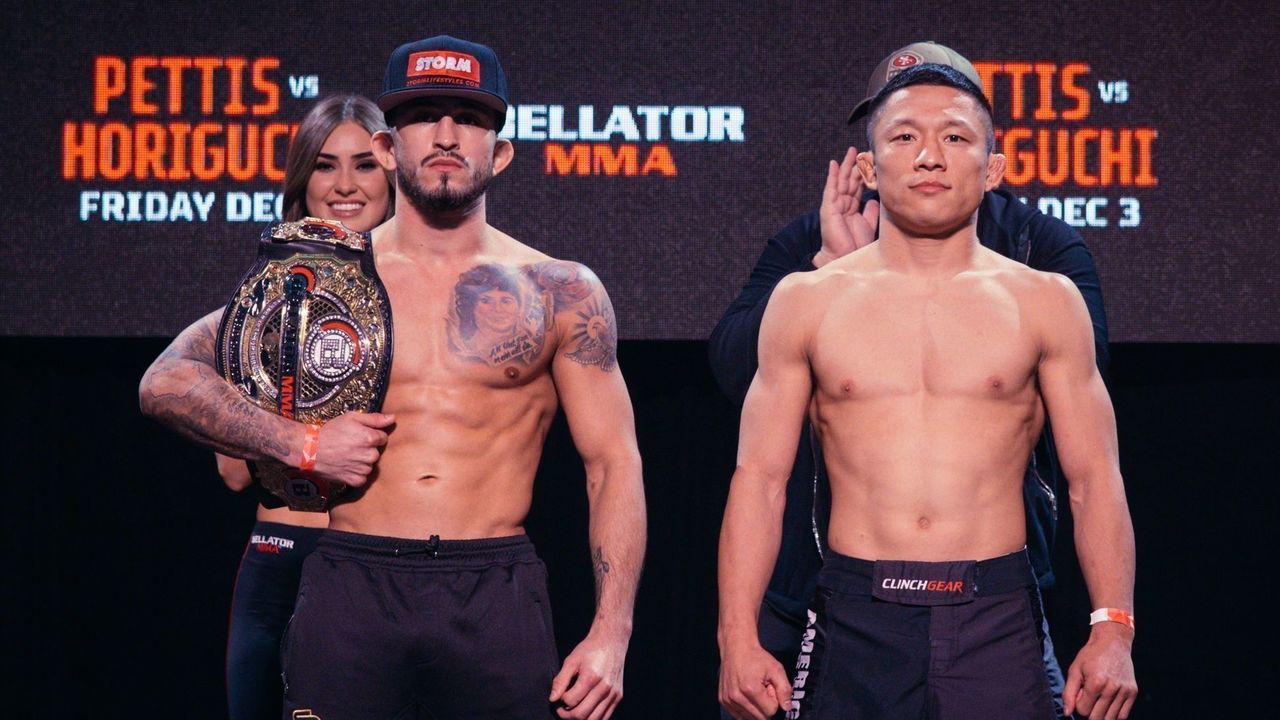 Pettis: When I won that fight with Juan Archuleta, I took that moment and I ran with it. That was a moment that I'm going to remember for the rest of my life. I am a champion in this division regardless of what happened to Horiguchi. But I think just as extra motivation for me, I told myself if I really want to signify myself as the champion of this division, I have to beat the guy who hasn't lost his belt. And that was Horiguchi.
Personally, that's how I felt. At the end of the day, after I got that belt, I was like, 'This really isn't my belt yet.' I have to show the world and show myself that this belt belongs to me. This Friday, I have to go out there and earn that title.
theScore: You're a small underdog in the fight. How do you feel about that?
Pettis: I'm not big into betting or any of that. I was the underdog against Juan Archuleta, pretty sure I was the underdog against Joseph Benavidez. I don't really play into that stuff at all. I don't mind that. I feel like whoever is going to bet on me, hopefully we win some money. It is what it is. I'm 5-foot-6; I've been overlooked my whole life.
theScore: So you don't feel disrespected as the champion?
Pettis: Nah, man, none of that shit matters to me. All I'm focused on is Friday. I don't care what the outside perspective is. I used to really tune in to that stuff and let it affect me. Nowadays, none of that shit matters to me - words, opinions. Everybody's entitled to what they feel and how they view the world. It is what it is. I can't change any of that. I just have to go out there and earn my respect.
At the end of the day, it's a little bit more of a drive for me. I'm going to show everybody what's up.
Comments
✕
Bellator champ Sergio Pettis motivated by underdog role: 'Overlooked my whole life'
  Got something to say? Leave a comment below!