LAS VEGAS - For almost two decades, future icons of the NBA have passed through the Jordan Brand Classic - one crop of one-named superstars inspiring the next. From Carmelo to LeBron to KD in the early iterations; then D-Rose and Blake, Kyrie then AD; and, in recent years, Embiid and Tatum, Ayton and Trae.
On Saturday afternoon at T-Mobile Arena, this city - no stranger to star power - will host the 18th edition of the event, a showcase for the cream of this year's crop of boys' and girls' high school basketball players. The girls' game will take place at 6 p.m. ET and the boys' at 8 p.m., with both games streamed live on Twitter.
For 18 years, dozens of future NBA stars have made their mark on the game. And the game has made their mark on them.
"It was like, 'Daaamn, I'm part of the JBC?'" said Miami Heat forward Bam Adebayo, recalling his invitation to the 2016 game. "You grow up watching that game, and you're sitting there thinking, 'Man, I want to be in that game.' To be in that game shows you accomplished something, but it's also (a) test to see where you are as a player."
More than a half-dozen players from the 2016 edition are in NBA rotations now. The East team's starting five featured Adebayo, De'Aaron Fox, Jayson Tatum, and Markelle Fultz. Not bad.
Adebayo called JBC practices "a dogfight." Four dozen of the absolute best in the game, going head to head.
"You'd go three-on-three, four-on-four, and there ain't no refs," Adebayo said.
For some, it was their first prolonged exposure to other elite players. Sure, they'd played against all-stars on the AAU circuit, and sometimes in high school. There are other all-star games, too. But this much sheer talent? All at once? All under the name of one of their heroes?
Brooklyn Nets forward Ed Davis (2008) can remember the feeling more than a decade later.
"It felt like such an accomplishment, for myself, for my family, even for my city where I'm from. You know, I was the first person from Richmond to play in the game," Davis said. "My mindset was, this was a step that you needed to take to play in the NBA. I was looking around at the other players and thinking, 'These are going to be my peers three or four years from now.'"
Also in that game? DeMar DeRozan and Brandon Jennings, Jrue Holiday and Kemba Walker, Iman Shumpert - and the man who stole the show, Tyreke Evans, who had 23 points, four assists, and three steals en route to Team White MVP honors.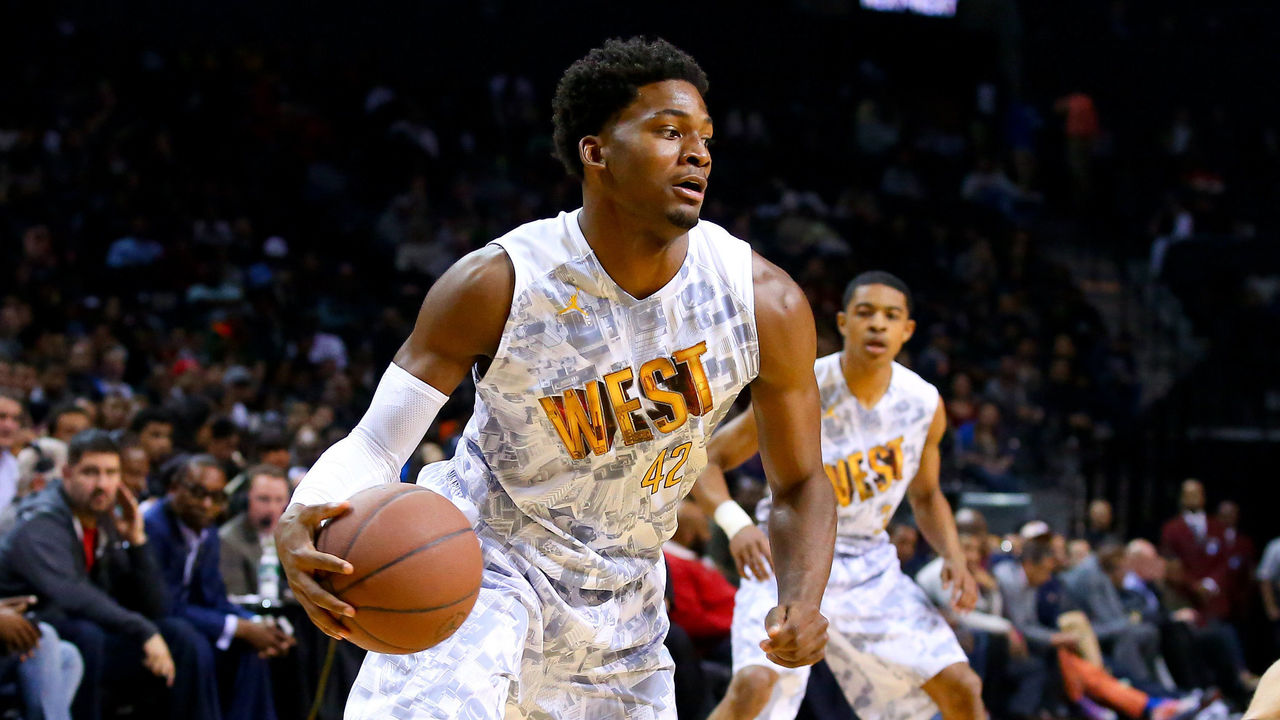 Justise Winslow (2014) relished that opportunity to connect with his peers.
"I'd met a lot of the guys before the game, played against each other in AAU, but those guys, when you meet them and you're maybe the last guy on the list, 25th or whatever, and you're meeting the No. 1 player, you realize they're all down to earth and they all love the game like you do," the Miami Heat guard said.
"That makes it even better, to be around people like you. You look back on it now and it's like, damn, that's where I met so-and-so. That's how a lot of these relationships are formed. When you're in the moment, you're having fun, joking around, getting to know people from California, New York, Florida."
And, of course, one person in particular from North Carolina. The Namesake.
"He's the best to ever play, so when you see that name, and you get that invite, you kind of geek out," Winslow said.
Michael Jordan remains the biggest draw of the game. For so many of basketball's brightest stars, one whisper of that name can turn them into a kid again.
"When I got invited, they were telling us we'd meet Jordan, and that was a big deal for me," said Nets forward Rondae Hollis-Jefferson (2013). "I was about to commit to North Carolina just because of this guy. I love Jordan, man."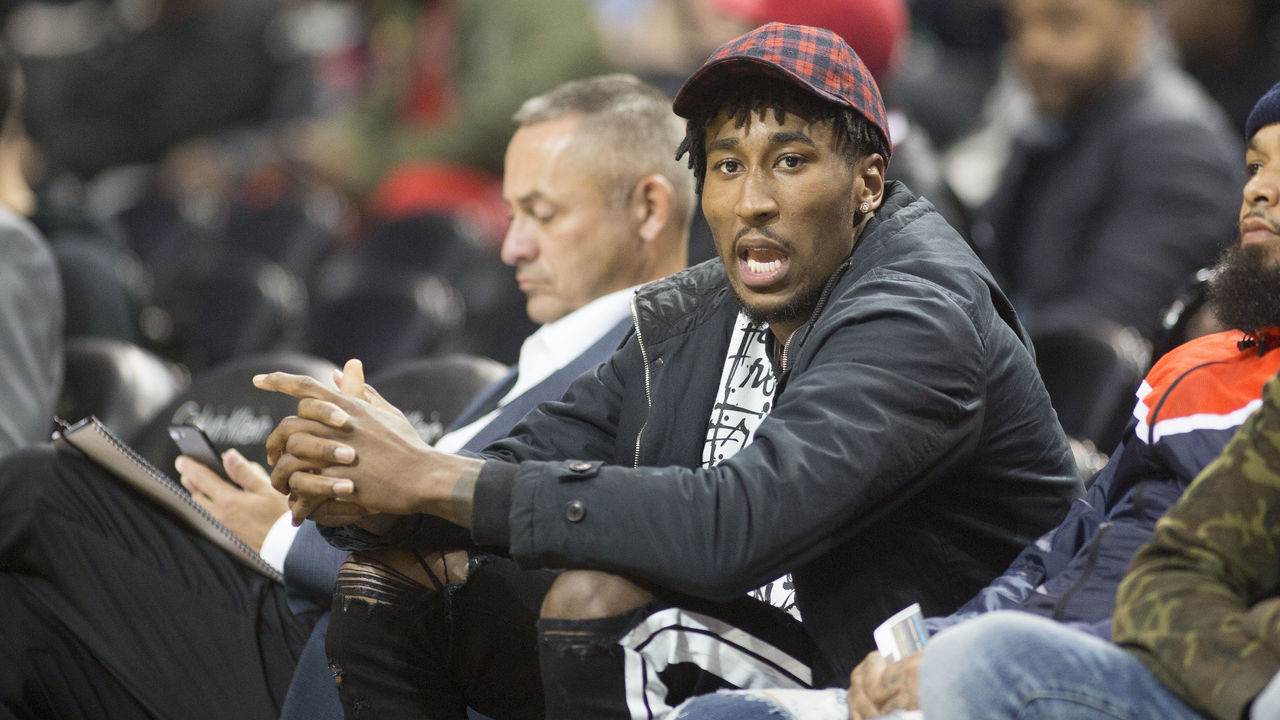 When he met his idol, Hollis-Jefferson recalls, he nearly melted.
"They let us ask him questions, and he was sitting right in front of us, and I remember my one question: 'How was it filming Space Jam?'" he recounted. "But my voice was trembling, you could tell I was so nervous. I mean, I'm me, I don't get nervous, but in that moment? It was like, yo, I'm shook up."
Here's a look back at some of the major moments in Jordan Brand Classic history:
2002 - Carmelo dominates inaugural game
While the JBC was but a baby, Anthony looked like a man among boys. The Syracuse-bound star, who would become one of the best scorers in NBA history, had a game-high 27 points in 28 minutes on a Red Team that also included JJ Redick and memorable college stars like Dee Brown (Illinois), Shavlik Randolph (Duke), and Bracey Wright (Indiana). On the other side? How about this starting five: Jarrett Jack, Amar'e Stoudemire, Andre Iguodala, and a pair of future North Carolina national champions in Rashad McCants and Sean May. The Tar Heel tandem combined for 49 points as the White Team handed Anthony and the Reds a 167-121 loss.
2003 - LeBron gets his showcase
LeBron James at age 18 was like a 20-year-old Tom Cruise when he filmed "Risky Business" - incredible for his age, but you knew even better things were coming. On this day, facing a lineup that included his longtime friend Chris Paul, James scored 34 points - a record that would stand for 17 years - while grabbing 12 rebounds and dishing six assists in 34 minutes. Even with James leading the way, Team Black couldn't get the job done as Shannon Brown had 27 points and Paul 18 to lead Team Silver to a 107-102 victory.
2006 - KD offers a glimpse
Perhaps the most anonymous starting five the JBC has ever seen took the court in 2006. Alongside Kevin Durant on Team Black were Desmond Carter, Paul Harris, DaJuan Summers, and Brian Zoubek. Those four combined to play a grand total of 83 NBA games, all of them by Summers. Durant scored 16 points in a 108-95 loss as Thaddeus Young of Team White stole the show with 28 points and 13 rebounds in 20 minutes off the bench.
2010: Kyrie and Co. overshadowed by loaded lineup
This should tell you something: Kyrie Irving, arguably the best point guard in the game, didn't even start in the JBC. Not with Dion Waiters and Brandon Knight in the fold. But against this West team, it didn't matter much. Eight of the West's nine players scored in double figures, with Harrison Barnes (20 points, 15 rebounds) and Tristan Thompson (19 and 13) recording double-doubles.
2011: AD dominates, loses
Continuing the trend of top players coming out on the losing end, Anthony Davis' 29 points and 11 rebounds were not enough to overcome a balanced effort from James McAdoo (26 points, 14 rebounds), Austin Rivers (16 points, four rebounds, four assists), and Marquis Teague (14 points, seven assists).
2014: Okafor breaks out
His NBA career might not have turned out as expected, but Jahlil Okafor was an absolute beast of a prep player. He turned in one of the finest JBC performances in history, scoring 29 points on 13-of-17 shooting and grabbing nine boards as the East won 158-147 against a West squad that included Devin Booker, D'Angelo Russell, and Stanley Johnson.
2015: Trier takes over
One of the surprising stories in the 2018-19 NBA season - and one of the few bright spots of the woeful New York Knicks campaign - was the emergence of guard Allonzo Trier. But the former Arizona Wildcats star got noticed in the 2015 JBC, leading the West to a 118-116 win over Cheick Diallo and the East. Trier had 28 points on 8-of-10 shooting and was 11-of-16 from the free-throw line.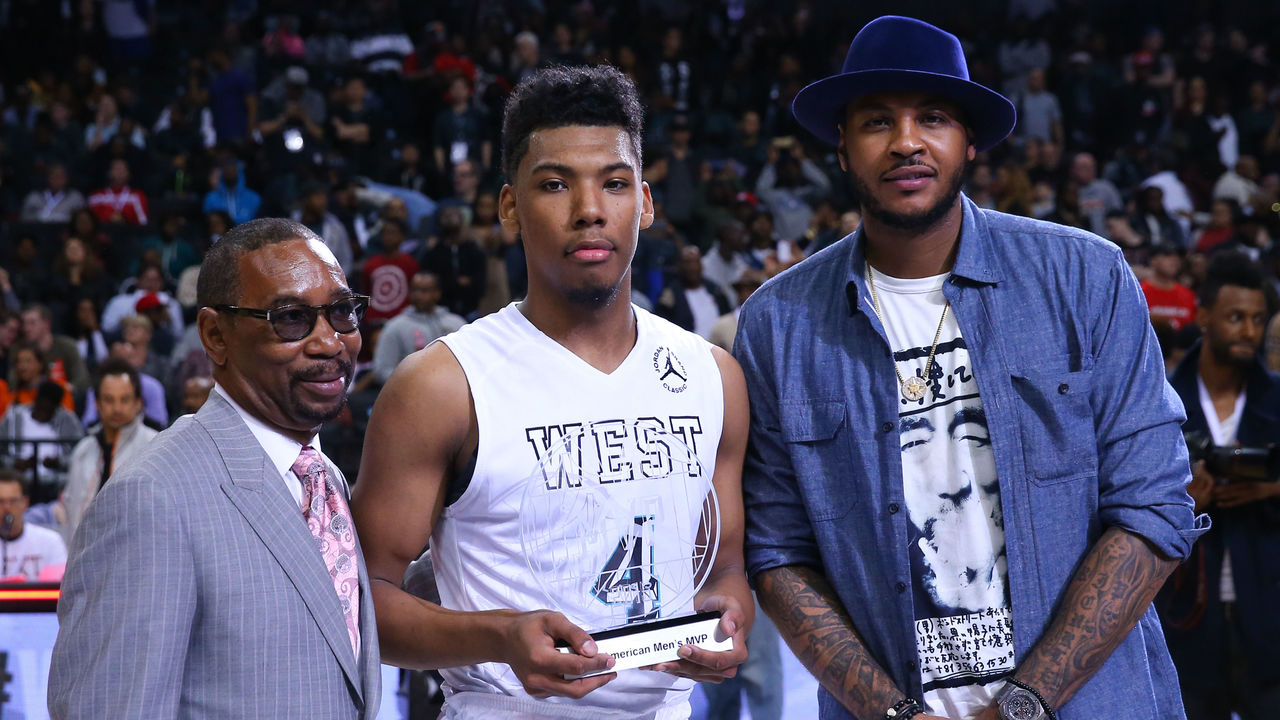 2018: Move over, LeBron
As one-day performances go, this one ranks up there: LSU-bound Emmitt Williams didn't just break LeBron's JBC scoring record with 44 points (10 more than LeBron), he did it off the bench. And he did it in stunning fashion, hitting 22-of-23 shots with an array of dunks.
Jon Gold (@byJonGold) is theScore's senior feature writer.