The Pelicans are fumbling their way to a brighter future
Sean Gardner / Getty Images
The New Orleans Pelicans caught arguably the two biggest draft-related breaks of the 2010s by winning the lottery in the years Anthony Davis (2012) and Zion Williamson (2019) declared. But so far, all they have to show for those two huge strokes of luck is a pair of playoff appearances and a single series victory. Along the way, they've become something of a cautionary tale about the pressures and pitfalls of small-market team-building.
The Davis era was marked by front-office impatience that often spilled over into straight-up recklessness. A year after drafting him, the Pelicans were already looking to short-circuit the rebuilding process with win-now trades and signings. In the six drafts thereafter, they made just one first-round pick and wound up dealing that draftee (Buddy Hield) midway through his rookie season. Some of their moves hit big - hello, Jrue Holiday - but most of them either flopped or failed to move the needle.
Market factors surely contributed to the front office's overzealous dealings, as the possibility that Davis would bolt for richer pastures at the first opportunity always loomed. New Orleans would've gotten just as much or more flak for being overly risk-averse and failing to show Davis that it was committed to surrounding him with a worthy supporting cast. The margin for error is simply very narrow for a team in the Pelicans' position, and that reality often governs the franchise's decision-making. Ironically, the front office's anxiety over that slim margin contributed to its compromised roster and flexibility, which ultimately drove Davis away and turned the whole situation into a kind of self-fulfilling prophecy.
Winning the lottery and drafting Williamson a few short months after Davis demanded a trade gave the Pelicans a second chance to build around a generational talent, this time with a new executive group led by David Griffin. With that incredible opportunity, of course, comes tremendous pressure, and it's clear Griffin and his staff are feeling it just two years into the Zion era.
In Year 1, Brandon Ingram, the jewel of the Davis trade, broke out and earned Most Improved Player honors. But a meniscus injury to Williamson and a top-to-bottom disaster in the Disney bubble torpedoed the team's playoff chances and cost coach Alvin Gentry his job. The front office seemed to be taking a more forward-looking approach when it dealt Holiday for a bounty of picks last offseason. But a misbegotten extension for declining center Steven Adams, who'd been acquired in the Holiday trade but appeared to be a questionable on-court fit, clouded the long-term vision - as did hiring a rigid retread like Stan Van Gundy as head coach.
A healthy and offensively transcendent sophomore season from Williamson wasn't enough to overcome the team's poorly constructed roster and shockingly inept defense. Even with a newly expanded 10-team playoff field, the Pelicans found themselves right back in the lottery. Thus, this offseason brought more turnover. Van Gundy was dismissed just one year into his five-year contract, replaced by first-time head coach Willie Green. Jonas Valanciunas, DeVonte' Graham, Tomas Satoransky, and Garrett Temple were brought in to replace Adams, Eric Bledsoe, and, most controversially, Lonzo Ball, the team's best passer and one of its precious few competent defenders.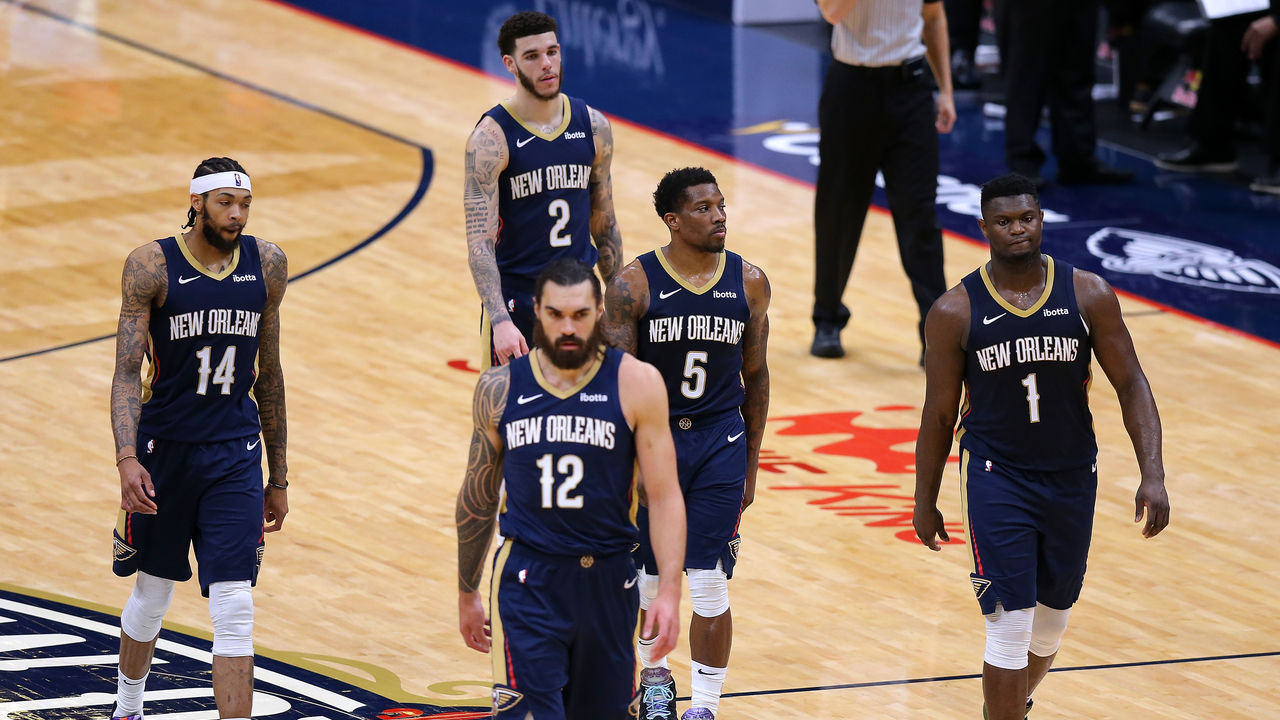 Those changes came at a steep cost. Moving the Adams and Bledsoe contracts for Valanciunas meant moving down seven spots in the 2021 draft and forking over a 2022 first-round pick (top-10 protected, via the Lakers). As an added benefit, the trade carved out significant cap space, but while the team harbored hopes - however realistic - of luring a star floor general like Chris Paul or Kyle Lowry in free agency, it wound up using that space to acquire Hornets combo guard Graham in a sign-and-trade that cost the Pelicans another (lottery protected) first-rounder.
There's a gnawing feeling that this could be yet another impulsive, slapdash, and incoherent team-building approach. Williamson is about to play for his third coach in three years, and there have been rumblings that he and his family are unhappy with his situation in New Orleans. That was before the front office said goodbye to Ball, a player Williamson reportedly vouched for. There's even been some speculation that Zion might become the first young superstar to eschew a max extension, sign the qualifying offer, and become an unrestricted free agent after his fifth season.
But there really shouldn't be all this doom and gloom, at least not yet. It's unlikely that the injury-prone Williamson would turn down $200 million in guaranteed money two years before he'd be able to become a UFA. But even putting that aside, the roster around him makes decent sense - certainly more than last year's supporting cast did.
Some will see Valanciunas' presence as a continuation of the fit issues presented by Adams, but it's not. Sure, Valanciunas is also a center in the traditional mold who primarily plays near the basket and won't draw opposing bigs out to the perimeter. But there's more than one way to create space, and even a "lane-clogging" big man can be helpful in that regard.
Valanciunas, like Adams, is a nasty screener who enables separation for ball-handlers by wiping their defenders out of the picture. But unlike Adams, he also creates advantages by consistently drawing multiple defenders to the ball when it's in his hands. He's a devastating post scorer who can mash virtually any opposing center (to say nothing of smaller players on switches) in single coverage. If you include passes, he averaged 1.04 points per possession on 4.7 post-ups per game last season, compared to 0.87 points on 0.9 post-ups a game for Adams, according to data from Synergy.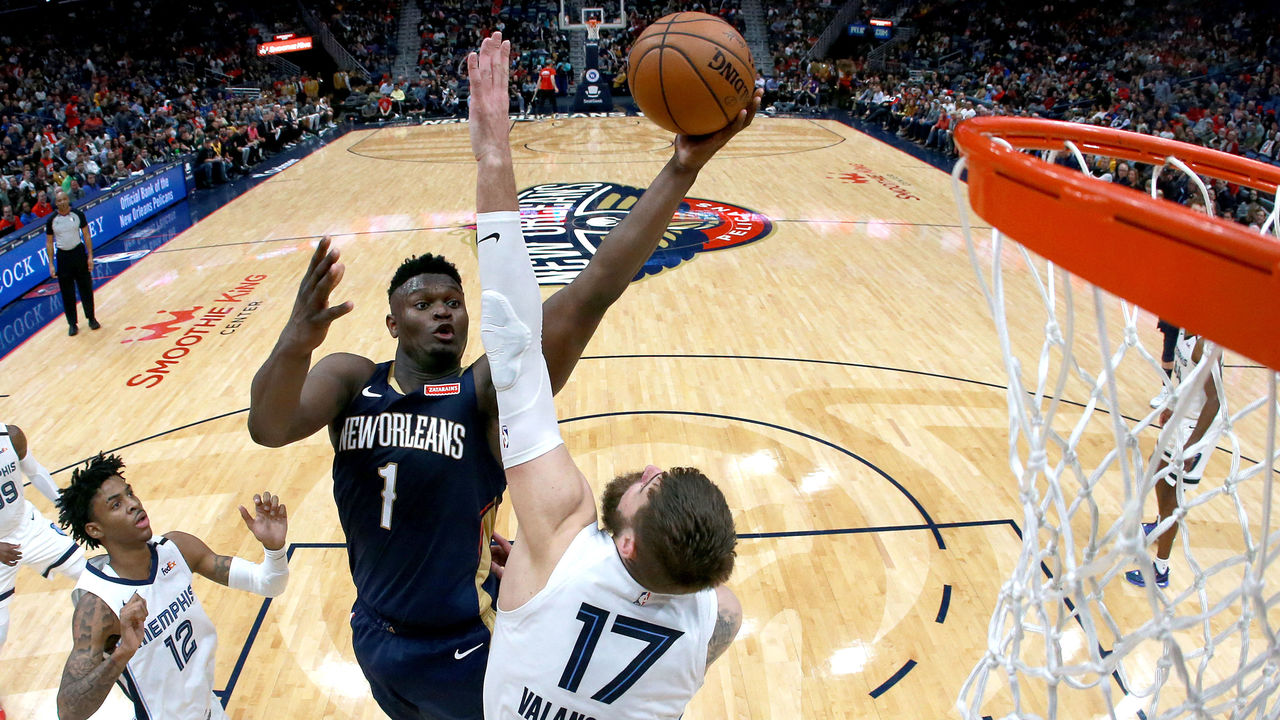 On-ball gravity can be every bit as valuable as off-ball gravity, and both Valanciunas and Williamson have it in spades. Opponents will have a difficult time dealing with Williamson's bulldozing cuts or Valanciunas' bruising duck-ins when one of the Pelicans' two interior mashers has the rock. That's to say nothing of trying to keep those two off the offensive glass. And the team's stable of complementary perimeter weapons should be able to feed off the defense-sucking vortex in the middle of the floor. Graham hit 42.3% of his catch-and-shoot threes last season. Ingram hit 43.2%.
Valanciunas should also help stabilize New Orleans' porous defense. The Pelicans employed a paint-packing scheme last season that emphasized rim protection, but they weren't actually any good at protecting the rim. Adams was part of the reason why. Opponents shot 63.4% in the restricted area when he was in the vicinity, compared to 58% against Valanciunas.
While it's trendy to proclaim Zion-at-center as the answer to the Pelicans' problems, they struggle to defend and rebound in that configuration. Valanciunas will make them more beholden to drop coverage than they were last season, when they often had Adams playing up at the level of the screen, but that's not necessarily a bad thing. He's the type of rebounder and rim-protector Williamson needs behind him at the defensive end.
Ball's open-court playmaking will undoubtedly be missed, particularly given the hit-ahead synergy he'd developed with Williamson. But losing him and his limited half-court creation isn't a death knell for the team's present or future. Satoransky, himself a 6-foot-7 guard, can fill some of the same gaps as a kind of Lonzo Lite. While his passing isn't nearly on the same level, he's a similarly rangy team defender, quick decision-maker, and fluid offensive connector.
Meanwhile, Graham's ball-handling, off-the-dribble shooting, and pick-and-roll craft will be welcome additions to the half-court offense and should pair nicely with the roll gravity and interior prowess of Williamson and Valanciunas. Graham's lack of finishing ability and general struggles inside the arc shouldn't be a huge issue for a team with two of the best at-rim scorers in the league.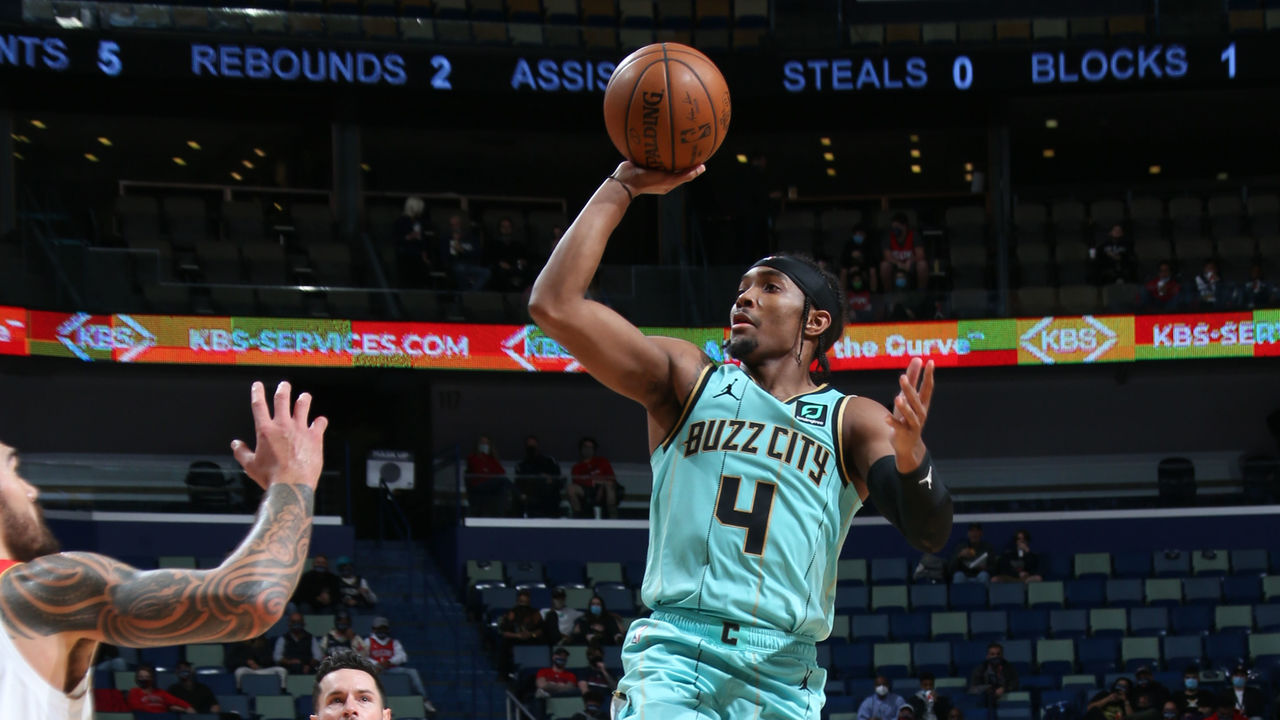 While the Pelicans' offseason was far from perfect, it was nothing like their grasping attempts to accelerate their timeline when Davis was in town. For one thing, their cupboard is still stocked with many of the draft picks and young players they got by trading Davis and Holiday. Even after dealing a pair of first-rounders this summer, they own eight in the next six drafts, with swap rights on three others. For another thing, the existing roster looks both promising and flexible.
Graham is signed to a team-friendly deal that should be easy to move if it ever comes to that. Valanciunas, squarely in his prime, can be re-signed if he's a good fit, or flipped for a meaningful return before this year's deadline if he's not. The roster is filled out with useful and intriguing young players such as Josh Hart, Nickeil Alexander-Walker, Jaxson Hayes, Kira Lewis Jr., and sharpshooting rookie Trey Murphy.
None of this assures the Pelicans of success. The defense will probably still be quite poor. It's still unclear if Ingram is the right co-star for Williamson. Green is unproven as a head coach. Things could very well go exactly the way the Davis era went, with Williamson ultimately walking at or near the end of his rookie-scale extension and New Orleans having just a couple of playoff berths to show for his tenure.
Small-market team-building is a major challenge even when players as talented as Davis and Williamson fall into your lap. The Pelicans could put together a pretty appealing superstar trade package, but fears of shelling out a bundle of long-term assets for a player who won't re-sign may well prevent them from doing so. Few teams have the stomach or the patience to do what the Thunder are doing now, and they shouldn't be expected to. Like most teams in the same situation, New Orleans has to try to thread the needle between building for the future and surrounding its young superstar with enough talent to compete in the unforgiving West.
Though it was a bit messy and a shade below optimal from an asset-management perspective, this offseason ultimately achieved that objective. The Pelicans should be better this year. They should be a playoff team. We'll see if they can live up to their potential this time.
Comments
✕
The Pelicans are fumbling their way to a brighter future
  Got something to say? Leave a comment below!