Why Memphis can keep the comeback rolling
Even in the compressed, high-stakes pressure cooker of the NBA playoffs, you never want to put too much stock in a one-game sample. Things change fast, and "momentum" often proves to be a red herring. One game is just that; the next one is a fresh slate.
So, we shouldn't overreact to the 134-95 drubbing the Ja Morant-less Grizzlies laid on the Warriors in Game 5 of their Western Conference semifinal. One team was playing for its life in front of a raucous home crowd while the other was sleepwalking through the motions, and it would be folly to expect anything of the sort to happen back in the Bay in Game 6. Hell, the Warriors put up one of the greatest offensive performances in playoff history to notch a 30-point blowout win just four days earlier.
But that doesn't mean there aren't things one can take away from Game 5. Or, for that matter, from Game 4 - the Grizzlies' first game of the postseason without Morant, in which they led nearly wire-to-wire and built a 12-point fourth-quarter cushion before collapsing down the stretch. Coming back from 3-1 down, without your best player, against an opponent with multi-championship pedigree should feel impossible. But the Grizzlies went 20-5 without Morant this season, and were a hair's breadth from being 2-0 without him in the playoffs. They've played the Warriors tough all year, and have been the better team for a large chunk (maybe even the majority) of this series. They have every reason to believe they can extend it further.
Here are a few reasons Memphis is capable of keeping its comeback rolling into Game 6 and beyond:
Steven Adams changes the matchup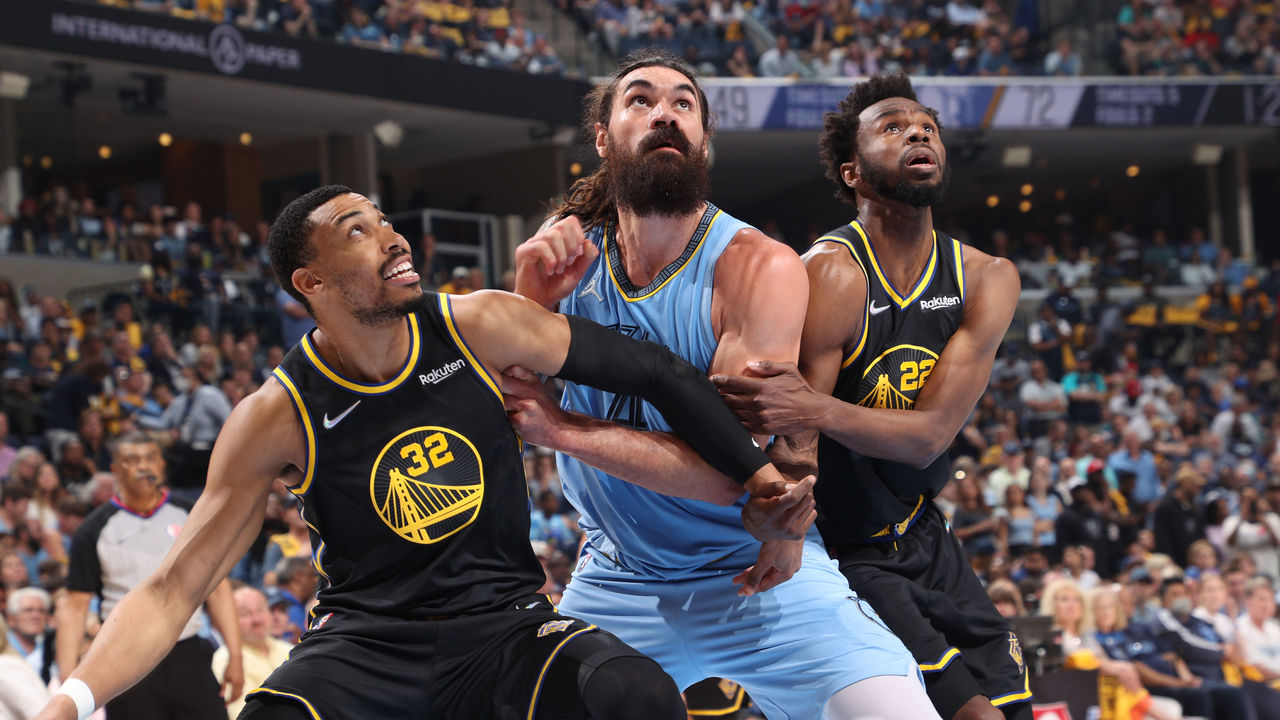 Adams struggled badly in the Grizzlies' postseason opener against Karl-Anthony Towns and the Timberwolves, and was excised from the rotation almost immediately thereafter. He then wound up in health and safety protocols, so Taylor Jenkins couldn't reinsert him even if he wanted to (which, judging by his continued deployment of Xavier Tillman, he did). Adams remained shelved until Game 4 against the Warriors, when Jenkins, looking for a spark in the wake of Morant's knee injury, put him back in the starting lineup. This series has looked completely different since then.
The Warriors spent the first three games of the series carving Memphis up inside - jetting to the rim off of slip-outs and back cuts and simple blow-bys - but the addition of a hulking paint presence has warped their shot profile. Adams isn't an exceptional rim-protector, but he is an effective rim deterrent. Up until Game 4, 33.7% of Golden State's shots had come at the rim, according to Cleaning the Glass. That number has basically been chopped in half over the last two games, down to 17.9%.
It's easy to see why Adams works better in this matchup than he did against Minnesota. The Warriors don't have a stretch-big like Towns who can pick-and-pop him to death, or dust him off the bounce, or pull him away from the rim when he's off-ball. He can instead patrol the middle of the floor while sagging off of Draymond Green or Kevon Looney.
The Warriors can still make him plenty uncomfortable by putting him in high ball-screen action and forcing him to defend their dynamic guards in space (something they probably haven't done enough of). But so far the Grizzlies have survived, thanks in part to their on-ball defenders staying attached when going over screens and in part to Steph Curry shooting 2-for-8 on wide-open threes in Games 4 and 5. Memphis can also have Adams switch or play up near the level, knowing Jaren Jackson Jr. will be lurking behind him if he gets beat.
Adams' ability to survive on defense is huge, because at the other end he can really punish the Warriors for how small they are up front. The Grizzlies finally, emphatically won the offensive rebounding battle (18-4) in Game 5, with Adams snagging six. Golden State had unexpectedly been dominating Memphis on the glass before Adams returned to the fold, but the Grizzlies have collected 57.1% of all available rebounds with him on the floor over the last two games. (They've nabbed just 46.6% in the series with him on the bench.)
Even though he's hardly a threat to put the ball in the basket himself, Adams helps the Grizzlies' offense in myriad ways. The most obvious is his ability to generate extra shots, but equally important is his ability to create space for his guards - not just with his nasty screens but with some underhanded tricks that he's spent years learning how to get away with. The possession below was a perfect illustration of both. Adams leveled Curry with a drag screen, then proceeded to rumble into the lane where he wiped out Green's help on Dillon Brooks' drive with a very subtle but very effective yank of the arm:
The Grizzlies outscored the Warriors by 45 points during the 49 minutes Adams played in Games 4 and 5, with a 132.4 offensive rating. In the 47 minutes he sat, they were outscored by nine and produced a 90.3 offensive rating. That's a small-sample-size extreme, but it mostly jives with what we saw during the regular-season series, in which Memphis outscored Golden State by 7.1 points per 100 possessions - and performed 8.5 points per 100 better offensively - with Adams on the floor.
Adams' presence is also important for the purposes of keeping the team's best remaining healthy player on the floor. Jackson Jr. is both a world-eating all-court defender and a gigantic foul magnet, but Adams can shield him from some of the jockeying dirty work that tends to get him tagged with personals. To wit: During the regular season, Jackson committed 6.9 fouls per 100 possessions when he was on the floor without Adams, compared to just 5.1 when the two played together. During the playoffs the difference has been even starker, with Jackson committing 8.8 fouls per 100 when he plays center, compared to 4.5 when he's playing next to Adams.
To have any hope of extending the series, Memphis needs Jackson on the court for as many minutes as possible. Adams can help him stay out there.
Ja-less Grizzlies defend the Warriors extremely well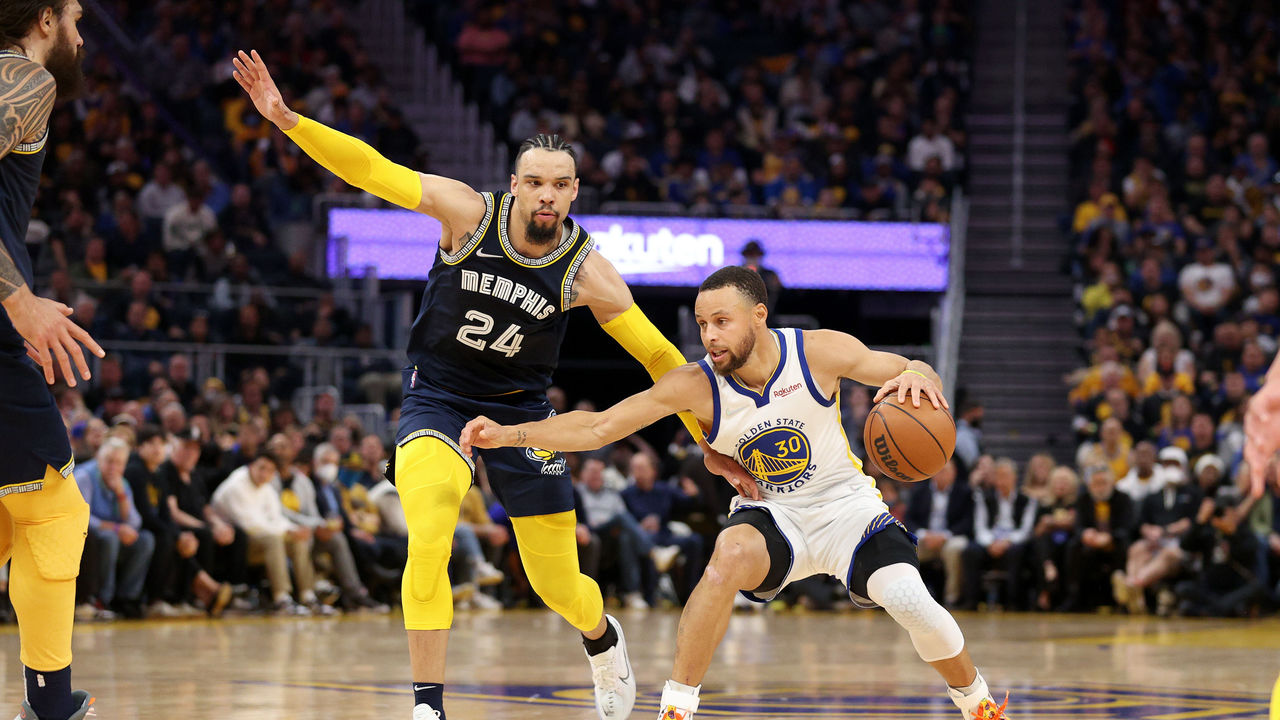 The Grizzlies aren't better without Morant (duh) but they absolutely defend better without him. They allowed 5.9 fewer points per 100 possessions with him on the bench during the regular season, and 8.7 fewer during the playoffs. On top of being a poor man-to-man defender who can be targeted and attacked in isolation, he's prone to bad gambles and off-ball lapses that compromise Memphis' rotations. He's the guy Golden State most relentlessly and successfully hunted until the knee injury knocked him out of the series.
Without that obvious target to aim at, the Warriors have struggled to find paths to easy offense.
They've posted a 94.7 offensive rating over the last two games after racking up a 116.9 mark over the first three. Some of that simply owes to cold shooting, but it's also become clear the Grizzlies have all their pet plays scouted and the coverages for those plays nailed down.
Brooks is the head of the snake, hounding Curry through mazes of screens, shooting the gap on pindowns, and top-locking to prevent him from coming up to get the ball on dribble-handoffs. Those top-locks open the Grizzlies up to back cuts, but they've done a great job covering that option with timely help on the back side. Brooks' rearview pressure when defending Curry in pick-and-roll is a big reason Adams has yet to get burned too badly as the screen defender in those actions. It's also why it took Curry nearly eight minutes of game clock to attempt his first field goal in Game 5.
Brooks' hyper-aggressive ball-denial can lead to mistakes, but it can also be exhausting to deal with. Curry's offensive game is predicated on running defenders ragged with his perpetual movement, but Brooks makes him work so hard to find a crack of daylight that Curry often seems to stop trying to get the ball back after giving it up. That's why the Grizzlies are more than willing to live with Brooks' absurdly lopsided hubris-to-shotmaking ratio.
On this play, the Warriors tried to spring Curry with a post split action, but Brooks refused to let him come off of Green's screen toward the ball-side wing: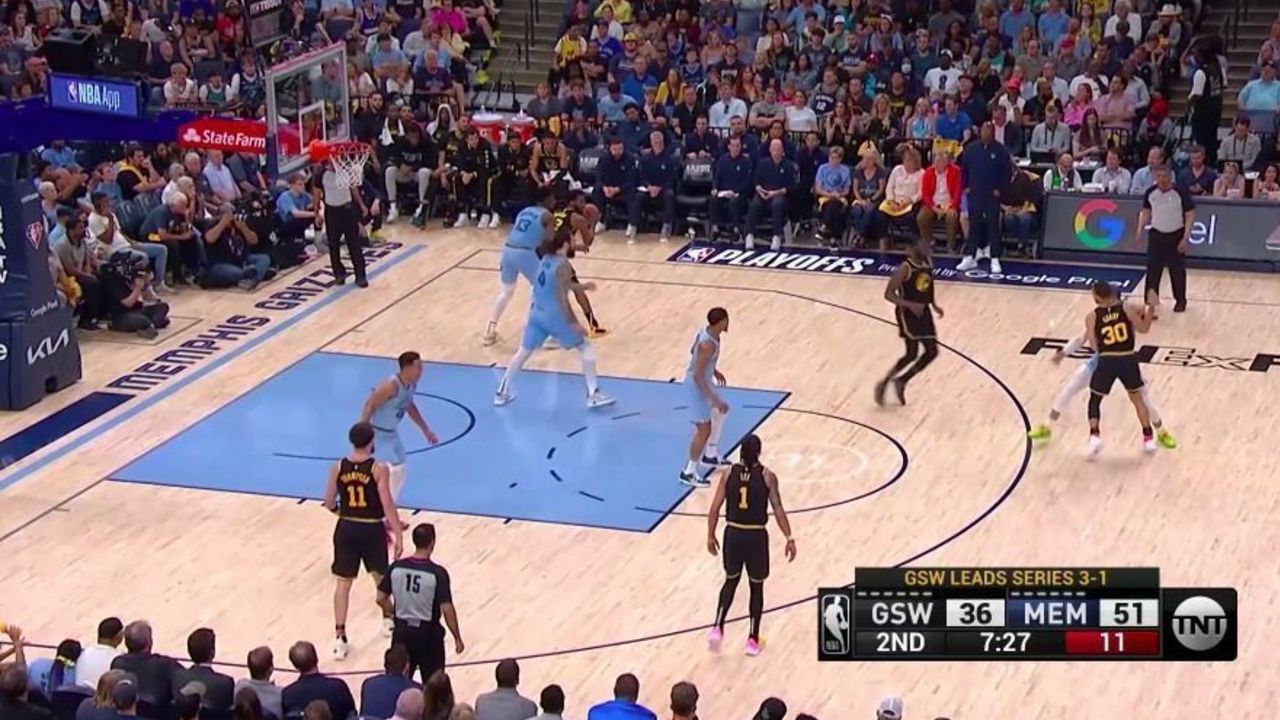 That forced Curry to instead cut middle, where De'Anthony Melton - helping way off of Damion Lee because he knew Andrew Wiggins wasn't able or willing to make the cross-court skip pass - was planted. When Curry cut, Brooks simply passed him off to Melton, then slid over to pick up Lee, and the play devolved into a contested Wiggins step-back:
Here's another possession in which all the Grizzlies' defensive parts were working in perfect unison. Jackson hedged out on the initial ball screen, Brooks and Tyus Jones blew up the ensuing "blind pig" action by staying attached to Curry and Klay Thompson, Adams stepped up to deter Curry's drive after Brooks forced him off the 3-point line, and when a kickout pass allowed Wiggins to drive a closeout, Jackson slid over and sealed the stop with a block:
Jackson Jr. and Brandon Clarke have also held up quite well against Curry on switches.
All told, though, no one has suffered more from Morant's absence than Jordan Poole, Golden State's most avid mismatch-hunter who suddenly can't find a mismatch. He cooked Morant repeatedly over the first three games, averaging 26 points on 69.5% true shooting. Over the last two games, he's shot 5-for-18 for 17 total points, with as many turnovers as assists.
He's had a much harder time shaking Melton than he did Morant:
Turnovers have been a huge issue for the Warriors throughout the West semis, but their sloppiness reached a new nadir in Game 5, when they coughed it up 22 times. A bunch of those were unforced errors, but most of them were a product of the Grizzlies' defensive preparation, which forced Golden State to try and thread passes through tight windows. And it's not like we can expect the Warriors to clean things up moving forward, considering they've yet to commit fewer than 16 turnovers in a game this series. Memphis should continue to get plenty of opportunities to juice their transition offense.
Bane back?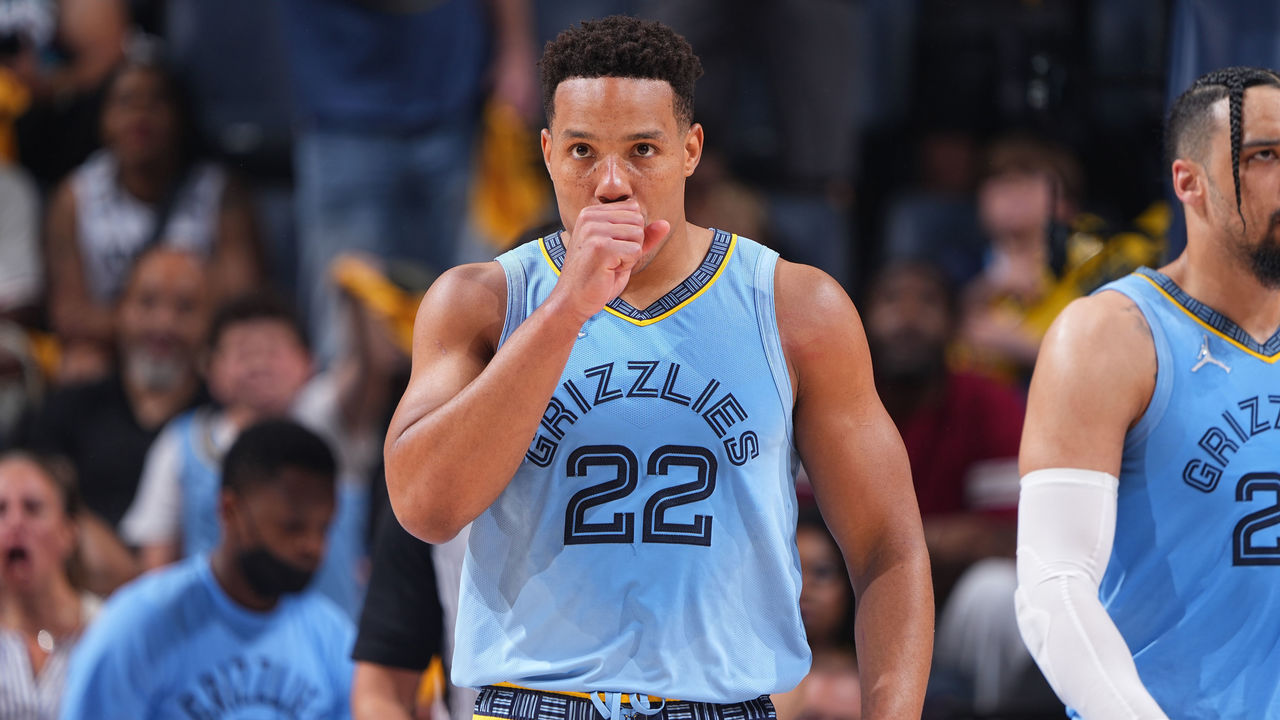 Due to a nagging back injury, Desmond Bane has been a shell of himself for most of this series. Part of that was the Warriors' defensive game plan, which made a point of keeping a lid on him in the early going, but it was clear Bane wasn't right. In Game 4, when the Grizzlies' flagging offense needed him most, he couldn't step up, leaving the game in the hands of Brooks and Jones. Entering play Wednesday night, Bane was averaging only 9.5 points on 50.5% true shooting in the series.
In Game 5, however, he looked an awful lot like the Bane who lit up the Wolves in Round 1. His off-ball movement had more zip, allowing him to create more separation as he came off of down screens or formed up around drives. For the first time since the first round, he actually had some burst going to the rim. He finished with 21 points on 14 used possessions in 24 minutes, during which he was - wait for it - plus-46.
Without Morant, the Grizzlies' offense relies heavily on Bane's ability to draw two to the ball. They ran variations of this same high-post split action three times in quick succession in the first quarter and got wide-open threes for one of Bane or Jackson every time:
The Warriors even resorted to running a box-and-one on him at one point, a coverage Memphis broke in short order with a high pick-and-roll for Jones (who was also outstanding).
If the Grizzlies get that Bane again, they should be able to score enough to make a strong defensive effort hold up in Game 6.
Still an uphill climb
Make no mistake: Memphis is still a significant underdog from here on out. The Warriors averaged 19 wide-open threes in the last two games and only hit 34% of them. They're probably going to shoot better, execute better defensively, run their sets with more energy, and simplify their offense to get Curry involved in more pick-and-roll action. Memphis won't come close to replicating its Game 5 offensive performance.
But the Grizzlies, even without their tentpole superstar, are a talented and resilient bunch. They'll come into Friday night feeling justifiably confident in their ability to bring the series back to the Grindhouse for a seventh game.
Comments
✕
Why Memphis can keep the comeback rolling
  Got something to say? Leave a comment below!