Who ya got? Previewing Warriors vs. Celtics in the NBA Finals
The 2022 NBA Finals pits the most successful team of this generation against one of the two most successful franchises in NBA history. The Golden State Warriors are making their sixth trip to the Finals in eight years, while the Boston Celtics are looking to break a tie with the Lakers (at 17) for most championships won.
Prediction
Casciaro: Warriors in 6
While both teams boast multiple offensive stars and plenty of firepower, fans should prepare for what could be a defensive slog.
The Celtics and Warriors finished first and second, respectively, in regular-season defense, marking the first time since Bulls-SuperSonics in 1996 that the league's top two defenses are meeting in the Finals. And both offenses can get bogged down at times.
The Celtics' absolutely smothering defense is by far the most capable switching scheme the Warriors will have faced in this postseason run. Al Horford, who turns 36 later this week, has been phenomenal at switching onto smaller players, which will be key against Steph Curry, Jordan Poole, and sometimes even Klay Thompson or Andrew Wiggins. Meanwhile, Grant Williams, who has shot nearly 41% from deep between the regular season and playoffs, is the perfect, switchable frontcourt partner for Horford when Robert Williams III's help defense is less necessary.
If the latter Williams and Defensive Player of the Year Marcus Smart are closer to full health after dealing with knee and ankle issues, respectively, Boston really has the defensive goods to match up with the Warriors in ways no other team can. And that's without even mentioning Jayson Tatum or Jaylen Brown (though Brown can be targeted defensively at times and does tend to fall asleep when guarding off the ball).
All that said, in a matchup of two elite defenses, give me a Warriors team whose offense I trust more than Boston's. Though the Celtics were actually more efficient during the regular season, Golden State has hit another offensive level in the playoffs, when it played consistent minutes at full strength for the first time all season.
The Warriors scored a postseason-leading 116.1 points per 100 possessions while matching up against teams that finished 15th (Nuggets), sixth (Grizzlies), and seventh (Mavericks) in defensive efficiency during the regular season. Curry, Draymond Green, and the rest of the Warriors' machine have seen just about every switching defense and general defensive scheme over the years, and they should be able to find a way through as the series progresses, with Green's playmaking out of pick-and-rolls with Curry as important as ever.
One concern for the Warriors could be that Jordan Poole, one of the few rotation players in this matchup whose defense can be exploited, might not be able to give the team the number or quality of minutes Golden State needs from him. If Poole's minutes are cut, does that mean Golden State spends more time playing big with Kevin Looney on the court, and can Looney be as effective against this Celtics frontcourt? If the answer is no, does rookie big Jonathan Kuminga get a chance to shine?
In any event, I trust coach Steve Kerr's squad to figure it all out, including how to protect Poole. The potential return of Gary Payton II after a second-round elbow injury would also greatly boost the Warriors' defensive depth.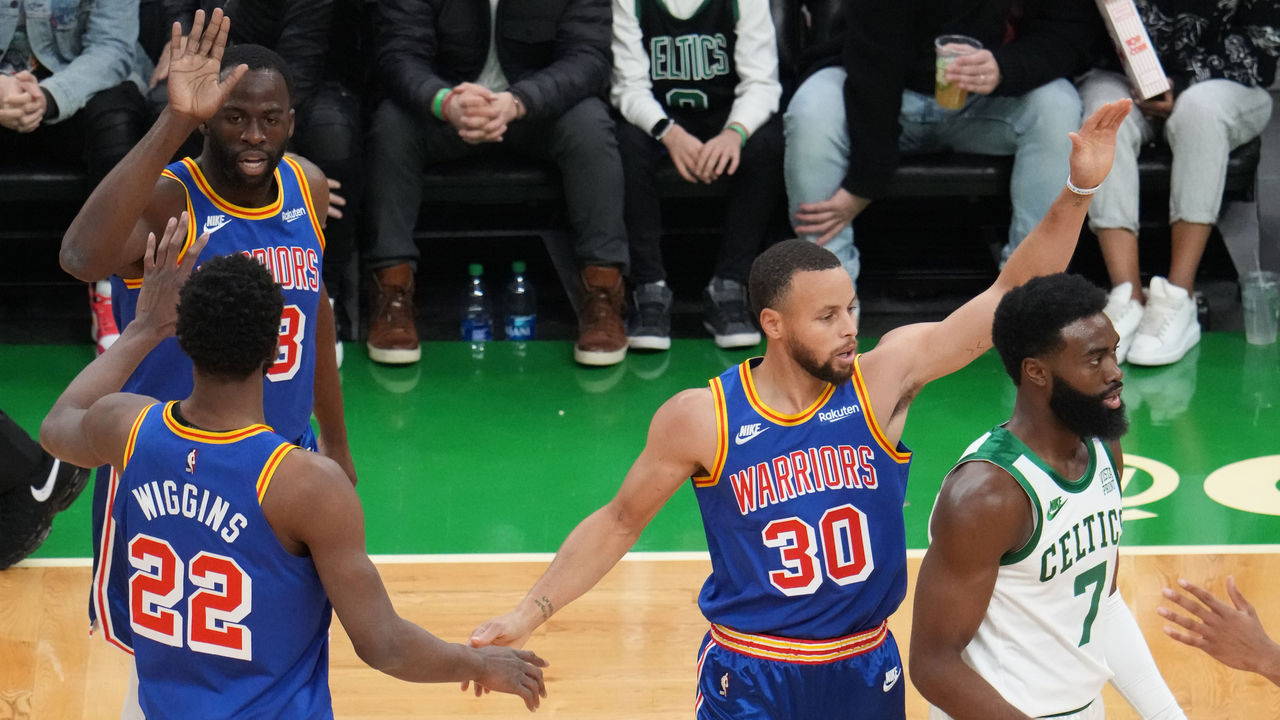 Wolfond: Warriors in 7
It's going to be really interesting to see the distinct ways these two offenses - which are each structured differently - maneuver around the other team's vaunted defense.
For the Celtics, it's going to mean a lot of mismatch-hunting, with Tatum and Brown dragging Curry and Poole into screening action and playing out of whatever advantage that creates, be it a switch or (more likely) a hedge. We can expect to see a lot of roll man Marcus Smart in this series. (Smart being Smart, he'll also probably try his hand at attacking Curry one-on-one and taking him into the post at various points.)
The Warriors showed in the West finals against Dallas that they can protect their weaker defenders quite effectively with pre-switches and pre-rotations, layers of help, and airtight rotations behind their show-and-recover work on the ball. They've also shown a penchant for zone and may look to emulate the Heat's strategy from the latter stages of the East finals, giving the initial switch but then immediately bringing a double-team to get the ball out of Tatum's or Brown's hands.
I'm curious how often the Warriors will switch when the Celtics run more conventional pick-and-roll with their bigs as a way to take away Williams III's dives and Horford's pops. We know they'll switch when Green is defending the screener (and they'll pre-switch to get him into those actions when possible), but what about Looney? The Warriors were more than willing to switch him onto Luka Doncic last round, but Tatum has a bit more rim-pressuring north-south pop than Doncic does, so it's unclear if they'll be as keen to pull their rim-protector away from the basket here.
There won't be much mismatch-hunting from Golden State's side because a) that's not how their offense operates, and b) Boston has no weak individual defenders to attack, save for the odd Payton Pritchard shift. Instead, the Warriors will run their egalitarian motion offense, rife with off-ball screens and weak-side activity, in an attempt to confound and poke holes in the Celtics' hyper-connected defense.
In the East finals, Boston actually leaned away from its switch-oriented base and into deep drop coverage, taking advantage of Miami's shaky pull-up shooting. That's obviously not going to be an option in this series, at least not to nearly the same extent. The Celtics will presumably look to switch most of Golden State's off-ball actions (which they also typically did against the Heat) and roll with some combination of switching and showing at the level against ball screens.
That's where Williams III's health looms large. He was magnificent at points in the Heat series, but he looked hobbled by the end of it. Two-big lineups anchored by his rim protection on the backline are Boston's best hope of defending Golden State's 3-point brigade without getting burned too badly by slips to the basket, four-on-three short-rolls, or back cuts against top-locks. The Warriors dice defenses up at the rim as often as they do so from the perimeter; there's a reason Jaren Jackson Jr. and the Grizzlies were by far the most successful team at defending them this postseason.
To that point, it will be interesting to see how often these teams roll with their "big" lineups - Golden State with Looney and Green in the frontcourt, Boston with Williams III and Horford - versus downsizing with Green and Horford (or even Grant Williams) at center. Small ball is a big part of both teams' identities, but they've both been at their best this postseason when they size up.
This feels extremely close to me, but the Warriors look healthier, have more offensive artillery, and have experience on their side, so I'm giving them the slight edge.
Series X-factor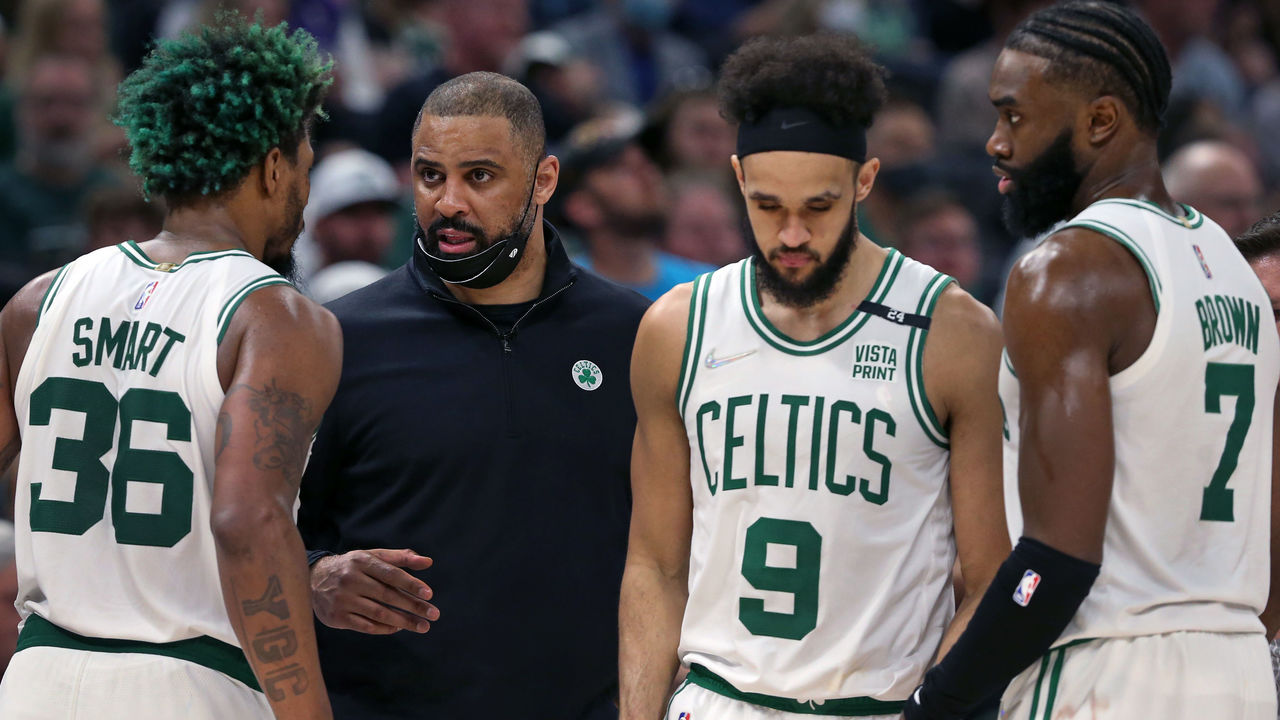 Wolfond: Derrick White
This has the potential to be a massive series for Boston's big in-season addition, just as last round was.
Few things are more important against the Warriors than screen navigation, and White is one of the best screen navigators in the league. His ability to fight overtop played a huge part in Boston neutralizing the dribble-handoffs and pindowns that Miami's offense usually subsisted on. The Warriors' offense incorporates a lot of the same actions, but it's stocked with more dangerous shooters.
There will be a ton of possessions in which Green has the ball with his defender playing way off of him, In those scenarios, he almost always looks to find one of his trusty movement shooters, capitalizing on his negative spacing to create a clean look. White will be tasked with tracking those movement shooters off-ball, and it will be incumbent on him to stay attached and make sure those clean looks don't materialize.
In order to keep him on the court for his defense, the Celtics need White to be passable offensively. Their mismatch-hunting proclivities mean he'll be involved in a ton of screening action because he's the Celtic that opposing teams typically stick their worst defender on. In the Heat series, that led to him rolling into a bunch of four-on-threes (Boston was less inclined to have him pop, given his jump-shooting struggles), and his decision-making in those scenarios was vital.
He also needs to take and make shots in the flow of the Celtics' offense. The Warriors may not go to quite the same lengths that Miami did to overload the strong side and clog the middle of the floor, but you can rest assured they'll help off of White plenty and challenge him to hit catch-and-shoot threes under pressure. Passing up open or even semi-contested 3-point looks can be a killer against a defense that resets itself as quickly as Golden State's does.
If White can be as decisive and effective offensively as he was in the final few games against Miami, he can swing the Finals in Boston's direction and establish himself as one of the most impactful deadline-day acquisitions in recent history.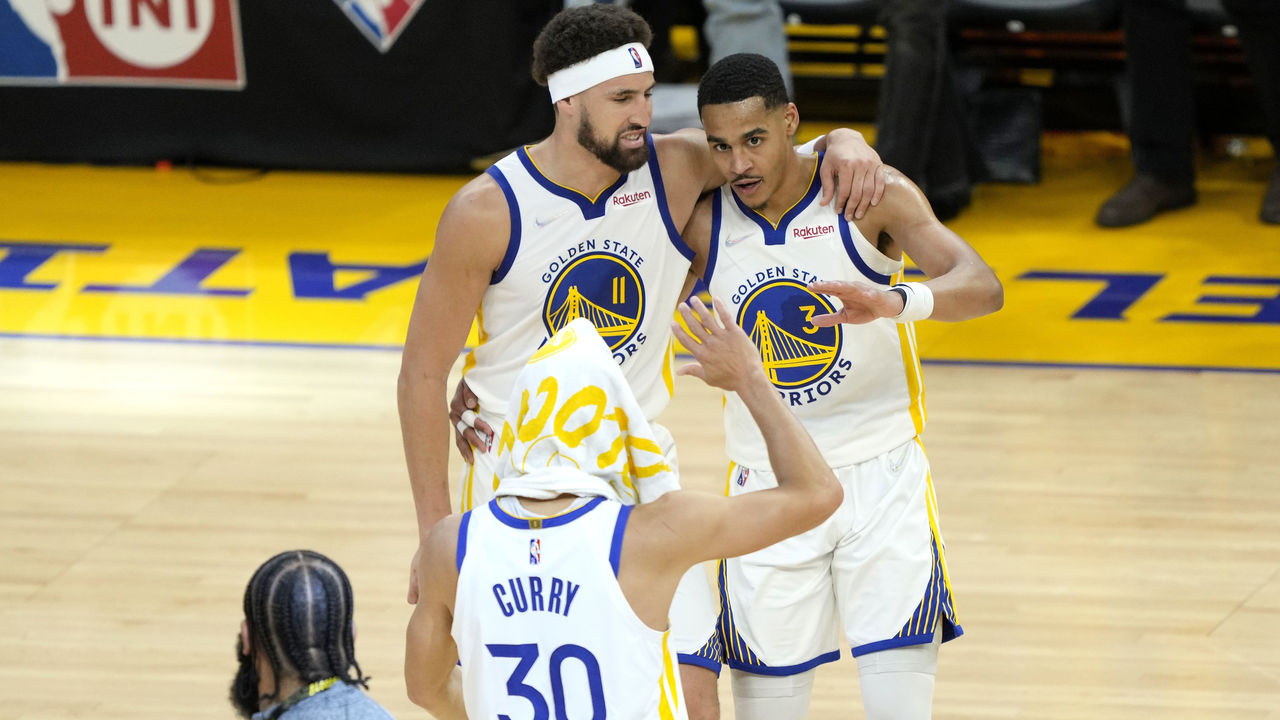 Casciaro: Jordan Poole
I considered Smart here, as the heartbeat of the Celtics will get primary defensive duties on Curry while remaining sneakily valuable to Boston's offense as the lead initiator (which also helps stars Tatum and Brown work off the ball). But in an effort to provide an X-factor from each finalist, I'll go with Poole.
While not at all a similar player to Smart, Poole's performance will impact the Warriors on both ends of the court the way Smart's performance will for Boston.
Even more so than Curry, Poole is the one Warriors rotation player whose defense can be hunted. Golden State's best lineup is a smaller quintet that features Poole; the threat of his tremendous production as a secondary option beside Curry could be huge in thwarting Boston's switch-happy scheme. But if the Celtics punish Poole and the Warriors on the other end, and Kerr needs to cut the guard's minutes - which have dwindled slightly as the playoffs continue and teams zero in on Poole more frequently - Golden State could be in trouble.
As devastating as the Warriors' attack can be at full throttle, it's also prone to stretches where it relies too much on Curry. Thompson's efficiency has returned, and Wiggins has found a nice balance between fitting in as an offensive role player who scores off the catch and creating for himself when need be. But neither player's offense is foolproof at this point. While Green's playmaking is genius, he's limited on that end individually. If Poole's defensive liabilities cost him minutes, the Warriors' offense could look a lot less dynamic against Boston's top-ranked defense.
Comments
✕
Who ya got? Previewing Warriors vs. Celtics in the NBA Finals
  Got something to say? Leave a comment below!