What we learned from Warriors' Game 1 trouncing of Mavs
Harry How / NBA / Getty Images
A Game 1 blowout is rarely an accurate predictor of what's to come over the remainder of a playoff series. But there were some early developments in the Golden State Warriors' 112-87 victory over the Dallas Mavericks worth monitoring going forward.
How do you solve a problem like Luka?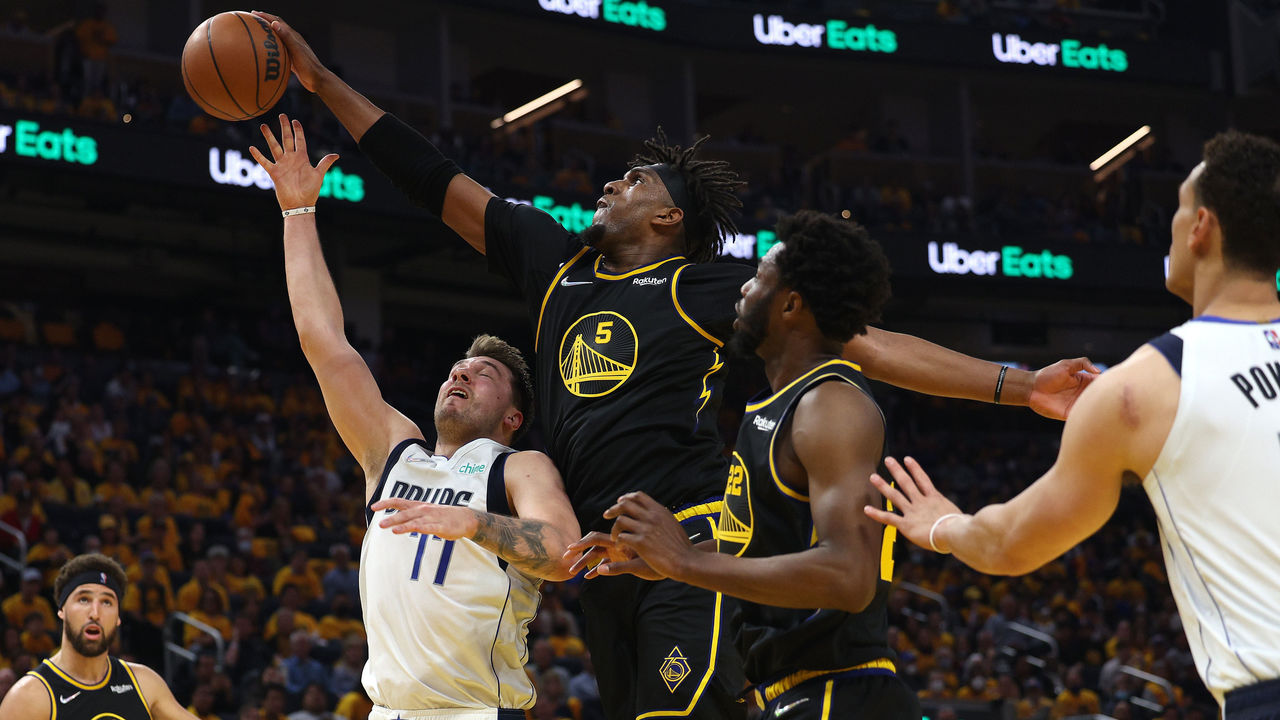 At 23 years old, Luka Doncic has already played his way into the conversation for the best player remaining in the playoffs, if not best player alive. How the Warriors might guard the Mavericks superstar - and whether they could aptly defend Doncic at all - was one of the biggest questions heading into Wednesday's series opener.
So far, so good for Golden State.
Andrew Wiggins got the primary assignment on Doncic and did an outstanding job, while the Warriors also threw different defensive looks at Dallas' offensive fulcrum. To start the game, the Warriors sent early help Doncic's way when he ran pick-and-rolls, but they also elected to recover rather than fully blitzing him. The blitzes came later in the first half, as did a few possessions of zone and even some box-and-one.
Starting center Kevon Looney was on the other end of Golden State's switching scheme when the Warriors opted to switch pick-and-rolls against Doncic, and the big man completed his task admirably.
Doncic finished with 20 points, but he used 28 individual possessions to generate those points. Seven of those possessions ended in turnovers, while Doncic only dished out four assists. It was by far his most inefficient game of the playoffs thus far.
Doncic will surely be better as the West final plays out, but Game 1 showed us the Warriors might be better equipped to trouble him than most thought heading into this series.
Make-or-miss league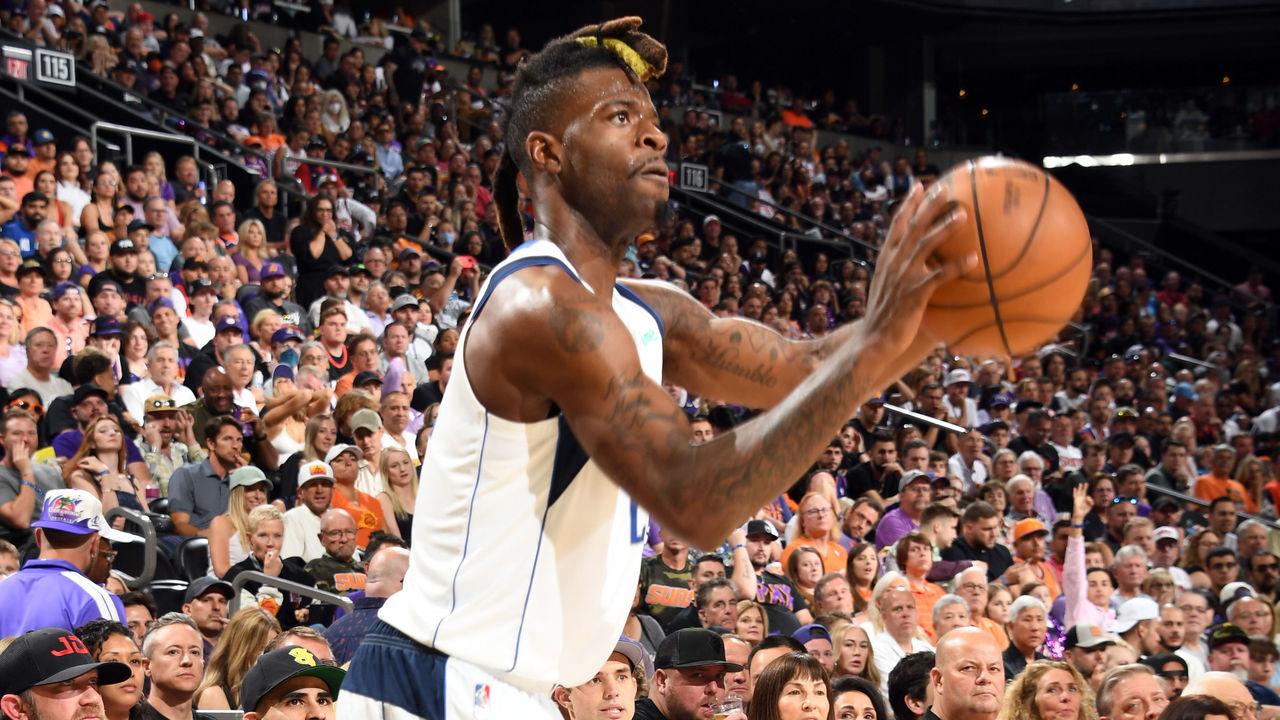 The Mavs won't be too discouraged by the 25-point margin of defeat. As sound as Golden State's defense was, all the attention on Doncic predictably produced a ton of good looks for Dallas beyond the arc. The Mavs just missed them.
Dallas was snakebitten by bad shooting luck early in the season, but not only did the Mavs stick to the script, they actually doubled down on shooting variance as the season progressed - especially after a Kristaps Porzingis for Spencer Dinwiddie and Davis Bertans trade led to more five-out lineups around Doncic.
The Mavs' shooting positively regressed to the mean, and that shooting variance became a massive component in series victories over the Utah Jazz and top-seeded Phoenix Suns. Dallas hoisted 48 3-point attempts in Game 1 against the Warriors, of which a stunning 44 were either open or wide open, according to NBA.com's Closest Defender data. If they converted at the same rate they did during the regular season (35%), let alone the 38.5% clip they hit during the postseason's first two rounds, this would've been a completely different game. And the Mavs will keep shooting.
Conversely, the Warriors may be equally content with how Dallas' offense played out in the series opener. The Mavs' best 3-point looks early in the game came via offensive rebounds rather than the natural flow of their offense, which was rarely able to penetrate Golden State's defense.
Who's comfortable?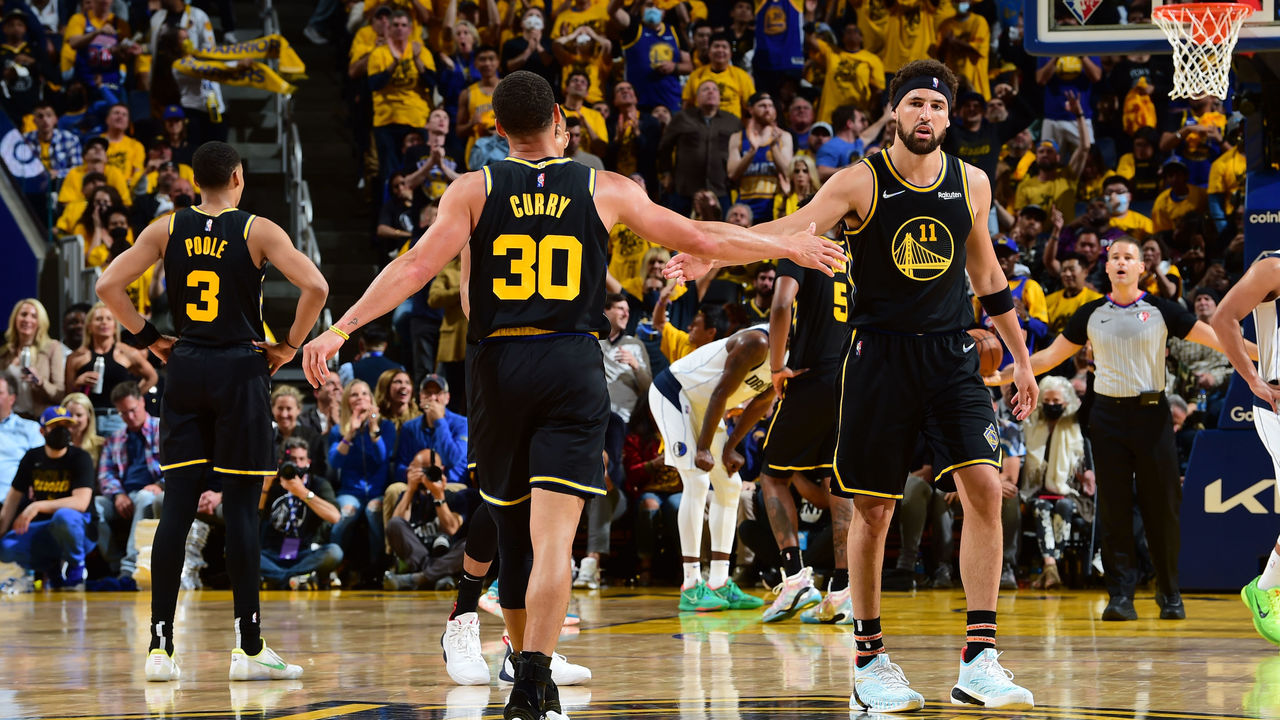 What stands out most from Game 1 is that the Mavs won't be able to make the Warriors as uncomfortable as they did Phoenix and Utah.
That's not to say the Warriors will have it this easy all series or that Jason Kidd and his staff won't be able to cook up some new defensive wrinkles to rankle the Dubs, but Golden State is unlike any challenge Dallas has encountered in these playoffs.
For one, the Warriors are comfortable playing big or small. Looney's presence means Golden State should feel great about matching up against more traditional Mavs lineups with Dwight Powell on the court. But if Dallas wants to surround Doncic with shooters, the Warriors can counter with the league's best small lineup (consisting of Wiggins, Stephen Curry, Jordan Poole, Klay Thompson, and Draymond Green).
Whereas the Mavs were able to give Devin Booker fits, the Warriors have too many weapons for Curry to be stymied the same way. With Chris Paul slumping and reserve guard Cameron Payne playing his way out of the rotation, Booker was Phoenix's only reliable creator by the end of the conference semifinals. In the West final, however, the Mavs must devote defensive attention to the crafty Poole, while even Wiggins and a diminished version of Thompson can still create for themselves in spurts. Green, meanwhile, can punish teams with his playmaking in ways no Suns or Jazz big man can.
Dallas' defense has done a good job of keeping opponents away from the rim (and its otherwise poor rim protection) all season, which has prevented opponents from producing a barrage of drive-and-kick threes. But unlike the pick-and-roll heavy Jazz and Suns, the Warriors' offense won't be as deterred by this kind of defense. It's not just that Curry and Poole can create plenty of their own 3-point looks. It's that within Kerr's motion-heavy, read-and-react system, so much of Golden State's shooting is produced by off-ball movement and deception rather than by drives and rolls.
Make stars play D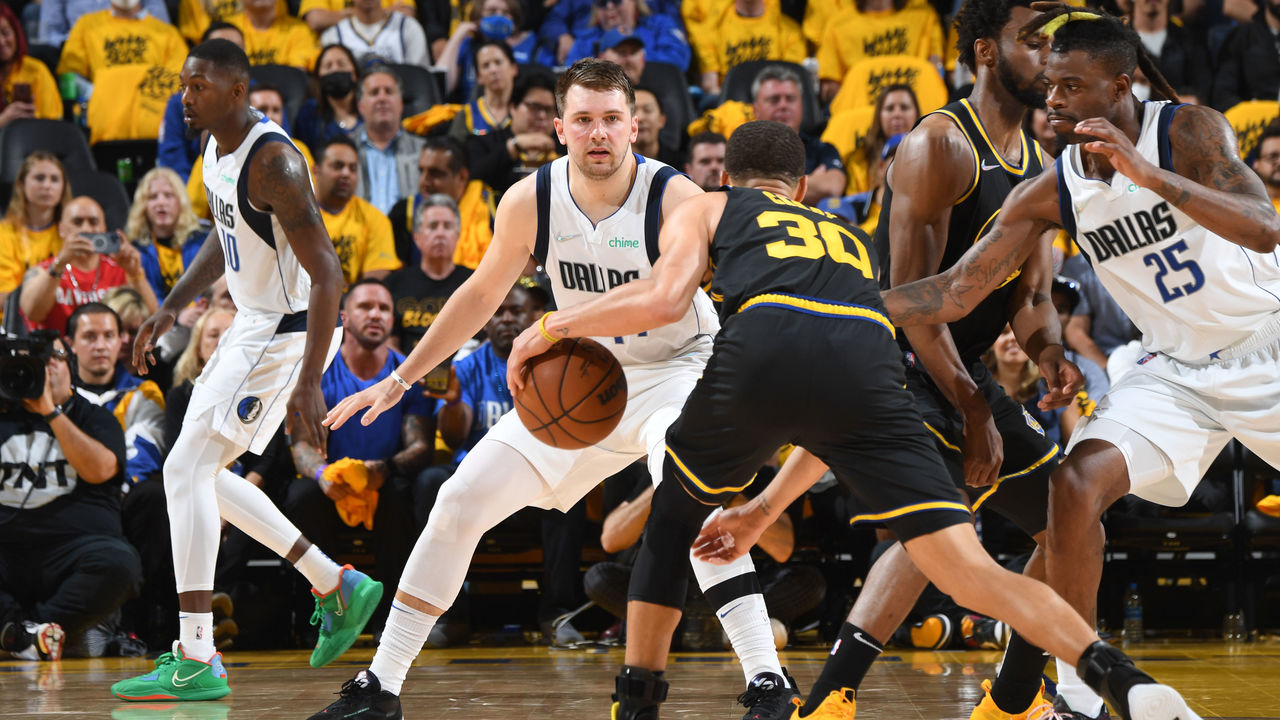 One thing the Warriors did in Game 1 - and the Mavericks failed to do - was attack the opposing team's best player.
The Warriors may not have picked on Doncic's defense to the same degree they did Nikola Jokic in the opening round of the playoffs or even Ja Morant at times during the second round, but they were clearly targeting Dallas' MVP for stretches of this game.
Between making Doncic work defensively in the halfcourt and pushing the pace when they could, the Warriors had the 23-year-old looking spent before halftime. Doncic was barely making it back in transition at points in the second quarter and was asking teammates to cover for him because of it.
The Mavericks didn't return the favor against Curry often enough.
Curry's an improved defender, and the Mavs know they can target the defensively inept Poole instead, but Poole only shared the court with Curry for 14:06 of Curry's 30:44 of action. Even if the Mavs don't see Curry's defense as weak enough to exploit at the cost of disrupting their offensive flow, they can still target him when Poole's on the bench more often than they did in Game 1. At the very least, simply making Curry expend more energy on the defensive end would be a win for Dallas.
Joseph Casciaro is a senior writer for theScore.
Comments
✕
What we learned from Warriors' Game 1 trouncing of Mavs
  Got something to say? Leave a comment below!