How Boston's defensive tweaks tilted Game 1 and how Golden State can respond
Brian Babineau / Getty Images
The Golden State Warriors came into the Finals against the Boston Celtics as the healthier, more well-rested, and more experienced team. They jumped to an early lead in Game 1, withstood a Boston counterpunch, and carried a double-digit cushion into the fourth quarter. Then the floodgates opened for the Celtics, who outscored the Warriors 40-16 over the final 12 minutes to claim a 120-108 Game 1 win.
Boston shot 9-for-12 from 3-point range in that last frame and finished with an obscene 129 offensive rating for the contest. That was the biggest story of Game 1, but not the most interesting one. The Celtics wouldn't have been in a position to embark on that comeback, nor could they have completed it, without making notable adjustments on defense over the course of the game.
So here's a look at how Boston eventually got its defense clicking in Game 1, along with a few ways the Warriors can improve.
What Boston did
The Celtics rode a dominant defensive performance to a seven-game triumph over the Miami Heat in the East finals, but it stood to reason that they'd need to come into the NBA Finals with a different approach against a Warriors offense that boasted a significantly more dangerous collection of shooters. Oddly enough, the Celtics started Game 1 as if they were still defending Miami, generally avoiding switching on- or off-ball screening actions and playing their bigs in a deep drop, even against Steph Curry.
Boston initially seemed strangely ill-prepared for how high up on the floor Golden State set ball screens for Curry, and on several occasions, he was able to walk into wide-open threes. This isn't the kind of look you want to surrender to the greatest shooter in the history of basketball: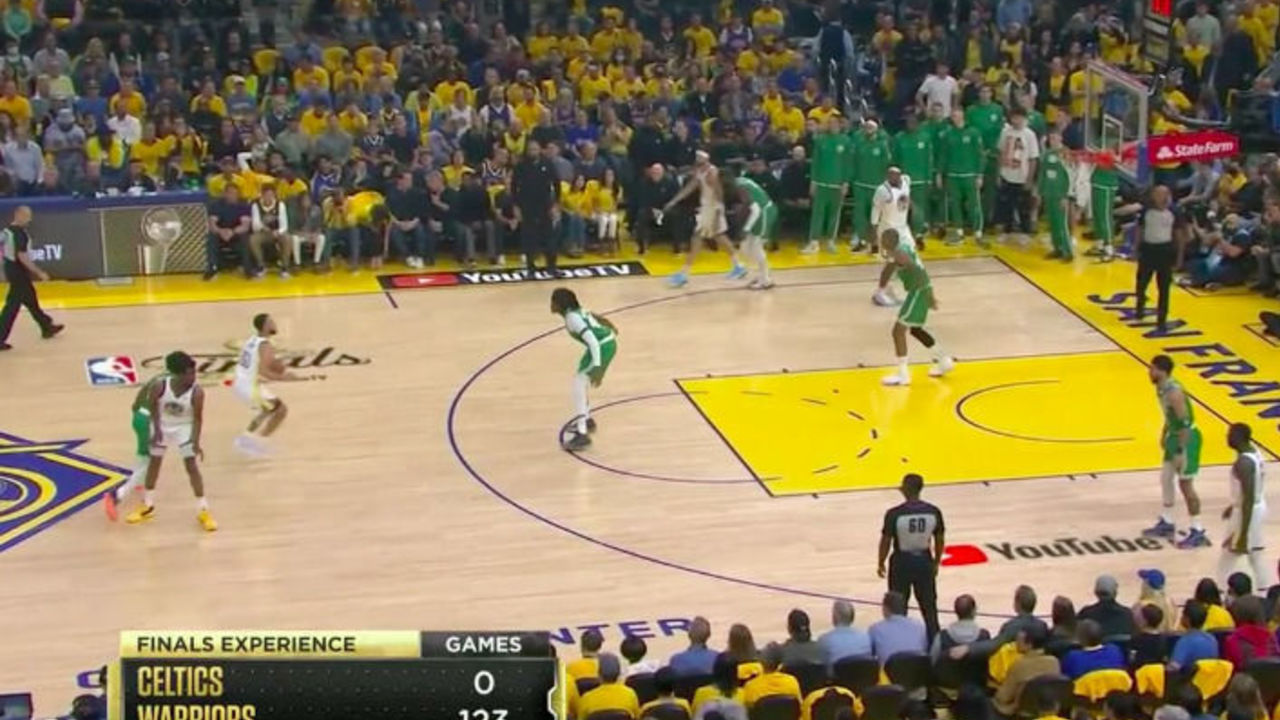 On another play, Marcus Smart went under on Curry (a tactic he frequently employed against Jimmy Butler last round) and predictably got burned for it. Though, in fairness, he seemed to expect Jaylen Brown to stunt from the top - where he was guarding the non-threatening Draymond Green - and buy him time to recover: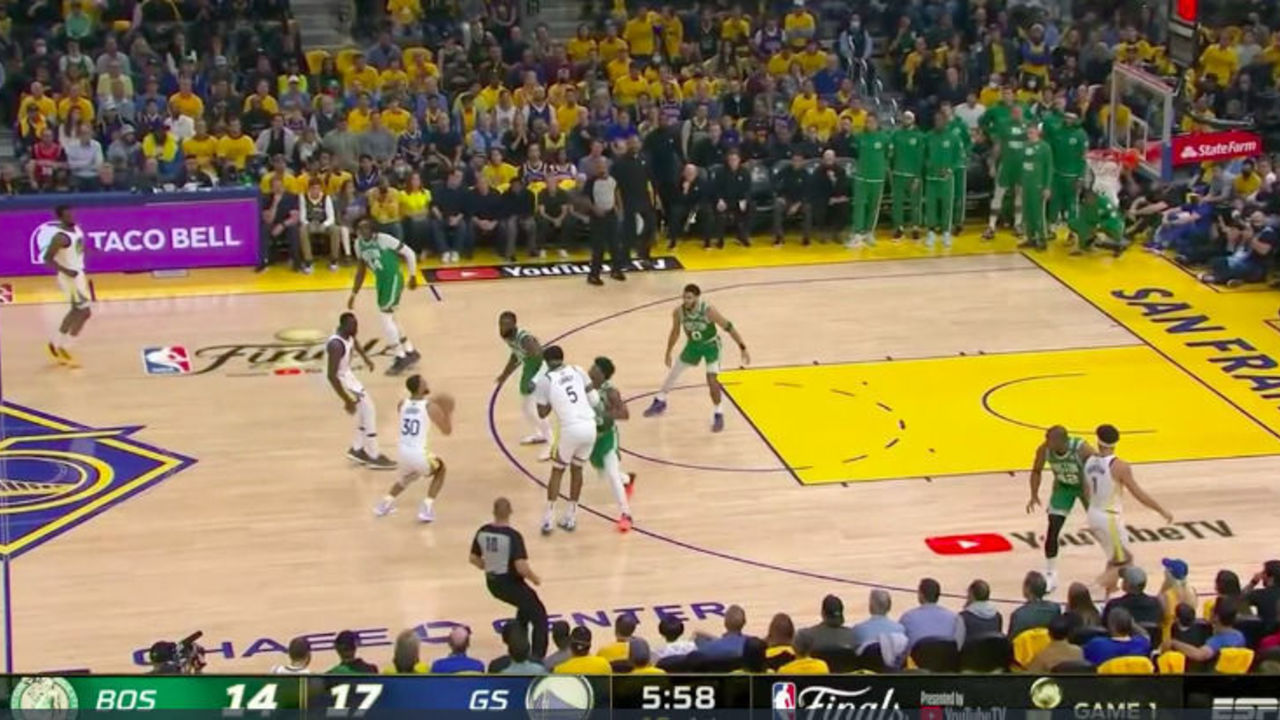 There were other times when Boston just had straight-up inexcusable breakdowns, getting its wires crossed in transition and somehow letting Curry be the one trailer left uncovered. On this play, Jordan Poole ghosted a pindown screen for Curry and darted to the rim, managing to drag both his defender and Curry's with him: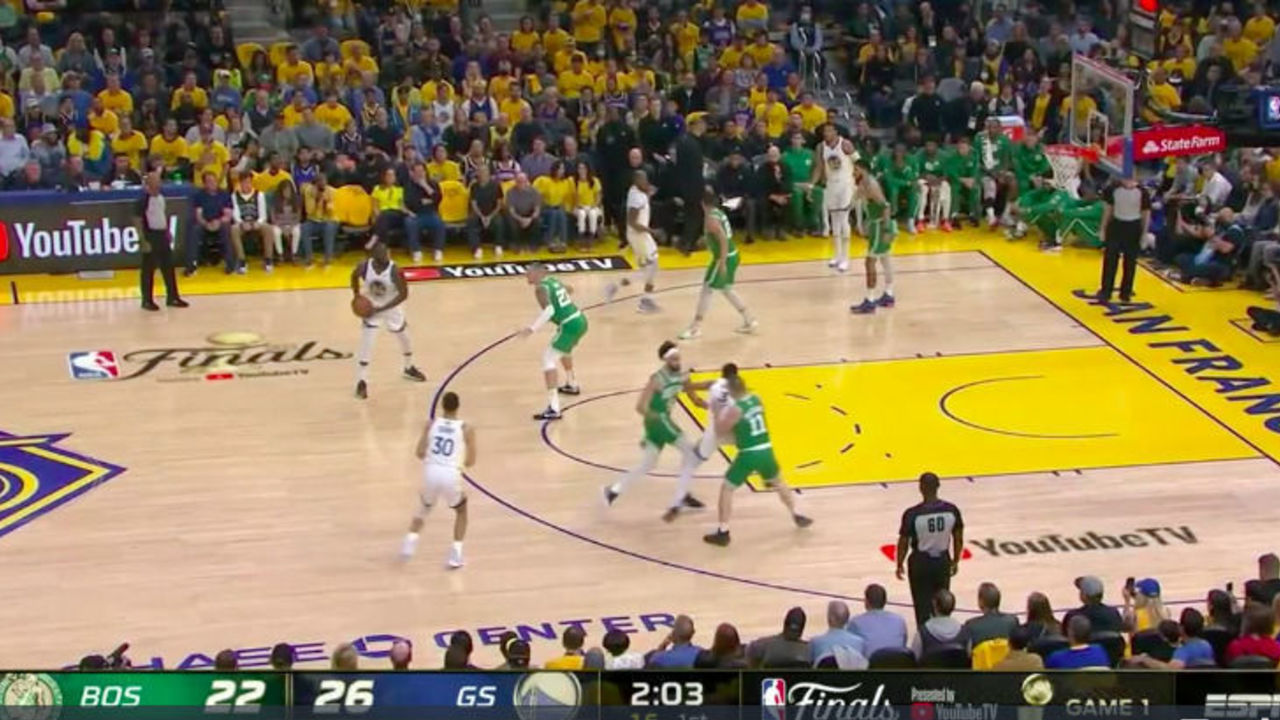 The result was a first quarter in which Curry scored 21 points and shot 6-for-8 from 3-point range.
Then, during the break before the start of the second quarter, the ESPN broadcast showed a mic'd-up Smart impressing upon an unseen teammate (presumably Robert Williams III) the importance of changing the way they were defending in order to push Curry off the 3-point line.
"This isn't the Heat series; we can't start back," Smart said. "You have to start up, especially if they're setting (the screen) so high. You start up and drop because we're chasing. Now he goes down into the paint."
It was refreshing to hear that kind of tactical candor on the broadcast, especially because the Celtics clearly heeded Smart's words. From that point on, Curry scored just 13 points and shot 1-for-6 from deep.
Boston came up with multiple different tweaks to limit Curry, the simplest being to have its bigs come up closer to the level of the screen on those pick-and-rolls. But that isn't a panacea, and doing it effectively is far easier said than done. It leaves you susceptible to a blow-by from Curry, to getting pump-faked off your feet, to getting caught on the wrong side when the screener flips the angle or when Curry rejects, or to a pocket pass that creates a four-on-three behind the play. It still requires the on-ball defender to maintain pressure in pursuit.
This was the lone 3-ball Curry hit after the first quarter, and you can see that while Williams was up way higher, he was still on the back foot. And because Smart got hung up on Andrew Wiggins' screen, Curry still had more than enough space to let it fly: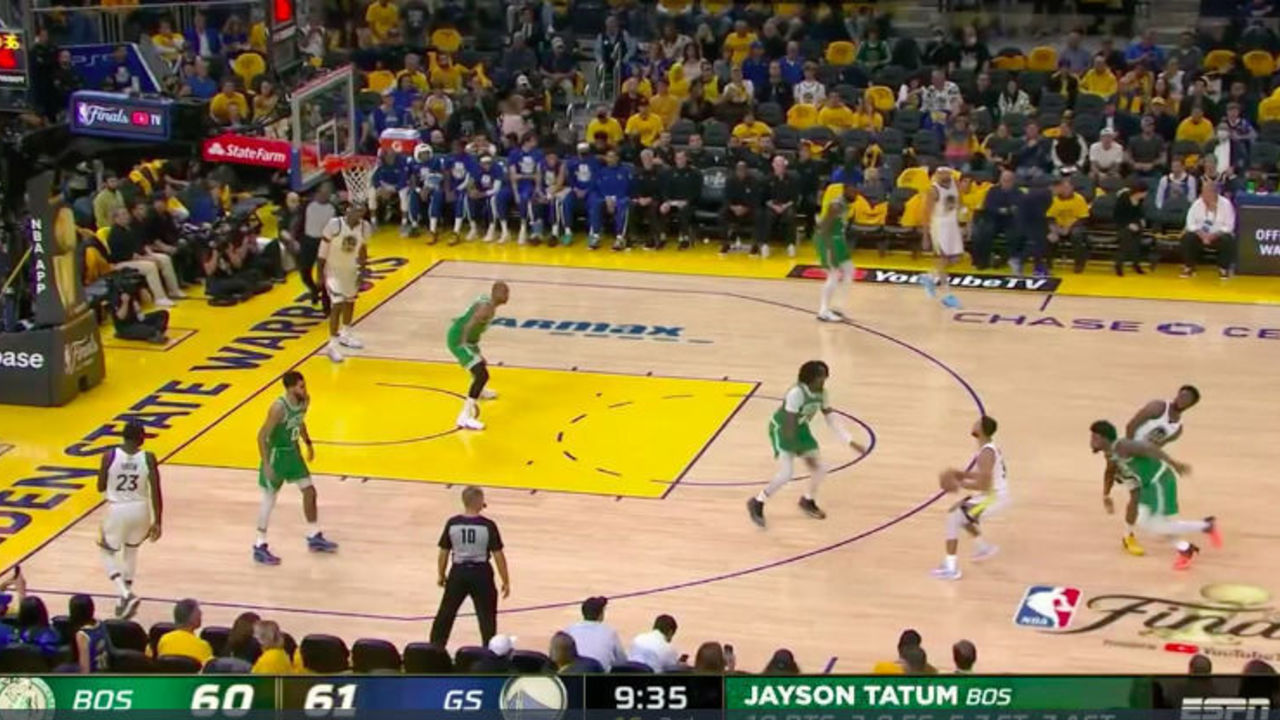 But for the most part, Williams and especially Al Horford did a good job of coming up to the level and then retreating, while Smart and Derrick White did yeoman's work getting skinny around screens and staying attached to Curry. (Shelving Daniel Theis after a rough six-minute stint in the first half also helped tidy things up.)
This fourth-quarter possession might have been the best example of that execution from both the on-ball guard and the screen-defending big. White chased Curry off the arc on two separate occasions, with Williams helping him out by showing high, then recovering to take away Andre Iguodala's layup on the slip, and finally stoning Curry at the rim after the guard countered White's overplay with a backdoor cut:
For good measure, you also had Brown and Payton Pritchard alertly switching a hammer screen for Klay Thompson in the corner to take that passing option away from Iguodala.
Boston also tried, at various points, to keep Williams out of those high ball-screen actions entirely by pre-switching, which had the dual benefit of putting a more horizontally mobile defender in the action and keeping the rim-protecting Williams closer to the area he specializes in guarding.
The Warriors were quick to counter that by immediately having the player Williams pre-switched onto come up to set another screen, but at times that created a logjam at the top of the floor that constricted Curry's airspace and allowed Williams to remain in his lap while Smart fought to recover:
The Celtics largely avoided outright switching those ball screens until late in the fourth quarter but rarely committed to fully blitzing Curry, knowing how capable the Warriors are of dicing defenses on the back side of those traps. Instead, they tried to make his looks as difficult as possible without engaging a third defender in his pick-and-roll actions, kept the paint walled off, and stayed home on Golden State's most dangerous spot-up shooters.
As an aside: That was a really interesting contrast to how the Warriors defended Jayson Tatum. They frequently played his pick-and-rolls three-on-two, whether that meant trapping him and pre-rotating the low man into the paint or chasing him overtop while having a wing defender slide over from one pass away to disrupt his downhill progress at the nail. They also double-teamed him after conceding unfavorable switches and tried out a box-and-one on him.
All that contributed to Tatum shooting 3-of-17 from the field and scoring just 12 points on 22 used possessions. But it also allowed him to rack up 13 assists and to inject Boston's offense with real purpose and flow. Because of the ball movement that rippled out from Tatum's gravitational impact, the Celtics finished with 33 assists on 43 made baskets and, in maybe the craziest stat of the game, launched 36 catch-and-shoot 3-pointers (of which they hit an astounding 19) compared to just three pull-up triples. The Warriors, by contrast, took 26 threes off the catch and 17 off the dribble while assisting on just 24 of their 39 made baskets.
That's the exact inverse of what you would've expected based on how these two teams typically play. In essence, the Celtics decided they could live with certain elements of Curry's scoring (just not the walk-up threes they were conceding early on), so he couldn't use his gravity to warp their defense beyond recognition. The Warriors made the opposite bet and basically turned Tatum into a Curry-like magnetic force.
That bet might've paid off had the rest of the Celtics not shot the lights out (Horford, White, and Smart combined to go 15-for-23 from deep). But as it was, Boston was able to outscore Golden State by 27 points in Tatum's 11-odd minutes in the fourth quarter despite him going scoreless on three shot attempts.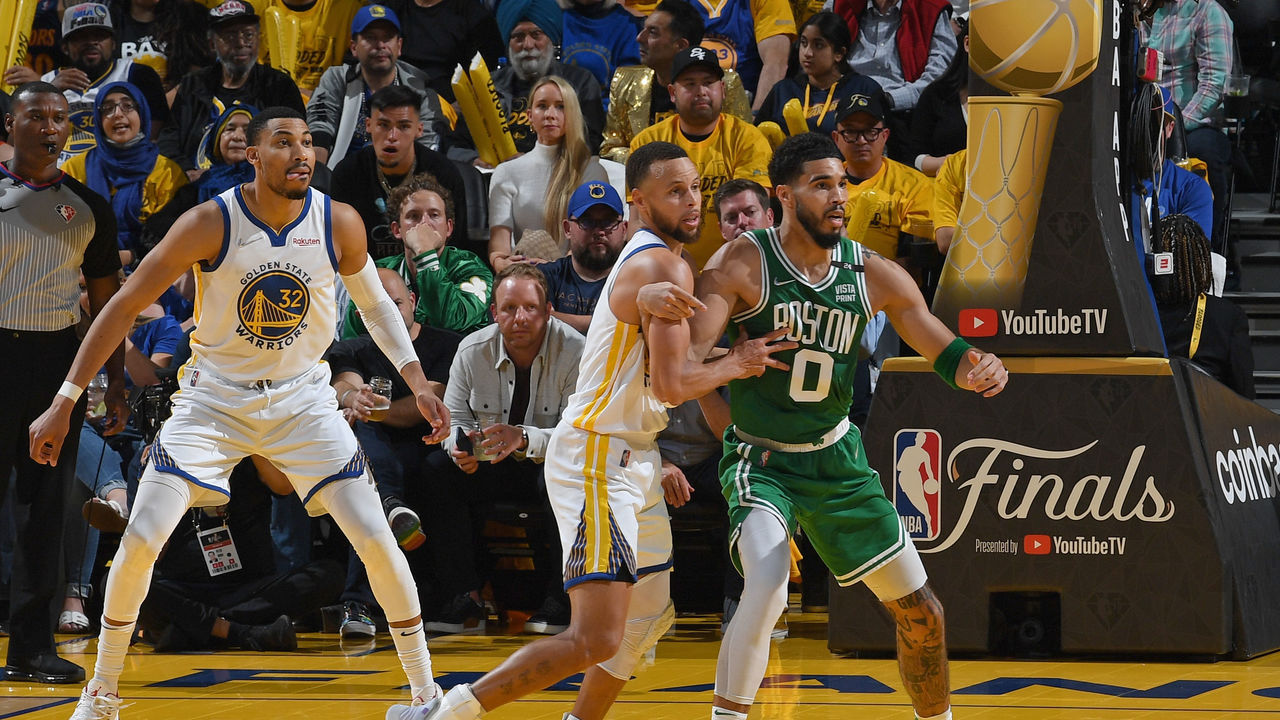 Another adjustment from the Celtics was to split up Williams and Horford and exclusively roll with one big man on the floor in the fourth quarter. That's typically a decision they make with the offensive end in mind (and it certainly did help there), but it also simplified things for Boston's defense. It allowed the Celtics to comfortably switch Golden State's off-ball actions and let them stick one of Smart or Tatum on Green. That practically negated Green's impact as a screener because there was no advantage for the Warriors to get either Smart or Tatum switched onto their guards.
The Celtics' twin-big look has been dominant defensively throughout the playoffs, so this isn't to say they should mothball it. But in Game 1, Boston was outscored by 10 points and had a 127.3 defensive rating in the 16 minutes Horford and Williams shared the floor. Conversely, in 26 minutes with either one of those bigs playing without the other, the Celtics outscored the Warriors by 28 with a defensive rating under 90. The Smart-White-Tatum-Brown-Horford unit that closed the game allowed just seven points across seven minutes.
All told, the Warriors' first-shot half-court offense scored just 90.1 points per 100 possessions in Game 1.
How Golden State can be better
The Warriors can bank on some opponent shooting regression after watching the Celtics shoot 51% from deep, but they can't only bank on that. Keep in mind that Golden State shot 19-for-45 (42%) from beyond the arc in Game 1. To ensure a split at home, the Dubs need to do a better job of attacking a defense that held them to 46% 2-point shooting and just 26 points in the paint.
The first and most obvious thing that needs to happen is they need to get more from Poole. The bar for his offensive output is extremely high because of how exploitable he is defensively, but he was probably worse on offense than he was on defense in Game 1. He finished with nine points on 2-for-7 shooting with twice as many turnovers as assists, and that was while being guarded for long stretches by Boston's weakest perimeter defender in Pritchard. The Warriors were outscored by 19 points in his 25 minutes on the court.
The Warriors aren't exactly stocked with north-south attackers who can break a defense down off the bounce. Poole is the guy they most rely on to generate dribble penetration, and when they aren't getting it from him, they can become dangerously jumper-dependent. He attempted one shot at the rim in Game 1 and had it blocked.
Poole's shooting is also crucial because while the Celtics adjusted their pick-and-roll coverage against Curry, they continued to play drop against just about everyone else. Poole just couldn't carve out enough separation to take advantage, which speaks to Boston's elite screen navigation (even Pritchard was excellent in that regard) but also to Poole's uncharacteristic hesitance.
This snapshot was part of a scripted set to get Thompson a catch-and-shoot three coming off an Iguodala pindown, but with Williams dropped way back into the paint on the initial ball-screen action, you'd have expected Poole to at least explore the possibility of strolling into an open pull-up rather than immediately looking to hit the "short" pass to Green on the wing: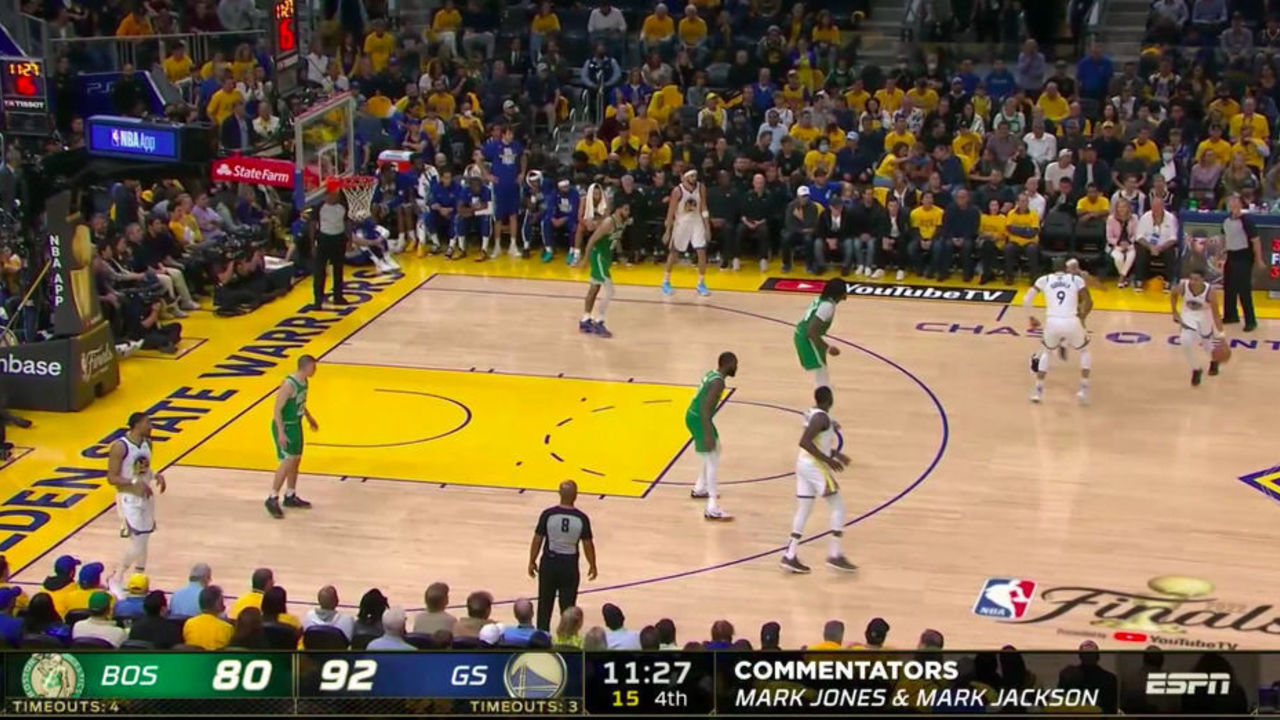 Poole wasn't the only offender on the possession below (Wiggins passed up an even better shot), but it was particularly vexing to see such a confident shooter and explosive off-the-catch attacker eschew both the 3-point look and the chance to drive into a yawning diagonal seam:
That type of hesitance only emboldened the Celtics to keep dropping against Poole, which made it that much more difficult for him to find his way to the rim. Given how often and how successfully the Celtics attacked him at the other end, he'll be straight-up unplayable in this series if he can't give more than this on offense.
Poole aside, the Warriors should be capable of better exploiting Boston's switching. For example, when Green has a defender like Smart or Tatum on him that he knows will switch onto Curry, he can look to slip more often to try and beat the switch. Consider this fourth-quarter possession:
That's a trademark Draymond four-on-three that'll look familiar to anyone who's watched a Warriors game in the last seven years, but it didn't materialize because of a blitz. The Celtics switched, but Green prevented Pritchard from getting underneath him, creating a passing window for Curry and a clean rolling lane for himself. (Again, note the hammer screen for Thompson in the corner that, in this case, held Williams for long enough to prevent him from helping the helper on the back side.)
Now compare that to this possession:
If Green were to slip to the rim there rather than simply standing still after setting the screen, at the very least, he'd have forced Horford to drop down and bump him, which would've opened up a much cleaner look for Wiggins.
If the Warriors continue to struggle against Boston's smaller, switchier lineups, giving Kevon Looney a bit more run over Iguodala might make sense. He's no worse than Iggy at defending in space at this point, provides scantly less spacing on offense, and at least offers Golden State salvation in the form of extra shots. He helped goose the Warriors' otherwise middling half-court offense in Game 1 by hauling in six offensive rebounds, which led directly to 12 points. He should be able to handle more than 25 minutes.
So the good news for the Warriors is that they're plenty capable of fixing the things that went wrong in Game 1, even against an elite defense like Boston's. The bad news is they've surrendered home-court advantage to a very tough opponent, and their margin for error has shrunk considerably. Game 2 should be a doozy.
Comments
✕
How Boston's defensive tweaks tilted Game 1 and how Golden State can respond
  Got something to say? Leave a comment below!