The Celtics finally leveraged their size advantage in a forceful Game 3 win
Jesse D. Garrabrant / Getty Images
Neither of this year's NBA Finals combatants looks on paper like a team built to win with size. Both play healthy doses of minutes with wings at the nominal power forward spot, both have perimeter-oriented offenses that like to work outside-in, and neither features a player taller than 6-foot-9 as part of their regular rotation.
The Celtics, though, are larger across every position. Their starting lineup collectively has about 5 inches and 80 pounds on that of the Warriors. Their small-ball units aren't actually very small, at least not compared to Golden State's.
Marcus Smart is Boston's shortest starter, but at 220 pounds, he weighs about the same as Warriors center Kevon Looney. Looney's positional counterpart - the 6-foot-8 Robert Williams III - is short for a 5-man, but his length and leaping ability allow him to play several inches above his more grounded frontcourt opponents.
The Celtics just play a "bigger" brand of basketball: more physical and more intent on seeking out and exploiting size mismatches. The Warriors have decent size on the wing, but they don't use it to attack smaller defenders. (Even if Boston had such defenders to attack, Klay Thompson and Andrew Wiggins aren't mismatch-hunting types.)
Despite all that, the Celtics didn't really bring those advantages to bear on the first two games of the Finals. Coming into Game 3, the Warriors held a pretty significant edge in both offensive rebounding and paint scoring. Golden State's offense had made Boston's bigs uncomfortable with a steady stream of Steph Curry high pick-and-rolls, the Celtics' offense hadn't managed to put the same strain on Curry at the other end, and Looney had been considerably more impactful than a hobbled Williams.
But back in front of its home crowd on Wednesday night, Boston finally leveraged its superior size and physicality to claim a 116-100 win and a 2-1 series edge.
The numbers paint a pretty clear picture of which team dictated terms. The Celtics outscored the Warriors 52-26 in the paint, shot nine more free throws, and generated a 15-6 advantage on the offensive glass by recovering an insane 38% of their own misses. Here's how it happened.
Hunting Steph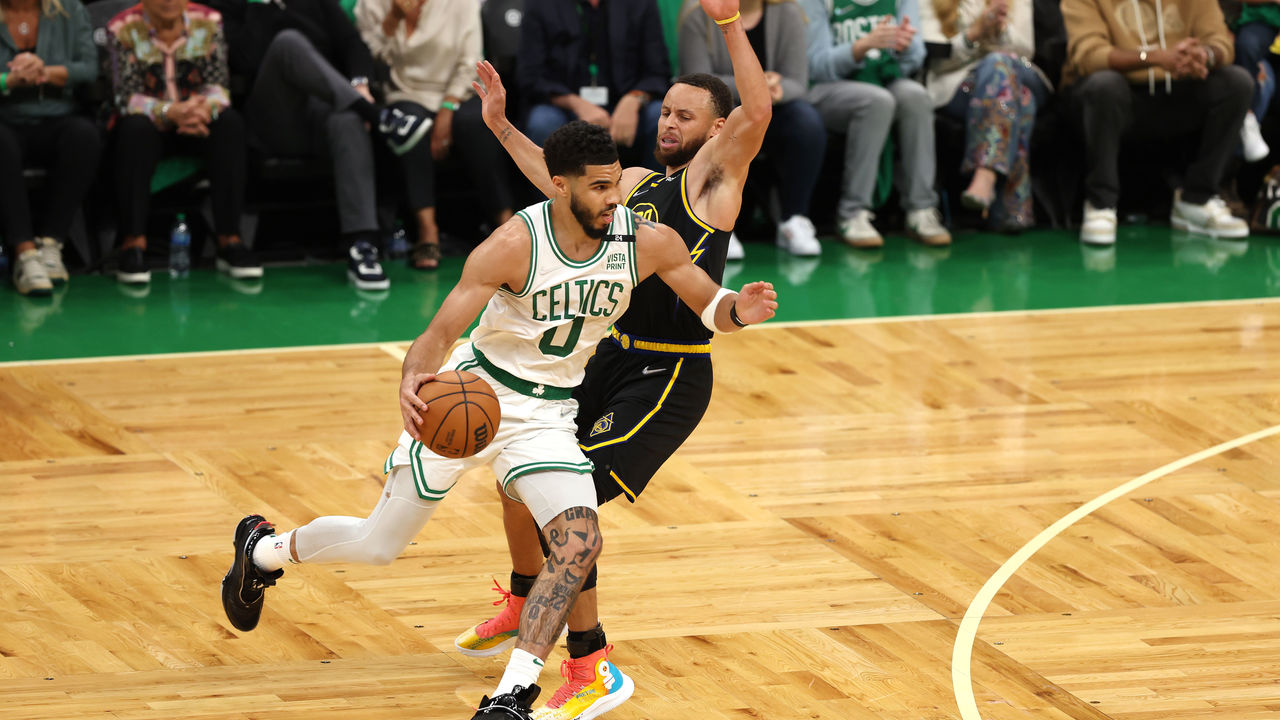 Offensively, the Celtics set the tone shortly after tipoff when Smart drew Curry on a switch and immediately took him into the post for a short turnaround jumper. Smart's aggressiveness helped get Curry into early foul trouble, which really changed the tenor of the game.
Curry played hedge-and-recover on basically every Luka Doncic ball-screen action in the West finals. But in the Finals, the Warriors have been far more willing to switch him onto Jayson Tatum, Jaylen Brown, and Co. to avoid putting two on the ball and getting into heavy rotation. That tactic seemed to throw the Celtics for a loop initially, but after struggling to exploit Curry in Game 2 (due to a combination of their overly deliberate decision-making and Curry's solidity on switches), they hunted him with increased frequency and decisiveness in Game 3.
With Golden State going small for the vast majority of the game (more on that shortly), Boston made a point of attacking the rim early and often. Curry, reluctant to keep racking up fouls, put up less resistance, but the Celtics' big wings also did a much better job of moving quickly when they generated the switch they wanted, preventing the Warriors from setting up their help.
Tatum was particularly determined to not let Curry off the hook, but this was a total team effort. Smart and Brown chipped in with the odd bully-ball attack, and Al Horford twice used cross-matches in transition to seal Curry under the basket and score. Boston posted a 127 offensive rating with Curry on the floor.
Moving forward, Golden State should be able to do a better job of protecting Curry from the type of onslaught he faced in Game 3. The Celtics will keep targeting him, but the Warriors don't have to concede as many soft switches and can be more intentional about when they do. Smart-Tatum pick-and-rolls, for example, should be automatic unders since the threat of Smart pulling up is a relatively small cost for retaining their preferred assignments. But on this one, Curry and Wiggins switched, and Tatum promptly made them pay:
On this double ball screen, the Warriors opted not to switch the first screen involving Looney but then switched the second one to again leave Curry on an island against Tatum:
If they'd switched both screens, they would've wound up with Looney on Tatum instead, which isn't exactly ideal but is still a whole lot more survivable than having Curry in the matchup while battling foul trouble.
The Warriors did start to deploy more hedges against Tatum's inverted pick-and-rolls as the game progressed (both with Curry and Jordan Poole as the screen defenders), but the Celtics had plenty of success attacking that coverage as well, so it will be interesting to see where Golden State lands for Game 4.
Rob Will emerges, Looney disappears
One of the most interesting tactical questions coming into this series was to what extent the two teams would be willing to roll with their bigger lineups rather than leaning into the more spacious comforts of small ball.
With Williams struggling physically and being exploited in high ball-screen action at various points in Games 1 and 2, the Celtics downsized mainly out of necessity, doing away with the Williams-Horford frontcourt for all but the brief perfunctory shifts at the start of each half.
The Warriors, meanwhile, had gotten great production out of Looney - winning his 46 minutes by 22 points while controlling the glass and paint - and even survived a 10-minute stint from Nemanja Bjelica in Game 2. They still ran plenty of lineups with Draymond Green at center, but they looked comfortable with their bigs playing a sizable role in the matchup and Looney switching out onto Boston's wings.
When Williams was subbed out less than four minutes into Game 3, it seemed things would follow a similar pattern. But the Warriors countered by pulling Looney at the same time, and they remained steadfast in their refusal to stay big when the Celtics downsized for the rest of the game. While Williams ultimately re-emerged later in the contest and made a massive impact, Looney did not, exacerbating the size advantage Boston already enjoyed in the matchup.
Williams had looked worn down and sluggish in Game 2, but he came off the two-day break looking fresh as a daisy and completely changed the shape of the game with his rim deterrence, ball-screen coverage, and rebounding. His most important stretch came in the fourth quarter after the Celtics had watched an 18-point lead evaporate in the third as Curry repeatedly burned Horford's drop coverage in pick-and-roll. Boston's been dropping against Curry for basically the entire series, so the overarching scheme was nothing new, but the execution of it during that third quarter left a lot to be desired.
The only successful formula the Celtics have found for defending Curry's high pick-and-rolls is to have the screen defender start the play up at the level before dropping back. When Williams entered the game at the start of the fourth, it was clear he was prepared to execute that coverage in a way Horford was not:
That was interesting since the Celtics have spent large portions of this series pre-switching on defense in order to get Horford involved in the ball-screen action instead of Williams. The rationale for that had as much to do with wanting to keep Williams' vaunted rim protection on the back line as it did Boston's concern about him defending in space. But in Game 3, with his knee seemingly feeling stronger and his agility clearly improved, he was able to impact the ball without compromising his ability to be a presence around the basket.
There were multiple plays in which he denied a pull-up attempt and still recovered in time to alter or block a shot at the rim. No less importantly, he was able to crack back after some of those perimeter contests and snare contested rebounds:
The non-Curry Warriors made that dance a little too easy on him at times, none more so than Poole. The third-year guard continued to be frustratingly indecisive with the ball in his hands, letting Williams get away with dropping against him by record-scratching out of open threes or failing to move the ball quickly enough when Williams came up to the level. He committed both of those sins in the first play above, leading to the big block on Bjelica.
Williams wound up playing basically the entire fourth quarter and was instrumental in holding the Warriors to just 11 points in that frame. He finished with three steals and four blocks, and his ability to outleap anyone on Golden State also allowed him to grab three of Boston's 15 offensive boards. He was a game-high plus-21 in his 25 minutes, and the Celtics allowed just a point per possession while grabbing 65.3% of all available rebounds with him on the floor.
He was so effective that Ime Udoka actually went back to the Horford-Williams pairing down the stretch, something he hadn't done in either of the previous two games. Even when Udoka split them up, he mostly maintained the semblance of a two-big alignment by making sure the power forward spot was occupied by Grant Williams, who had his best game of the series in Game 3 and contributed in a major way on the glass. The success of that frontcourt trio allowed Udoka to shelve Daniel Theis, an overdue adjustment.
Steve Kerr decided to go the opposite direction, stapling Looney to the bench in the second half and rolling with Green at center for 27 minutes. He did so despite Green having an uncharacteristically ineffective defensive game (and overall one of his worst playoff games ever), despite the way Boston was exploiting Golden State's lack of rim protection, and despite the Green-Wiggins frontcourt getting mauled on the glass. Even when Green fouled out in the fourth quarter, Kerr turned to Andre Iguodala rather than Looney.
In fairness, Looney didn't perform well in his 16 minutes, and the Warriors didn't fare any better in those problem areas when he was out there. Most damningly, Golden State just couldn't score when he and Green were on the floor together. For all Green's struggles, the Warriors still played to a 118 offensive rating when he played without Looney in Game 3 compared to 88.2 during their joint minutes.
Still, in a game in which the Warriors got overwhelmed by the Celtics' size and physicality, it felt like Looney could've been afforded a longer leash.
Comments
✕
The Celtics finally leveraged their size advantage in a forceful Game 3 win
  Got something to say? Leave a comment below!