New skills plus old instincts helped Wiggins rescue the Warriors in Game 5
When the Golden State Warriors traded for Andrew Wiggins during their miserable, Steph Curry-less, pandemic-shortened 2019-20 season, Wiggins' fit with the optimized version of his new team seemed tenuous.
At its best, Golden State's offense thrived on ball and player movement and rapid-fire decision-making. Wiggins had a penchant for dithering with the ball and meandering into contested 20-footers. The full-strength Warriors smothered opponents with a defense built around hyperconnectivity, pristine switching, and read-and-react rotations, whereas Wiggins had never shown much of an appetite for defensive grunt work nor an aptitude for help concepts.
Wiggins had flashed all the tools necessary to be a quality two-way wing in a lower-usage role more geared toward finishing plays; he'd proven himself a solid shooter off the catch, a strong straight-line driver, and a forceful at-rim finisher, with the length and athleticism to capably guard three positions. But with the Timberwolves, he undercut those skills instead of leaning into them.
His desire to compete on defense was wildly inconsistent, and at the offensive end, he overindulged a bricky pull-up jumper and an iffy handle that rarely led him to fertile ground when he initiated from a standstill. He had the profile of a role player, but as a former No. 1 pick on a max contract, he seemed to feel duty-bound to adopt the playing style of a superstar.
With Curry and Draymond Green and eventually Klay Thompson returning to the fold, along with an ascendant Jordan Poole, the Warriors needed Wiggins to adapt. And in an environment far more hospitable to his particular strengths and weaknesses, he did. It took time, but as the team around him got healthier and coalesced, he built himself into the role player the Warriors asked him to be.
He learned how to play off of Curry - cutting, screening, attacking off the catch, making snap decisions within the flow of the Warriors' offense, and exchanging most of his pull-up twos for spot-up threes. And he completely bought in at the defensive end, establishing himself as one of the game's best one-on-one wing stoppers while vastly improving as a helper.
In Game 5 of the 2022 Finals, though, the Warriors needed more than that, with the Celtics' defense stymieing so many of their screening actions and off-ball sets and Curry struggling as he failed to connect on a single 3-pointer for the first time in his playoff career. Golden State needed Wiggins to tap back into his volume-shooting, self-creating instincts, ideally without compromising the developments that had turned him into such a valuable complementary piece.
Incredibly, Wiggins answered the bell. He delivered a team-high 26 points and 13 rebounds while mostly serving as the primary defender on the Celtics' best offensive player across 42 grueling minutes, helping guide the Warriors to a 104-94 victory that put them one win away from their fourth championship in the last eight years. In the defining performance of his career to date, Wiggins combined flashes of the lead-dog scorer he once tried to be in Minnesota with the role-player skill set he honed in Golden State.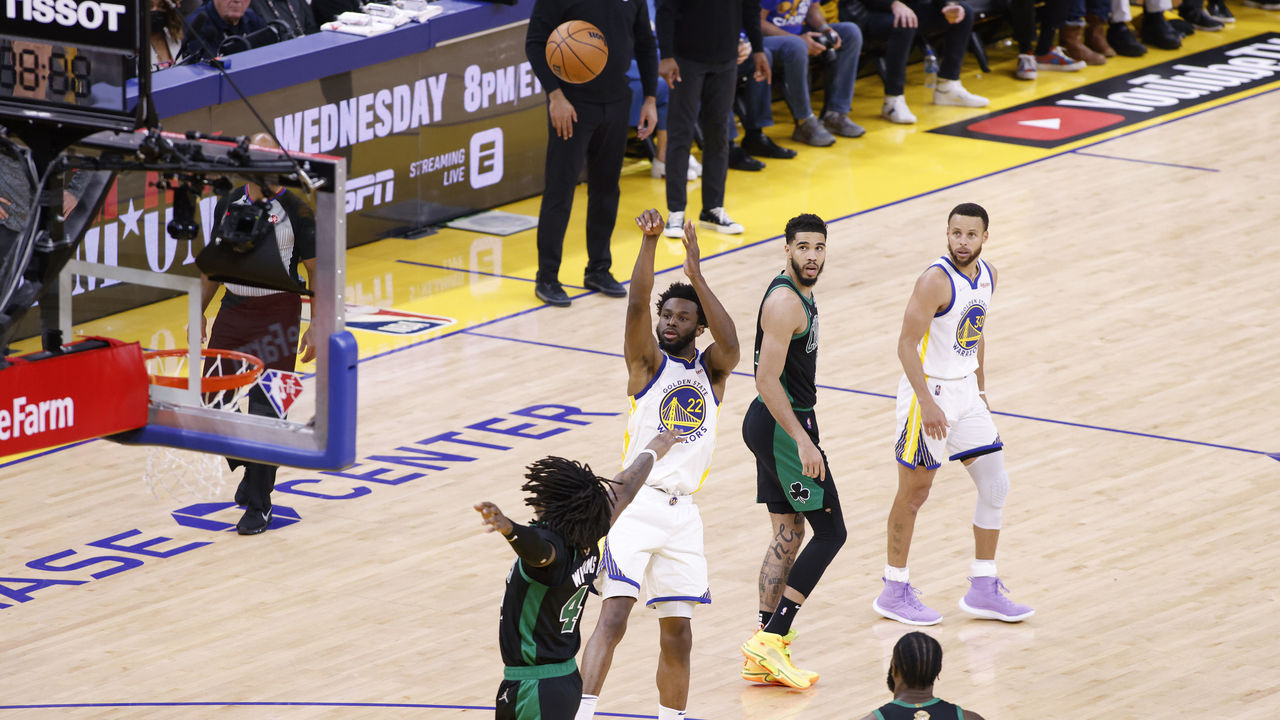 He set the tone early in the first quarter on a Warriors possession that appeared to be going nowhere. With Curry being face-guarded by Marcus Smart 30 feet from the hoop, Wiggins hit Thompson coming off a weak-side pindown from Green. But Jaylen Brown spun underneath Green's screen and was back in Thompson's jersey before the latter could get a shot off.
Thompson and Green then pivoted into a pick-and-roll going back toward the sideline, but Robert Williams III jumped out to take away Thompson's pull-up before quickly recovering to Green's roll, so all Thompson could do was reverse the ball back to Wiggins at the top with the shot clock dwindling. With no hesitation, Wiggins got a half-step on Jayson Tatum with a quick left-to-right crossover, drove to the dotted line, and stepped back for a silky 15-footer.
That was the first of six self-created Wiggins baskets in Game 5, which included four straight-up isolations that rescued broken or stagnant Warriors possessions late in the clock. Those unassisted field goals represented half his output in the game (previously, 72% of his made shots in the playoffs had been assisted), and though he missed all six of his 3-point attempts, he made up for it by going 12-for-17 inside the arc thanks largely to those successful isos. His 26.4% usage rate was also his highest in any game this postseason.
When he wasn't dipping into his bag out of necessity, Wiggins was doing all the catch-and-go, in-the-flow play finishing stuff he's polished over the last two years. He attacked closeouts on the second side, dove to the rim out of split action with Curry, and slipped out after setting pindowns for Thompson that drew two to the ball, gliding in for tough finishes over a shot-blocker in Williams who'd given him fits throughout the series:
After hitting 16 paint shots over the first four games combined, Wiggins got 10 in Game 5 alone.
Perhaps most impressively, the increased offensive load did nothing to diminish his impact at the defensive end. As he's done throughout the Finals, Wiggins took the primary assignment on Tatum. And while the Warriors switched liberally and provided plenty of backline help on Tatum's drives as part of a total team effort, Wiggins' length and balance working as the first line of defense played a huge part in flustering the All-NBA first-teamer. Tatum didn't attempt a field goal for the first 10 minutes of the game and then collapsed in the fourth quarter, with just five points on eight used possessions.
The Celtics mostly tried to get Wiggins switched off of Tatum, but the rare times that Tatum tried to go at Wiggins one-on-one did not go well for him:
Wiggins has allowed just 47 points on 54 used possessions as Tatum's primary defender so far in the Finals, according to NBA.com's matchup data. And he's done that while regularly switching onto Boston's bigs and more than holding his own.
His off-ball defense was also excellent in Game 5, whether he was executing seamless switches on weak-side pindowns, swooping in for a help-side block on a Brown turnaround, or stunting back and forth between two shooters to plant a seed of doubt in Derrick White's mind without letting the ball swing to Al Horford in the corner:
While blending play styles recent and old, Wiggins also managed to work in something entirely new: For the second straight game, he led both teams in rebounding. Wiggins has historically been one of the worst rebounding wings in the league, but he followed up his 16-board performance in Game 4 with a baker's dozen in Game 5. And these weren't just uncontested gimmes that bounced right into his lap; a lot of them were 50/50 balls that Wiggins yanked down in a crowd, often on a second effort after making a defensive play to force the miss in the first place:
Jordan Poole's banked-in prayer just before the third-quarter buzzer was one of the game's major pivot points, but it wouldn't have happened if Wiggins hadn't skied for a defensive rebound and then pushed the ball up the floor, giving Poole just enough time to get the heave off:
Wiggins will be hard-pressed to replicate that extraordinary performance, but the Warriors might not need him to. In any event, he's already put his stamp on the Finals, proving he can shape-shift to meet the particular demands of a particular situation, even on the biggest possible stage. He delivered exactly what the Warriors needed when they needed it most, and by harmonizing elements of his past and present selves, he brought his transformation in Golden State full circle.
Comments
✕
New skills plus old instincts helped Wiggins rescue the Warriors in Game 5
  Got something to say? Leave a comment below!