How the Warriors changed, and how they stayed the same
Jesse D. Garrabrant / Getty
Sports dynasties are built, first and foremost, on continuity: continuity of personnel and continuity of success. In that respect, the dynastic Golden State Warriors represent a unique blend.
Many of the principal figures have been present throughout this eight-year run, but the 2022 championship Golden State clinched Thursday night came on the heels of two lottery seasons, including a 15-win sojourn in the cellar.
Those non-playoff seasons came on the heels of a three-year stretch in which a mercenary superstar joined the fray, won two titles and two Finals MVPs, ruptured his Achilles in the Finals of Year 3, and then left. The Kevin Durant era almost feels like its own dynasty-within-a-dynasty at this point.
Tying together this entire era is the core quartet of Steph Curry, Draymond Green, Klay Thompson, and Steve Kerr. (You can call it a quintet and include Andre Iguodala, but he hardly played during this latest playoff run.) That group just won its fourth championship in its sixth Finals trip over the last eight seasons while mostly using the same stylistic principles it employed for the three titles. But certain things about this most recent title run also felt new for the Warriors. So let's look at what changed, and what didn't.
Most obviously, two key rotation players emerged: Jordan Poole and Andrew Wiggins. Poole, in particular, is something the Curry-era Warriors never previously had: a second guard with the dynamism to shepherd the offense in Curry's stead and slingshot into their off-ball motion sets as something of a Steph Lite. During its past title runs, this team's primary bench ball-handlers were guys like Shaun Livingston, Quinn Cook, Pat McCaw, Ian Clark, and Leandro Barbosa. Barbosa, in truth, was probably the closest thing the Warriors had to Poole during their Western Conference hegemony in the second half of the 2010s. That helps explain why their offense always cratered with Curry on the bench, even during the Durant years.
That trend didn't entirely reverse itself this year, but Poole helped mitigate the discrepancy. Golden State's offensive rating in Curry-less minutes during the regular season (106.3) was higher than it had ever been before, and they actually significantly improved upon that number in the playoffs (110.3) … until the Finals. Poole struggled mightily against the Boston Celtics' length and physicality, but he still managed bursts of microwave scoring that helped tilt games in Golden State's favor.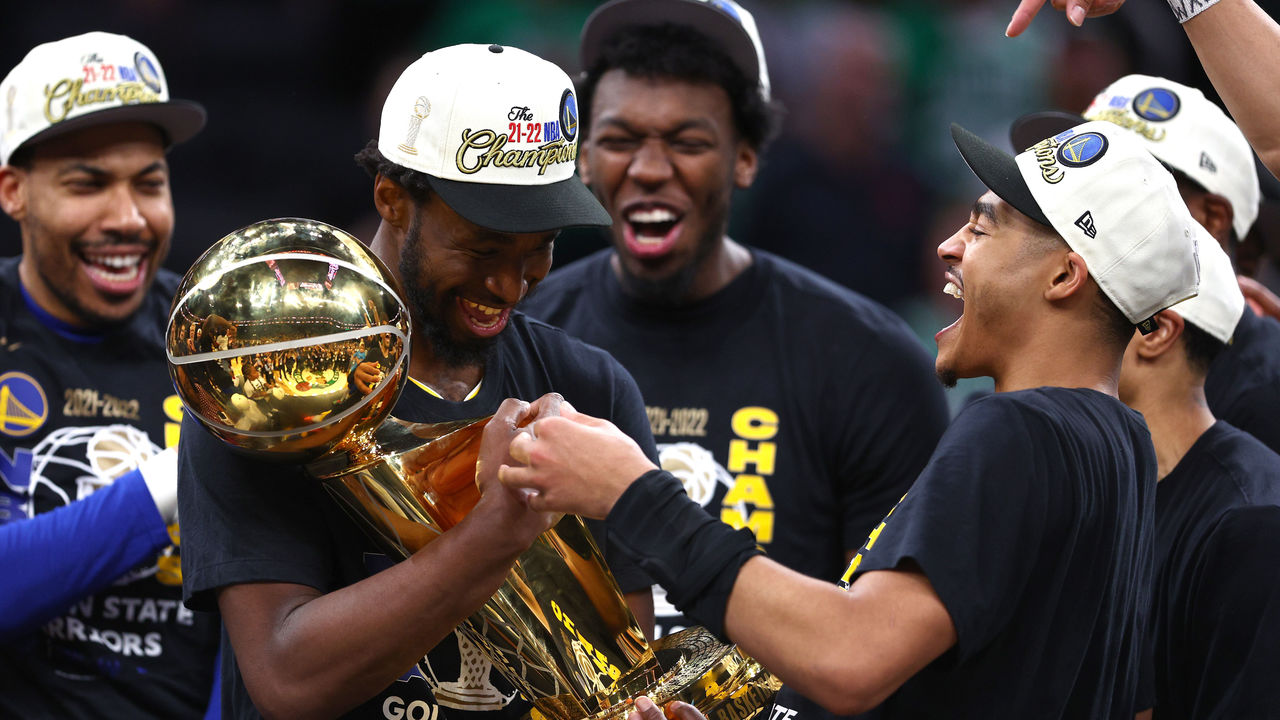 Poole's ascendence is representative of a broader overall team-building shift for the Warriors. He was their first significant draft hit since assembling their core trio, breaking the lineage of squandered picks like McCaw, Damian Jones, and Jacob Evans. The Warriors spent years filling out the back end of their roster with creaky ring-chasers, but while this squad still had a handful of veteran role players (Otto Porter Jr., Nemanja Bjelica, a returning Iguodala), there were far more homegrown young contributors in the rotation.
That includes Kevon Looney, a 2016 first-round draftee whose slow-burn development fully ignited this season as he became critical to the team's success. And while Wiggins doesn't technically qualify as a homegrown player, he feels like one because he transformed into a fundamentally different player in Golden State. Ditto for Gary Payton II, the diabolical defensive menace who bounced around the fringes of countless teams' rotations and G League affiliates before finding safe harbor within the Warriors' offense as a cutter, screen-and-diver, lob-catcher, and dunker-spot scavenger.
That's without even mentioning this year's lottery picks, Jonathan Kuminga and Moses Moody. They were put on ice for the Finals but made the most of their opportunities to contribute at other points in the playoffs, including the Mavericks series. Kerr ultimately still leaned on his vets when all the marbles were on the line, but development was clearly more of a priority with this group than it was for past Warriors champions, which could pay major dividends.
That shift might not have taken place if not for the interregnum during which Thompson and Curry hit the shelf for extended stretches and Golden State plummeted to the basement in the wake of their injuries and Durant's departure. The Warriors' chief reward for their one tanking season (second overall pick James Wiseman) played zero part in this championship, but there were other silver linings. Poole was able to spread his wings in the playing-time vacuum and diminished expectations provided by Thompson's absence, while Wiggins used that same low-stakes runway to adapt his role from miscast self-creator to off-the-catch attacker and lockdown defensive wing.
In the midst of those changes, the general structure of Kerr's offense remained the same, even as various new additions (like Wiseman, the since-dispatched Kelly Oubre, and initially Wiggins) struggled to execute its principles. Kerr helped his new players adapt to the system, rather than the other way around, and by the time they were ready to contend again, their offensive possessions looked very familiar: lots of high-post split action, pindowns that flowed into dribble-handoffs, dribble-handoffs that flowed into pick-and-rolls, pick-and-rolls that led to lay-downs and lobs or to catch-and-shoot threes behind flare screens and pin-ins, all deploying Curry as a skittering off-ball chaos agent as often as he was an on-ball orchestrator (at least until the Finals).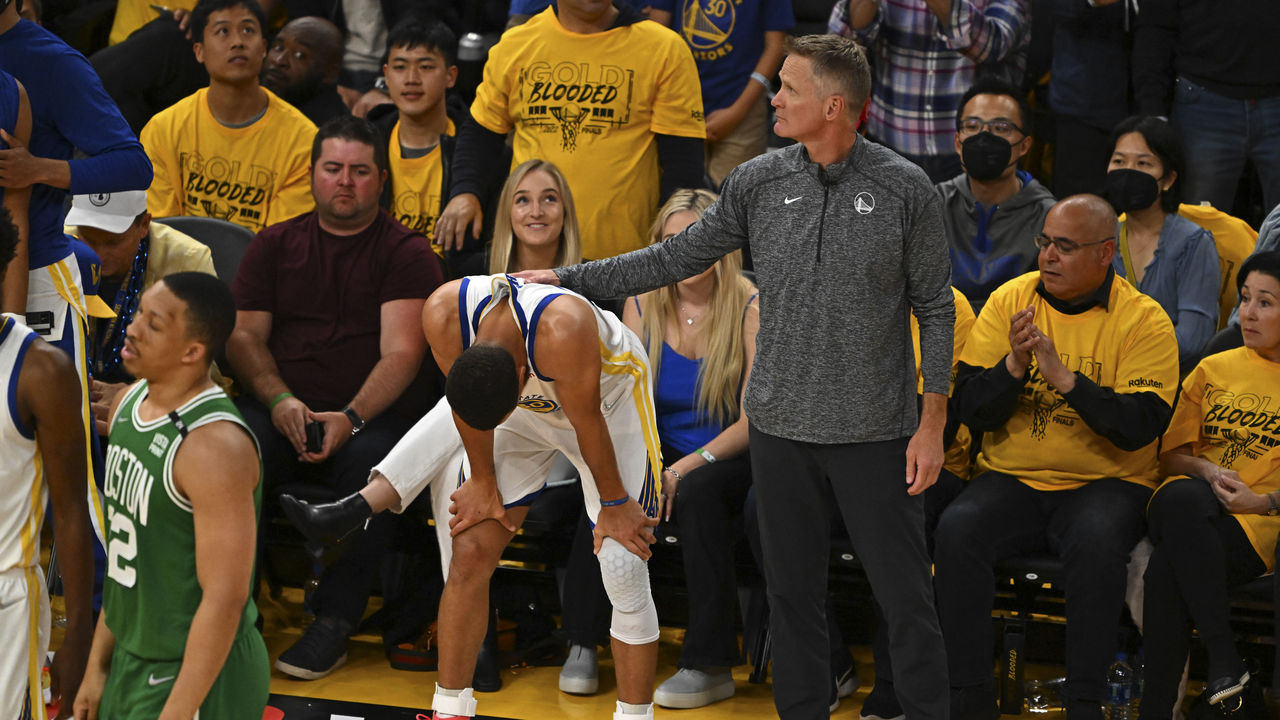 The Warriors remained one of the most iso-averse teams in the league, but they still felt comfortable leaning into one-on-one play when they felt it was their best option, just as they frequently did with Durant. To that end, Poole gave them a new off-the-bounce threat who was more than capable of dusting a switch or attacking without a screen. His 1.15 points per isolation ranked fourth among all postseason players who finished at least 20 iso possessions with a shot, drawn foul, or turnover. Wiggins sprinkled in some much-needed iso scoring of his own when elite defenses dragged the Warriors' beautiful game into the mud.
Curry, for his part, was the most efficient isolation scorer in the league during the regular season (1.2 points per possession) and checked in right behind Poole at 1.13 in the playoffs. This season also represented his highest iso frequency (7.6%) since his last MVP campaign in 2015-16, and he amped that up even further in the playoffs (11.6%). In the Finals, as Boston's defense mitigated so much of Golden State's off-ball advantage creation, it was left to Curry to repeatedly create shots for himself out of high pick-and-roll.
He responded with his highest-scoring Finals series ever: 31.2 points on 62.6% true shooting, which included hitting 42% on more than nine pull-up threes a game. In the title-clinching Game 6 win, with the Celtics resorting to switching his ball screens, it was his ability to break down every single one of their defenders off the bounce and continually wriggle his way into the paint that kept Golden State's offense humming.
For all the changes that went on around them, Curry and the other principal architects of the Warriors dynasty remained at the center of everything during this run. Curry was a one-man offense who made everything possible for basically any lineup combination. The Warriors could afford to skew their lineups toward defense - often playing with three non-shooters in Green, Payton, and Looney all on the floor - and still magically find their way to high-value shots.
Meanwhile, Green remains the game's best defensive quarterback and read-and-react helper, anchoring a unit that ranked second in the league during the regular season and just outperformed the top-ranked defense in the Finals. The Warriors were a bit more scheme-fluid on that end of the floor this year; they mixed multiple zone looks, random blitzes, and Next concepts in with their always airtight switching, pre-switching, and scram-switching. Green's ability to communicate on the backline and patch whatever leaks sprung up in those coverages made it all work.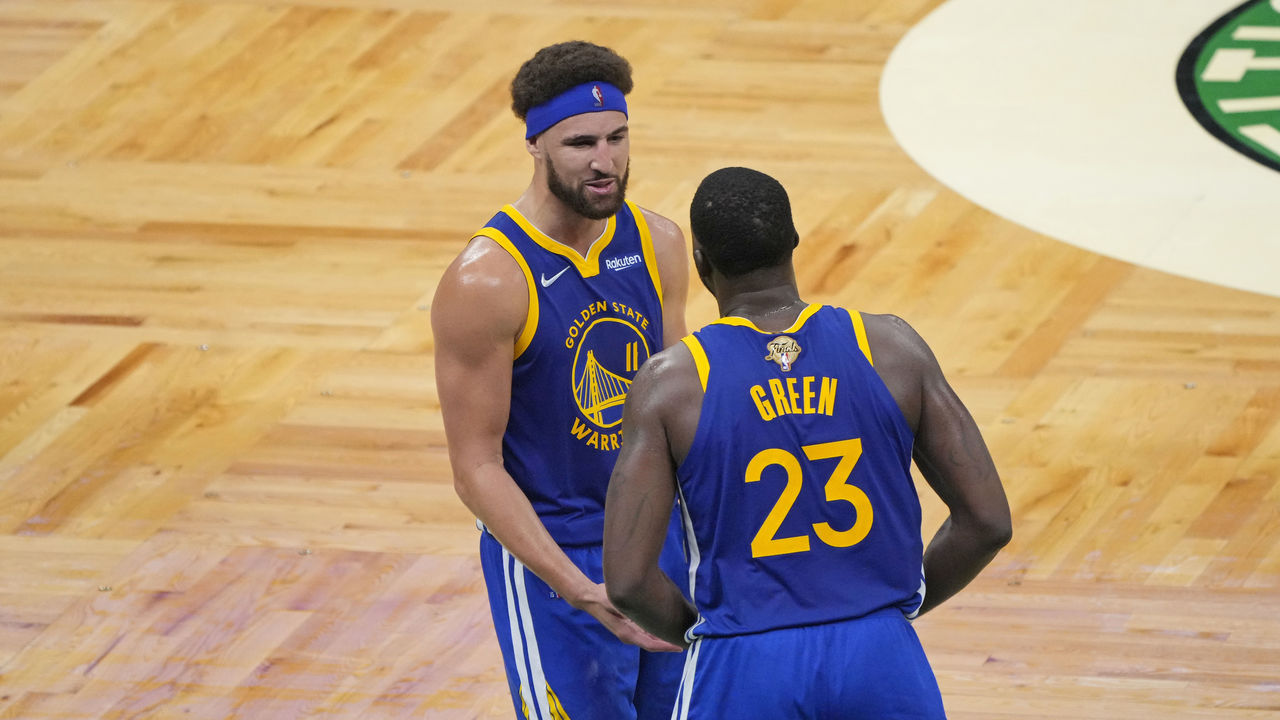 Despite a rough offensive postseason, Green's ability to shapeshift defensively - to go from guarding an on-ball perimeter scoring threat like Jalen Brunson or Jaylen Brown to playing a one-man zone while stashed on a non-shooter, all while holding opponents to 50% shooting at the rim - is invaluable to Golden State. And for what it's worth, he finally got his offense going in Game 6 of the Finals, drilling his first two threes of the series, dotting up cutters from the top of the floor, and constantly pushing the pace off of defensive rebounds to keep the Warriors out of the half court.
And finally, there was Thompson, who returned midway through this season after going more than two years without stepping foot on an NBA court due to tearing his Achilles immediately following his recovery from a torn ACL. Though his shot selection could be enervating and he was far less consistent than the player who once drew comparisons to a metronome, Thompson retained his jump-shooting prowess and his impeccable sense of timing. He put the Grizzlies away with 30 points and eight 3-pointers in Game 6 of the second round, buried the Mavericks with 32 and another eight 3-balls in the closeout game of the West finals, and came through with a 16-point second half in Game 5 of the Finals just when the Celtics appeared to be wrenching the game from Golden State's grasp.
He finished second on the team in playoff scoring, and his defense steadily improved as the postseason progressed. (His solid one-on-one work on Brown helped change the shape of the Finals by allowing Green to slide back into more of a help-oriented role.) He also led the Warriors in minutes during the playoffs. We're talking about a 32-year-old coming off basically the two most destructive lower-body injuries a basketball player can suffer, who had only 32 regular-season games to get back up to speed after two-and-a-half years on the shelf, and he was the leading minutes-getter and second-leading scorer for the team that won the championship.
This season featured something of a flattened field, with less top-heavy dominance than we've seen at points in the recent past. (You could probably make that argument for every season since Golden State got railroaded in June and July of 2019.) As such, these Warriors didn't have to go through the type of juggernauts they wrangled with during their late-2010s heyday. But they still had to overcome the Nuggets' two-time reigning MVP, a hungry 56-win upstart in Memphis that bore a passing resemblance to the early versions of themselves, a heliocentric megastar in Dallas who'd just knocked off the 64-win Suns, and Boston's league-best defense as part of a 16-6 march to the title.
They accomplished all that seven years after first cresting the summit with this core group. They did it by changing - and by staying the same.
Comments
✕
How the Warriors changed, and how they stayed the same
  Got something to say? Leave a comment below!