Five Big Ten teams rank among the top 12 in KenPom.com's ratings through Tuesday's games. Another three rank in the top 30.
The conference has as strong a case as any to be the best in college basketball in 2019-20.
The Big Ten has produced a Final Four team in six of the last eight seasons, though none of its schools have won a national title since Maryland in 2002 (and the Terrapins were part of the ACC at the time).
This year, there are at least two title contenders in Michigan State and Ohio State. Another three schools - Maryland, Purdue, and Michigan - will be dangerous in March. Then there are sleeper teams like Penn State, which could earn its first NCAA Tournament bid since 2011.
A primer on the Big Ten, one month into the season:
theScore's projected order of finish (last year in parentheses)
1. Ohio State (T8)
2. Michigan State (T1)
3. Maryland (5)
4. Purdue (T1)
5. Michigan (3)
6. Iowa (6)
7. Penn State (T10)
8. Indiana (T8)
9. Wisconsin (4)
10. Illinois (T10)
11. Minnesota (7)
12. Rutgers (T10)
13. Northwestern (14)
14. Nebraska (13)
5 key questions
Will the pieces come together in time for Michigan State?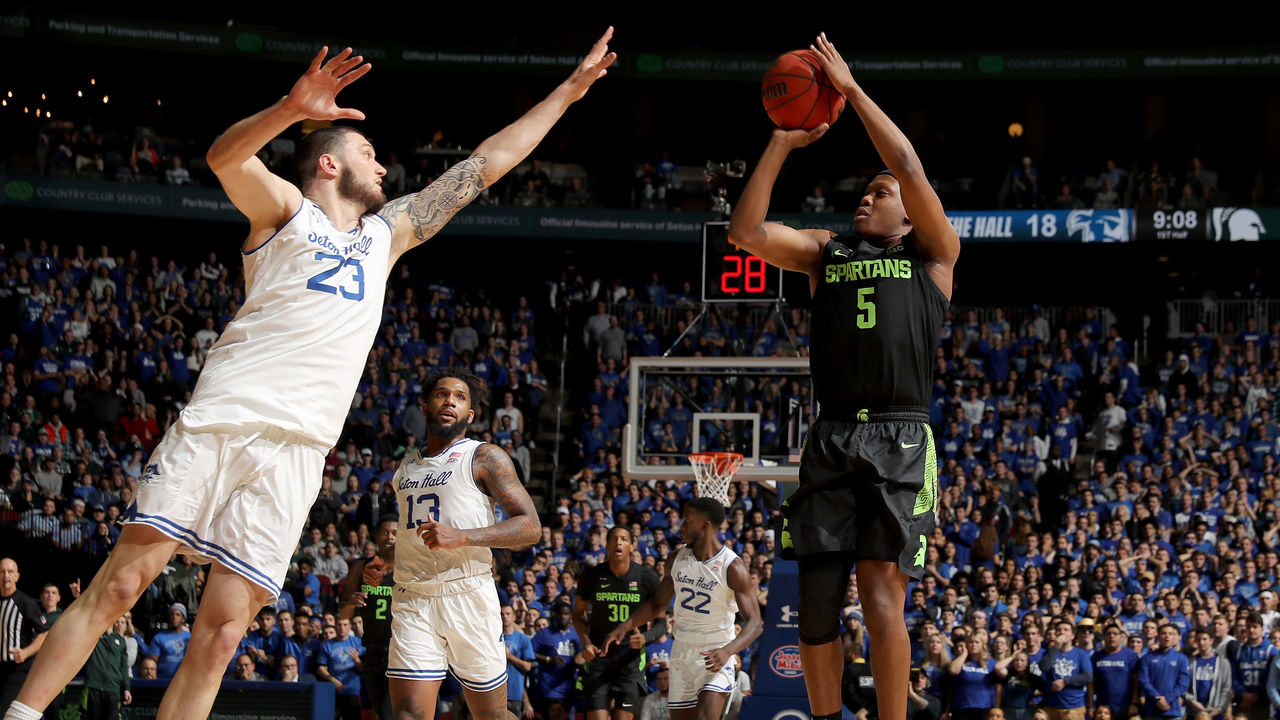 The first hit for Michigan State came before the season, when guard Joshua Langford was lost to a stress reaction in his foot. Langford, who averaged 15 points per game in 13 appearances last year, may not return.
Down what would have been a key piece, the Spartans have lost three games this season, to Kentucky, Virginia Tech, and Duke. Michigan State still looks like one of the top 10 teams in the country - its offense ranks No. 1 in adjusted efficiency, per KenPom - but MSU is no longer the favorite to win the national championship it was in November.
One reason? After Cassius Winston (17.8 points, 6.2 assists per game) and Xavier Tillman (13.3 points, 9.8 rebounds), the pieces haven't totally come together yet.
To win what should be a spirited five-team race at the top of the conference, the Spartans must get more consistency from their young players. Sophomores Aaron Henry and Gabe Brown have had up-and-down starts, with Henry (two points in 21 minutes) barely contributing in the 87-75 loss to Duke on Dec. 3. Guard Rocket Watts and forward Malik Hall are playing the most among MSU's freshmen, but Watts has been the team's lowest-rated offensive player, while Hall has rated poor defensively.
Tom Izzo has three months to tinker and find the rotation that can carry MSU through March.
After torrid start, could Ohio State win a national championship?
We knew Chris Holtmann could coach. The former Butler head coach has never lost an NCAA Tournament first-round game, improving to 5-0 when Ohio State upset Iowa State in the first round a year ago.
We knew Kaleb Wesson could be one of the best players in the Big Ten. The 6-foot-9, 270-pound junior has, it appears, made himself a bigger 3-point threat this season. He knocked down four 3s as part of a 28-point, 10-rebound performance in a 106-74 win over Penn State on Saturday.
What we didn't know, though, was how dominant the Buckeyes would look as a team in the first month of the season. In a run eerily similar to the way Michigan started last season, Ohio State has already notched decisive wins over Villanova (76-51) and North Carolina (74-49). The Buckeyes also defeated Cincinnati, and the 32-point win over the Nittany Lions was a statement in OSU's Big Ten opener.
Ohio State has been oppressive defensively, limiting opponents to a 35.9% mark on 2-point shots (best in Division I). A pedestrian shooting team a year ago, Ohio State has made 41.3% of its triples in its first nine games, which ranks 10th in the country. Sophomore Duane Washington, who shot 30.6% last year, is shooting 53.7% from deep this year. Sophomore Luther Muhammad is shooting 50% from 3.
Those numbers probably won't last, but the offense was the only thing in the way of last year's Ohio State team making more noise. Now, it's safe to call the Buckeyes a bona fide title contender in early December.
Does Juwan Howard keep the success coming at Michigan?
Michigan went 63-15 in the final two seasons of the John Beilein era, a standard no one expects Juwan Howard to match. With a first-time head coach and a team that had to replace three of its top four players in minutes, there weren't any expectations.
Howard has crashed the college basketball scene in a monster way, though. Entering Wednesday's Big Ten clash with Illinois, Michigan already owns wins over Creighton, Iowa State, North Carolina, Gonzaga, and Iowa. The Wolverines' only loss came on the road to the AP Top 25 No. 1 team, Louisville.
After Beilein's teams played at one of the slower tempos in college basketball, Howard's Michigan plays faster. Guards Zavier Simpson and Eli Brooks have proven to be excellent defenders so far this season. The Wolverines' offense has run through Simpson (12.3 points, 8.7 assists per game) and center Jon Teske (14.1 points, 9.2 rebounds), whose role has grown dramatically. Add in sharpshooter Isaiah Livers (49% from 3), and the Wolverines are tough to beat because of their variety of options.
Is this Maryland's best team since the Gary Williams era?
ESPN's Joe Lunardi bumped Maryland to a No. 1 seed in his most recent projected bracket, released Tuesday before the Terrapins lost at Penn State.
Obviously, it's early. Much will change. But the Terrapins haven't even been a top-three seed in the NCAA Tournament since 2002, the year Juan Dixon led them to a national championship.
So, yes, this Maryland team has the chance to be historically good, relative to what Maryland basketball has been over the last two decades.
The Terps have reached the Sweet 16 once in Mark Turgeon's eight seasons as head coach, but anything short of that this year would be a disappointment. The pieces are there: Senior Anthony Cowan is the top guard not named Cassius Winston in the Big Ten. Maryland has a chance to be great defensively - especially on the interior, where 6-foot-10 sophomore Jalen Smith is averaging nearly three blocks per game.
But there's still an element of "prove it" to Maryland basketball. Last year, the Terrapins started 16-3 and finished 7-9. In 2017-18, they began 13-3 and closed 6-10. In 2016-17, after a 20-2 start, they lost seven of their final 11 games and exited in the first round of the NCAA Tournament. It's up to Turgeon to figure out how to avoid another late-season malaise.
Is the third year the charm for Indiana, Illinois?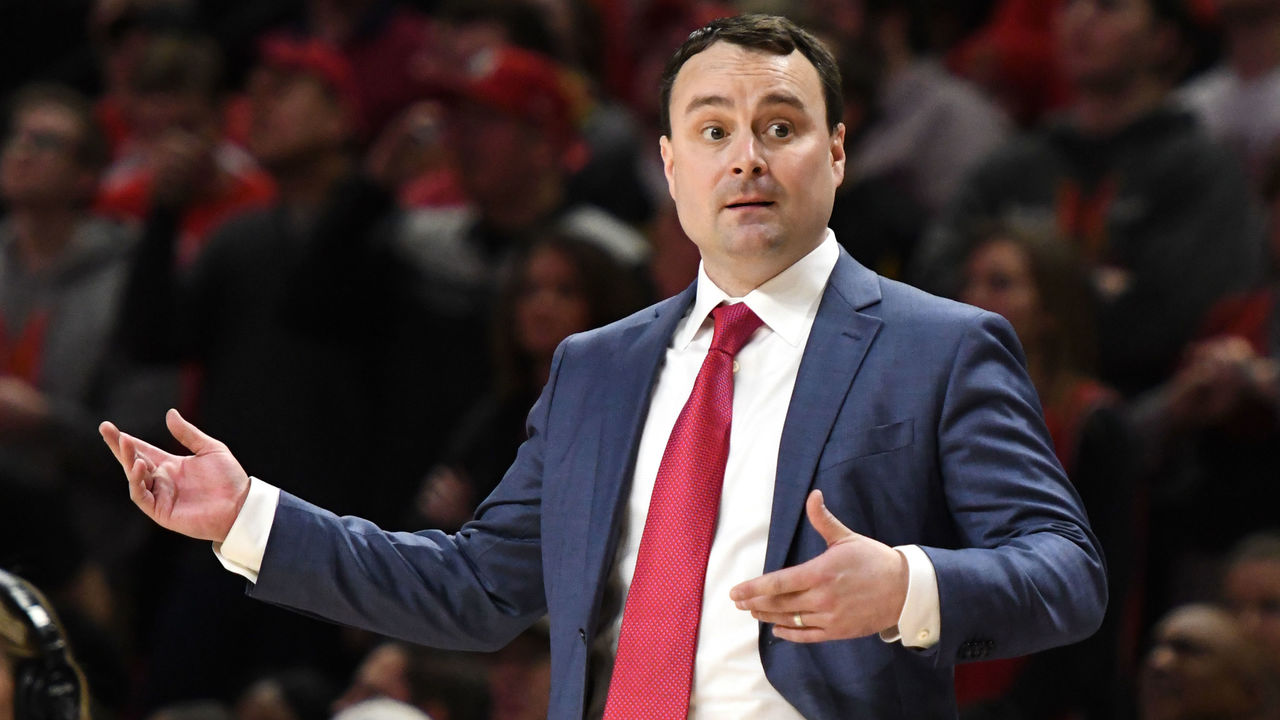 They were both seen as "home-run" hires.
At the end of the 2016-17 season, Indiana and Illinois nabbed a pair of wildly successful head coaches in hopes of elevating their programs.
The Hoosiers hired Archie Miller, who made his name by taking Dayton to four consecutive NCAA Tournaments, including an Elite Eight run in 2014.
Illinois hired Brad Underwood, who went 89-14 in three years at Stephen F. Austin, then won 20 games and reached the NCAA Tournament in his only season at Oklahoma State.
Miller and Underwood were a combined 61-70 in their first two seasons in Bloomington and Champaign.
Both could finally take their new programs to the NCAA Tournament this season. Indiana already picked up a tournament-level victory over Florida State. The Hoosiers are young and have questions defensively, but no team has got to the free-throw line at a higher rate this season. That should keep them in most games.
Illinois blew a 12-point halftime lead against Maryland over the weekend, scrapping a chance to make an early Big Ten statement. The Fighting Illini is the best offensive rebounding team in the nation and has a talented point guard in Ayo Dosunmu, but Underwood hasn't been able to replicate the tenacious defense he won with at Stephen F. Austin at the power-conference level. So far this year, Illinois hasn't pressed at all.
More in this series
SEC preview (Thursday, Dec. 12)
ACC preview (Friday, Dec. 13)
Big East preview (Monday, Dec. 16)