For a moment on Saturday, the college basketball scoreboard depicted a March Madness fever dream. Six ranked teams were in mid-afternoon action - all were trailing simultaneously to unranked opponents.
Baylor scraped by Oklahoma State - a team winless in Big 12 play - after trailing by double digits; Butler, which entered last week 15-1, took one on the chin at DePaul - yet another team that was previously winless in conference play; Ohio State, the No. 2 team in the country less than a month ago, fell to 2-5 in the Big Ten after losing to Penn State. Four of OSU's five losses are to teams not currently ranked in the AP Top 25.
Four of the six ranked teams that trailed at once on Saturday ended up winning their games. However, No. 4 Auburn lost to Florida by 22, while No. 12 West Virginia fell to Kansas State by 16.
AP top-five teams lost six times last week - the most in a single week since February 1994, per ESPN.
On Monday, Baylor ascended to No. 1 for the second time in school history. The Bears are the seventh team to claim the No. 1 spot this season - tying the record for most in one season.
And it's only January.
Inside the numbers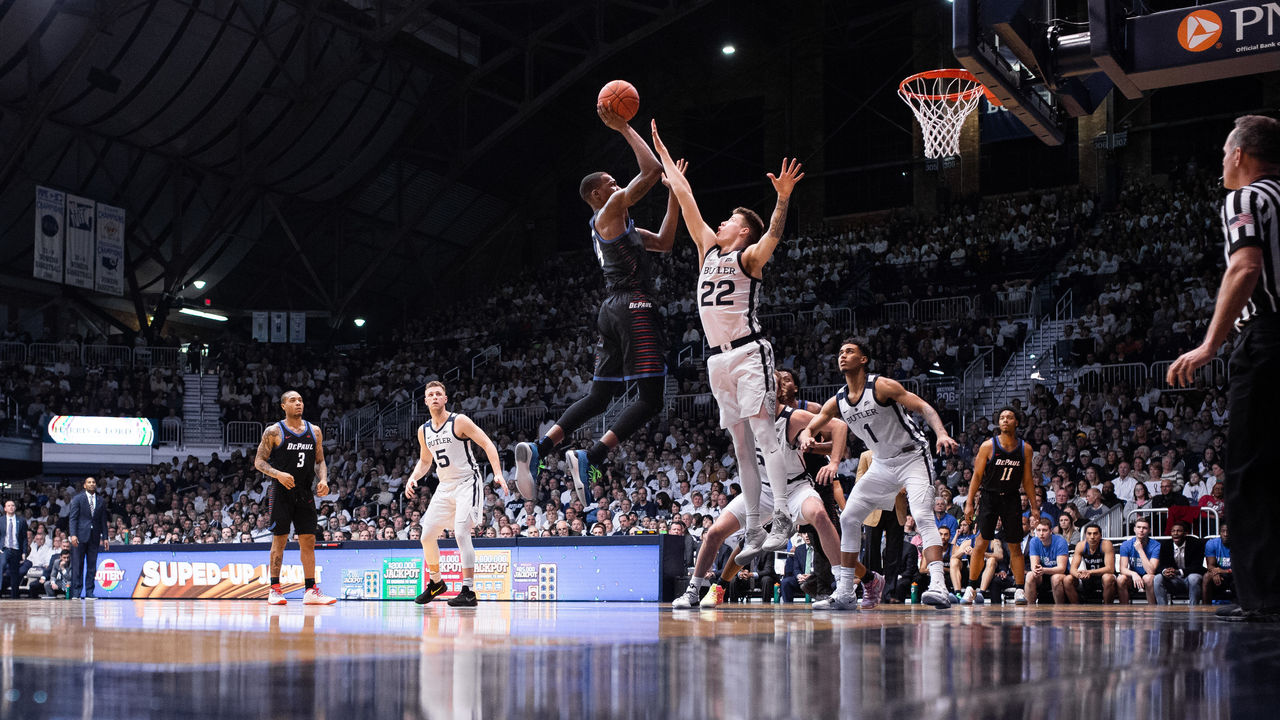 As of the conclusion of Monday's games, AP Top 10 teams have lost 22 times to unranked opponents.
Top-five teams have lost 12 games against unranked schools. Among the most notable:
• Nov. 12: Kentucky, then No. 1, lost 67-64 to Evansville. The Purple Aces, who have since placed head coach Walter McCarty on leave pending a Title IX investigation, are 0-6 in Missouri Valley Conference play.
• Nov. 26: Duke, No. 1 at the time, fell 85-83 to Stephen F. Austin in overtime. The Lumberjacks are the favorite to win the Southland Conference, but rank 120th in the Pomeroy ratings.
• Dec. 9-15: Four of the top five - Louisville, Ohio State, Maryland, and Michigan - lost to unranked opponents, all from power conferences.
• Jan. 13-19: Teams ranked Nos. 3-5 - Duke, Auburn, and Butler - went a combined 0-6. Four of the teams to beat them were unranked, including Clemson (vs. Duke) and DePaul.
Upsets of this magnitude tend to come and go. Last season, for instance, was a low-upset year, but the 2017-18 season rivaled this one:
The difference between 2015-16, 2017-18, and this year: Amid the unpredictable outcomes in past seasons, a couple dominant teams emerged. In 2015-16, Kansas and Oklahoma ranked in the top 10 from start to finish (North Carolina spent one week at No. 11, but the other 18 weeks inside the top 10); in 2017-18, Villanova entered the top five on Nov. 13 and never left, eventually winning the national championship, and Michigan State was a top-five team in 17 of 19 weeks.
No team has been in the top five in all 12 weeks of this season. Kansas has come the closest but slipped to No. 6 on Jan. 13. Four of the teams ranked in the top seven on Dec. 2 are now unranked.
How did we get here?
The freshman class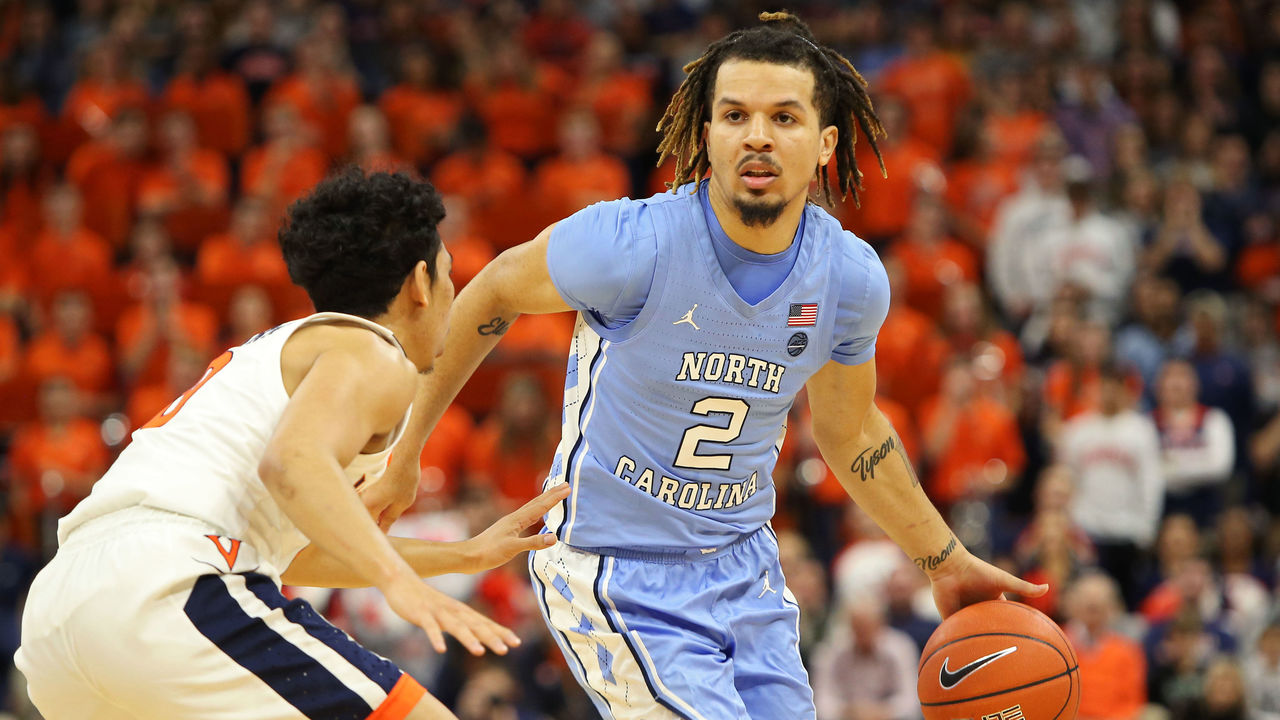 A year ago, Zion Williamson, RJ Barrett, and Cam Reddish teamed up to give Duke one of the better freshman trios in recent memory.
That didn't happen this year at Duke - or anywhere, for a myriad of reasons.
The nation's No. 1 recruit, James Wiseman, started three contests for Memphis before the NCAA suspended him 12 games for receiving money from Tigers head coach Penny Hardaway to help facilitate his move from Nashville in 2017.
In December, Wiseman announced his decision to leave Memphis and begin preparations for a pro career.
The No. 4 recruit, Cole Anthony, has been out since Dec. 8 with a knee injury. North Carolina was a preseason top-10 team with Anthony. The Tar Heels are 2-6 since he went down and are below .500 overall.
Two other top recruits, RJ Hampton and LaMelo Ball, bypassed college for the National Basketball League in Australia. No. 2 recruit Anthony Edwards chose to stay close to home and attend Georgia, a program that has not reached the NCAA Tournament since 2015. Edwards is thriving, averaging 19.1 points per game, but the Bulldogs are 1-3 in the SEC.
These events have left the 2019-20 season devoid of freshman stars, contributing to the lack of dominant teams.
A down year for offense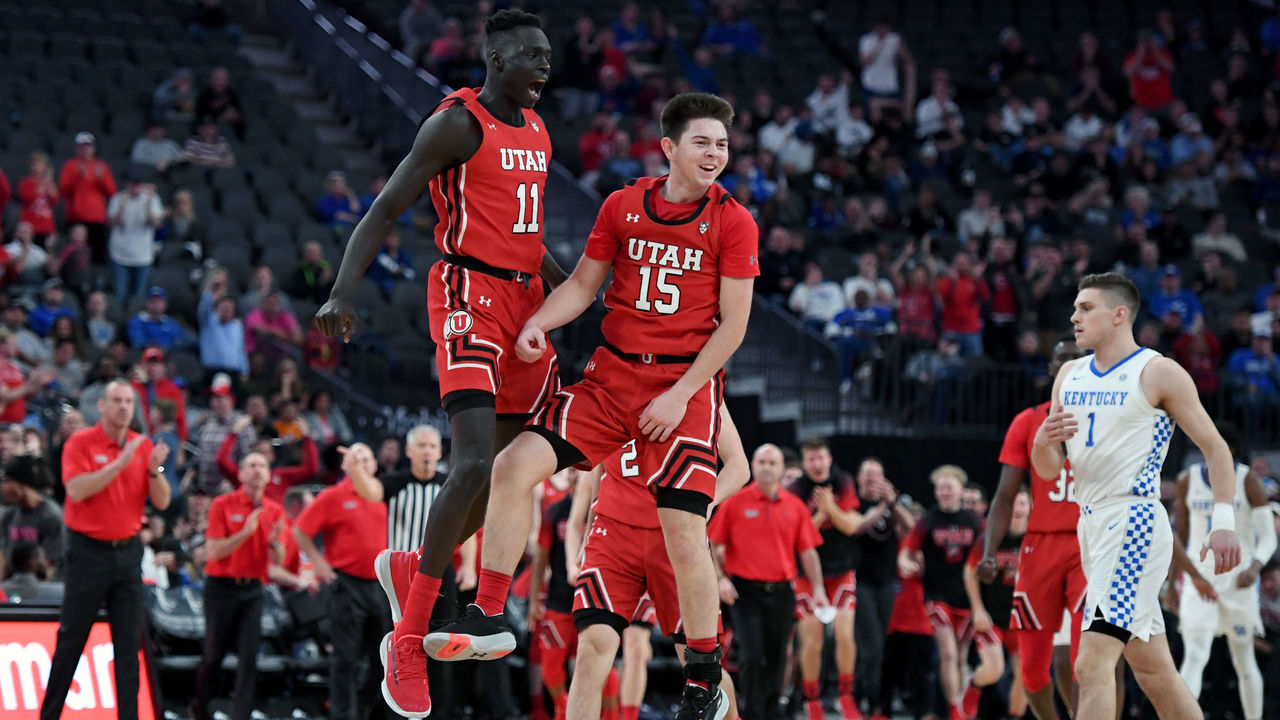 Perhaps the lack of new stars is a contributing factor.
Or perhaps it's the 3-point line, which was moved back to the international basketball distance (22 feet, 1 3/4 inches) this offseason. The Division I 3-point average this year is 33.2%, down from 34.4% a year ago. In Kentucky's three losses to unranked teams (Evansville, Utah, and South Carolina), the Wildcats made just 11-of-49 3-pointers (22.4%).
For whatever reason, offensive efficiency is down in 2019-20. And that can only contribute to the parity.
Per KenPom.com, Gonzaga leads the country in adjusted offensive efficiency, with 117.9 points scored per 100 possessions (adjusted for opponent). A year ago, that rate would have ranked 12th.
In particular, defenses have had the upper hand in the big conferences.
| Conference | Points per 100 possessions (rank) | Possessions per game (rank) | Effective FG% (rank) |
| --- | --- | --- | --- |
| AAC | 95.4 (32) | 68.1 (20) | 46.5 (31) |
| ACC | 99.2 (22) | 67.7 (24) | 48.8 (20) |
| Big East | 101.7 (12) | 69.6 (10) | 48.1 (25) |
| Big Ten | 101.1 (16) | 66.9 (29) | 47.3 (29) |
| Big 12 | 96.2 (31) | 65.7 (31) | 47.4 (28) |
| Pac-12 | 100.2 (18) | 67.0 (28) | 48.3 (23) |
| SEC | 101.4 (13) | 69.1 (14) | 47.6 (27) |
(Statistics source: KenPom.com)
Of the 32 Division I conferences, none of college basketball's big seven rank better than 20th in effective field-goal percentage (in conference games only). The Big 12 and AAC have been particularly inefficient, ranking second last and dead last in efficiency.
The ACC, Big Ten, Big 12, and Pac-12 have also played at a below-average tempo. The fewer possessions in a game, the better chance the less talented team has at an upset.
A lack of complete teams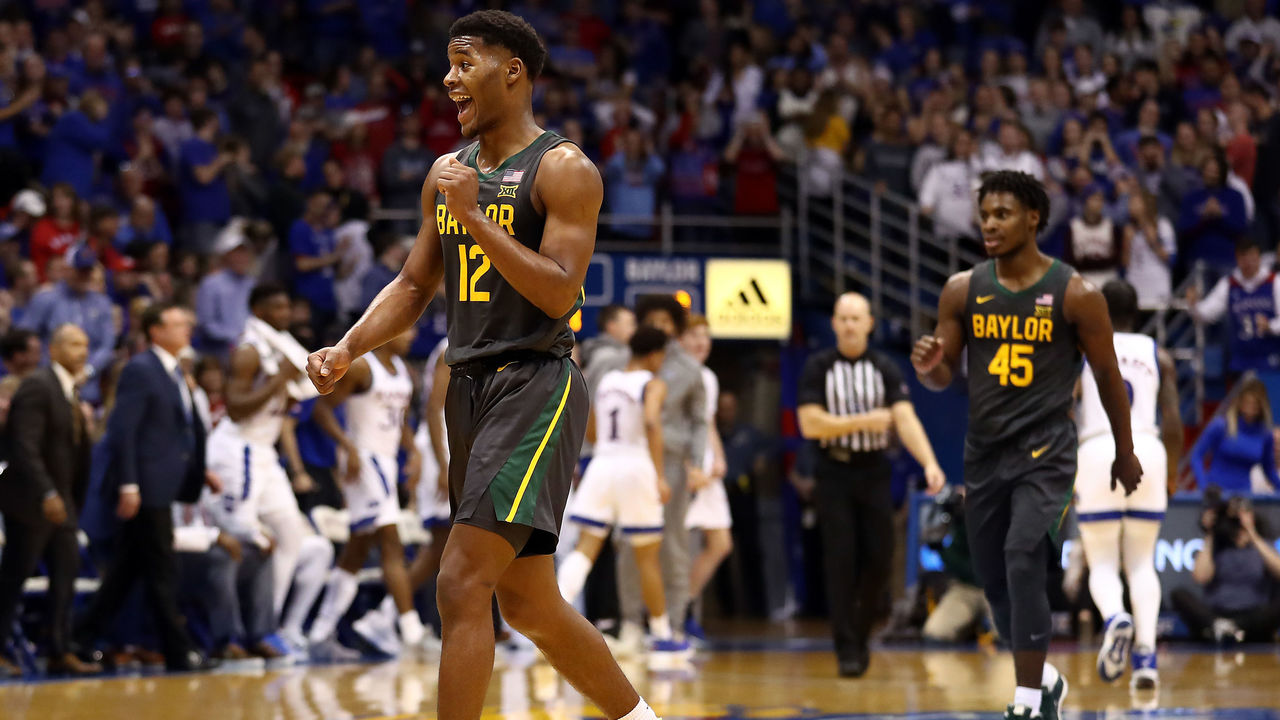 The most obvious reason for an increase in upsets: several flawed teams.
There does not appear to be a clear favorite to win this March. Baylor, Kansas, Duke, Gonzaga, Louisville, San Diego State, and perhaps a few others make up a top tier. But most teams have a weakness.
Last season, 10 teams ranked in the top 25 in both adjusted offensive and defensive efficiency. Three of the teams in the Final Four - Virginia, Texas Tech, and Michigan State - were among them.
This year, only five teams rank in the top five in both: Duke, Kansas, Louisville, Ohio State, and Baylor. Gonzaga, the nation's best offensive team, ranks 37th in adjusted defensive efficiency. Virginia, which ranks second in defensive efficiency, is 239th on the offensive side.
The lack of dominance has produced an unpredictable season so far. If it carries over into March, perhaps the words of Jon Rothstein will seem most prescient: