In a draft full of them, what makes a top offensive lineman stand out?
Getty Images / Photo illustration by Nick Roy / theScore
The tight ends and offensive tackles who visit Tavita Thompson's house for barbecue dinners know the deal going in: to be served food, they have to sing.
The Central Michigan position coach demanded this of Bernhard Raimann when the behemoth Austrian showed up on campus a few years ago. Before he converted from tight end to lineman and matured into a first-round NFL draft candidate, Raimann proved himself a good sport. He stood to sing "Happy Birthday" in front of Thompson's guests. He parodied Miley Cyrus' hits.
"He would crush it: full heart, effort, sing anything, sing everything," Thompson said. "Don't get me wrong. I'm not saying it's good. But he'll do it."
Raimann played soccer and skied before he discovered football as a teenager in Vienna. Seldom targeted with passes as a freshman and sophomore, Central Michigan's staff noticed his destructive blocks and sensed that skill could springboard him to the pros. Up for anything, Raimann added 60 pounds to switch positions.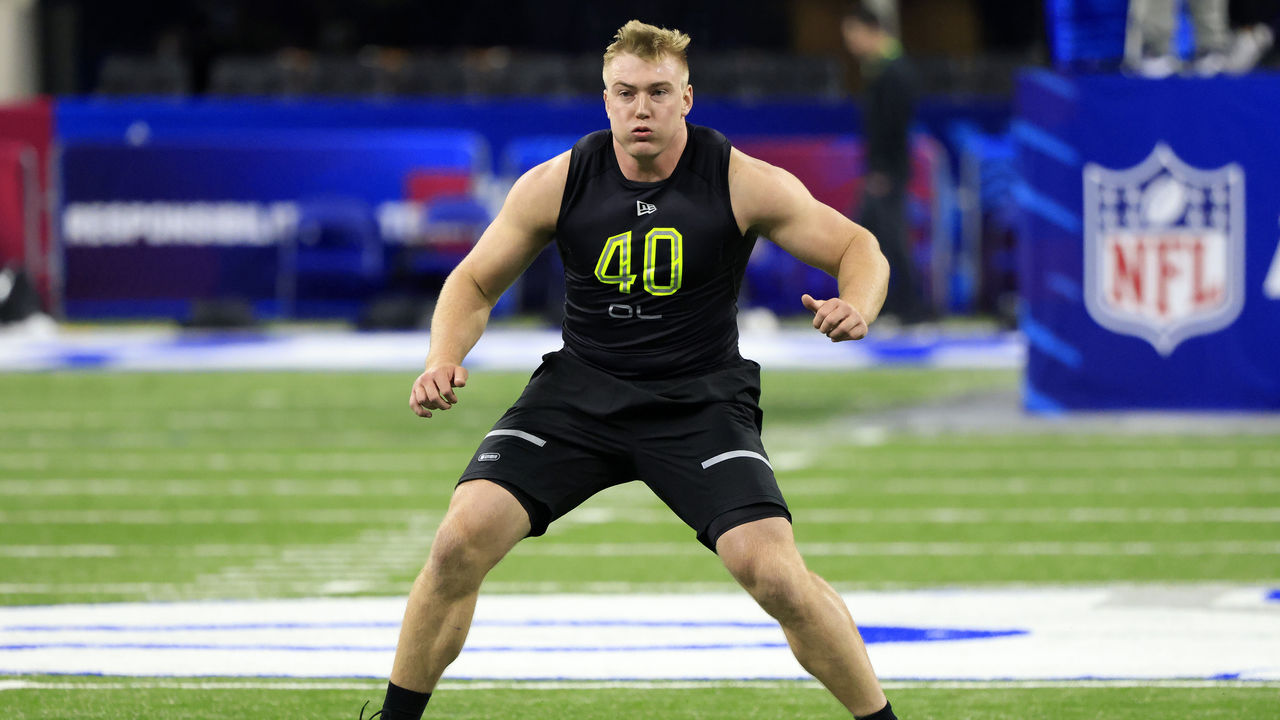 Few paths to the draft next week were as twisty as Raimann's. Another offensive tackle with a comparable odyssey is Minnesota's Daniel Faalele, the Australian 384-pound former rugby player who took up Madden in high school to learn American football's rules.
Coaches tapped them for the offensive line because of the same realization: this big dude is fleet and ferocious.
"Those guys are harder and harder to find nowadays. Most times you talk about a big tackle, he's played tackle his whole life. He's never had to play in space. He doesn't know how to block in space. He doesn't know how to (establish) balance. Now you're taking that athlete who's had to do those things," Thompson said.
"The hard part is: everything's new. You've got to learn how to fight in a phone booth."
Months after a battle in the trenches helped swing the Super Bowl - the Bengals' shaky pass protection couldn't withstand the Rams' pass rush - a run on linemen is anticipated early in the draft. Six of the top seven selections in theScore's latest mock were edge rushers or offensive tackles. Sixteen linemen on either side of the ball were picked in our projected first round.
They include the star defensive ends Aidan Hutchinson, Kayvon Thibodeaux, and Travon Walker, plus the tackles who'll be assigned to stop them in the pros. Alabama's Evan Neal, North Carolina State's Ikem Ekwonu, and Mississippi State's Charles Cross have generated top-five buzz. Northern Iowa product Trevor Penning's stock has surged. Faalele's enormity is intriguing. Tyler Linderbaum of Iowa is a special center prospect, maybe the best in recent memory.
Linderbaum's signature attributes pop on film: his handwork, his agility, the brute strength that helped him pin Tristan Wirfs, the Buccaneers' All-Pro lineman, in high school wrestling in 2017. It's no discredit to him that several peers could be drafted earlier.
"We could see a bunch (of tackles) taken in the top 10. The Giants are going to take one of them. You could certainly see Carolina taking one. There are a lot of teams that might be very tempted to take one of these tackles in the first round," Brian Baldinger, the NFL Network analyst and retired offensive lineman, said in a recent interview.
Baldinger added: "Teams, like the Giants a year ago, that didn't address the offensive line in free agency or the draft, it doesn't matter what else you do. Until you get your offensive line fixed and functioning at a high level, your offense is going to struggle."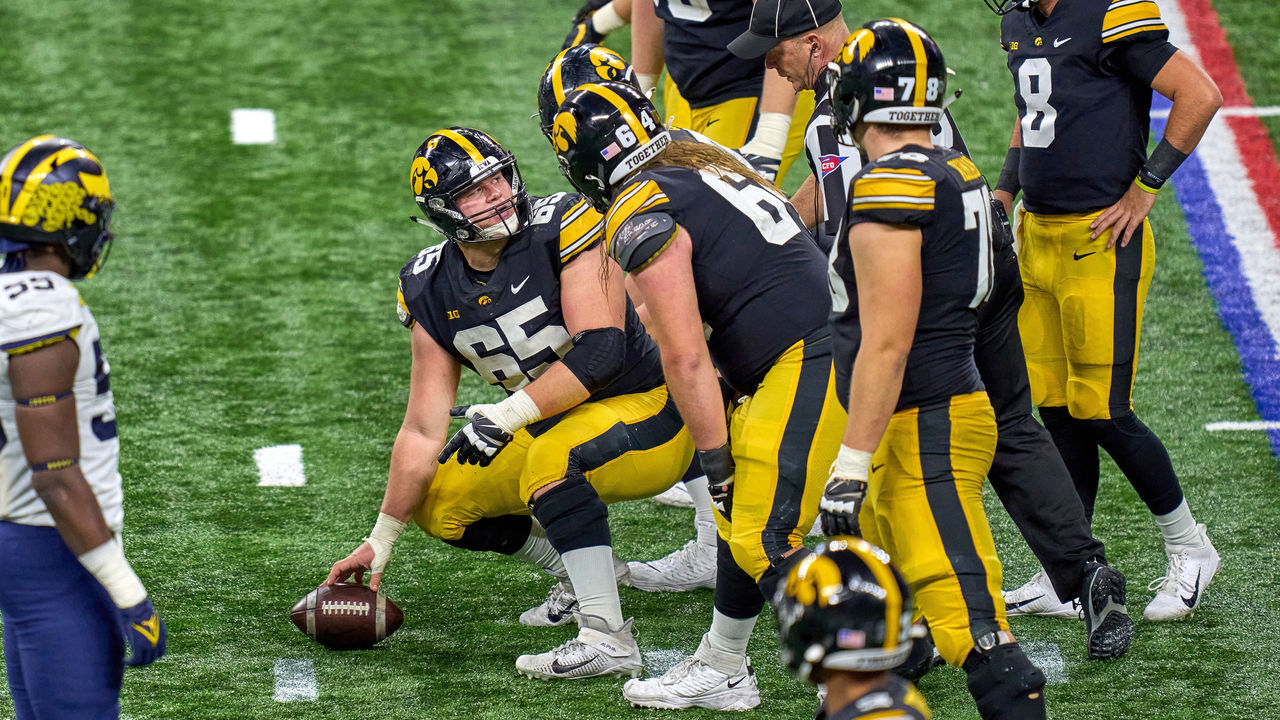 To Baldinger, Wirfs exemplifies how the right O-line prospect can "make a tremendous difference" in the NFL. Rebounding from his defeat to Linderbaum, Wirfs was drafted No. 13 overall in 2020 and started immediately at right tackle for Tampa Bay. Wirfs boosted the line that kept Tom Brady upright as he led the Bucs to a title.
Flashing the same promise, this draft's marquee linemen blend gargantuan size with power, startling athleticism, and versatility. Neal made 40 career starts for Alabama with stints at left guard, right tackle, and left tackle. The 6-foot-7, 337-pounder has the hops to land 48-inch box jumps. On his highlight reel, Neal immobilizes SEC pass-rushers, none of whom lay a finger on Heisman Trophy quarterback Bryce Young.
Comparatively small at 6-foot-4 and 310 pounds, Ekwonu is a dominant run-blocker who racked up 67 pancakes in 2021. Talent evaluators laud his nastiness. The NC State tackle's full first name is Ikemefuna, and the rough translation is poetic: My effort won't be in vain.
Per Pro Football Focus, Cross conceded 16 pressures on 719 pass blocks last season, including none on 66 snaps against Alabama. When Mississippi State upset LSU in 2020, Cross thwarted an edge rusher's spin move, helped push him to the ground, and shoved him in the back for the hell of it. He wasn't responsible for the QB getting collared elsewhere in the pocket.
Penning's bite distinguishes the FCS prospect: "He's just a mauler," Baldinger said. Penning squats 625 pounds. He set a PFF record when the site gave him a 99.9 run blocking grade last season. Northern Iowa coaches learned to be vigilant on the sideline, such was the chance Penning would manhandle an opponent into someone's lap.
"If you think about it, that's the main part about playing O-line that's fun," said Ryan Clanton, Penning's position coach at Northern Iowa. "Everybody else has stats. You get to go out there and legally get into a fistfight every play."
When Central Michigan deployed Raimann at tight end, he caught 20 passes for 164 yards over two seasons. To shift to offensive tackle in 2020, he ran less and ate more - "Even when you're not hungry," Thompson said - and swelled from 245 pounds to more than 300 while packing on "damn near no body fat." In 18 career starts at tackle, Raimann allowed one sack.
His hustle and killer instinct as a newcomer to the position impressed Paul Alexander, the retired NFL line coach whom Raimann cold-called last spring to strike up an offseason training partnership.
"What you really saw was tremendous athleticism: quickness, agility, balance, body control," Alexander said. "He's an extremely well-coordinated guy. You can tell him to take a three-inch step, not a two-inch step, and he would nail three inches."
Shortly after he retired as an NFL guard in 2017, Geoff Schwartz shared a few tips for identifying standout O-line prospects.
A productive lineman has an efficient three-point stance, Schwartz wrote at SB Nation, meaning he doesn't waste steps or lose leverage when he rises off the snap. He has a finisher's mentality, which Schwartz defined as "taking your man further than he wants to go, with an attitude."
"Finishing is so important because it's a mindset. You build that mindset in the weight room and in the meeting room," Schwartz wrote. "It only happens when your body is in a position to move the defender with power - a good base, engaged core, powerful hips, strong hands in the right position, and knowing exactly when to strike."
Balance helps a lineman belt defenders without falling forward or being bull rushed. Alexander said Raimann has a martial artist's posture and center of gravity; when he crouches, his head doesn't overextend in front of his toes, behind his heels, or to either side. Penning's steady on his feet, too, as this one-legged yoga demonstration attests:
"A lot of offensive linemen (are) really strong and they have no body control, which means they can't functionally translate strength," said Clanton, the Northern Iowa coach. "You can be as strong as an ox. You can be a bodybuilder. But if you can't translate the strength that's in your body through another moving object, it's basically useless."
Baldinger broke down a few more qualities that first round-caliber linemen possess:
Explosivity: "40-yard dashes don't matter, but first-step quickness does: getting out of your stance," Baldinger said.
Ability to bend: "Some guys are waist benders. They get beat a lot. Other guys are knee benders. They're able to keep their leverage underneath them."
Intelligence: "Assignments change after the play is called a lot, depending on what the defense does - how they stand and move up front up until the snap."
Toughness, pure and simple: "I played with Kevin Gogan in Dallas. He could play with a broken ankle and you wouldn't know it," Baldinger said.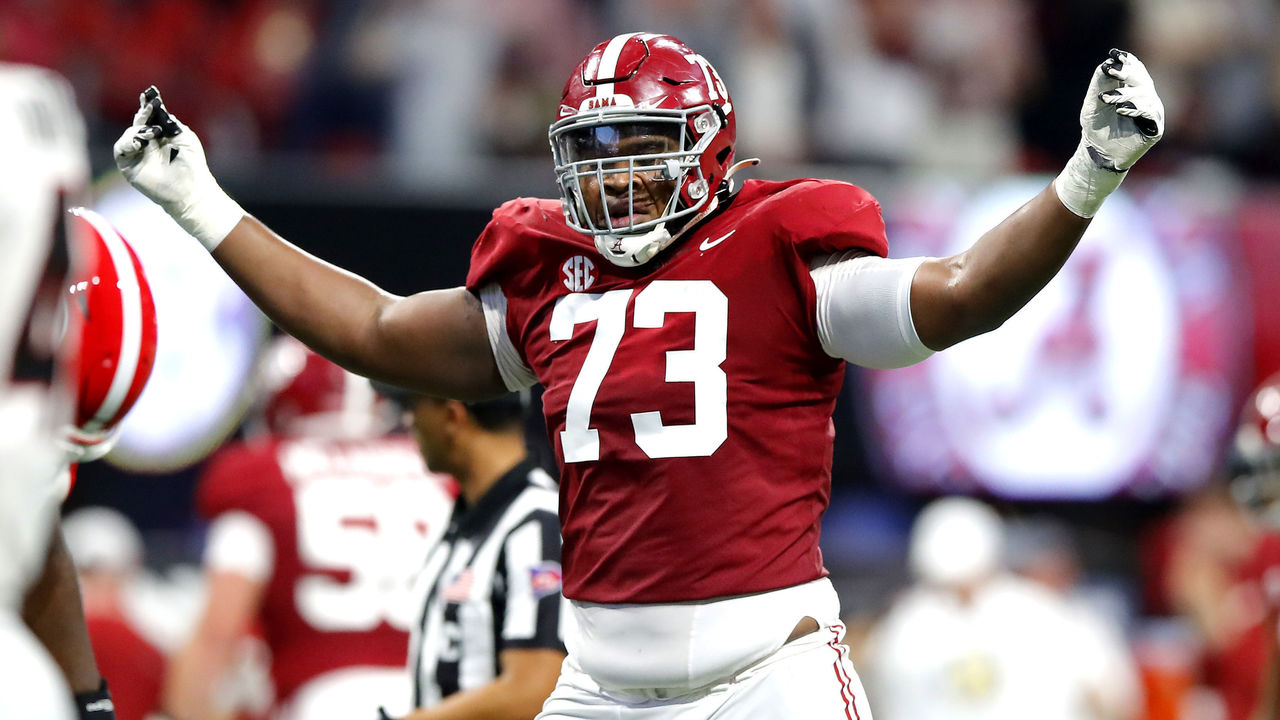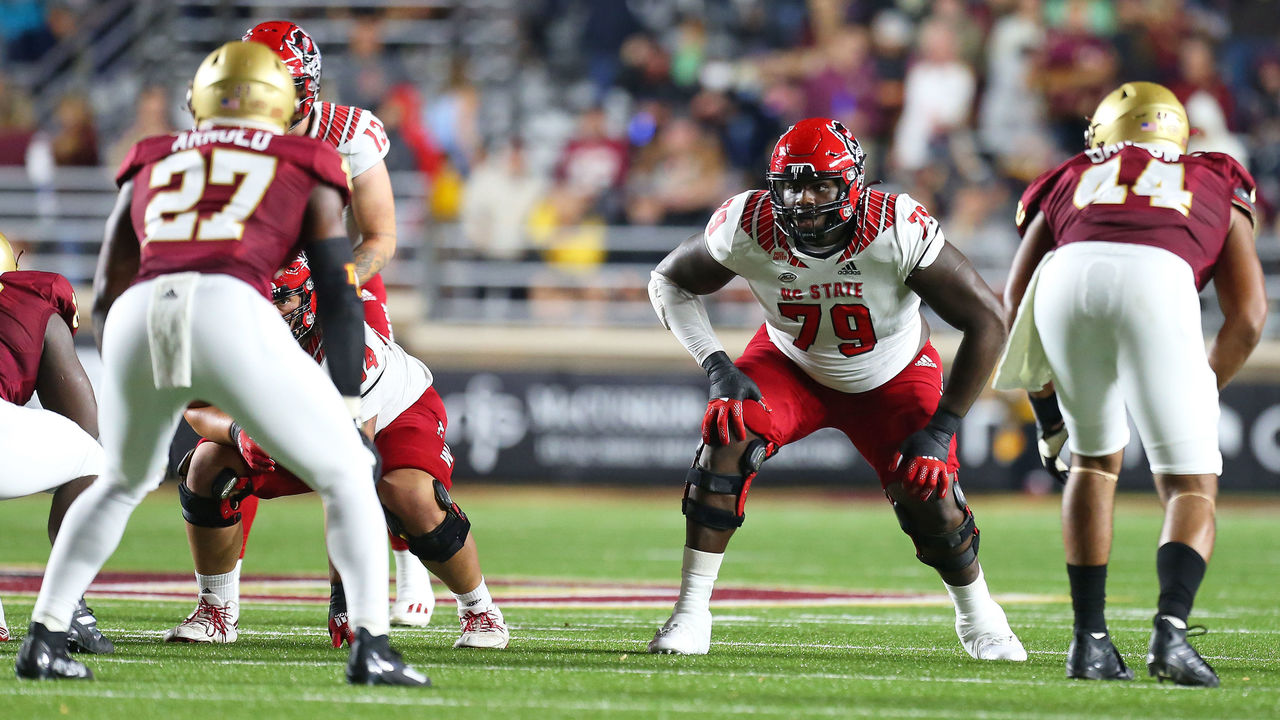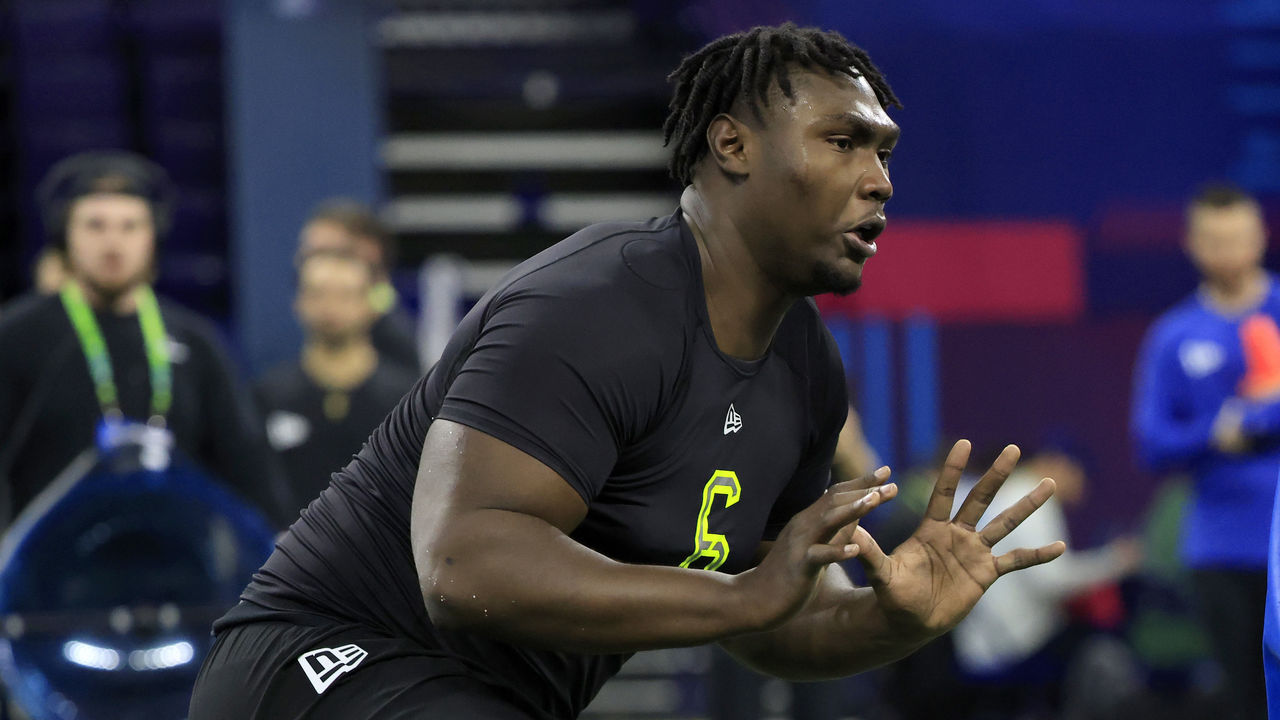 For a line to operate "in perfect unison," Schwartz wrote in 2017, the unit's cornerstone player has to be able to trust his teammates. Weak links debilitate the chain. Teams can achieve balance and depth by drafting shrewdly throughout all rounds, NFL Network analyst Daniel Jeremiah said in February on a conference call.
"Your offensive line is as good as your worst player, so you don't need five Tony Bosellis," Jeremiah said, referring to the Class of 2022 Hall of Fame tackle. "You just can't have any tomato cans out there."
Jeremiah was thinking about the newly minted Super Bowl champs. Before the Rams made flashy trades for Jalen Ramsey, Matthew Stafford, and Von Miller, general manager Les Snead fortified his line over several years via all available means.
PFF ranks the NFL's offensive lines annually and the five best lines in 2021 all belonged to playoff teams: the Cowboys, Bucs, 49ers, Eagles, and Chiefs. The Rams' line ranked seventh to Cincinnati's 20th and the discrepancy was obvious in the Super Bowl. Joe Burrow absorbed seven sacks, four after the Bengals scored their last points early in the third quarter, while Stafford wasn't touched or hurried on the drive that clinched L.A.'s comeback.
Most recent Super Bowl finalists fielded a great O-line, affording their QB room and time to shine.
"To be a championship contender, you need an elite quarterback. That's been proven over time," Alexander said. "The next level down - the (teams) that are competing for playoff positions and winning seasons - if you have a mid-ranked quarterback and an excellent offensive line, along with a good defense, you can be that team."
Keen to stay in contention, the Bengals raced to bolster their O-line when free agency opened, signing La'el Collins, Ted Karras, and Wirfs' old Bucs teammate Alex Cappa. Other clubs will hope the tackle they select on Thursday - be it Neal, Ekwonu, Cross, or Penning - develops into a foundational piece, living up to his draft hype as he keys future playoff pushes.
If Raimann goes in the first round, he'll be Central Michigan's third tackle drafted that high, taking after Joe Staley (the No. 28 pick in 2007) and Eric Fisher (No. 1 in 2013). Staley headed to college as a tight end, too, and then went on to reach six Pro Bowls.
Raimann's in position to emulate him because he learned good technical habits from scratch, Alexander said. The sport could learn something from his story.
"I've helped, I think now, eight international kids come to the U.S. on NCAA football scholarships. Linemen. Big, talented guys from Europe who just need to learn how to do it," Alexander said.
"I think you'll see NCAA and NFL football catching up to where the NBA was a decade ago. There's twice the number of people in Europe as there are in the United States. There obviously has to be some big guys who are good athletes."
Nick Faris is a features writer at theScore.
Comments
✕
In a draft full of them, what makes a top offensive lineman stand out?
  Got something to say? Leave a comment below!