Re-examining Derek Carr after his momentous Monday night
Brian Rothmuller / Icon Sportswire / Getty Images
A little more than a year ago, there were genuine doubts about Derek Carr and his future with the Las Vegas Raiders.
Early in his career, Carr had been solid enough to earn a market-setting second contract. Then he settled into a dichotomous groove: Though one of the NFL's most efficient passers, Carr was also among its least aggressive.
In 2019, Carr ranked in the top 10 in the NFL in most advanced quarterback metrics. But, as PFF's Sam Monson noted, he was also the league's checkdown king. Entering the 2020 season, Carr had three years remaining on the extension he signed in 2016 that paid him an average of $25 million per year. The remainder of that contract was not guaranteed, however, and Vegas brought in Marcus Mariota to peer over his shoulder.
Carr indeed had something to prove last year. Yet while the Raiders stumbled to an 8-8 finish - whiffing on the playoffs for the third time in as many seasons under head coach Jon Gruden - he quietly went out and validated his status as an above-average starter. And during Monday night's overtime win against the Baltimore Ravens, he largely picked up where he left off.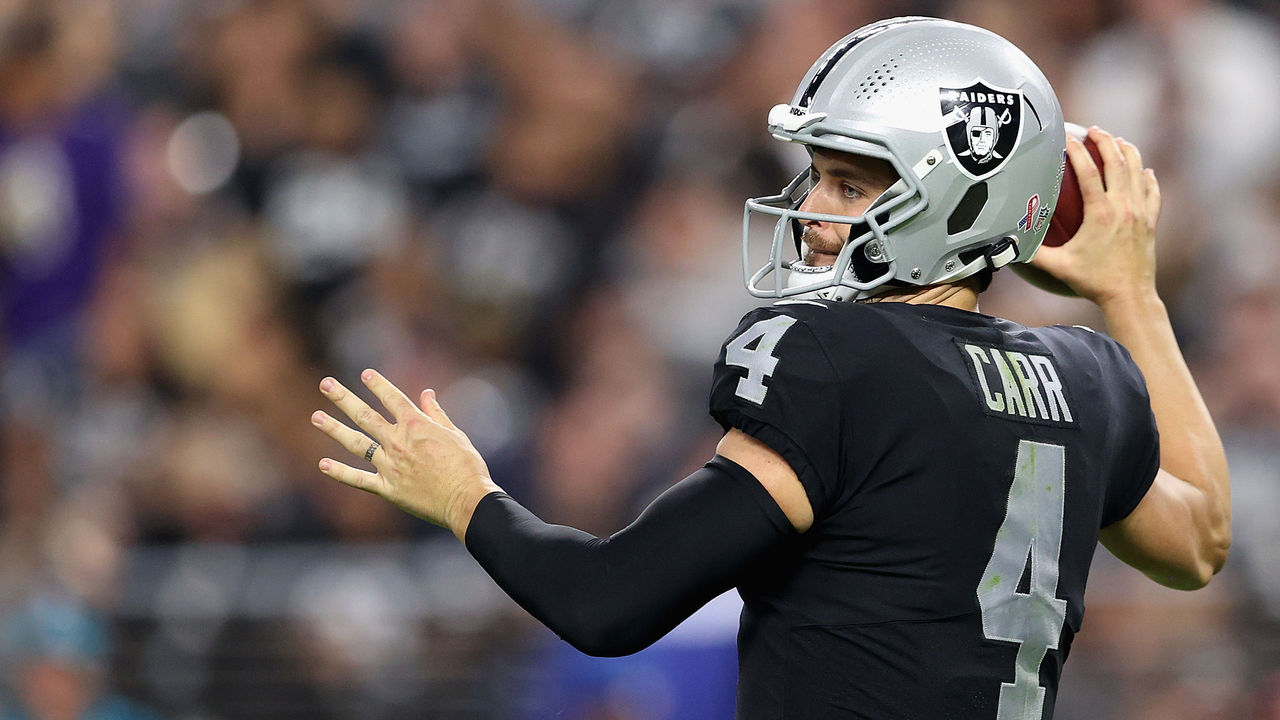 In 2019, Carr's average completed air yards (CAY) was a pop-gun 4.9, per Next Gen Stats - a figure that ranked ahead of only Drew Lock, Teddy Bridgewater, and the Pittsburgh Steelers' desperate backup platoon of Devlin Hodges and Mason Rudolph. Similarly, his aggressiveness - a Next Gen Stat that measures tight-window throws in which a defender is within 1 yard of a pass catcher - was just 11.7%, which ranked next-to-last among qualified QBs. And his average intended air yards (IAY) per attempt of 6.9 ranked dead last.
The Raiders emphasized getting Carr some field-stretching help in 2020, drafting Henry Ruggs III in the first round and Lynn Bowden Jr. and Bryan Edwards in the third round, as well as acquiring Nelson Agholor in free agency. Carr responded by taking additional risks and firing the ball downfield more without sacrificing much in the way of efficiency.
Gruden's strength is coaching offense, and he's done a decent job scheming things up for Carr. Carr made big jumps in CAY (5.9), IAY (8.2), and aggressiveness (16.2%), all of which moved him into the middle of the pack. At the same time, Carr still finished in the top 10 in two of Football Outsiders' overall measurements: DYAR (seventh) and QB DVOA (ninth). He also was 10th in expected points added per play, according to Ben Baldwin's database. (For a guide to EPA/play, read this.) Carr's completion percentage over expected - a Next Gen Stat that measures accuracy - was ninth. His interception rate was tied for 10th, and he was 11th in Total QBR.
Carr took more shots downfield, attempting 60 throws of 20 or more air yards after launching just 48 in 2019, according to PFF. And his adjusted completion rate (53.3%) on those deep shots was the best in the league. Having Agholor, who hauled in 11 of those deep balls - six of which went for touchdowns - certainly helped. But Agholor has since moved on to the New England Patriots.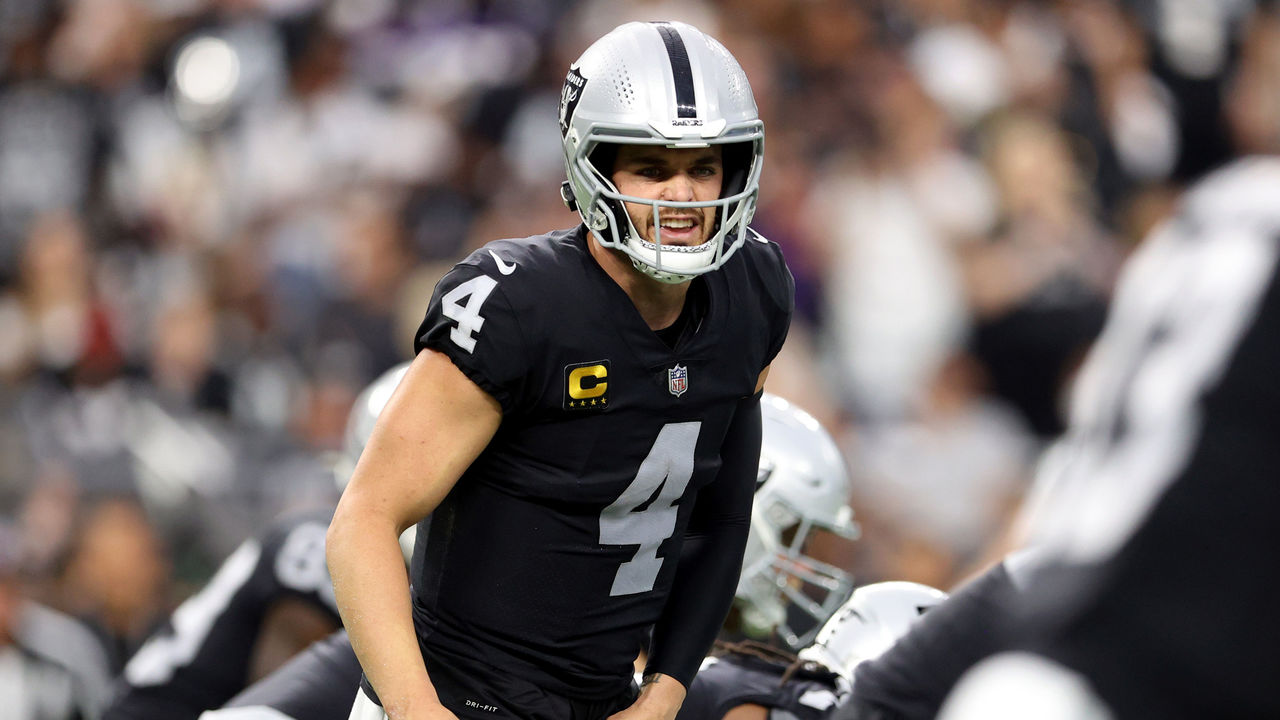 So why was Vegas so mediocre after starting the 2020 season 6-3? As ever, the problem was the defense, which finished 28th in DVOA, mostly because it couldn't get off the field on third down. The Raiders were last in DVOA on third downs with 3-6 yards to go, and next-to-last on third-and-7 or more yards to go. It's a pattern that extends well before 2020, too. Carr entered the league in 2014, and in that time, Vegas' D finished higher than 24th just once - when it was 16th in 2015. Carr has basically spent his entire career with a defense that's been in the bottom quarter of the NFL.
Yet even as the Raiders lost five of their last seven a year ago, they still averaged 25.5 points per game and scored fewer than 25 points just once. From Week 11 onward, Carr ranked a respectable 13th in EPA/play. He did all this even as the offense ranked 27th in adjusted games lost due to injury, per Football Outsiders.
Carr got off to a solid - if also flawed - start in Monday's wild and wacky win against the Ravens. He did this despite no longer having Agholor and playing behind an offensive line featuring three new starters after the head-scratching decisions to trade center Rodney Hudson and right guard Gabe Jackson. In other words, he was above average.
Carr began the game rather poorly, completing just two of his first 10 passes and fumbling (though the Raiders recovered) as Vegas spotted Baltimore a 14-0 lead. Fumbles are a problem for Carr: He's led the league in that category twice in the last three seasons and has fumbled 30 times in the last three seasons, fourth-most in the league.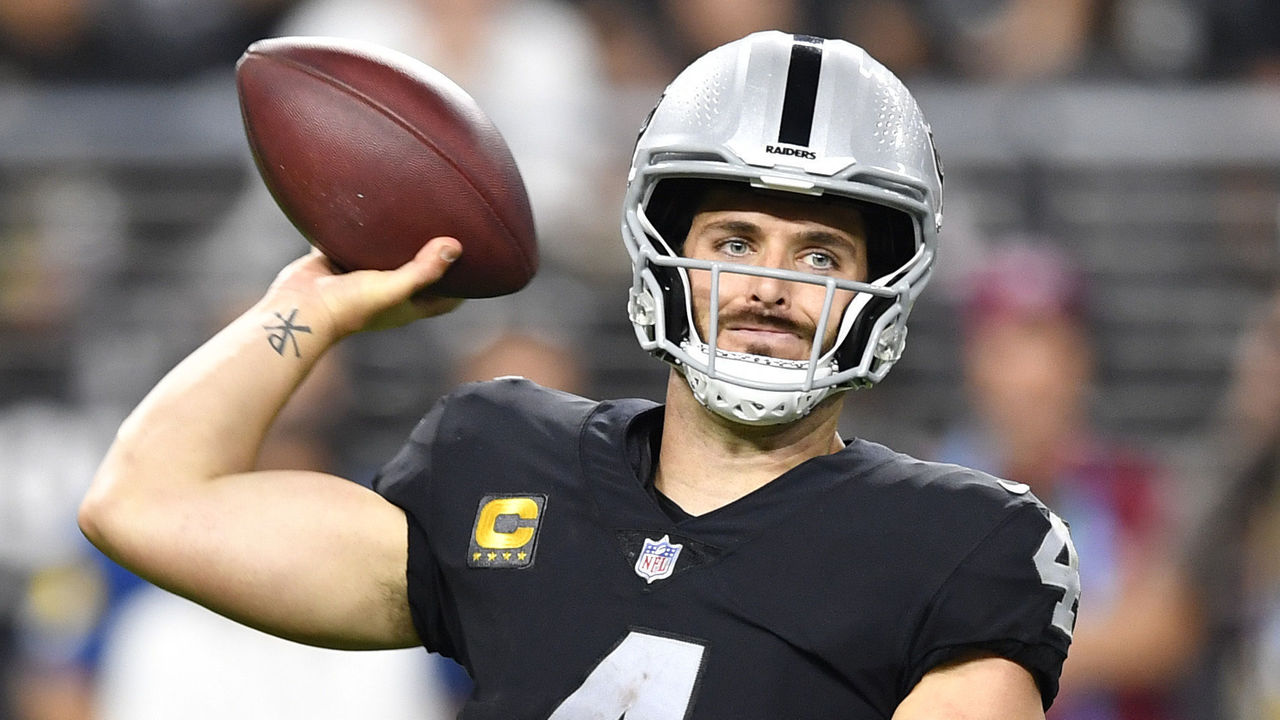 But Carr got it together to orchestrate a pair of scoring drives before halftime to cut the Ravens' lead to 14-10. He then went 22-of-31 for 308 yards and a pair of touchdowns in the second half, with a noteworthy improvement against the blitz, per Next Gen Stats: After going 2-of-9 for 31 yards and a minus-5.2 EPA against five or more pass rushers in the first three quarters, Carr was 7-of-11 for 156 yards, a TD, and an EPA of 12.7 in the fourth quarter and OT.
The game's rabid finish caught most of the attention, but Carr was sensational on the drive that tied the game at 24 with 3:44 to play, going 6-of-8 for 82 yards - a march that included a throwaway. Baltimore took the lead with 37 seconds to go, but Carr then had two terrific completions to Edwards mixed with a pair of clock-stopping spikes to set up the game-tying field goal at the end of regulation. Carr picked apart a Ravens defense that was strangely content to bring a three-man rush. It was Carr's league-leading 22nd fourth-quarter comeback since he entered the NFL in 2014.
Carr wasn't perfect by any means. There was that fumble, plus two instances (here and here) in which he failed to see wide-open targets streaking downfield. He also bizarrely used a hard cadence on the goal line that resulted in a false start penalty against rookie right tackle Alex Leatherwood. And his interception two plays later happened because Carr fired the ball much too high and hard at a wide-open Willie Snead IV.
"It reminded me so much of my career so far," Carr told ESPN afterward. Motioning his arm up and down, he added, "A lot of this."
The defense came through this time by forcing a turnover to get Carr the ball back - and he finished the job by connecting with Zay Jones for the 31-yard game-winner. Las Vegas' much-maligned defense has its work cut out for it in what's shaping up to be an excellent AFC West. But in Derek Carr, the Raiders also have a better-than-average starting quarterback who figures to keep them competitive.
Dom Cosentino is a senior features writer at theScore.
Comments
✕
Re-examining Derek Carr after his momentous Monday night
  Got something to say? Leave a comment below!