Fantasy: Bust candidates to avoid in your draft
Get ready for your season with theScore's 2022 Fantasy Football Draft Kit and subscribe to push notifications in the NFL Fantasy News section.
More in this series
In an effort to save you the frustration that comes with a disappointing fantasy pick, here are this year's top bust candidates.
Matthew Stafford, QB, Rams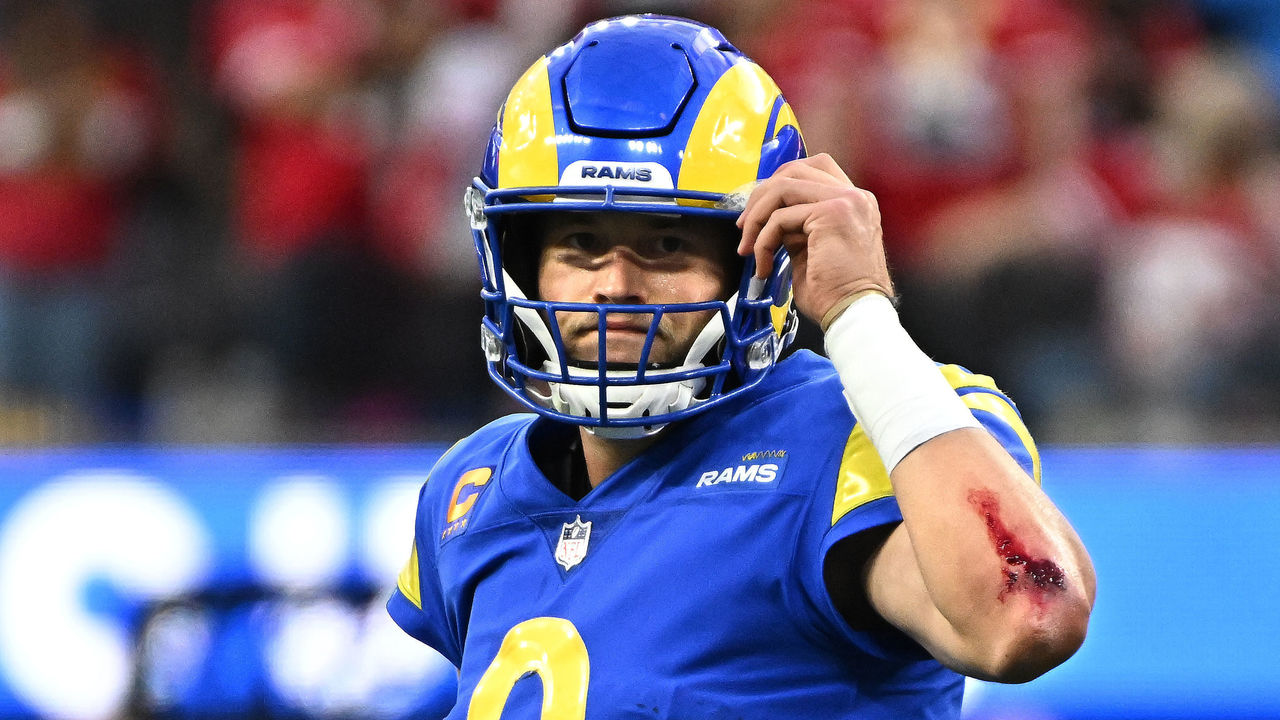 After an exciting first season with the Rams that culminated in a Super Bowl victory, there are reasons to be wary of Stafford's fantasy outlook.
The 34-year-old received an anti-inflammatory injection in his right elbow in an attempt to address an issue he played through last season. That's forced Stafford to rest his arm all offseason with a plan to resume throwing when training camp begins in July.

While Stafford and the team remain confident he'll be ready to play at a high level in Week 1, he admitted to ESPN in June that there's "a lot of work to do physically just to get ready to go."
Not being able to take part in OTAs also means he'll miss valuable reps with the Rams' big free-agent signing, Allen Robinson, who's hoping to rebound following a disappointing final year with the Bears.
There are other question marks on offense as well: Tight end Tyler Higbee is recovering from knee surgery, and running back Cam Akers is still trying to regain his form after he rushed back from a torn Achilles last season.
However, the biggest change for Stafford will likely come on the offensive line following the retirement of two-time All-Pro Andrew Whitworth. The Rams were seventh in PFF's season-ending O-line rankings, but replacing one of the league's best left tackles will be a challenge.
Even if Stafford overcomes all those obstacles, his upside in fantasy might be lower than people realize. Though he finished with the fifth-most fantasy points among quarterbacks last season, he was QB11 in the more meaningful stat of average points per game.
He got there while tying a career-high 41 passing touchdowns - a number he hadn't hit since 2011. In fact, Stafford has only topped 30 TDs three times during his 13 years in the NFL.

Since he brings next to nothing as a runner, Stafford will have to maintain his inflated touchdown numbers just to battle for low-end fantasy QB1 stats again.
Given his lack of upside and a growing list of potential red flags, it wouldn't be surprising to see Stafford finish outside the top-12 fantasy quarterbacks this season.
Other bust QB candidates:
Dak Prescott, Cowboys - With Amari Cooper gone and Michael Gallup likely to miss part of the campaign as he rehabs from a torn ACL, Prescott will enter the year with much different weaponry. With those players available last season, Prescott only managed a QB9 fantasy finish - a drop-off from the loftier per-game totals he posted the two previous years. If his rushing numbers don't bounce back to his early career levels, his fantasy production could be capped.
Kirk Cousins, Vikings - Despite throwing for 68 touchdowns over the last two seasons, Cousins hasn't finished higher than QB12 in fantasy points per game. He's a steady real-life quarterback who doesn't add value with his legs - and that tends to result in a letdown for fantasy.
Deshaun Watson, Browns - As the number of lawsuits against him continues to increase, it's difficult to imagine a scenario where Watson doesn't face a lengthy suspension. Fantasy managers would be wise to just remove Watson from their draft boards for 2022.
Antonio Gibson, RB, Commanders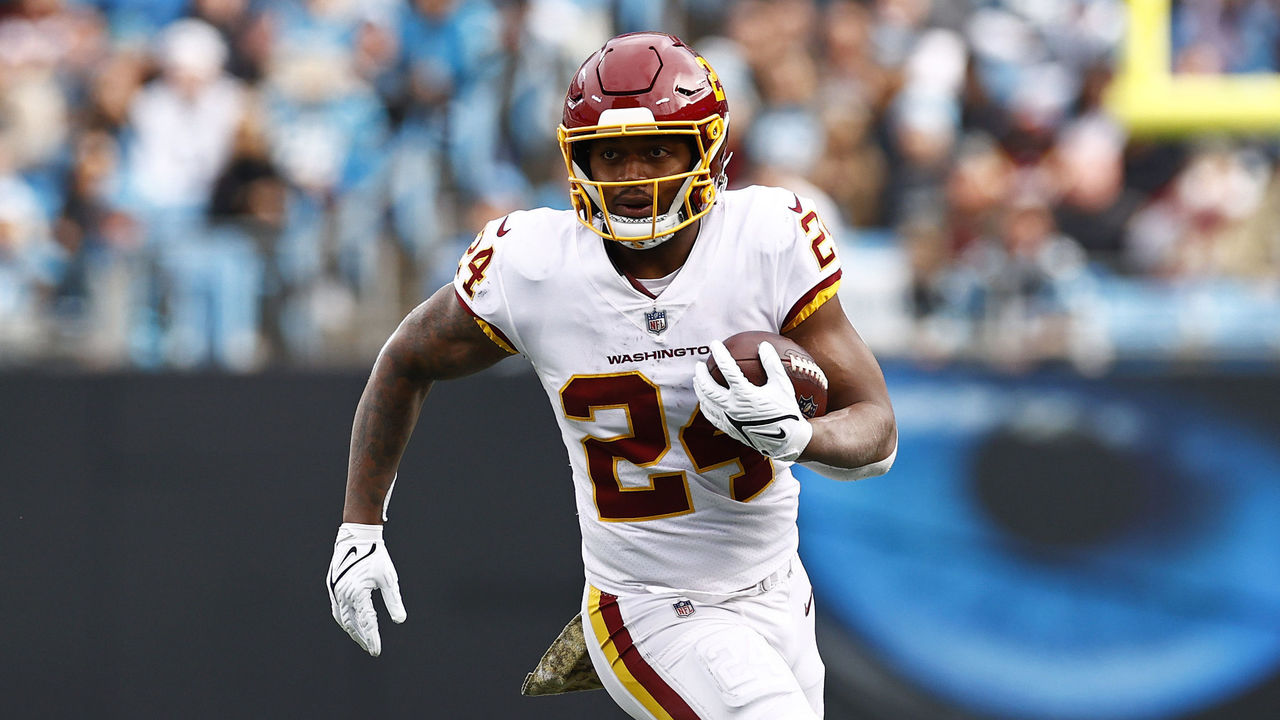 NFL franchises often tell us more through their actions than their words. So when the Commanders managed to re-sign pass-catching back J.D. McKissic after he had agreed to terms with the Bills, it indicated the team wasn't interested in giving Gibson a three-down workhorse role.
In the months that followed, Washington brought in several running back prospects for top-30 visits, raising even more questions about Gibson's long-term outlook with the club. Eventually, the front office drafted one of them in the third round - early-down power back Brian Robinson.

Since then, head coach Ron Rivera has likened the tandem of Gibson and Robinson to a one-two punch similar to Jonathan Stewart and DeAngelo Williams during Rivera's time with the Panthers. And that doesn't account for the touches McKissic will siphon off in the passing game.
While Gibson is still the favorite to lead this backfield and should have some notable fantasy performances in 2022, he's a much more volatile weekly option given the crowded depth chart. He already landed outside the top-24 fantasy backs in 44% of his games last season.
With more competition entering his third NFL campaign, Gibson is unlikely to improve on his career-best RB17 finish in fantasy points per game (14.3 in PPR). He should instead be viewed as a back-end RB2 with a limited ceiling and a much lower floor than he's had in previous years.
Other bust RB candidates:
Ezekiel Elliott, Cowboys - Coming off an underwhelming season, Elliott - who turns 27 in July - will try to get back on track while splitting touches with a younger, more explosive ball carrier in Tony Pollard. Optimists will point to Zeke playing hurt in the second half of the 2021 season, when his numbers dropped and he averaged 12.5 fantasy points per game to Pollard's 10.4. It's possible for a healthy Elliott to flirt with RB1 stats, but investing in the older back is rarely the right move in fantasy.
J.K. Dobbins, Ravens - Even prior to the torn ACL that cost Dobbins the entire 2021 campaign, Baltimore's coaching staff favored a committee approach in the backfield. With both Dobbins and Gus Edwards coming back from injury, it's doubtful the team leans heavily on either player. Combine that with the offense's reluctance to feature running backs in the passing game and you get a reduced projection for Dobbins this season.
Josh Jacobs, Raiders - Though Jacobs has continuously outperformed the expectations of fantasy managers, the degree of difficulty might be too high this season. Josh McDaniels' arrival could usher in a Patriots-esque backfield-by-committee in Vegas, which would explain the team declining Jacobs' fifth-year option and drafting multiple runners in April. With veteran Kenyan Drake still in the mix and Jacobs not present at OTAs, this looks like a situation to avoid.
Amari Cooper, WR, Browns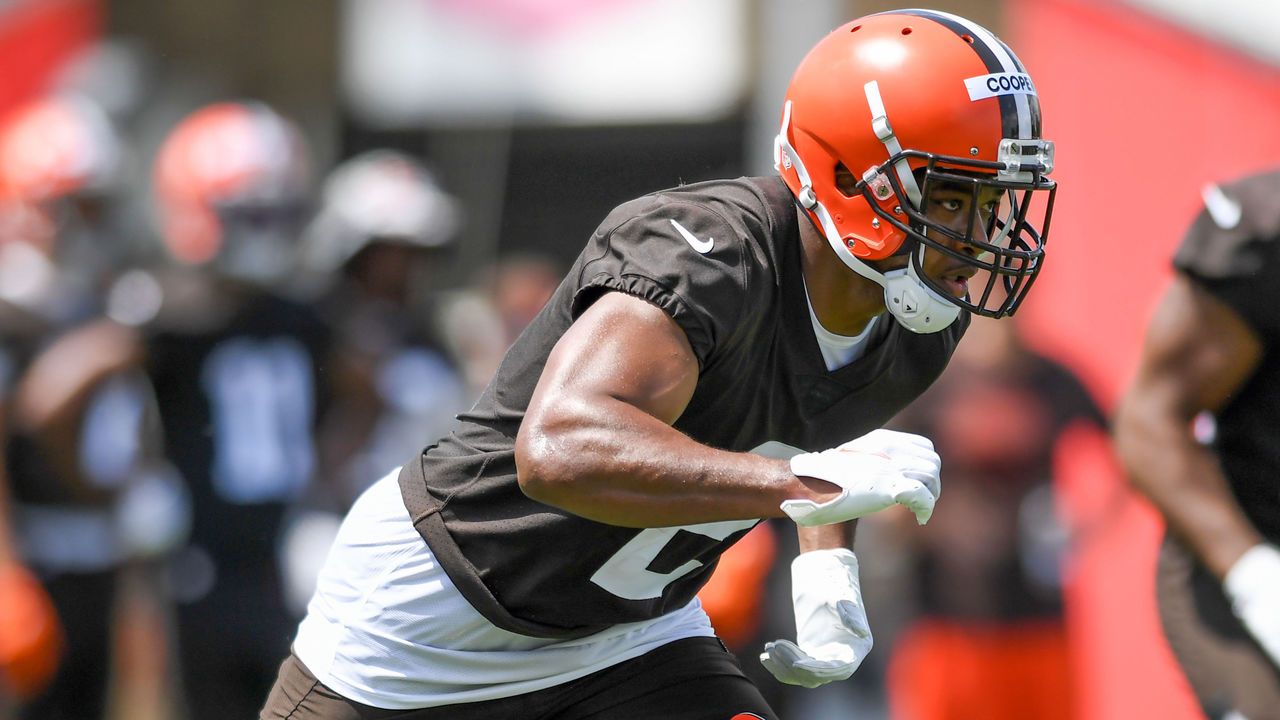 Cooper has been a polarizing fantasy player for a long time, mixing incredible peaks with games where he can barely be found in the box score.
Part of the trouble over the last few years has been injuries; Cooper missed time or played at less than 100% due to a variety of lower-body ailments, including foot, ankle, knee, hamstring, and quad issues.
In the midst of dealing with those injuries, he was also trying to fend off CeeDee Lamb for the No. 1 wideout job on the Cowboys - a role he won't need to compete for with the Browns. However, being the lead receiver in Cleveland might not result in the same volume.
Kevin Stefanski's offense ranked 28th in pass attempts each of the last two years since he took over and tends to favor a more balanced passing attack. The Browns haven't had a pass-catcher top 900 yards under Stefanski and no one's averaged more than 56 yards per game.
When you factor in the potential for Watson to miss significant time this season due to a suspension, Cooper could also contend with a serious downgrade at quarterback - going from Dak Prescott to career backup Jacoby Brissett.
While the move to Cleveland could ultimately be good for Cooper's value over the next couple of seasons, it's not without its complications in 2022.
Expecting him to post top-24 fantasy stats in a new environment with an uncertain QB situation is a tough sell. Treat Cooper as a boom-or-bust WR3 whose best days with the Browns won't arrive until Watson is the full-time starter.
Other bust WR candidates:
Michael Thomas, Saints - It's been nearly two years since we've seen Thomas on an NFL field and he still hasn't been cleared from the ankle injury that plagued him in 2020. At this point, we almost have to see Thomas playing and producing again before we can feel confident about his fantasy potential. When he does return, he'll encounter more target competition than in the past after the team added first-rounder Chris Olave and veteran Jarvis Landry.
DeAndre Hopkins, Cardinals - When a 30-year-old receiver gets suspended six games for using performance-enhancing drugs, fantasy managers should take notice - not just because they'll be forced to carry him on their bench for the first month-and-a-half of the season, but also because it could foreshadow an impending decline. With Marquise Brown now in Arizona, Hopkins could top out as more of a low-end fantasy WR2 once he returns to the lineup.
DeVonta Smith, Eagles - During the pre-draft process, we noted that Smith profiled better as a quality No. 2 option in a pro offense. That's exactly what he'll be asked to be following the trade for A.J. Brown. It's not that the 23-year-old wideout can't produce in this role, but it makes it more difficult for him to emerge as a fantasy stud. We're also still waiting to see if his quarterback, Jalen Hurts, can support multiple fantasy starters on a regular basis.
Darren Waller, TE, Raiders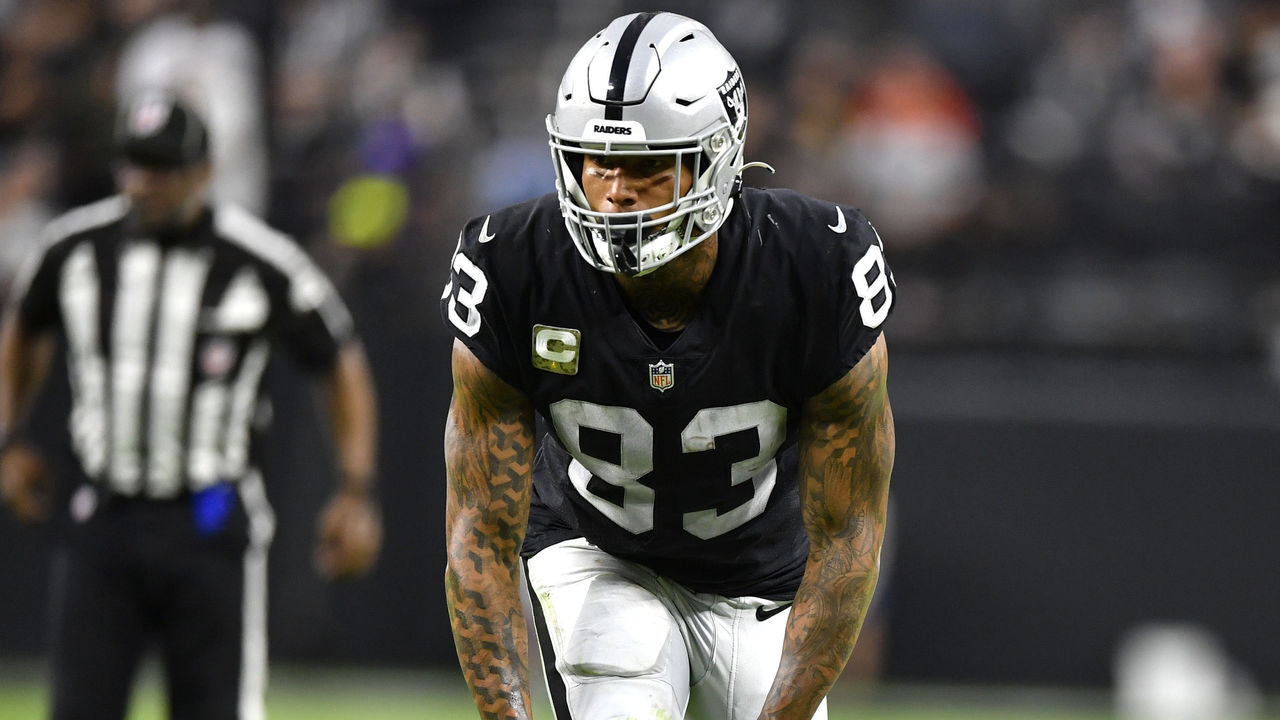 The argument against Waller doesn't involve him disappearing from the fantasy landscape or becoming a player you're forced to sit on your bench. But the days of him seeing enough volume to compete with the likes of Travis Kelce for the tight end crown might be over.

It's not even Waller's fault. With Davante Adams and Hunter Renfrow soaking up targets in the receiving corps, Waller might not be a lock for the 8.3 targets per game that he averaged over the last three years. He saw 146 targets in 2020 and was on pace to hit the 140 mark again before injuries cut his 2021 season short. With Adams in town, it'll be nearly impossible for Waller to attract that kind of volume again.
Entering his age-30 campaign, he's more likely to settle around six-to-seven targets per game - the range George Kittle found himself in last season. And while Kittle was still one of the better tight end options available in fantasy, he dropped out of the elite tier mostly because of his less consistent targets.
If you're hoping that Waller makes up for that dip by scoring more touchdowns in what should be a more efficient Raiders passing attack, be mindful that he's coming off a campaign where he found the end zone twice. During his career, the veteran tight end has topped three TDs in a season once.
Considering the AFC West's recent arms race, it's also worth noting Waller struggled a bit more than usual against his divisional foes in 2021. He didn't crack 60 yards in any of the four such games he played and only crossed the goal line on one occasion in those contests.
And while the Raiders rewarded Adams and Renfrow with new contracts, Waller hasn't received an extension from the team as of this writing.
None of this suggests Waller is a bad option for fantasy, but his fourth-round ADP requires a sizeable return, and as it stands, another 1,000-yard effort is unlikely. Waller might even slide outside the top-five fantasy tight ends, making him awful value for where he's being drafted.
Other bust TE candidates:
Dallas Goedert, Eagles - After a slow start, Goedert did come alive down the stretch. Unfortunately, the presence of an alpha receiver like A.J. Brown and sophomore wideout DeVonta Smith could spoil the tight end's weekly upside in a passing attack projected to be middle-of-the-pack at best in terms of volume. Goedert isn't a horrendous pick, but his ceiling isn't as high as it could have been before Philadelphia traded for Brown.
Robert Tonyan, Packers - The Packers are desperate for pass-catchers who can step up and fill the void left by Davante Adams. Whether Tonyan will be able to answer the call remains to be seen as he rehabs from a torn ACL suffered midway through last season. Green Bay has also talked up backup Tyler Davis as a sleeper at the position.
Mike Gesicki, Dolphins - Gesicki's best games have often come when injuries thinned out the receiving corps. With the emergence of Jaylen Waddle, the additions of Tyreek Hill and Cedrick Wilson, and a full cast of running backs, the Dolphins' starting tight end will once again be a sporadic fantasy producer.
More in this series
Comments
✕
Fantasy: Bust candidates to avoid in your draft
  Got something to say? Leave a comment below!