If upsets are in the offing in the Western Conference's round of 16, don't expect them to come courtesy of the Blackhawks or Coyotes.
Spunky efforts kept those teams within a goal in Game 2 losses, but they won't ward off the inevitable. Chicago's defense is leaky - fodder for the Golden Knights' relentless attack. Darcy Kuemper's a tremendous goalie, but the Avalanche profit from mismatches everywhere else on the ice.
Surprise play-in round victories were already more than Chicago and Arizona would have gotten out of a typical postseason. Soon their presence in the Edmonton bubble will be a bizarro memory.
So the onus falls to the Canucks and Flames to try to prosper as underdogs out west. They've looked considerably more complete - defending tenaciously and scoring in droves most nights - than Edmonton and Nashville, higher seeds that the 'Hawks and 'Yotes vanquished in the qualifiers. And several days into the first round, they each have inside track on authoring momentous upsets of their own.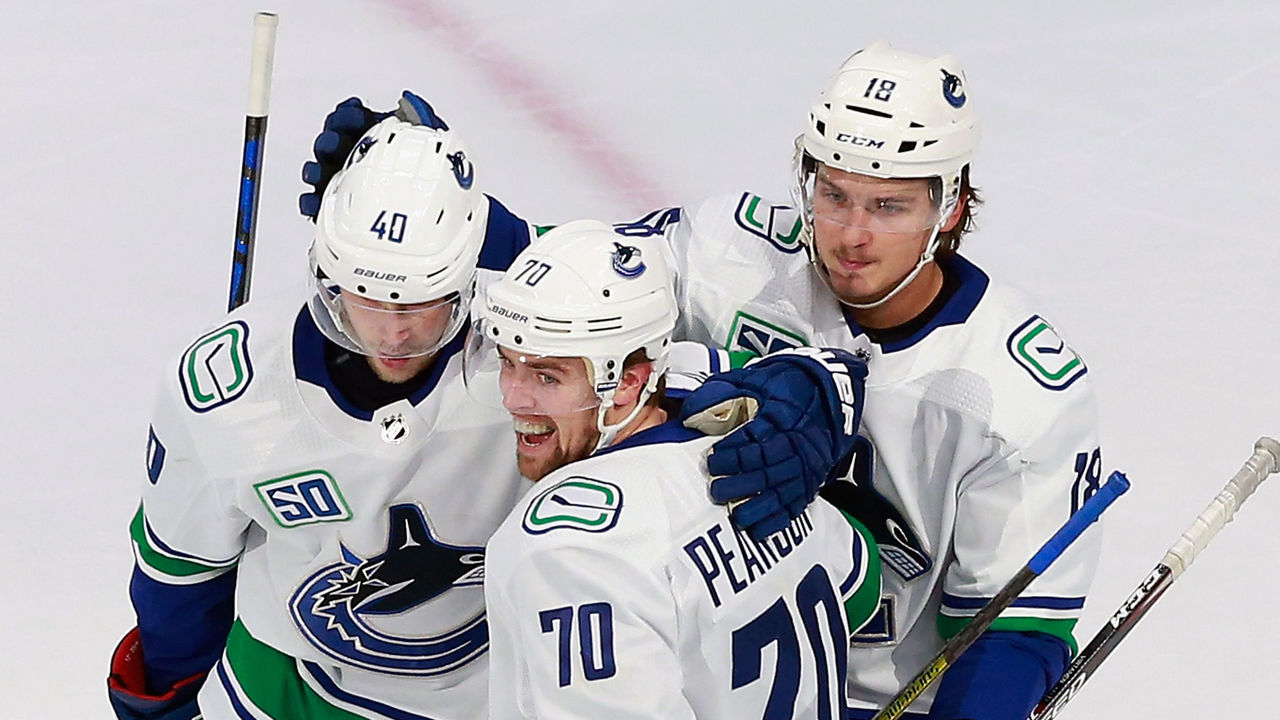 These Canadian clubs' paths to the Stanley Cup quarterfinals run through the offensive end. The Stars and Blues tend to lock it down defensively. Dallas netminders Ben Bishop and Anton Khudobin form an elite tandem; St. Louis' Jordan Binnington ascended to that form at times during last year's Cup run. Yet the Flames and Canucks have gotten to them, helping deface save percentages that in Bishop and Binnington's cases now sit at .862 in this small playoff sample.
They've employed different approaches to achieve this objective, a vital development against squads that are built to thwart and frustrate opposing playmakers and snipers. Friday's results - Calgary's 2-0 shutout of Dallas and Vancouver's 4-3 defeat of St. Louis in overtime - delivered them to within two wins of a common prize.
Offensive opportunism is Vancouver's secret sauce. That the Canucks didn't put a shot on target over a 12-minute stretch of Game 2 conformed with the control the Blues exerted overall. That they won anyway was a testament to the speed with which their go-to players can strike.
We saw it when Elias Pettersson went to work on the power play - first as his saucer pass set up Tanner Pearson for a one-timer in the slot, then as he batted an airborne rebound past Binnington. We saw it on two of the prettiest rushes Bo Horvat has ever converted: his undressing of Brayden Schenn and Jaden Schwartz to open the scoring and his five-hole finish in overtime off Quinn Hughes' great breakout feed.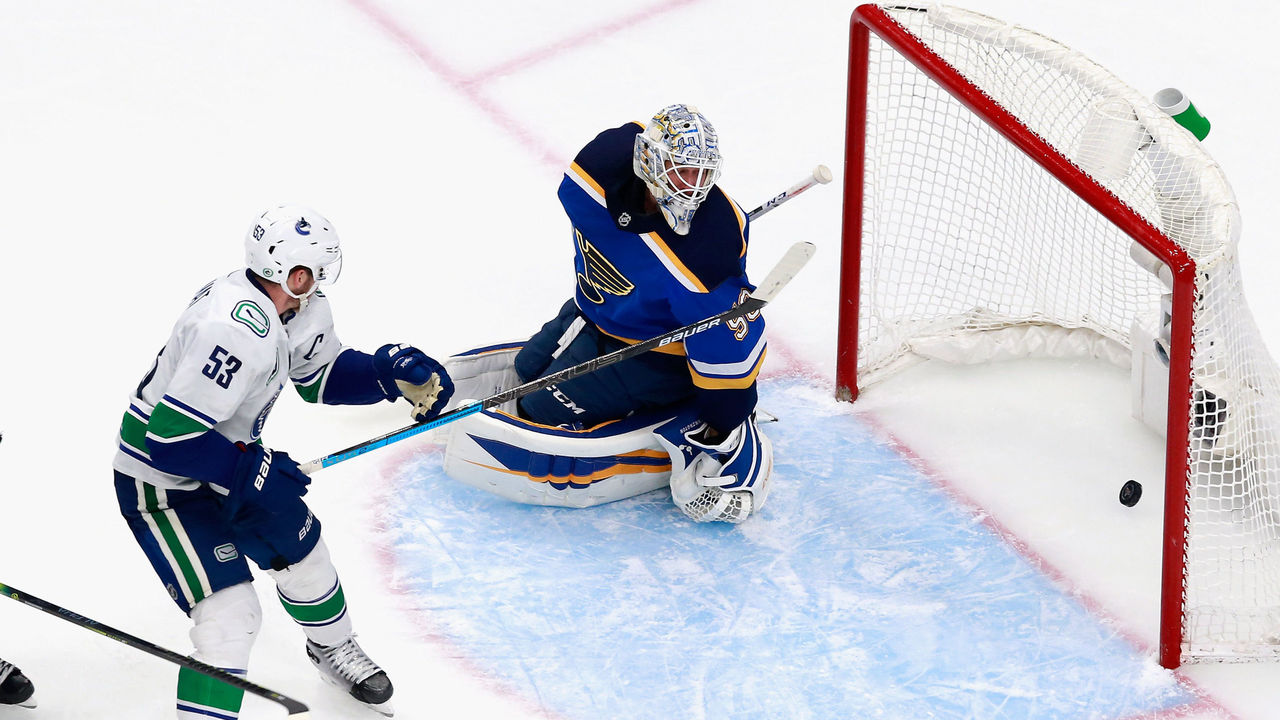 Indeed, this brand of clinical play characterized all four Canucks goals - as it also did J.T. Miller's disallowed breakaway marker, the veteran straying a step offside in his haste to deke Binnington moments after he exited the penalty box.
Already the Canucks have cashed five power-play goals in this series. Their best unit - Pettersson, Horvat, Miller, Brock Boeser, and Hughes - moves on a string, rotating rhythmically and passing with precision, waiting for gaps to open in danger areas. Accounting for all phases of the game, five Canucks have scored multiple goals this postseason, led by Horvat's six and Pettersson and Pearson's three apiece, with Hughes (one goal and seven assists) playing the part of expert orchestrator.
Vancouver's quick-hit nature contrasts with the physicality and collectedness that St. Louis has used to generate way more shot attempts at even strength (107-72 overall, per Natural Stat Trick). The Blues don't waste chances to test Jacob Markstrom - or to body Pettersson and Hughes near the boards. Here, the Canucks' young stars have been opportunistic, too. Witness Pettersson drawing the interference penalty on David Perron that led to his goal, or Hughes accepting that this Tyler Bozak check was a reasonable trade-off to create Horvat's winner.
While Vancouver's big guns have led the charge, the story of Calgary's start to the playoffs has been that of any and all sources scoring however they can.
Thirteen Flames have tickled twine over seven games. In the city where Tobias Rieder infamously went scoreless in 2018-19 - becoming Oilers CEO Bob Nicholson's scapegoat of choice for a lost season - the German winger's potted two shorthanded breakaway goals. His second came in Game 2 against Dallas, the same night defensive rearguard Derek Forbort - who last scored in March 2019 - stunned the bubble by netting a knuckler from the point.
Those depth contributions, a vastly different modus operandi from Vancouver's top-heaviness, have done a lot to compensate for the silence of Calgary's top two forward lines, whose six usual members still have yet to score on the Stars at even strength. Who would have guessed that that group's Game 3 breakthrough would come via a workmanlike shorthanded goal from Mikael Backlund? Or that T.J. Brodie's insurance tally would arise from - of all situations - a fourth-line faceoff win in the offensive zone?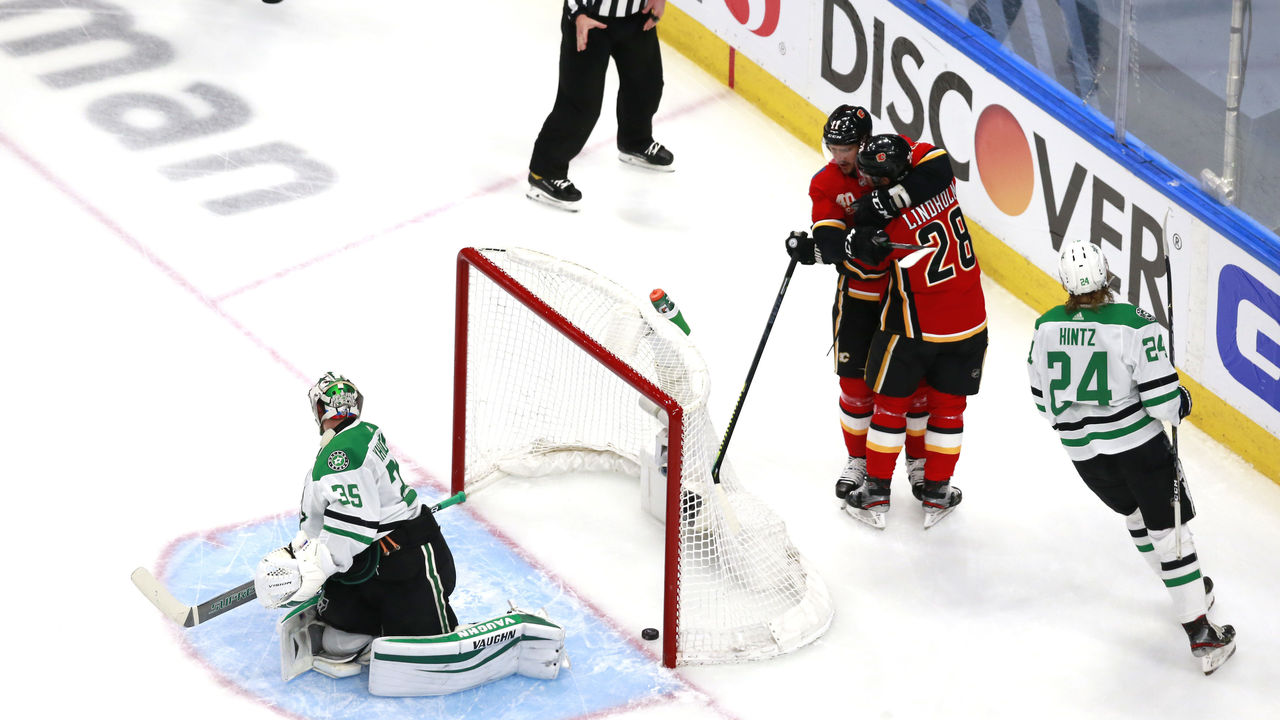 Calgary would be down in this series if those sequences didn't bear fruit - and, pertinently, if Cam Talbot wasn't spotless in net with 35 saves. Dallas absolutely slammed the Flames at five-on-five, doubling their shot attempts (56-27) and tripling their scoring chances (27-8), according to Natural Stat Trick. Astoundingly, those margins were 33-5 and 18-0 in the second period.
Aside from his Game 2 stinker, Talbot's steadiness in the bubble has unquestionably been huge for Calgary. The Flames still needed someone to score to win, of course, and should their goalie falter, they've proven they have the manpower to MacGyver a solution.
Similarly, the Canucks' defensive structure warrants mention before we move onto Game 3. By collapsing into a shell, jamming lanes, and blocking plenty of shots, the skaters in front of Markstrom have lessened the burden he'd otherwise face during the Blues' sustained O-zone time.
But it's the offense that has them two games up on St. Louis, a defending champion on a five-game playoff skid. Against heavy pressure, Vancouver's performance suggests opportunism can be a lethal countermeasure - so long as the counter belongs to a team more talented than Chicago or Arizona.
Nick Faris is a features writer at theScore.