Long before he lifted the Stanley Cup as head coach of the Washington Capitals, Barry Trotz won his first pro championship one rung down in the organization. In 1994, the AHL's Portland Pirates teemed with skill. Future Vezina Trophy goalie Olaf Kolzig manned the crease. Trotz's roster was so crowded with past and budding NHLers - Brian Curran, Ken Klee, Jason Woolley, Jason Allison - that prized 20-year-olds Sergei Gonchar and Andrew Brunette only dressed for two playoff games apiece.
Barely older than some of his players at 31, Trotz was already an adept counterpuncher behind the bench, said Paul Gardner, Trotz's assistant coach in Portland and later with the expansion Nashville Predators. Trotz had a knack for processing how to negate what the opponent set out to do and moving swiftly to act. This aligned with the priority Trotz preached to his team: the need for five skaters to commit to defending in unison.
The approach was Calder Cup-caliber. Its proponent has since become the fourth-winningest coach in NHL history.
"Let's play defense, boys, and the other end will take care of itself," Gardner said, summarizing the foundation of Trotz's philosophy. "We had a lot of talent, but we made it a team game."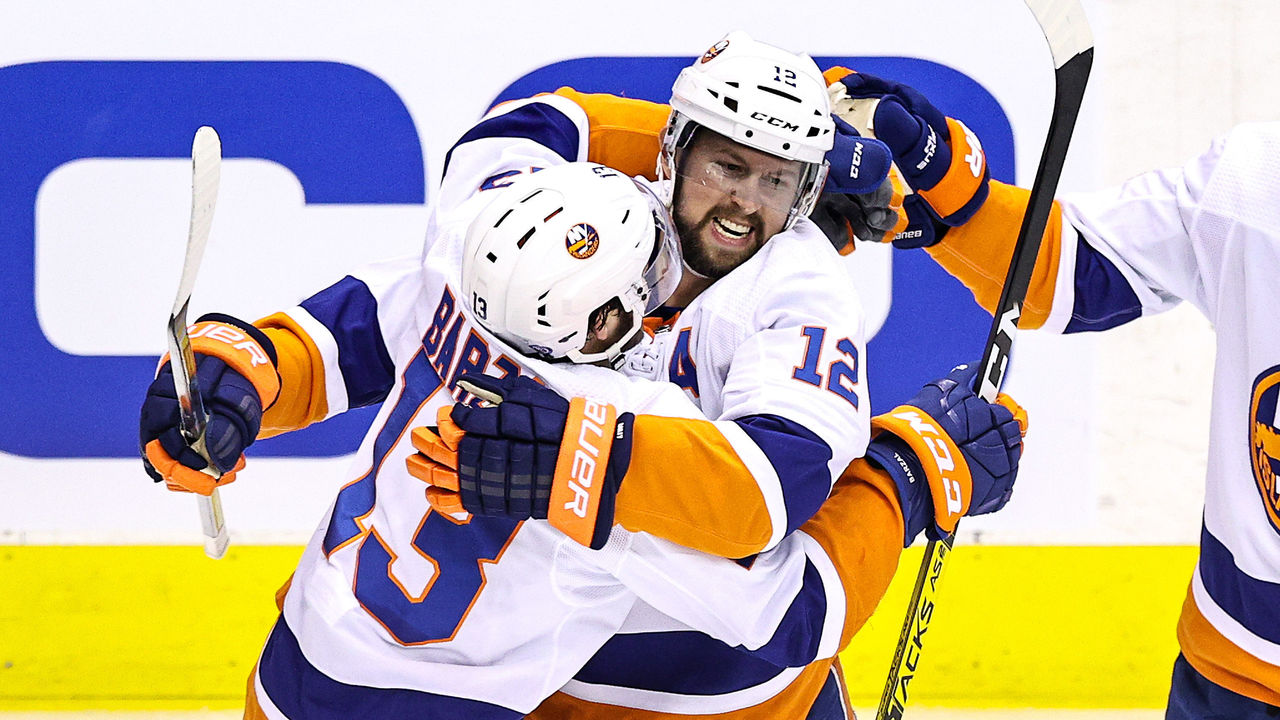 In his finest NHL seasons, Trotz has leveraged this focus on the collective to great effect, elevating the fortunes of scrappy Predators teams and guiding Alex Ovechkin's mighty Capitals to that elusive title in 2018. His current club is a different beast entirely. Depending on how you rate Mathew Barzal, the New York Islanders either have one star or none, but the difference is trivial. The Isles are a monolith, chock full of unacclaimed players who chip in for the cause and who, by trusting and executing Trotz's system, have made New York the breakout team of this postseason.
Losing Game 5 in overtime to the Philadelphia Flyers dented the Islanders' sparkling record in the Toronto bubble, but hardly. Ostensibly the underdog in matchups with the Capitals and Philly, they've won 10 of 14 playoff games on the strength of a 46-26 goal differential. New York's outscored those opponents and the Florida Panthers 30-16 at five-on-five. The results evince dominance, not unsustainable overachievement or luck.
The Isles haven't looked the part of a Cup contender in 27 years, dating to the franchise's most recent appearance in a conference final. (Shoutout to David Volek.) Their next shot to oust the Flyers and join the Tampa Bay Lightning in Round 3 comes Thursday night in Game 6. Winning is the road out of the wilderness. It's characteristic of Trotz that his group has charted this course together.
"When you get contributions right through the whole lineup and you can contribute as a bottom-six forward or a top-six forward or a D-man, I think it goes into the Islander concept," Trotz told reporters recently.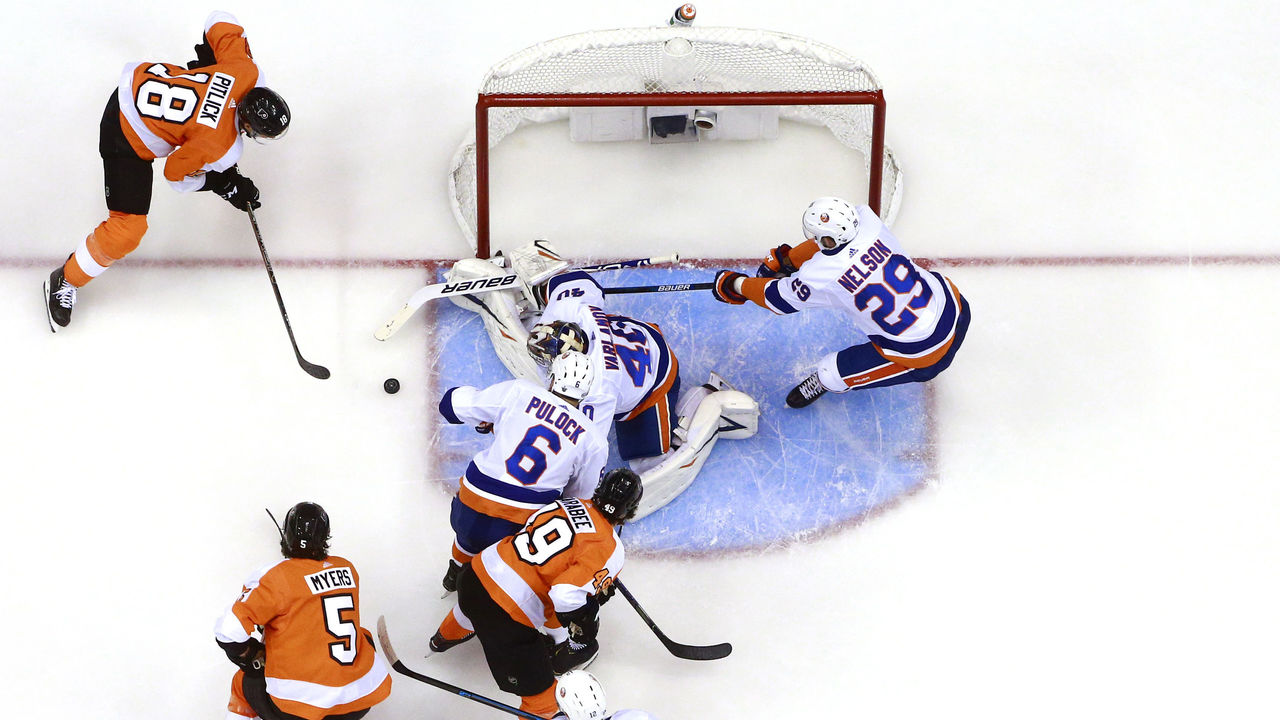 "Barry makes you feel like you're part of a family," said Brent Peterson, Trotz's assistant coach with the Predators from 1998 to 2011. "He builds such a good culture around his team. He's done it in three places. We had to redo it about three times (in Nashville). Then he did it in Washington and now he's done it there."
"He's very confident in how he wants the guys to play," Peterson added. "They listen to him and they go play that way. That's why they've been successful this year. They're the best 'team' team (in the playoffs), I think."
It's hard to rebut Peterson's assessment when New York's defensive structure clicks. At their best, the Islanders hound opposing blue-liners with a high, pesky two-man forecheck, behind which the supporting forward and defense pair congest center ice with active sticks. When hemmed in the defensive zone, the Isles retreat into a shell formation to inhibit the quality of the shots that reach goaltender Semyon Varlamov. Forced turnovers spur rapid counterattacks, and the members of Trotz's mobile, balanced defense corps are empowered to join the rush.
The method isn't infallible. Adam Pelech's futile pinch late in the second period of Game 5 led to an odd-man rush and a Philadelphia goal. The Flyers also scored on an offensive-zone steal and two deflected point shots. Big picture, though, New York's 4-3 defeat was an outlying blip in a month's worth of commanding performances.
Consider the Philly series on the whole. Before Claude Giroux, Scott Laughton, and James van Riemsdyk finally scored goals in Game 5, the Islanders had kept each of those forwards, as well as Travis Konecny, Jakub Voracek, and Joel Farabee, from scoring. New York has also gotten to Carter Hart, whose save percentage in the matchup is .902. The Isles own just 45.7% of shot attempts at five-on-five but have conjured 58.0% of high-danger chances in the series, according to Natural Stat Trick, a sign that the rope-a-dope strategy is working as intended.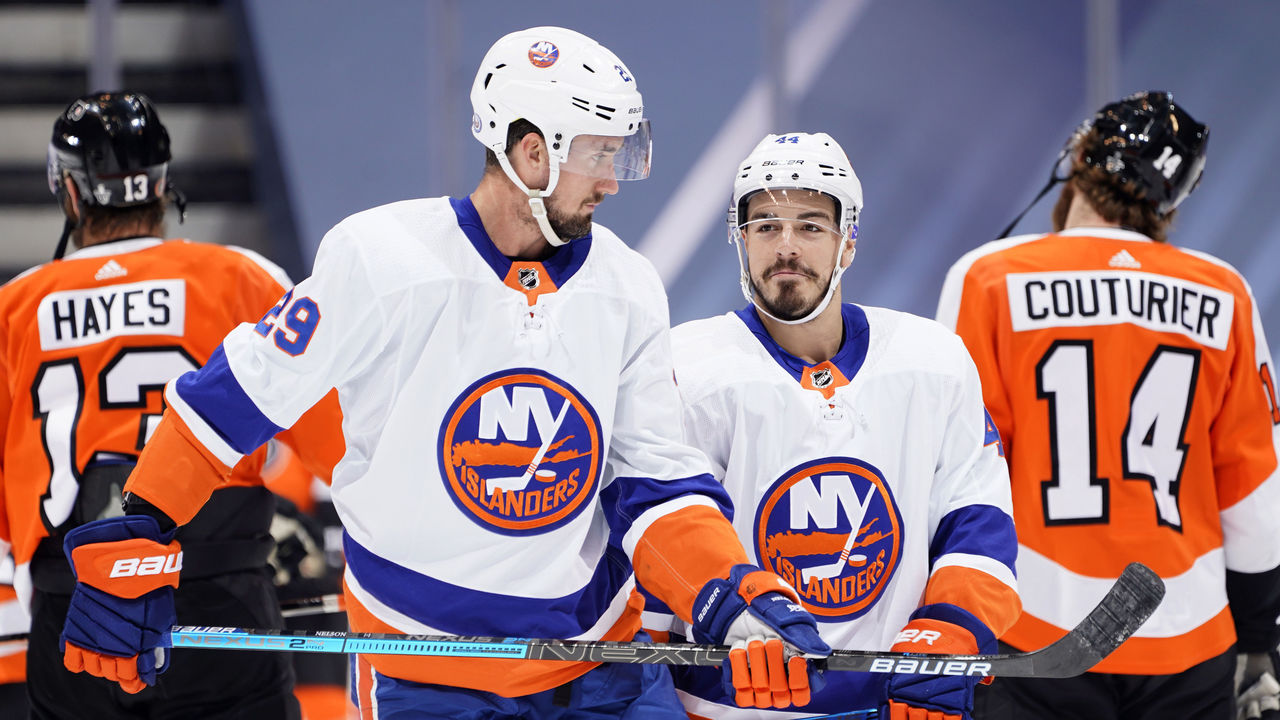 The Isles are scoring a half-goal more per game in the playoffs than in the regular season (3.29 to 2.78), and credit can be spread around. Josh Bailey's 13 assists put him in the company of Nathan MacKinnon. Anthony Beauvillier, Jean-Gabriel Pageau, Brock Nelson, Anders Lee, and Barzal have combined to net 30 goals, 24 of which have come at even strength. Among defensemen who've logged more than 100 minutes, Pelech and top-pair partner Ryan Pulock each rank in the top 10 league-wide in expected-goals percentage. It helps that Varlamov's save percentage is .929 and .943 at even strength.
"He won nine games in a row for me when I went over to Russia," Gardner said of his stint coaching Varlamov's KHL team in 2007, when the goalie was 18. "They thought I could walk on water. He was a big part of it, trust me."
Minus Varlamov, this entire Islanders core was around for Doug Weight's firing and Trotz's hiring in 2018 following a season in which New York conceded the most goals in the league and missed the playoffs by 17 points. The reversal of fortunes was immediate. The Islanders recorded 103 points and finished second in the Metropolitan Division last season. They were on track for 96 points had the full schedule been played this year.
Including those squads, Trotz's clubs have finished inside the top 10 in the NHL in goals against in nine of 15 seasons since the 2004-05 lockout. It's no coincidence that Trotz has won the Jack Adams Award twice and sits a hot streak back of Ken Hitchcock in career regular-season victories.
| Rank | Coach | GP | Wins | PTS% |
| --- | --- | --- | --- | --- |
| 1 | Scotty Bowman | 2141 | 1244 | .657 |
| 2 | Joel Quenneville* | 1705 | 925 | .608 |
| 3 | Ken Hitchcock | 1598 | 849 | .599 |
| 4 | Barry Trotz* | 1674 | 845 | .568 |
| 5 | Al Arbour | 1607 | 782 | .564 |
| 6 | Lindy Ruff* | 1493 | 736 | .561 |
| 7 | Paul Maurice* | 1600 | 732 | .527 |
| 8 | Mike Babcock | 1301 | 700 | .608 |
| 9 | Dick Irvin | 1449 | 692 | .557 |
| 10 | Alain Vigneault* | 1285 | 689 | .591 |
* denotes current NHL head coach. Stats source: Hockey Reference.
To Peterson, Trotz brings to the table "the whole spectrum of everything you need as a head coach." He delegates to his assistants, motivates a locker room, and communicates instructions and feedback frankly without berating players. He treats people well - Peterson remembers Trotz buying gifts for his players' newborns and never failing to acknowledge a birthday - and has demonstrated he can get the most out of any kind of skater, from grinders to the likes of Shea Weber, Ovechkin, and the dynamic Barzal.
Players have commended Trotz for imparting expectations and his game plans clearly and consistently. "There's predictability in our game, which makes it a lot easier for us out there," Pelech told reporters during the Flyers series.
Beyond his fondness for team play, Trotz is a stickler for individual effort and attention to detail, Peterson said, down to where a player positions his stick when he defends an oncoming puck carrier.
"You should have your body in one lane and your stick in another lane and then you can block a (pass or) shot," Peterson said. "He teaches you little things that nobody sees."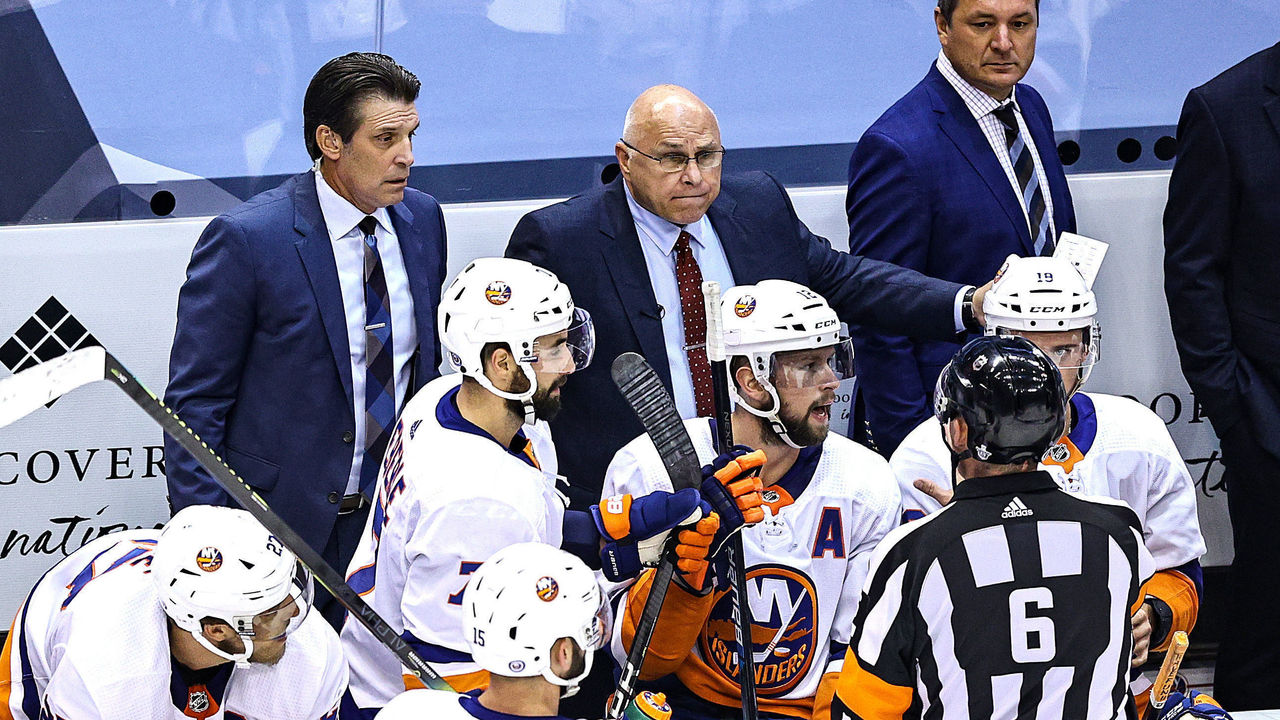 The playoffs were Trotz's kryptonite for the longest time, the 1994 Calder Cup triumph notwithstanding. His teams' points percentage has eclipsed .600 in 10 of 15 seasons since the '05 lockout, but that track record didn't translate to a series victory until 2011 - his 12th year in Nashville and Peterson's last alongside him on the bench - nor lead him past the second round until 2018. One more win would make him a conference finalist again, a gratifying prospect for the coaches who witnessed his rise from the beginning.
If the Flyers can be quelled, the task ahead would be onerous: facing a Tampa Bay team in the midst of atoning for getting swept in the first round by the Columbus Blue Jackets last year. The Lightning's control of the proceedings has been authoritative: They bounced Columbus and the Boston Bruins in five games apiece and have lost a mere three times in the bubble. No player has tallied more points at even strength than Brayden Point (16), and Andrei Vasilevskiy's .931 save percentage is tops among all starting goalies.
The 2018-19 Blue Jackets, of course, showed that stingy clubs can slow Tampa's roll, and the Islanders seem capable of scoring with anyone right now - especially in third periods, during which their playoff goal differential is 21-6. Another demarcation point has proved telling: Across the whole postseason, the Isles have invariably won when they've allowed two goals or fewer and have lost each time they've surrendered three or more.
It's fitting, really. How could a Trotz team thrive if it doesn't neutralize the opponent?
"That's been his key. We're going to play aggressive in the offensive zone when we get the chance, but if you don't play defense, you don't play," Gardner said. "It's easier with his reputation now. If you go to the Islanders, you know you've got to play defense. Barry doesn't have to walk up to you and say that."
Nick Faris is a features writer at theScore.