Barclay Goodrow could have pumped the brakes on the forecheck, but instead, he hustled past a Blue Jackets defenseman in a tight race to the puck to negate an icing call.
Blake Coleman could have chipped the puck deep into Columbus' zone, but instead, he curled away from the goal line to find Ryan McDonagh at the point.
Yanni Gourde could have positioned himself for a pass from McDonagh, but instead, he parked himself in goalie Joonas Korpisalo's crease in anticipation of the point shot.
These three smart decisions, one from each of the Lightning's third-line forwards - Gourde, the center, and wingers Coleman and Goodrow - led to a huge goal in Game 1 of Tampa's opening-round series against Columbus.
McDonagh unleashed a slap shot that produced a mad scramble. Then, with Gourde in Korpisalo's kitchen, the puck redirected off the goalie and into the net.
The tally, which came on the first shift of the third period and tied the game 2-2, turned out to be the beginning of the end for an overworked Blue Jackets squad. Columbus never truly recovered from the marathon loss that required four-and-a-half overtime periods. Tampa rolled on to win three of the next four games, setting up a second-round date with Boston.
"We have different lines that can bring different elements to the games. Gourdo, Coleman, and Goodrow (were) phenomenal throughout the first series," Lightning defenseman Victor Hedman said Friday. "They bring that grit, they bring that hard forecheck game.
"But they chip in with big goals as well (four total against Columbus). I like the balance on our team and we expect the best out of everyone every night. We proved that in the first round."
Let's not kid ourselves here: The Lightning are the NHL's best team on paper. At every position, they boast high-end talent and enviable depth. The club's postseason fate, then, will largely rest with whether it can overwhelm opponents, especially up front. A dominant newly formed third line - and yes, Gourde-Coleman-Goodrow has been highly effective since the restart - takes pressure and attention away from Nikita Kucherov, Brayden Point, Anthony Cirelli, and, if he returns from injury, Steven Stamkos.
"This is the reason we got them, right?" Lightning head coach Jon Cooper said after Game 4 when asked about Coleman and Goodrow, who were acquired from New Jersey and San Jose, respectively, ahead of February's trade deadline.
"We feel we're a playoff team," he added. "It all just comes down to winning in the playoffs. You go down our roster and it's hard to squeeze guys into the top six, but we didn't feel like that was our need. We needed to be harder to play against."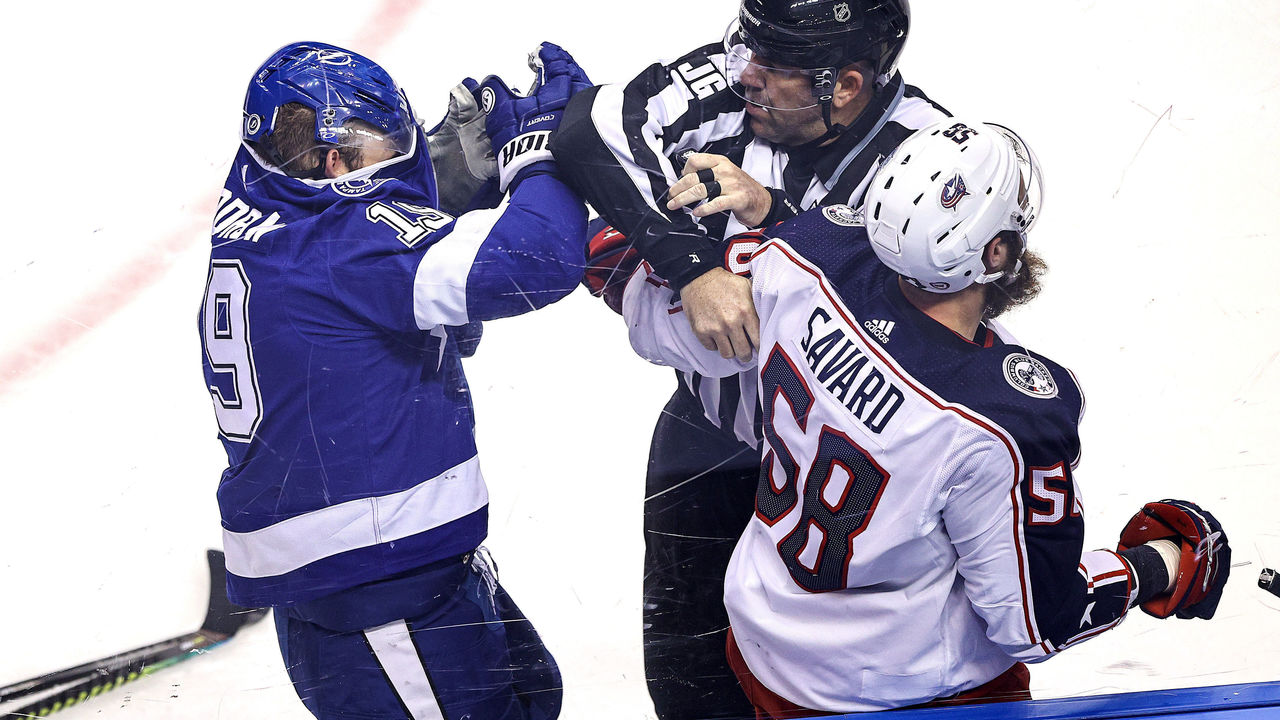 The bench boss added that while "harder" used to mean physicality and fighting, nowadays it refers to dialing up the foot speed, competitive drive, and pest-like tendencies.
Cooper likes to call his third line the Gnats because "they're always just buzzing around, and as you try and knock them away they just never leave." Defenseman Kevin Shattenkirk has been impressed, too. "They're just a really annoying line," he said.
Though Gourde and Coleman have both reached the 20-goal mark twice, there's nothing too fancy about the trio. All three are meat-and-potatoes forwards of the modern era - driven and trustworthy, with enough speed and skill to frustrate the opposition's best players. They're not green anymore either - Goodrow is 27 years old, and the others are 28 - so you know what to expect from these hard-working veterans every shift. And that's why Cooper started each period of the first round with them lined up at center ice.
The clip below, from the line's second shift of overtime in Game 5, is a shining example of the three causing havoc in the offensive zone to wear down the opposition. Over a 10-second stretch, Gourde applies puck pressure several times and nearly scores, Coleman takes the body to eliminate a defender from the play, and Goodrow fires a dangerous shot from the dot.
The line's puck-battle victories, fearlessness in front of the net, smart reads, responsible passing, and calories burned from skating end to end during the first round resulted in some eye-popping underlying numbers.
The three generated 45 scoring chances and 16 high-danger shot attempts at five-on-five while surrendering just 18 chances and five high-danger attempts in 75 minutes and 30 seconds against Columbus, according to Natural Stat Trick. Tampa's three other lines finished 95-81 in chances and 39-20 in high-danger attempts. Those are excellent ratios, but not quite as lopsided as the play of the tone-setting third line.
Here's a look at the Lightning with and without its third line on the ice against Columbus (all numbers five-on-five):
| | with 3rd line | without 3rd line |
| --- | --- | --- |
| Time on ice | 75:30 | 222:55 |
| Attempts | 70% | 56% |
| Chances | 71% | 54% |
| High danger | 76% | 60% |
| Goals | 80% | 60% |
Part of the third line's success can probably be attributed to Columbus lacking forward depth. The Bruins, whose bottom six includes guys like Charlie Coyle, Sean Kuraly, and Jack Studnicka, pose a stiffer test for Tampa.
"(The Gourde line) brought other forward lines into the fight there, as far as the intensity that you need to play with and the simplicity to your game, too - winning your battles, not turning the puck over, and then getting rewarded for it, getting on the scoresheet in different fashions," McDonagh said.
"They're going to be counted on again in a lot of situations here and hopefully our forward group, as a whole, gets brought into the fight with those guys leading the charge and we can just keep rolling all four lines throughout the whole game and our depth can prevail and be an asset for us," he added.
The Lightning infamously flamed out in last year's opening round, losing in four games to the Blue Jackets following an exhilarating 62-win regular season. The franchise has been agonizingly close to a championship since Cooper's first full campaign with the team in 2013-14, losing in the Stanley Cup Final once and the Eastern Conference Final twice.
However, the contention window with this core won't remain open forever, hence general manager Julien BriseBois' willingness to part with two first-round picks to acquire depth pieces like Goodrow and Coleman. Prior to the season pause, neither forward had enough time to fully acclimate, and earlier in the campaign, Gourde went goalless for over two months.
Playoff success for the trio wasn't preordained, and although the advanced stats suggest they won't be a one-series flash in the pan, thriving against the Presidents' Trophy-winning Bruins is far from a guarantee. From BriseBois to Cooper and the players, Tampa nevertheless seems determined to do whatever it can to focus on the early returns and push forward. The Gnats are game-changers, which is exactly what the team needed.
"They've contributed so much for us in these playoffs and I'm just so glad that they're getting rewarded for their efforts, because those are the types of players we needed, we got them, and it's paying off for us," Cooper said.
John Matisz is theScore's national hockey writer.