Lightning Cup win a lesson in both going all-in and sticking to the plan
Bruce Bennett / Getty Images
It was mid-afternoon on Aug. 19, and Jon Cooper looked exhausted.
He seemed spent - like he was just glad it was all over, wholly relieved the Tampa Bay Lightning had claimed a first-round Game 5 win over the Columbus Blue Jackets inside Toronto's Scotiabank Arena during the strangest NHL postseason ever. Finally, the weight was off his shoulders.
"We had 422 days to think about it, but who's counting?" Cooper, the NHL's longest tenured head coach, quipped to reporters after the 5-4 matinee.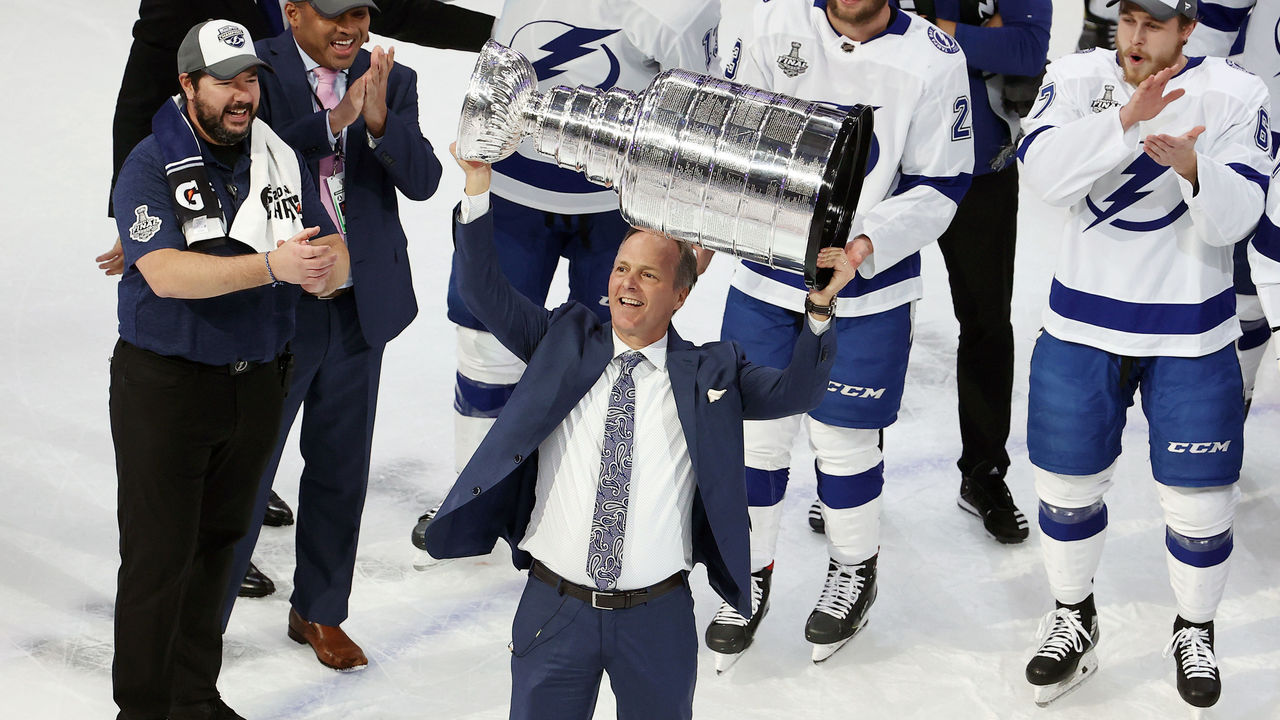 A series win over Columbus was no ordinary playoff triumph for Tampa. The Blue Jackets had swept the Lightning in the opening round of the 2019 postseason more than a calendar year earlier. It had been an epic upset, a psyche-rattling ouster for a team that had demolished the competition during the regular season, appearing unstoppable while winning 62 of 82 games.
But after another successful regular season, nearly five months off as the sports world stopped to tend to a pandemic, and a long, stressful run-up to the playoff bubble, Tampa emerged the postseason victor - not Columbus.
"A lot of learning went into last year," Cooper said later in the press conference. "We had to grow as a team. We didn't necessarily need to tweak how to play the game. I don't know if it was as much on structure as it was between the ears."
It was hard not to think of Cooper's insight Monday night as injured captain Steven Stamkos hoisted the Stanley Cup high over his head. Lightning players, coaches, and staff - isolated from the outside world, including loved ones, for 65 straight days split between Toronto and Edmonton - celebrated the second Cup in franchise history. The Cooper-era Lightning squad, perennial contenders and 2015 Cup Final losers, are now 2020 champions.
The Lightning capped off an incredible 25-game - which featured a 2-1 record in the round robin before series wins over the Blue Jackets, Bruins, Islanders, and Stars - with a 2-0 Game 6 victory Monday over the Dallas Stars in the Cup Final. And all under unprecedented circumstances, too: No fans, no travel, and a condensed schedule inside a closely monitored bubble, with the COVID-19 pandemic and racial injustice protests unfolding outside of it.
"It was so special to do it this year in the style that we did it," captain Steven Stamkos said postgame, before adding: "It's something we talked about at the beginning of (summer) training camp, that it's not just going to take 20 guys to win the Stanley Cup, it's going to take every single guy in this bubble, and I'm so proud of each and every one of them."
Forward Pat Maroon was less poetic, but equally effective in describing the accomplishment: "We worked our nuts off, and we deserve this," he said.
All-world defenseman Victor Hedman is the Conn Smythe Trophy winner as playoff MVP after racking up 10 goals and 12 assists in 25 games while playing 26:28 nightly against the opponent's most dynamic skaters. Top-line forwards Nikita Kucherov and Brayden Point brilliantly combined for 21 goals, including four game-winners. Stud goalie Andrei Vasilevskiy posted a .927 save percentage through all 1,708 minutes of the club's run. There's no denying Tampa's best players were their best players from start to finish.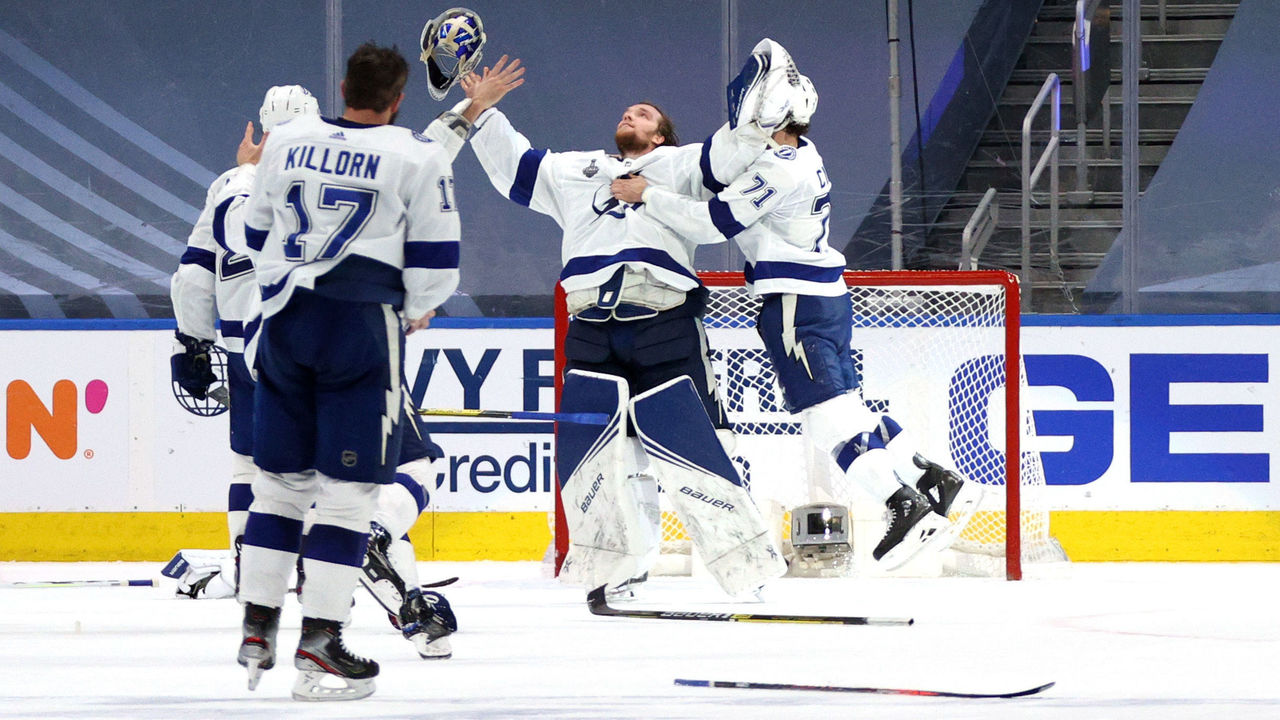 Amazingly, the Lightning managed to reach the mountaintop without a healthy Stamkos, who was sidelined the entire postseason aside from a magical five-shift cameo in Game 3 of the Final. But a mixture of the team's long-term core and its versatile supporting cast filled the Stamkos void, which is what made this squad unique - it was star-studded and super deep.
"The beauty of our team is everyone was chipping in," Point said. "We got contributions from anyone and everyone at different times, and that's what makes this win so special."
And through a big-picture lens, the Lightning's Cup victory is just as much about what they didn't do as it is about what they did.
For starters, the organization's top decision-makers - namely owner Jeff Vinik and general manager Julien BriseBois - didn't panic after the shocking and embarrassing Columbus sweep. They didn't fire Cooper or trade away a star player. No, BriseBois instead began to workshop how he could leave no stone unturned in the 2019-20 season and reel in key contributors via free agency and at the annual trading deadline. They aimed to get harder to play against, a little tighter defensively, and add layers of support to an already deadly team.
"When I got the call from Julien and Coop, they wanted my presence in the locker room and bring a different atmosphere, bring guys together, and bring a different game to the Tampa Bay Lightning. I think I did my job," Maroon, a free agent pickup and the roster's lone Cup champion before Monday's win, said on the Sportsnet broadcast moments after lifting the trophy.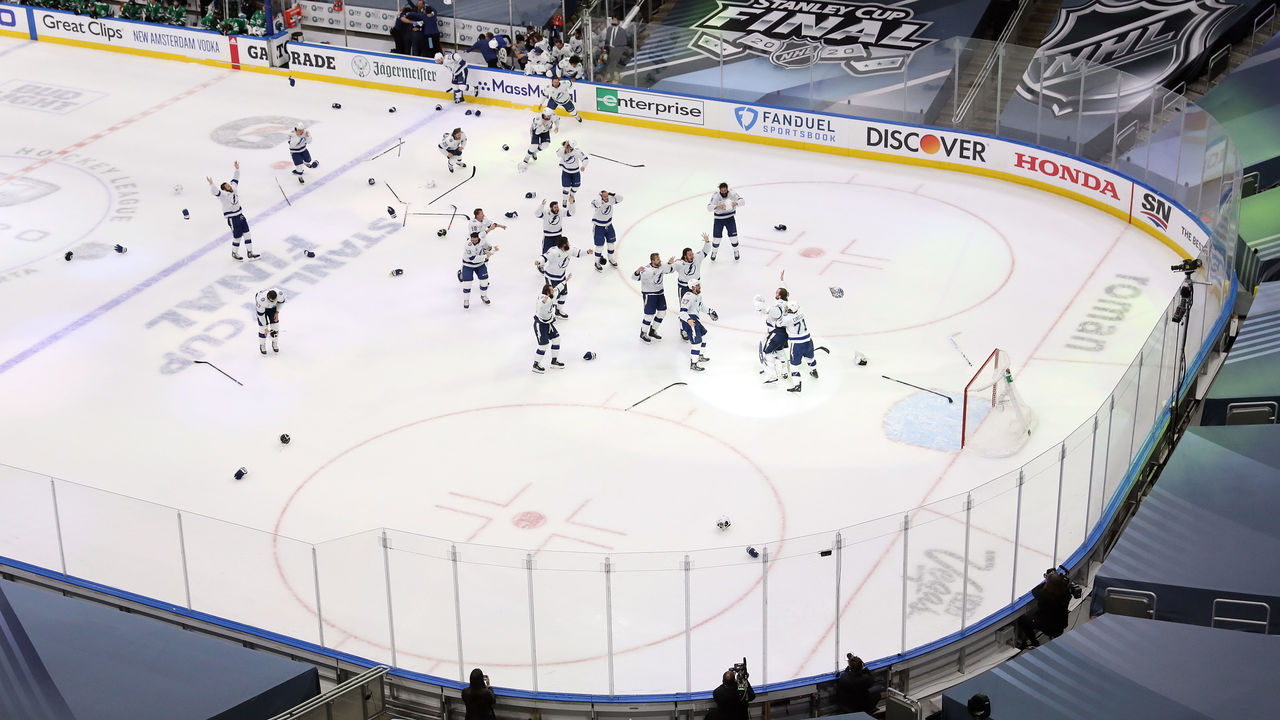 The newcomers included defensemen Kevin Shattenkirk, Luke Schenn, and Zach Bogosian, as well as forwards Maroon, Blake Coleman, and Barclay Goodrow. No marquee names, yet all six moved Tampa closer to becoming bulletproof on paper and made BriseBois look genius - especially in the marathon postseason, when their combined efforts were needed most.
"Ultimately, at the deadline, if you are a buyer, you are damned if you do and damned if you don't," BriseBois said in late February after giving up two first-round picks and a high-end prospect to acquire third-liners Goodrow and Coleman in separate trades. "And I decided I was going to take the risk of being damned if I do because I did."
The last Lightning player to touch the puck Sunday was Goodrow, who chased it through the neutral zone and into the Dallas end before tossing his stick into the air in jubilation at the final buzzer. Coleman, the prototypical modern energy guy, had a strong playoff performance, particularly in the early going. The pair's center, the undrafted Yanni Gourde, had his moments too. Together, they formed the famous Gnats trio - a highly effective third line.
Gourde's draft status is notable, of course, because he's not their scouts' only find. Tampa took Kucherov in the second round, Point and two-way center Anthony Cirelli are third-rounders, top-line winger Ondrej Palat is a seventh-rounder, and Tyler Johnson - one of eight players remaining from the 2015 team - is another undrafted gem. Stamkos is on the other end of the spectrum as the first overall pick in the 2008 draft and a career-long Lightning player. He's joined by Hedman, who Tampa selected in the No. 2 spot a year later.
"We've been together since Day 1," Stamkos said of Hedman. "To go through all the ups and downs, this is what you play for, to watch Heddy win that Conn Smythe, to be the best player in the world in the playoffs, and to just watch our relationship grow to where it is today, it's just love and admiration."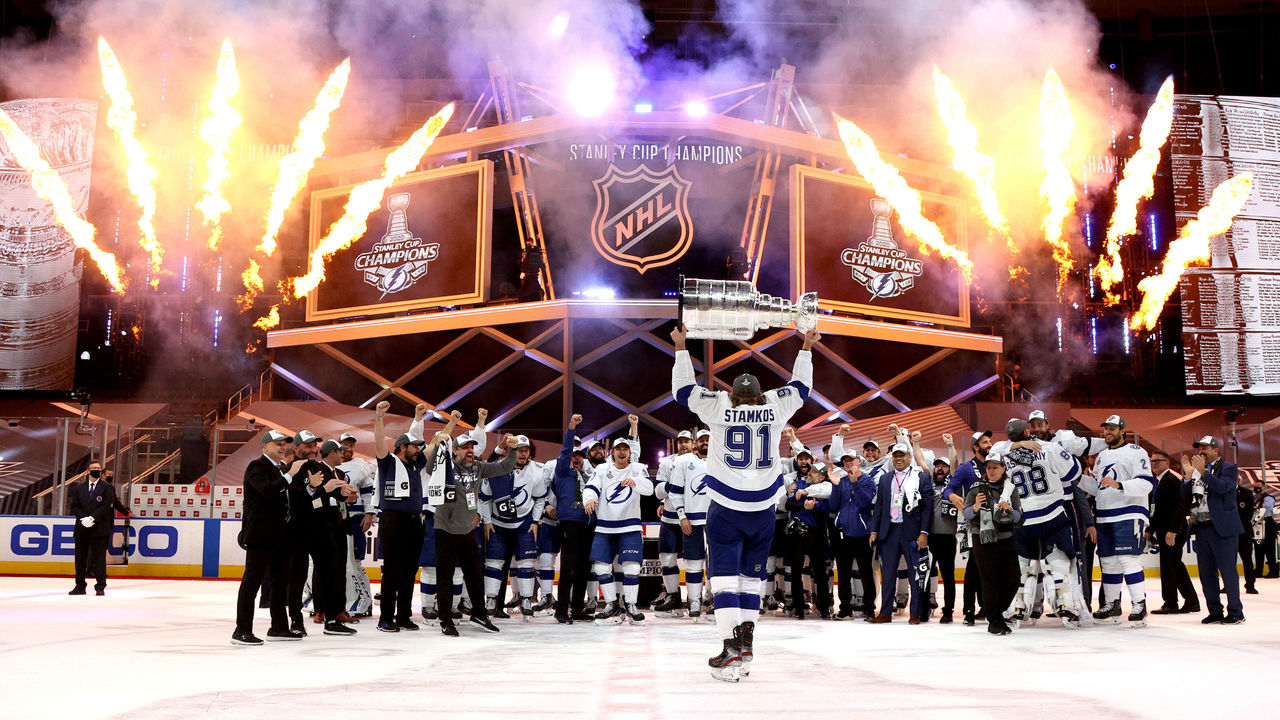 Tampa built this 2020 Cup team in every which way and over several years: Through the draft, through free agency, and through trades. Drafting, developing, and then pouncing on the market at the right time. Don't lose hope, trust the process. Easier said than done, right? You can thank former GM Steve Yzerman for a large portion of those moves, but BriseBois finished the job. And despite the new faces on the ice, the Lightning stayed true to their core, their brand of hockey, and their ultimate goal. Amid a pandemic, the payoff is enormous, a huge reward, and certainly mighty fulfilling.
Just ask Cooper.
"We basically went from the outhouse to the penthouse," he said.
John Matisz is theScore's national hockey writer.
Comments
✕
Lightning Cup win a lesson in both going all-in and sticking to the plan
  Got something to say? Leave a comment below!