Over the years, there have been some fascinating debates in the lead-up to the NHL draft. Taylor Hall versus Tyler Seguin in 2010. Auston Matthews against Patrik Laine in 2016. Heck, even this year's No. 2 discussion - Quinton Byfield versus Tim Stuetzle - is heated.
Though the greater hockey world might not realize it, similar debates often play out at lower levels. In early 2018, for instance, executives, coaches, scouts, and fans of the Quebec Major Junior Hockey League were heatedly debating the merits of Jeremie Poirier versus William Villeneuve, two of the top defensemen available for the league's entry draft. As dominant players from different areas of southern Quebec, they carved out an on-ice rivalry while going head to head in a hard-fought midget AAA provincial semifinal series. Villeneuve's team, the Magog Cantonniers, defeated Poirier's Chateauguay Grenadiers in seven games, with both starring for their respective squads.
"Everybody was talking about it, taking sides," Saint John Sea Dogs general manager Trevor Georgie said. "Our staff was totally split, basically 50/50, heading into the draft."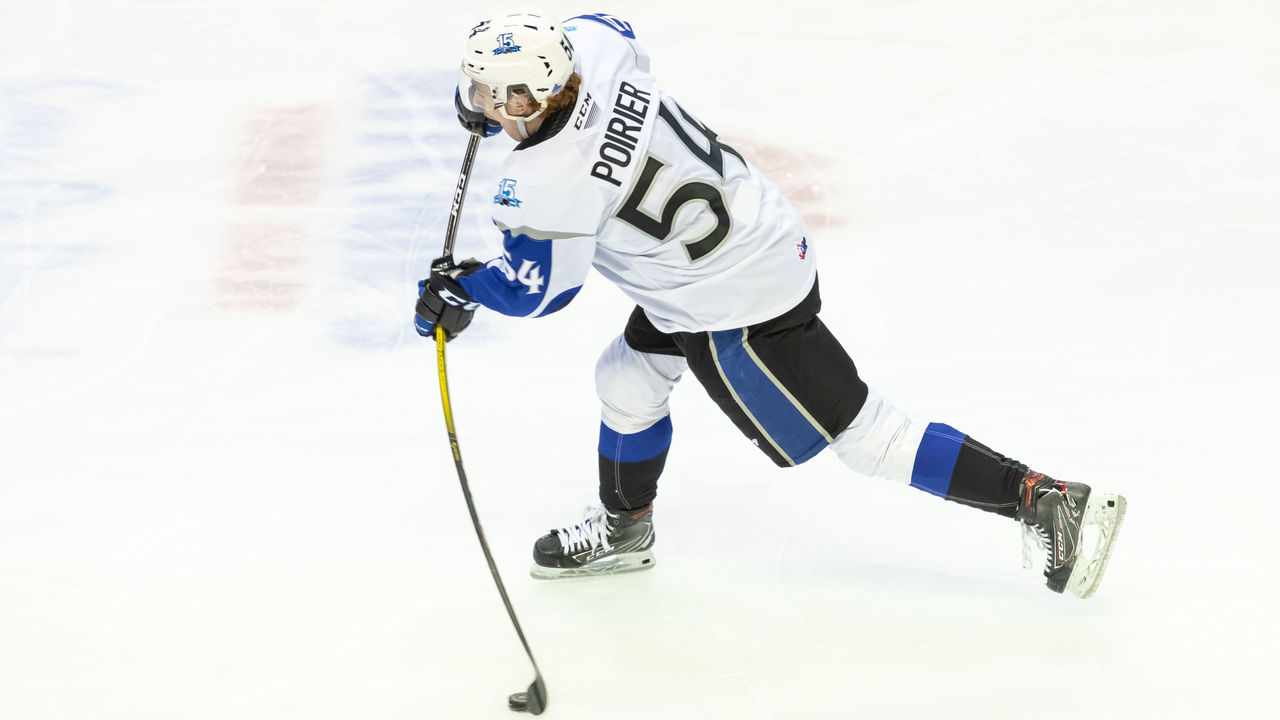 This dynamic made for an awkward moment when the rebuilding Sea Dogs selected Villeneuve second overall and Poirier six picks later at No. 8. The QMJHL draft is typically held in person, so the oft compared rivals were forced to acquaint themselves in the club's suite.
"It was kind of weird at the beginning because we didn't expect to be drafted onto the same team," Poirier said of the pair's brief draft-day interactions. "But we were also so happy. We knew it'd be good to have two high prospects in Saint John."
"We were rivals," Villeneuve recalled, "but we always had the respect for each other."
Despite the subdued meeting, Georgie and the coaching staff worried about how "explosive" the upcoming training camp might be. With playing time and clout within the organization hanging in the balance, there was a decent chance Poirier or Villeneuve - or perhaps both - would put up a fuss or refuse to cooperate. Instead, the two hit it off.
"You wondered how they were going to manage it," Sea Dogs assistant coach Jeff Cowan said. "From Day 1, though, there was no big competition, no big egos or unhealthy competitiveness, nothing like that."
Roughly two years later, after anchoring Saint John's blue line through a rebuild, the still-green Poirier and Villeneuve are once again up for a draft, this time with NHL teams making the selections. Plenty of junior teams will see several players picked during the 2020 NHL Draft, which is being held virtually on Tuesday and Wednesday, but the Sea Dogs are one club to keep a close eye on because they have three draft-eligible defensemen. (The third is Charlie DesRoches, also scooped up in the 2018 QMJHL draft.) The crown jewel, Poirier, might be the most polarizing player in the entire class.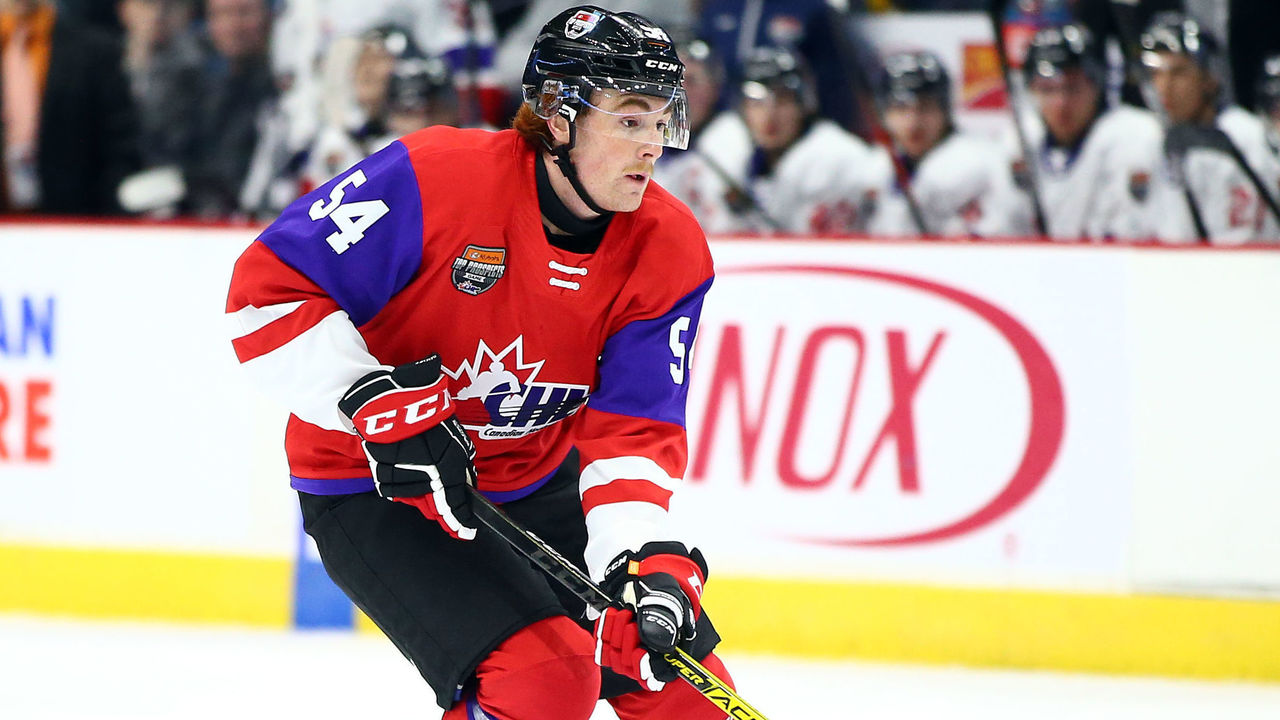 On one hand, Poirier is a tantalizing offensive weapon, a one-man wrecking crew from the back end who can stickhandle through an entire team before creating a scoring chance for himself or a teammate. On the other hand, he's been, as one NHL scout framed it recently, a "train wreck defensively." The Montreal-area product is projected to go late in the first round. However, since he's the type of player teams either love or hate, he could slide into Day 2.
Georgie offered a sports-car analogy to simplify Poirier's strengths and weaknesses at this point in his career. "Whoever drafts Jeremie," he said, "is purchasing the Ferrari knowing that the transmission needs some work. Everyone knows the transmission needs some work, but it's a Ferrari."
Poirier racked up an impressive 53 points in 64 games last season. He led all QMJHL defensemen with 20 goals despite being just 17 years old. The Ferrari-like attributes are easy to identify. Poirier operates with supreme confidence when he's on the attack, dancing in and out of zones. He can regroup, dish a nifty pass, or unleash his trademark shot, which is hard and accurate.
"He's got a shot that gets through to the net. It's not getting blocked and turning into two-on-ones the other way," Dan Marr, longtime NHL Central Scouting director, said of the 6-foot-1, 196-pounder whom the agency ranked 18th among all draft-eligible North American skaters. "He sees the ice well enough and he's got a quick release where he really steps into it."
"He's so good at making plays in tight, making little dekes and plays under guys' sticks," said Cowan, who played eight NHL seasons. "For me, having coached here in Saint John for seven years, I haven't seen a defenseman or maybe a forward who has that skill with the puck. He's so confident with it in the plays he makes. Those are his pluses. His skill level is crazy."
Poirier elicits oppositely extreme views for his play without the puck. His slow pivots from skating forward to backward are a concern. Scouts question his dedication to defense, in general, because of his poor body language and lackadaisical approach to battling. He also turns the puck over far too often.
Georgie, Cowan, and Poirier himself all accept this to be true. There's no question his risk-reward ratio must be recalibrated, and his attention to detail, or lack thereof, in certain areas of the game needs an adjustment. That said, the GM, coach, and player report a change in approach over the offseason and into the start of the 2020-21 season. To them, these deficiencies can be fixed.
"When I was coming back into the defensive zone, I was thinking about offense, trying to gain the puck back, go on offense, and go, go, go," Poirier said of his first two years of junior, which featured an ugly minus-66 rating. "Now, I'm trying to be more aware of what's going on in my zone. Stop the play, get the puck back first, and then change my focus."
"Jeremie is committed. He wants to be dominant. He wants to be an elite-level player," Georgie added. "The feedback I'm getting, unprovoked from teammates, is that this is a different Jeremie Poirier."
Poirier looked up to superstar Blackhawks winger Patrick Kane as a kid and played forward until his peewee coach suggested he switch to defenseman so he could expand his view of the ice and, most importantly, get more ice time. Asked if any teams in pre-draft interviews broached the subject of reverting back, Poirier had a good laugh.
"I make sure everybody knows I'm a defenseman," he said. "It's good to have this really big offensive upside because I can bring it every night. There's not a lot of defensemen in this draft year and around the world who can play offense like I do. If I keep improving my defense and keep getting better, overall, it'll help me be one of the top defensemen."
One thing that isn't up for debate is how abundantly aware Poirier is of his shortcomings. His own coaches have let him know. NHL scouts too. And, of course, the internet, with Poirier trying his best to avoid the criticism but nevertheless stumbling upon some negativity while cruising social media.
"At the end of the day, it can be frustrating if you're reading all of those comments," Poirier said of what he's read on Instagram and elsewhere. "But I'm just here to improve and get better. Sometimes I take those criticisms as motivation. I can go out there and improve."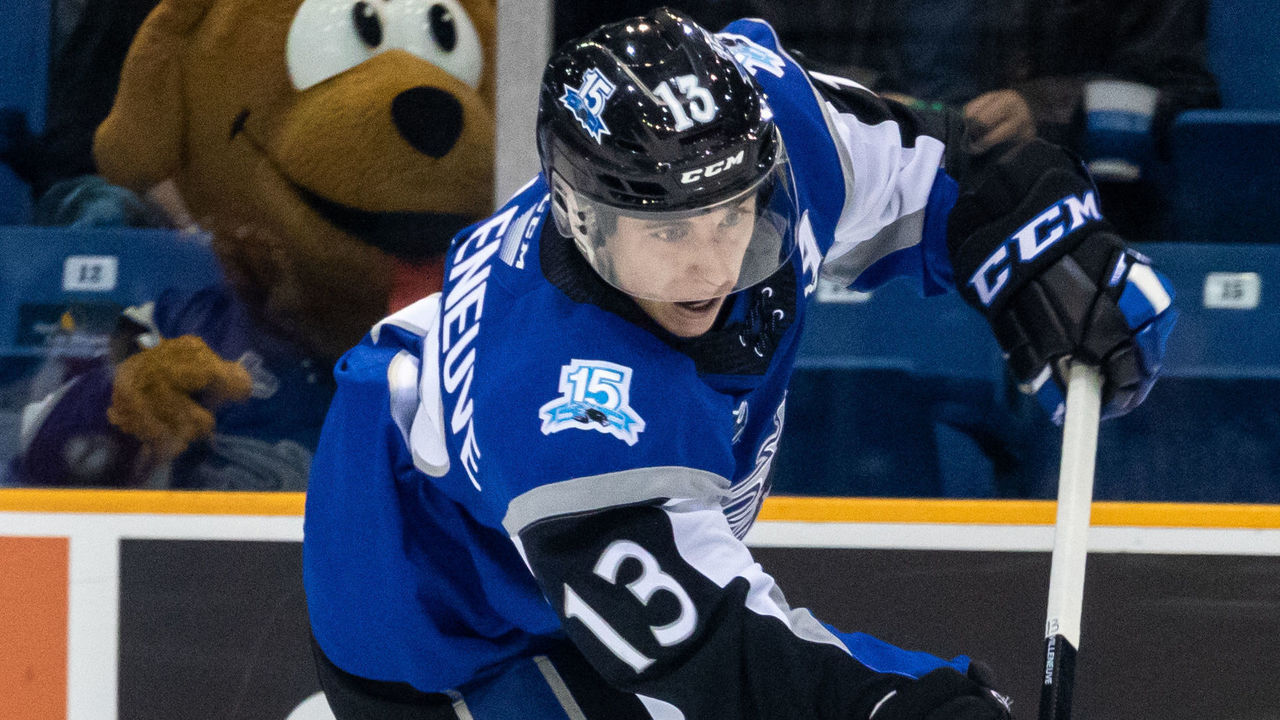 That brings us back to Villeneuve, who's not only one of Poirier's best friends now but was also his defense partner for the 2019-20 season. (The pair has been split up to start 2020-21, which began with back-to-back losses over the weekend. Poirier recorded a goal and three assists.) In Villeneuve, Poirier has found someone to lean on for brotherly support on and off the ice.
"Some people are bugging him about his defensive game, but they don't really know how hard he's worked over the past two years," Villeneuve said defiantly.
"I like to say that we went through the same things," he continued. "Being 16 years old in the (QMJHL) is not easy. Also, coming into a rebuilding team (the Sea Dogs have won just 43 of 134 games since the duo's arrival), we've had some good but also tough moments, playing a lot of hard minutes. To have a player like Jeremie and a person like Jeremie by my side to go through everything, it's been great. Since we put our feet in Saint John, we've been hanging out a lot together. We push each other to get better every day."
Villeneuve, a 6-foot-1 righty, was the top point-getter among QMJHL defensemen last year with 58 in 64 games. He's not as flashy as Poirier, but he does earn high marks in the vision and poise categories. He's expected to go off the board relatively early on Day 2, perhaps in the second round not long after Poirier.
"He doesn't have the high-end skills of a Poirier, but he's a notch above him in terms of defending and hockey sense," reads a report on Villeneuve in HockeyProspect.com's draft bible. "We are hoping that as he continues to physically mature, some of those skills will continue to improve, such as skating and shooting. He has some two-way upside, but his lack of athleticism and high-end skills might hurt his chances of one day playing in the NHL."
Once rivals, Poirier and Villeneuve are close to inseparable in Saint John. They were classmates at a French-speaking high school prior to finishing Grade 12, they play the NBA2K video game together, and they've been known to frequent Tim Hortons and a local mall as a pair. In a strange, pandemic-shortened draft year filled with criticism, it's been nice to have each other.
"I think JP's improved a lot defensively and he's still working on it. We both need to," Villeneuve said. "People are really hard on him, but I'm not worried about him. He's going to prove them wrong really soon."
John Matisz is theScore's national hockey writer.