Five years ago, North America's young guns electrified the World Cup
World Cup of Hockey / Getty Images
Every story has two sides, so when Auston Matthews thrilled a Toronto crowd for the first time, somebody was bound to feel bummed.
Postgame, Erik Karlsson said the play touched off his most embarrassing two minutes in hockey. His Swedish teammate Niklas Hjalmarsson admitted feeling aged in the moment, even though he had yet to turn 30. Victor Hedman - well, take in what Matthews did to him on Sept. 21, 2016:
Matthews and his teammates were buzzing. Connor McDavid had juked four Swedes to set up Matthews' dangle, the Maple Leafs sniper rising from his knees to score later in the sequence. Johnny Gaudreau proceeded to sneak behind Karlsson, call for a breakaway pass, and turn on the jets to draw a penalty shot. Gaudreau missed high, but Vincent Trocheck forced a turnover on the next shift, and 95 seconds after puck drop, his backhand from the slot put Sweden down 2-0.
They were representing Team North America, the 23-and-under squad whose speed and razzmatazz wowed fans and staggered elite veteran opposition at the 2016 World Cup of Hockey. McDavid was a second-year pro. Matthews was weeks away from debuting in the NHL. They connected at Toronto's Air Canada Centre as part of an unprecedented experiment in roster building: bridge the Canada-United States divide and combine prodigiously skilled players who might not otherwise have appeared at the tournament.
North America's lineup featured five No. 1 overall draft picks. It included future Hart Trophy, Art Ross Trophy, Rocket Richard Trophy, Vezina Trophy, Selke Trophy, and Lady Byng Trophy winners. Not that it'll ever happen, but the thought of this group reuniting is awesome:
As it was, youth unburdened Team North America of expectations in group-stage matchups with Finland, Russia, and Sweden. Five years later, people remember the World Cup for the referee helmet cam; for Team Europe's surprise surge to the final; for Sidney Crosby and Carey Price leading battle-tested Canada to victory. North America's run was unforgettable, too, even as it ended short of the knockout round.
"That might have been the most fun 30 days I've had in hockey," Trocheck told theScore recently.
"(Icing a 23-and-under team) allowed those guys to come in and just focus on playing," said Craig Simpson, the retired NHL winger and TV color analyst who called the 2016 World Cup for Sportsnet.
"There's no standing back because you've got Sidney Crosby or Joe Thornton, an 18-year vet, that you're trying to defer to and show a little bit more respect to. I think it allowed them to galvanize each other and say: 'Hey, what have we got to lose?'"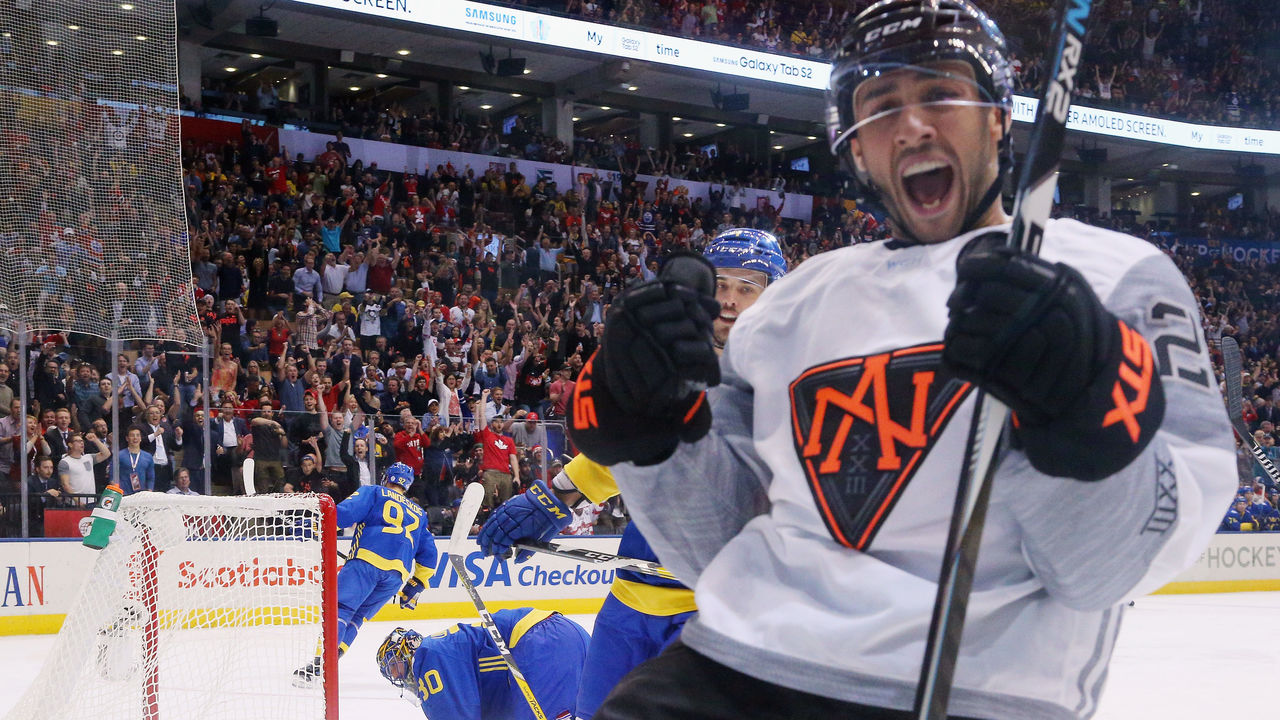 The 2016 tournament was the first World Cup since September 2004, when Canada edged Finland in the final on Shane Doan's winning goal and the NHL locked out its players right afterward. Bit of a downer. Teams North America and Europe, a melange of NHLers from eight countries, were added to the field in 2016 to generate buzz and raise the overall caliber of play.
Dismissed as gimmicky by cynics and traditionalists, these new entrants dared to play watchable hockey, exuding an enthusiasm that some marquee teams lacked. Canada's structured style stifled opposing offense and risked boring people. The U.S. went winless against Europe, Canada, and the Czech Republic after leaving Phil Kessel, annually a 30-goal threat, at home.
Tellingly, North America's forward corps included the NHL skills competition's two most recent fastest skaters, Jonathan Drouin and Dylan Larkin - plus McDavid, soon to be a three-time winner himself. Given a few chances to practice together in Montreal and Quebec City, the young guns thumped Europe in back-to-back exhibition games, and then they flew to Toronto for every player's first taste of top-tier international competition.
They took to the challenge, Simpson remembers, as if "shot out of a cannon."
"Get out there and use your speed to your advantage. That's the game plan," Trocheck said, summarizing head coach Todd McLellan's instructions. "From game one, we jelled and figured out some line combinations early. It worked out. The transition from putting a random team together to having a lot of chemistry was seamless."
Playing loose, Team North America pounded 50 more shots on net (138-88) than its three Group B opponents. The kids handled Finland 4-1 on Sept. 18, the day after Matthews turned 19. They lost 4-3 to Russia the next night, but dusted a few opposing superstars on the opening goal. Resisting Alex Ovechkin's slashes as he circled the North America net, Colton Parayko got the puck to McDavid, who escaped Pavel Datsyuk in the neutral zone and fed Matthews at the foot of Sergei Bobrovsky's crease. The ref cam recorded his tap-in from up close:
Against Sweden's vaunted defense, Gaudreau atoned for the missed penalty shot by slipping free for a second breakaway, this one 14 minutes in, and fooling Henrik Lundqvist with a sweet deke. Sweden rallied to tie the score, but toward the end of three-on-three overtime, Nathan MacKinnon was left alone by the Swedish net, stickhandled in a phone booth, and roofed a backhand over Lundqvist, relieving the goalie of his stick in the process.
Up in the Sportsnet booth, Simpson and broadcast partner Jim Hughson had already pointed out the lone problem: North America needed to win in regulation to reach the semifinals. McLellan and his staff didn't tell the players this, and when the Russians blanked Finland 3-0 the next day, they clinched a tiebreaking edge and advanced alongside Sweden at North America's expense.
"That was disappointing," Simpson said. "(But) I don't think it was any surprise at all that that group would be as competitive and explosive as they were back then. Because they still are today. Look at the names on the list. So many of them are at or near the top of the game."
No doubt about that. Five NHL seasons have elapsed since the World Cup ended, and North America's collective production has been prolific.
Different numbers contextualize how these players have impacted the league. Seven of them - McDavid, Matthews, MacKinnon, Gaudreau, Sean Couturier, Aaron Ekblad, and Connor Hellebuyck - have combined to win 16 major NHL awards. Twelve players, more than half the North America roster, are part of a team captaincy group. Brandon Saad was a two-time Stanley Cup champion before the tournament, and now Matt Murray is, too. Parayko won the Cup in 2019 with the St. Louis Blues.
Even though the World Cup is in limbo - the NHL and NHLPA failed to strike a deal to hold one last year - the 2016 tournament was the last true best-on-best event played on the international stage. Skipping the 2018 Olympics delayed McDavid and Matthews' chance to star for their respective national teams until this coming February. As many as 10 of their World Cup teammates (MacKinnon, Couturier, Ekblad, Mark Scheifele, Jack Eichel, Larkin, J.T. Miller, Seth Jones, Hellebuyck, and John Gibson all come to mind) ought to expect to join them in Beijing.
Their North America experience was unique, but Simpson sees a historical parallel.
He was Mario Lemieux's Pittsburgh Penguins teammate in September 1987, when Lemieux skated on Wayne Gretzky's line at the international Canada Cup. Lemieux was a dominant young pro before Canada won that showcase, but he returned to Pittsburgh ready to elevate his game even further. He upped his career high in points from 141 to 168 to claim the 1988 Hart Trophy, denying Gretzky a ninth straight win. Two Stanley Cups and two more MVP nods soon followed.
"He came back a completely different guy. He was around guys who were winners. Guys who have been champions. (He saw) how they respond, how they interact. To me, it catapulted him to be the greatest that he was," Simpson said.
"I think the young guys (in 2016) got the taste of each other and how they could bond together. How they could compete," he continued. "But they also got a chance to watch and play against the best guys in the world. Any time you get a chance to do that, it speaks volumes about the experience that you can gain, and how much you can grow and be a better player going forward."
Time to broach the inevitable comparison: What would Team North America look like if the next World Cup was about to be held? Forget that the future of the tournament is uncertain and get to judging the merits of players born in or after October 1997, a cutoff that mirrors the 2016 event's eligibility rules.
Here's one proposed roster and set of line combos. Sound off in the comments about the decisions you like and hate, and predict how this team would fare against the 2016 crew.
Six quick-hit notes about this lineup:
Man, that right side of the defense. Fox won the Norris Trophy last season and Makar and McAvoy placed high in the voting, affirmation that they're redefining what it means to be an elite blue-liner. Fleet of foot, creative, and savvy with the puck, these defensemen are liable to dominate any shift.

The Tkachuk brothers in the same top six? Yes, please. On that note, the Ottawa Senators' full first line gets second billing among this forward group, with Brady Tkachuk and Batherson flanking Norris.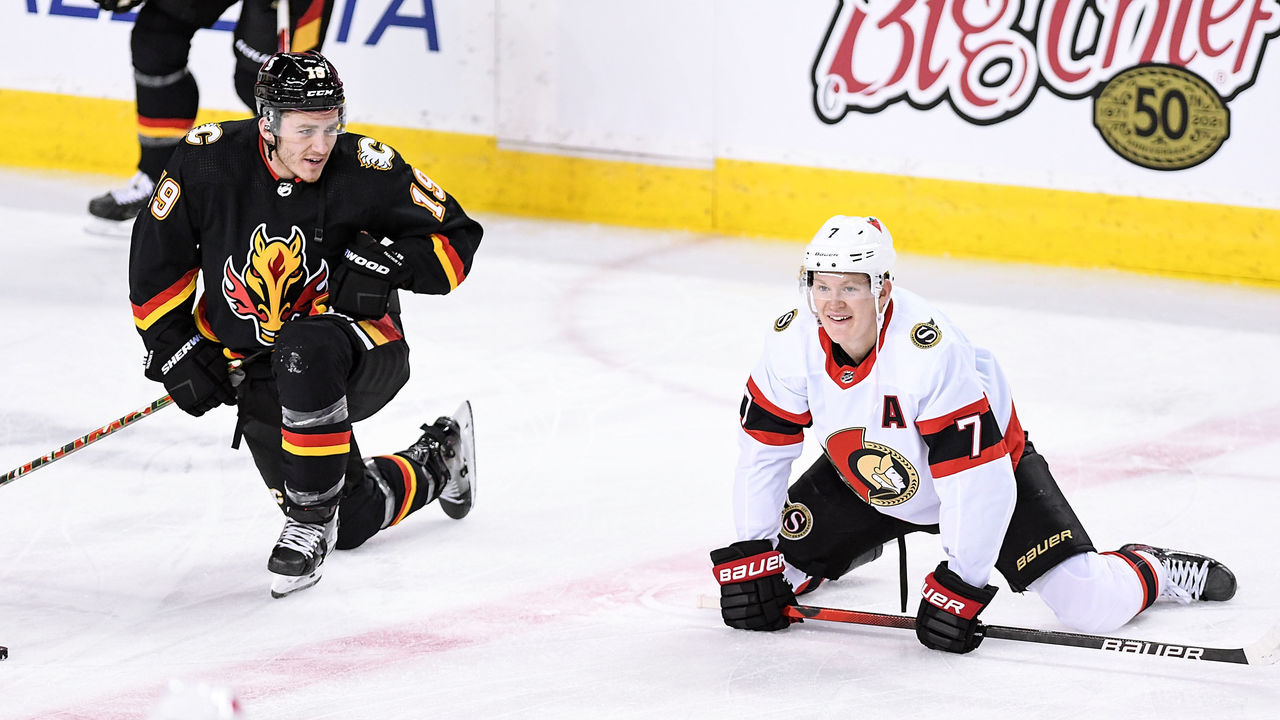 Robert Thomas, Jordan Kyrou, and Kailer Yamamoto were close exclusions at forward, as were Ty Smith and Noah Dobson on the back end and Jeremy Swayman in goal.

As was the case in 2016, close to half of these players are 23 years old. The October birthday cutoff renders Matthews ineligible by a couple of weeks, but Matthew Tkachuk, DeBrincat, and McAvoy were born late enough in 1997 to be included.

None of these players are teenagers - unlike in 2016, when McDavid and Eichel were coming off standout rookie seasons and Matthews was Team North America's lone NHL unknown. An impetus to win now squeezed Alexis Lafreniere, Quinton Byfield, Jamie Drysdale, and Owen Power out of consideration. Better hypothetical luck next year.

For what it's worth, this team features 16 Americans and a mere seven Canadians: Dubois, Batherson, Suzuki, Dach, Makar, Girard, and Hart, who'd tentatively start in net over Oettinger despite his recent season to forget.
Nick Faris is a features writer at theScore.
Comments
✕
Five years ago, North America's young guns electrified the World Cup
  Got something to say? Leave a comment below!