Three-peat*: The AHL team that sat out a season and returned as champs
Patrick Gorski / Icon Sportswire / Getty Images
A few weeks ago, Tera Black, the chief operating officer of the Charlotte Checkers, received a phone call from American Hockey League headquarters in Massachusetts. League brass had a question about the Calder Cup, which Charlotte won in 2019: "Are you guys planning on sending that back ever?"
The AHL championship trophy is 84 years old, and winners have repeated before, from the powerful World War II-era Buffalo Bisons to the Hershey Bears in 2009 and 2010. But no title reign has resembled Charlotte's.
The Checkers claimed the Calder Cup as the Carolina Hurricanes' farm team, and they now represent the Florida Panthers. They haven't played a game since March 11, 2020 after opting out of last season for health and safety reasons. Two-thirds of the team's staff were laid off, and COVID-19 stopped the AHL from awarding the Cup for a second year.
In a pandemic fluke, the silver bowl remained the Checkers' property - and they could call themselves reigning champions, give or take an asterisk.
Before COVID-19 and later when precautions allowed, the Cup was on display at fan events and backyard parties in Charlotte. The team's top hockey executive brought it to his beer league title game. During the season off, the Checkers printed T-shirts to celebrate their "three-peat," monetizing the irony.
The Cup was in Black's office recently, lying in a trunk within eyeshot as she contemplated everything that's changed about the franchise.
A roster that differs entirely from 2019 returns to play this weekend after 584 idle days. That amalgam of Panthers and Seattle Kraken prospects - the expansion club won't ice its own AHL affiliate for another year - visits Hershey on Saturday to open the Checkers' 72-game schedule. Finally, the champs are back, raring to defend a prize that none of them won.
"It's neat to be in a situation that will be reflected upon in the future as something that's historical. That will likely - and I'm knocking on every piece of wood around here - never happen again," Black told theScore.
"The Cup has such a storied history," she continued. "It's been really unique and nice to have it here in Charlotte for so long. It lets us continue the celebration into what seems like eternity."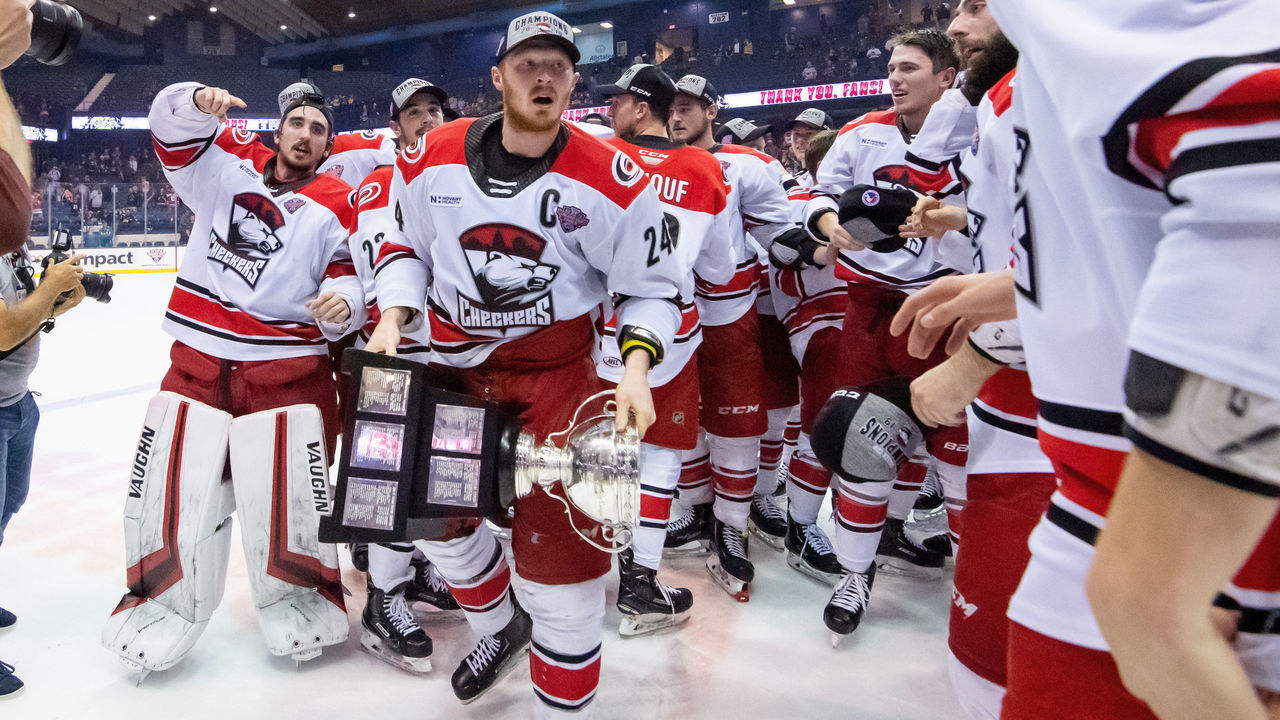 The Checkers have played in Charlotte since 2010, when Michael Kahn, a wine and spirits wholesaler, relocated the Albany River Rats from upstate New York.
Before their Calder Cup season, fans elsewhere might have known them for losing the AHL's longest playoff game. Six hours and six minutes after puck drop on May 9, 2018, the Lehigh Valley Phantoms beat the Checkers 2-1 following five overtimes and Alex Lyon's 94-save masterclass in the Phantoms' net. Alex Nedeljkovic's 51 stops paled in comparison, and Charlotte bowed out of the second round a few nights later.
Backstopped by Nedeljkovic, the AHL's goaltender of the year in 2018-19, the Checkers bounced back to finish atop the league standings and reeled off 15 wins in 19 playoff games, coasting to the title. Morgan Geekie's double-OT heroics bounced the defending champion Toronto Marlies in Game 6 of the conference finals. It then took five games to finish off the Chicago Wolves in the title series.
Checkers captain Patrick Brown raised the Calder Cup first, and Black became the first woman whose name is inscribed on the trophy.
Like the NHL, the AHL paused its 2019-20 season when the pandemic started, but it didn't return in a protective bubble to crown a champ. To limit travel in 2020-21, 28 of the 31 AHL clubs played short schedules against divisional opponents. No league-wide playoff was held.
Charlotte retained the Cup without stepping on the ice. COVID-19 cases were peaking nationwide last January when the Checkers, Milwaukee Admirals, and Springfield Thunderbirds decided to sit out the season.
Charlotte's nearest AHL opponent plays eight hours away by bus, meaning the Checkers would have had to hit the road for weeks at a time. Rather than take on that health risk and play at home in front of zero spectators - a state pandemic mandate - the Checkers loaned players who weren't on Florida's taxi squad to the Syracuse Crunch, the Tampa Bay Lightning's AHL affiliate.
Layoffs thinned the Checkers' staff from about 25 employees to eight, and those left faced challenges, like keeping the ice frozen in Bojangles Coliseum, a southern home venue that opened in 1955.
With no games to prep for or attend, Derek Wilkinson, Charlotte's senior vice president of hockey operations, immersed himself in video scouting and studying analytics. The transition was jarring, just like when he retired as a pro goalie 20 years ago.
"Not going to lie: That first week after we decided not to play was well needed for a mental break," Wilkinson said. "But, boy, the days got long after that."
This all happened in the first months of the club's partnership with the Panthers - the teams aligned last September after the Checkers and Hurricanes cut ties - and as Black's business department tried to stanch the loss of incoming revenue. Instead of asking for refunds, most season-seat holders rolled their 2020-21 payments over to this campaign.
Indoor capacity isn't capped in North Carolina anymore, and with the caveat that COVID-19 is unpredictable, the Checkers expect attendance to rebound to past standards. In recent seasons, that's meant upward of 6,000 fans for each game.
"I think absence makes the heart grow fonder," Black said.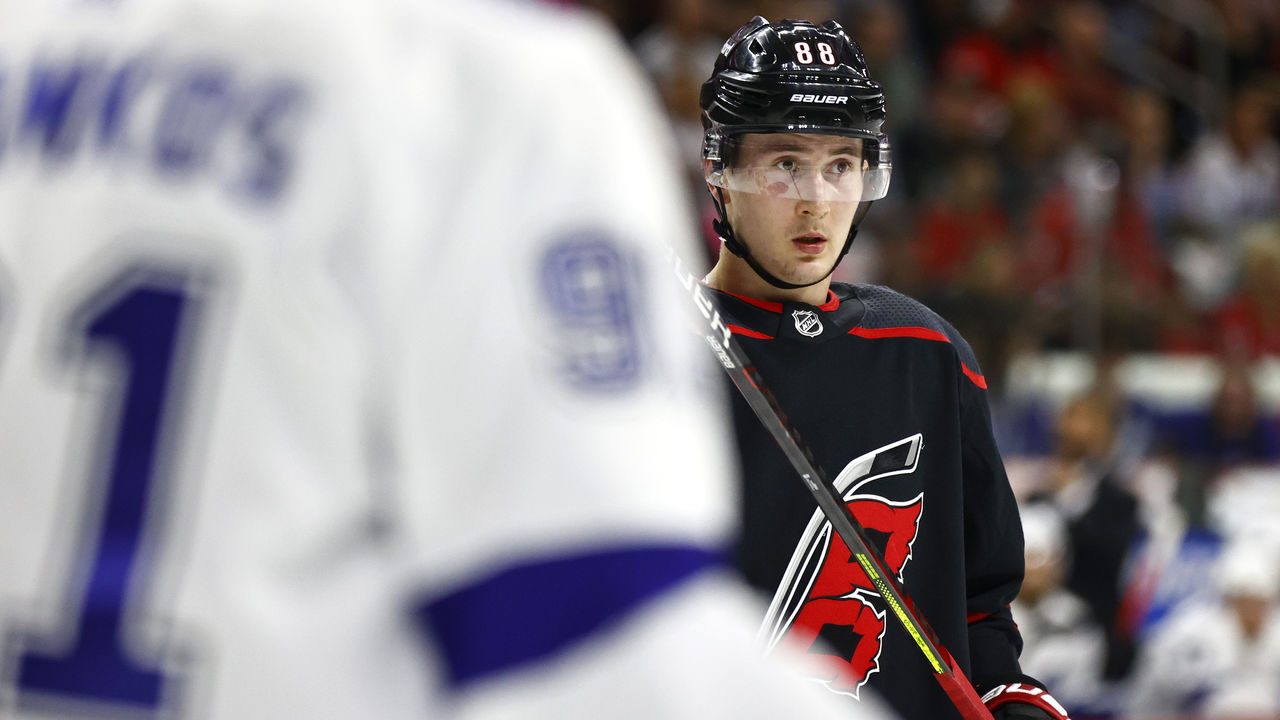 Just like in 2019, the Checkers plan to sell beers for a buck during Wednesday home games, but the on-ice product won't resemble the title team.
Andrew Poturalski, Charlotte's top scorer in 2018-19, now plays for the Wolves, Carolina's new AHL affiliate. Martin Necas has graduated to the Hurricanes, Nedeljkovic tends goal for the Detroit Red Wings, Geekie scored a goal during Seattle's inaugural regular-season game, and former head coach Mike Vellucci is a Pittsburgh Penguins assistant.
When the Checkers affiliated with Florida, Geordie Kinnear became the team's new head coach, completing the former River Rats defenseman's full-circle journey back to the franchise. Kinnear was an assistant coach in Albany, then in Charlotte from 2001 to 2016. He shuttled between Syracuse and Sunrise last season, working with some of the Panthers' developmental projects - young guys like Grigori Denisenko, Aleksi Heponiemi, and Serron Noel - who play for the Checkers now.
In Syracuse, Kinnear watched Crunch coach Benoit Groulx foster cohesiveness between Lightning and Panthers prospects, as he'll need to do for the Panthers and Kraken this season.
When Seattle general manager Ron Francis was the GM of the Hurricanes, he helped build the Checkers' Calder Cup lineup, fortifying his relationship with Black, Wilkinson, and Kahn. Construction continues on Seattle's AHL rink in Palm Springs, California, so netminder Joey Daccord is in Charlotte on assignment from the Kraken. So are Luke Henman, the first player Seattle signed; Cale Fleury, the brother of former Checkers blue-liner Haydn Fleury; and Kinnear's assistant coach Dan Bylsma, who won the Stanley Cup and Jack Adams Award once upon a time as Pittsburgh's bench boss.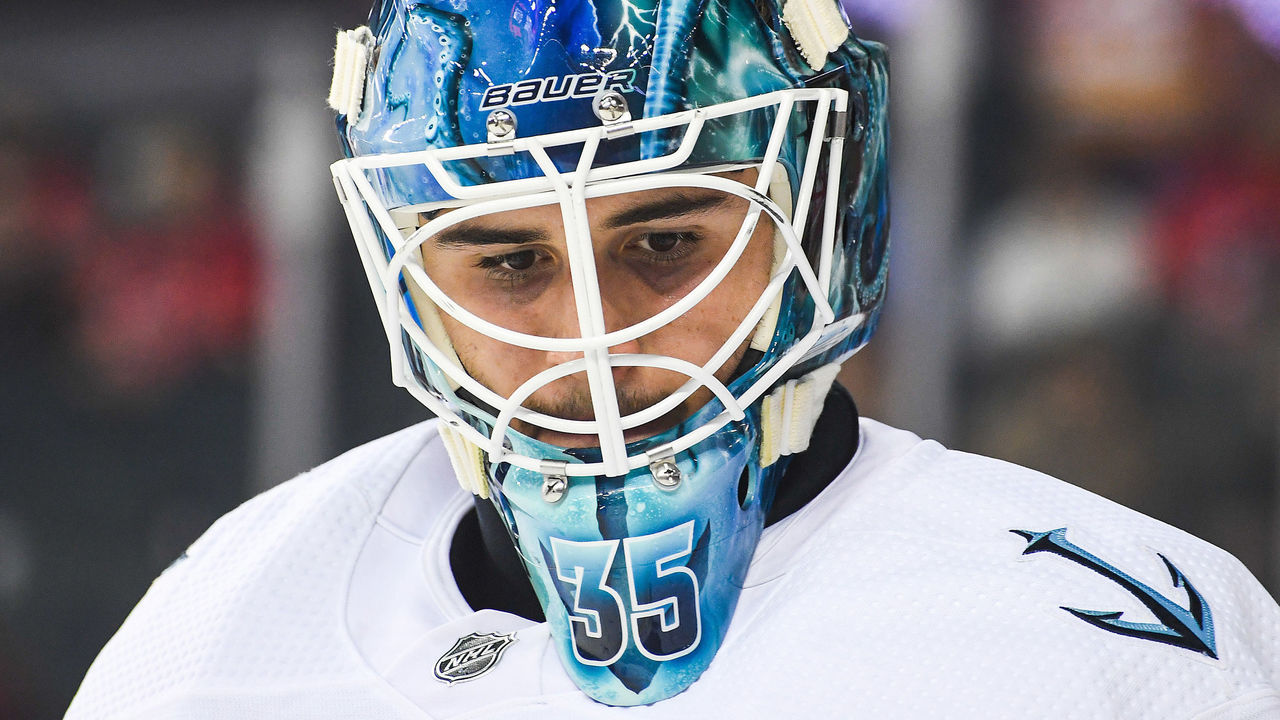 "We're all very eager to help each other out, where maybe before (the pandemic) we were very competitive," Wilkinson said. "I think we're all a little more appreciative of at least being able to play."
Understandably so. On March 11, 2020, Charlotte erased a third-period deficit to beat the Cleveland Monsters 3-2 in overtime, the squad's last win for 19 months. To come back from that repose, the Checkers have needed to restaff their front office, restock the inventory required to run T-shirt tosses and on-ice intermission contests, and implement COVID-19 safety measures - from cashless sales to player testing - that are already in place league-wide. When the puck drops against Hershey, Wilkinson expects he'll feel relief "to see it again, to feel it again, to be part of it again."
Two weeks ago, the Checkers took care of other pressing business, shipping the Calder Cup to the league's office in Massachusetts.
During the Cup's extended stay in town, the team's doctors got to bring it to their houses. It traveled all over Charlotte and to parts unknown, Black said.
"I won't mention the name of the shipping company that lost it for four days," she added.
Possession restored, the trophy sat in her office ahead of the team's final shindig as champs. Season-ticket holders were invited to skate at Bojangles Coliseum on the last Saturday in September. Some snapped photos of the Cup before it was returned to the AHL.
"We've had a lot of fun with it. But at the same time, it will be nice, I'm sure, for the league to award it to somebody in June of 2022," Wilkinson said. "Hopefully it's us again."
Nick Faris is a features writer at theScore.
Comments
✕
Three-peat*: The AHL team that sat out a season and returned as champs
  Got something to say? Leave a comment below!