3 Battle of Alberta trends to track as the series heads to Edmonton tied
Derek Leung / Getty Images
The Edmonton Oilers beat the Calgary Flames 5-3 on the road Friday to even up their second-round playoff series. Here are three storylines to monitor as the Battle of Alberta shifts north to Rogers Place.
Offense is rampant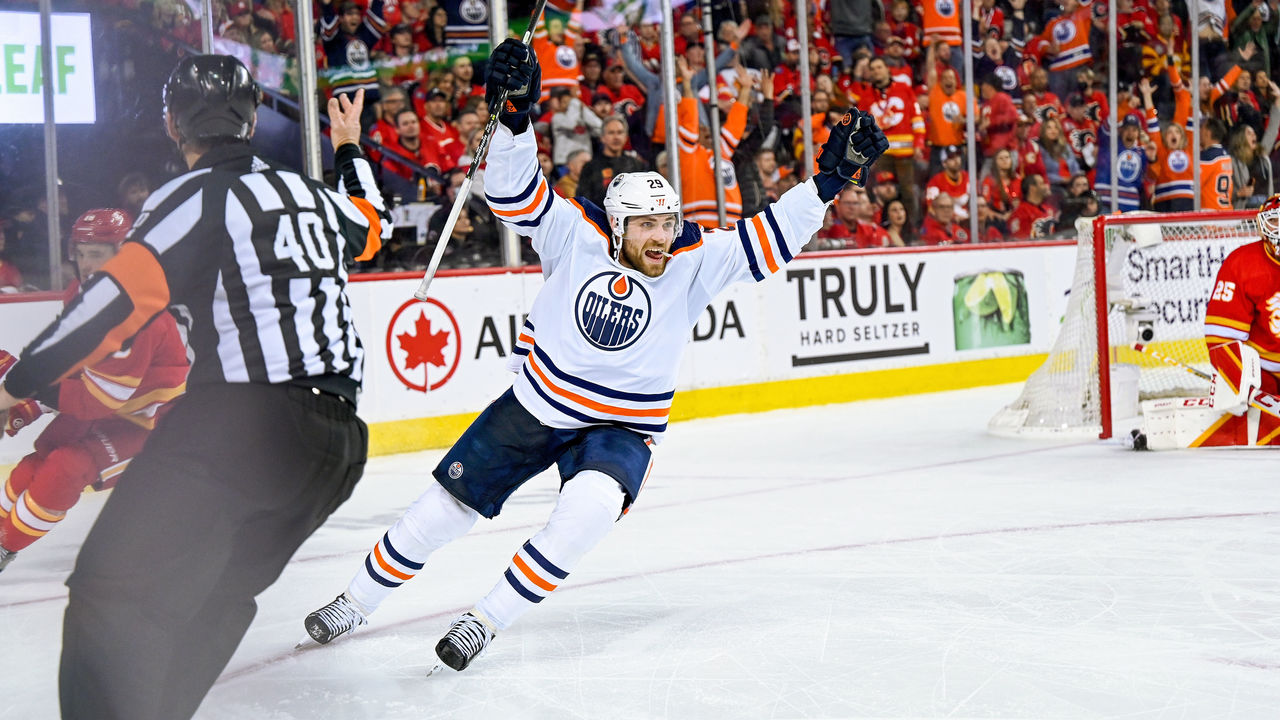 Calgary and Edmonton fans waited 31 years between playoff editions of the Battle of Alberta. They're still waiting for either side to defend effectively. Across Friday's contest and the Flames' 9-6 Game 1 win, the rivals combined to score 23 goals - within striking distance of the 29 that Calgary and the Dallas Stars managed in seven contests.
The Flames' readiness to exploit defensive breakdowns explains why the Oilers crumbled in Game 1. Most of their goals came courtesy of Edmonton's combination of ill-timed pinches, risky passes, sloppy clearances, halfhearted battling, and neglectful coverage of shooters in the slot. Calgary scored twice in Game 2 after Edmonton sticks broke and again when Duncan Keith and Evan Bouchard blew a defensive-zone assignment.
Connor McDavid inflicted the bulk of Calgary's problems himself. He undressed Jacob Markstrom with a pair of slick dekes. Teammates have scored when McDavid's drawn three defenders in the Flames' end, forced a turnover in transition, driven the crease to leave behind a juicy rebound, and swiveled behind the net to feed a pinching defenseman. The Oilers captain is up to six points in two games and leads the playoffs with 20.
Neither netminder has played to his potential yet. Mike Smith made 37 saves in Game 2 but let in multiple goals within six minutes of puck drop again. Markstrom's save percentage - .810 at five-on-five, .838 overall - is dismal. Zach Hyman and Leon Draisaitl exposed his glove hand in Game 1, as Keith did off McDavid's setup Friday.
Questions abound ahead of Game 3. Which goalie will rediscover his sparkling Round 1 form first? Can the Oilers maintain the composure they showed in Friday's third period - the Flames' first scoreless frame of the series? Or will the shootouts continue at both ends, opening space for McDavid to continue tormenting Calgary blue-liners?
Scoring is dispersed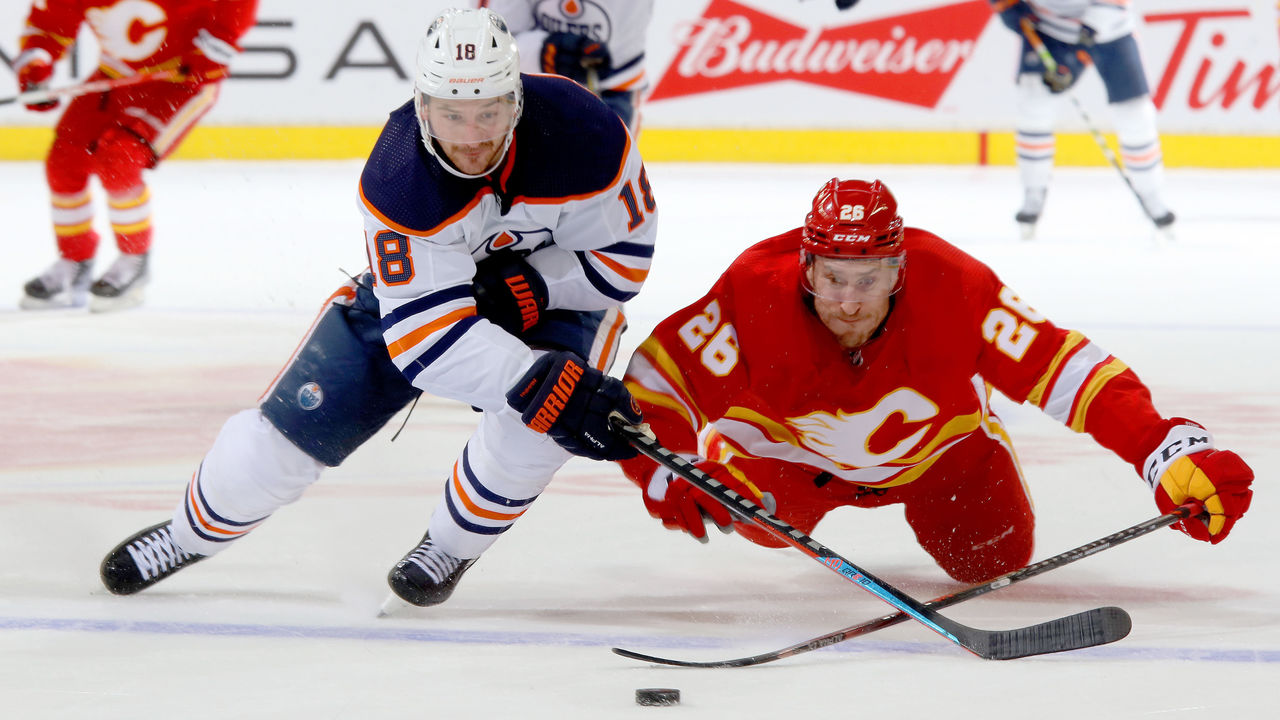 That last question could be asked about Hyman, too. He created three goals for himself by firing off the rush, whirling with the puck along the boards until that opened room to shoot, and breaking loose shorthanded to convert a breakaway. When Draisaitl joins McDavid on the top line, Hyman can ease their offensive burden with his resourcefulness and speed.
That's key because Edmonton's offense is prone to imbalance. Five Oilers scored in Game 1, but only six recorded points. Moreover, those five scorers - Hyman, McDavid, Draisaitl, Bouchard, and Kailer Yamamoto - accounted for 11 of the team's 14 scoring chances at five-on-five, according to Natural Stat Trick. While few Oilers moved the needle, 12 of Calgary's skaters got a point, and 15 managed a five-on-five scoring chance.
The Flames were at their balanced best in Game 1. They outscored the Oilers 4-1 and outchanced them 16-5 when the Johnny Gaudreau or Mikael Backlund lines skated at five-on-five. The top trios handled the heavy lifting, but fourth-line winger Brett Ritchie and numerous defensemen - Rasmus Andersson, Michael Stone, Noah Hanifin, and Erik Gudbranson - combined to add four goals and three primary assists in the series.
Edmonton's defense is activating offensively, too. Bouchard has glided into the slot to unleash his great shot, while Keith worked a give-and-go in Game 2 that allowed McDavid to dangle Markstrom. It's not solely the McDavid show, though it's astounding he's now notched multiple points in eight of nine playoff games.
Both teams were robbed of a goal during netfront scrambles Friday when the officials lost sight of loose pucks and blew the whistle. Adding to the chaos, scrums resulted in five sets of coincidental minors being called. Close-matched rivalry series heat up fast, then ebb and flow as squads take turns dictating the action. We're seeing that it's a boon to have various guys who can drive play.
Power-play edge is there for the taking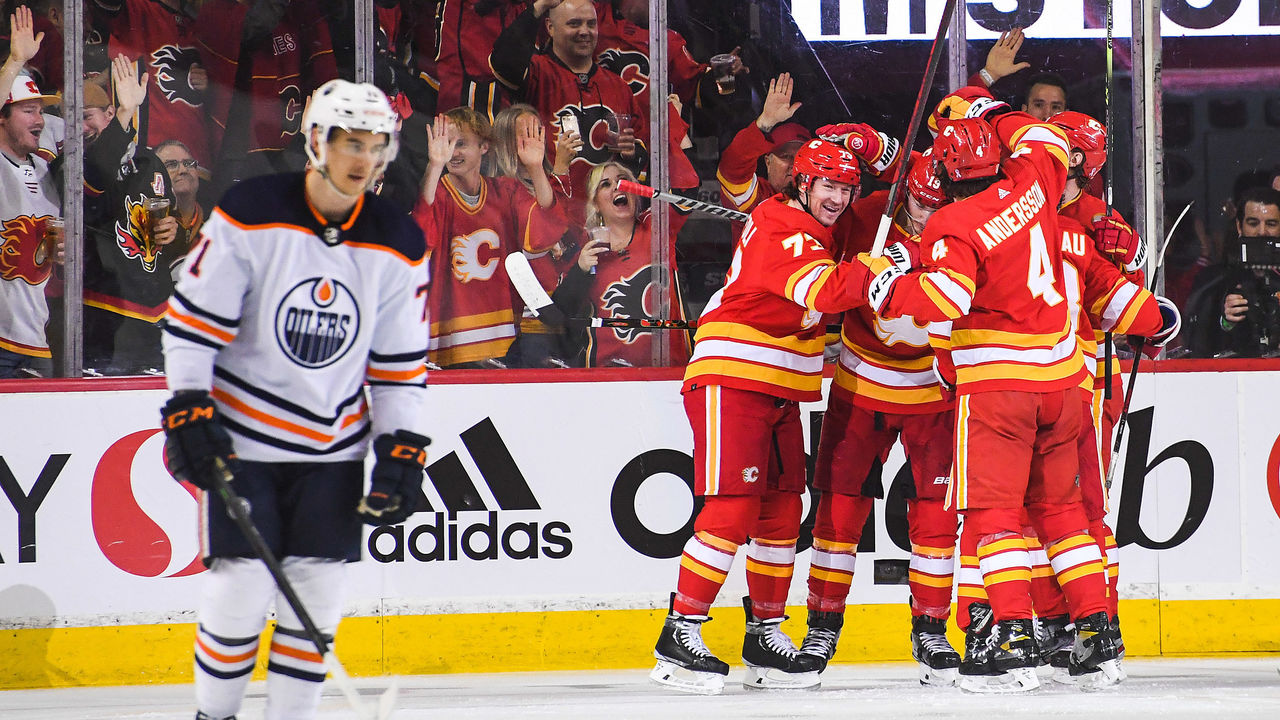 Edmonton's power play slumped late in the first round and the series opener against the Flames. The group that menaced the Los Angeles Kings early in that matchup went 0-for-2 between Games 6 and 7. Calgary killed the Oilers' four opportunities in Game 1, negating an edge they want - and maybe expect - to assert.
The Oilers got on the board once on six tries in Game 2, meaning this remains the one phase in which Markstrom has shone - his save percentage against their power play is .929. Still, Calgary's giving them too many spins - Stone and Blake Coleman took four penalty minutes apiece Friday - and Markstrom's really had to exert himself. He faced nine high-danger chances while down a man in Game 2 and benefited from McDavid, Draisaitl, and Hyman whiffing on prime looks.
On the flip side, Calgary's power play is 4-for-32 (12.5%) in the playoffs but 2-for-8 in this matchup, which shows how much of a wall Jake Oettinger was for Dallas in Round 1.
Matthew Tkachuk struck against the Oilers in Game 1 by batting the puck at chest height. Tyler Toffoli's goal Friday came off nice passes from Gaudreau and Elias Lindholm. So long as control of the series is up for grabs, someone could tilt the scales on the man advantage, and the Flames' top unit has shown signs of life.
Nick Faris is a features writer at theScore.
Comments
✕
3 Battle of Alberta trends to track as the series heads to Edmonton tied
  Got something to say? Leave a comment below!