A new era: This is just the beginning for Canada's men's soccer team
TORONTO - Everything leading up to this moment for Canada's men's soccer team has been firmly rooted in past failures.
Until now, the program's history has been marred by missteps like the infamous 8-1 capitulation to Honduras in 2012 - it hasn't been a tale defined by a myriad of successes. The problem with always reflecting on the past, though, is that it can act like an anchor that discourages movement and change.
Pour one out for the ghosts that haunt Canadian soccer. The best times are on the horizon.
"I said to this group of men, 'You will be the last group to earn the right to qualify,' and we had to qualify in 2022 to set a foundation for 2026," manager John Herdman told theScore. "We needed that so we can really compete when we get to 2026 and our own World Cup."
On Sunday against Jamaica, Canada qualified for its first World Cup since 1986, and proceedings followed a familiar trend: attack in droves and exploit favorable matchups in wide positions. It's something Canada's done well throughout CONCACAF qualifying, regardless of personnel.
It's something the world will get to fully appreciate this November in Qatar - and then in 2026 and beyond.
Strength in numbers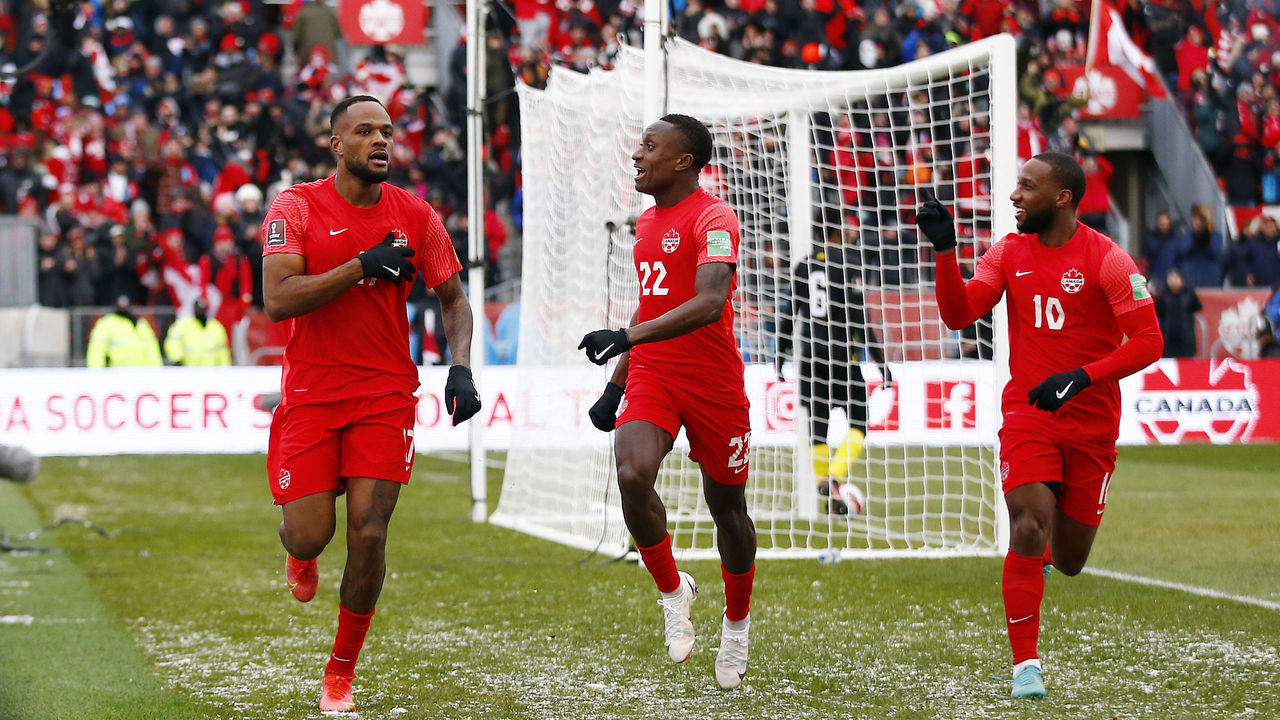 Herdman made four changes to the side that narrowly lost three days earlier in San Jose, Costa Rica.
Captain Atiba Hutchinson was dropped - as was Kamal Miller, his makeshift partner in central defense on Thursday. Junior Hoilett started in place of the suspended Mark-Anthony Kaye in a deeper midfield role than usual, and Sam Adekugbe filled in at left-back for Alistair Johnston. Adekugbe and Hoilett played a vital role in Cyle Larin's 13th-minute opener and generally had their way with the Jamaican defense for the better part of the 90 minutes.
Squad depth is one of several key factors for Canada's current successes and a reason for optimism going forward - and it's worth remembering that it's thrived over the last five outings without superstar Alphonso Davies, one of the best young players in the world.
The "Next Man Up" tenet has been a key focus for Herdman since he was appointed the men's team boss in January 2018 following a successful and formative spell in charge of the women's side. That, and establishing the program's lofty goals right away.
"Right from Day 1, this group, deep down, we felt that we could do this," Johnston told TSN's Matthew Scianitti. "It just shows what a transformative person (Herdman) is to any program he goes into. An unbelievable leader that gets everyone fighting for the same cause," Johnston added.
The Englishman's mindset has permeated throughout the squad.
What's next for Canada?
Thursday's 1-0 defeat in Costa Rica means Canada is no longer the master of its own destiny in snatching one of eight coveted spots in Pot 3 for the World Cup draw on April 1. A Pot 3 position, in theory, provides Canada with a more advantageous group than would a Pot 4 billing.
A victory on the final matchday in Panama on March 30 will be necessary, as will a bit of good fortune from a trio of African qualifiers involving Egypt, Nigeria, and Morocco on Tuesday. North Macedonia pulling off a second successive shock in European qualifying won't hurt, either.
Imagine even considering the permutations of qualifiers across the world and their ramifications on Canada's World Cup placement a year ago. It's remarkable how far this program has come in such a short period of time.
Herdman's charges were tasked with taking the long route to Qatar, first with the initial round of qualifiers in March 2021 against a five-team group of Caribbean postage stamp states, including the likes of Bermuda and the Cayman Islands. "I think having that extended qualifying process actually helped this group," Johnston said about the team's chemistry.
The familial atmosphere in the camp, fostered by Herdman, has been vital to Canada's success and bodes well for a young group that genuinely enjoys being and playing together.
"Everyone's excited to come, and I know in the past that wasn't always the case, but now everyone's looking forward to the international break," Johnston said. "And that's all down to (Herdman) and his coaching staff."
The dawning of a new era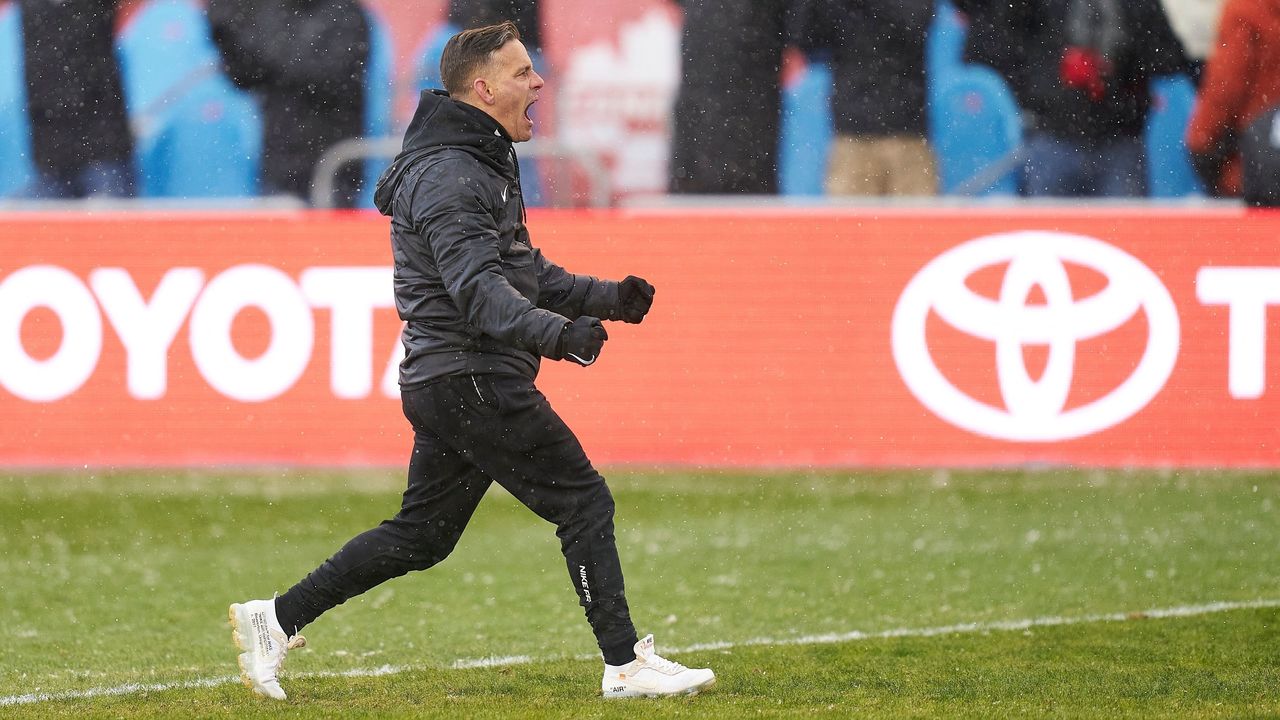 The 36 years between World Cup berths have been littered with countless failures and lopsided losses, transforming bleak international ambitions sputtering on the fumes of the goalless display at Mexico '86 into pipe dreams. Dream no more.
"This country never believed in us because we've given them nothing to believe in," Herdman explained. "They believe now."
"This is the first step for this program," Canada mainstay and local hero Jonathan Osorio told theScore following Sunday's match. "Now, people believe, and it's incredible how much people believe - and it's only going to get better. Now we want to go to the World Cup and make a statement."
Everything now is about looking forward. Looking forward to a first World Cup berth in a generation and the development of a young squad littered with budding stars slated to peak in unison. The sky's the limit for a team no longer defined by those that preceded it.
"We did it, we f------ did it," a jubilant Herdman said. Yes, you did. And it's only the beginning.