Ranking Verstappen's best wins from record-breaking 2022 season
If the 2021 season foreshadowed it, then the 2022 Formula 1 campaign confirmed that the sport has launched into the era of Max Verstappen. The Red Bull star won a record-breaking 15 of 22 races, surpassing the previous best of 13 by Sebastian Vettel and Michael Schumacher.
Here are all 15 of his race victories ranked:
15. Azerbaijan Grand Prix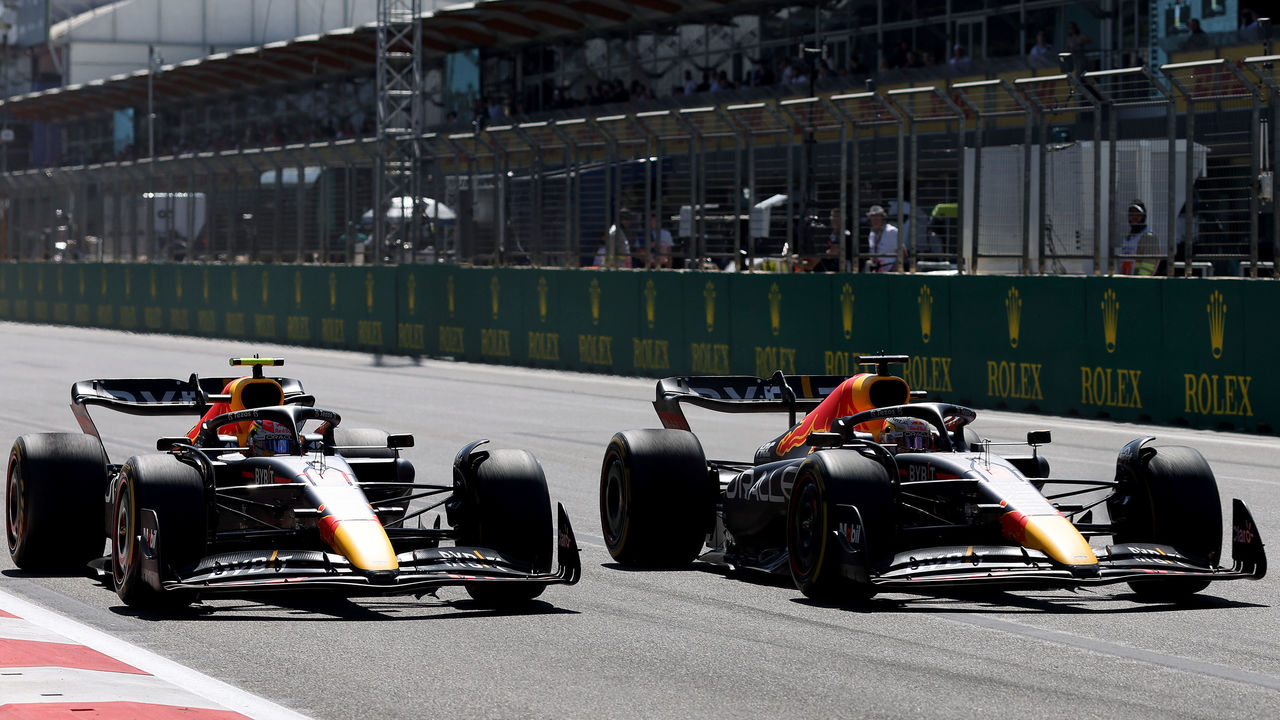 Starting spot: 3rd
The Azerbaijan GP was rather uneventful for Verstappen following the power-unit retirement of Charles Leclerc. However, the Dutch driver's fifth win of the year did dispel any talk of a legitimate title hunt from teammate Sergio Perez. Despite qualifying behind his Red Bull partner, Verstappen cruised to a P1 finish at the Baku circuit, over 20 seconds ahead of Perez, who took second.
14. French Grand Prix
Starting spot: 2nd
With Leclerc out of the race after ending up in the barrier, Verstappen flashed his championship consistency by cruising to his second consecutive victory at Paul Ricard. This drive began a five-race win streak and was arguably the nail in the coffin of a potential title challenge from the Ferrari pilot.
13. Abu Dhabi Grand Prix
Starting spot: 1st
The 15th and final victory of his year, the Abu Dhabi GP perfectly represented Verstappen's 2022 campaign as he drove his own race ahead of his foes. At the site where he captured his first drivers' championship, the Red Bull pilot left no room for controversy this time, stretching out a one-stop strategy to a comfortable win.
12. Spanish Grand Prix
Starting spot: 2nd
Barcelona was the turning point of the season for Verstappen as he retook the championship lead and didn't look back. With Ferrari showing signs of vulnerability for the first time, the Dutch driver overcame a trip into the gravel and recurring DRS issues to take the top step of the podium. The triumph in Spain meant Verstappen managed to turn a 46-point deficit into a six-point championship lead in only three races.
11. Emilia Romagna Grand Prix
Starting spot: 1st
The odds were stacked against Verstappen coming into Ferrari's home race following a DNF in Australia. But, in the heartland of the Tifosi, the reigning champion showed off his class, notching his second career grand slam by grabbing pole, winning the race, leading every lap, and scoring the fastest lap. For good measure, he also delivered a stunning overtake on Leclerc to take first in the sprint race the day prior.
10. Mexico City Grand Prix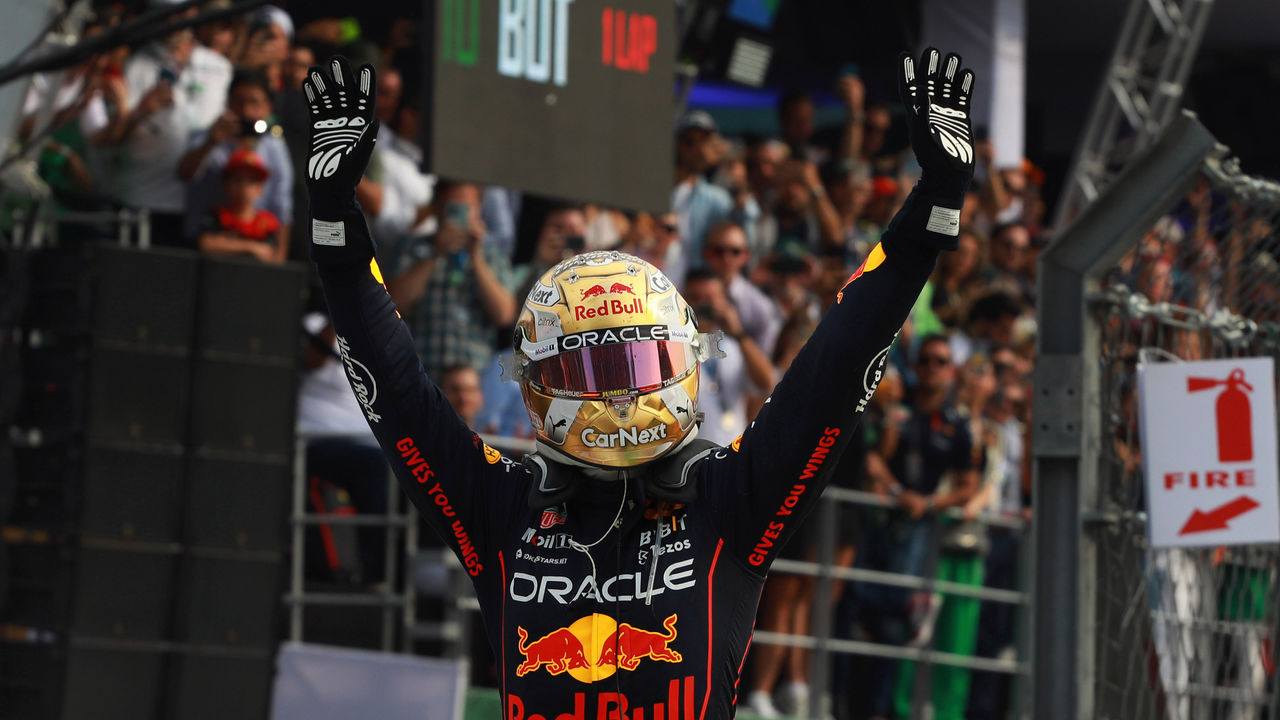 Starting spot: 1st
History was made in Mexico City as Verstappen surpassed Vettel and Schumacher with his record-breaking 14th victory of the season. Despite Mercedes being optimistic about a win, little could faze the 25-year-old, who displayed some unworldly pace and tire management by lapping in the 1:22s on every non-VSC lap during his second stint.
9. Italian Grand Prix
Starting spot: 7th
Monza has been a haunting ground of sorts for Verstappen, who retired his last two times at the historic circuit. However, he exorcised his demons in 2022, taking his first victory at the Italian track and doing it from seventh on the grid. Aided by the RB18's incredible straight-line speed advantage, the Dutch driver sliced through the field, moving to second by Lap 5 before driving off down the road. It was also a personal-best fifth straight win on the year for Verstappen, who again crushed the hopes of a hostile Ferrari crowd.
8. Canadian Grand Prix
Starting spot: 1st
There was no shortage of Verstappen on the charge in 2022, but Canada presented a different challenge for the two-time champ. Tasked with defending the lead from Ferrari's Carlos Sainz, who had fresher tires, the Red Bull frontman didn't crack under pressure as he held off his former Toro Rosso teammate for a mighty 16 laps despite Sainz hanging within the one-second range.
7. Saudi Arabian Grand Prix
Starting spot: 4th
On a speedy Jeddah circuit that has little margin for error, Verstappen and Leclerc decked it out for multiple laps in one of the finest battles of the year. In the end, it was surprisingly Verstappen's patience that paid dividends. With both drivers playing a game of chicken to gain DRS down the main straight, the Dutch pilot came out behind on his first two tries. But finally, on Lap 47, he blasted past the Ferrari on the main straight, thanks to a DRS boost set up by strategically laying back on the previous corner. For the first time, the RB18 was a race winner, but more significantly, Saudi Arabia displayed a side of on-track awareness from Verstappen that ended up fuelling his second championship bid.
6. Miami Grand Prix
Starting spot: 3rd
Coming to a new circuit for the first time, it is crucial for drivers to get a feel for the track in free practice. Just don't tell that to Verstappen, who went on to take the inaugural Miami GP despite missing the majority of FP1 and FP2 with issues. Starting third put him on the back foot, but Verstappen wasted little time overtaking both Ferraris before clinching the win by fending off Leclerc in the closing laps.
5. Dutch Grand Prix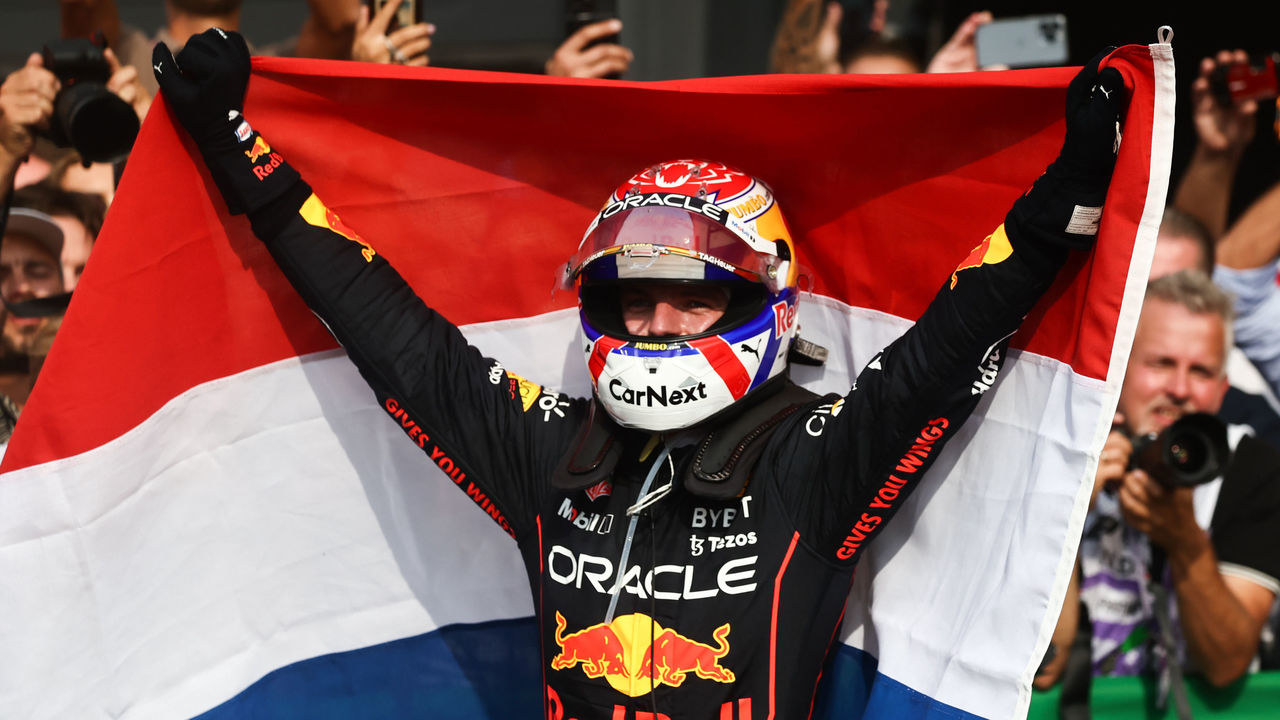 Starting spot: 1st
Home races typically bring out the best in their participants, and since returning to the calendar last year, Zandvoort has belonged exclusively to Verstappen. His 2022 drive was complicated by safety cars and a strong Mercedes push, but that still wasn't enough to deny him another home victory. Displaying incredible attention to detail on a late safety-car restart, Verstappen was able to keep a front wing's distance between himself and Lewis Hamilton prior to the start line on the main straight before sweeping past his former title rival for the eventual win.
4. Hungarian Grand Prix
Starting spot: 10th
On a circuit that appeared to butt heads with Red Bull's RB18, expectations were tempered for the Hungaroring. Things went from bad to worse when an engine issue left Verstappen 10th in qualifying. What was originally expected to be a race of damage control - thanks to Hungary's reputation as Monaco without the yachts - ended up with Verstappen celebrating the finest showing of his career at the time. Even a full-out 360-degree spin that briefly cost him the lead wasn't enough to stop him from sending Red Bull into the summer break with heads held high.
3. Belgian Grand Prix
Starting spot: 14th
While the rest of the grid was participating in Formula 1 at Spa, Red Bull's lead driver might as well have been driving in Formula Max, as no other man or machinery could come close to his times. On Saturday, he set the fastest time in qualifying by over six tenths despite staying in the garage for the final runs. Engine penalties pushed him to 14th to start Sunday's race, but a win looked inevitable. By Lap 8, he was already up to a podium position. Just 10 laps later, he passed Sainz for the lead. When the rubber had settled, Verstappen came home in first with over a 17-second advantage from runner-up Perez.
With his impressive feats in Spa and Hungary, Verstappen joined Bruce McLaren as the only drivers to win consecutive events from 10th or lower.
2. Japanese Grand Prix
Starting spot: 1st
Suzuka has delivered many memorable title-clinching moments for former champions in F1 history. For Verstappen, it marked the spot he officially earned his second world title after a wet-weather masterclass. The aggressive and unrelenting Verstappen made good to hang on to first with a daunting move around Leclerc in the wet conditions at the start before a red flag halted the session. Upon resuming, he picked right back where he left off by pacing the entire field. Though only 28 laps were completed, Verstappen built an almost unthinkable gap in the rain, finishing 27 seconds clear of his next closest rival in what was one of the most dominant wet drives in some time.
1. United States Grand Prix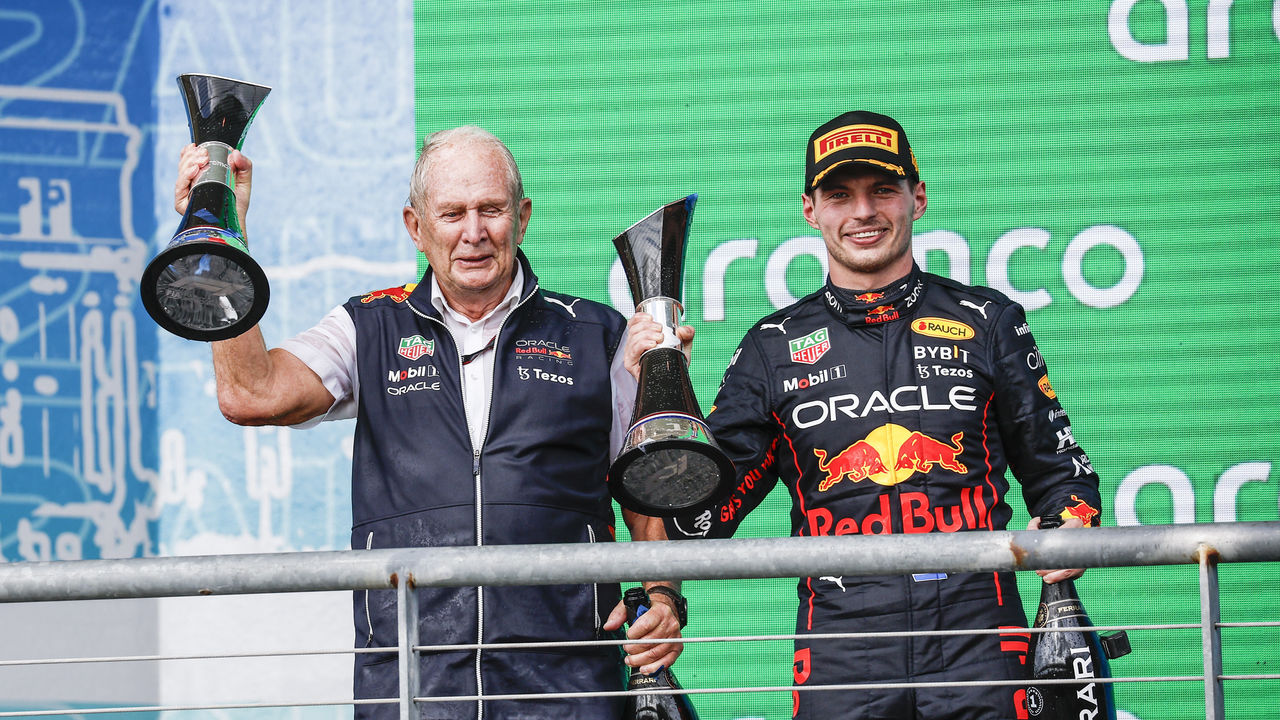 Starting spot: 2nd
Out of all his triumphs this season, it's hard to argue that there was a more entertaining and better drive from Verstappen than his comeback at COTA. With his eyes on a record-tying 13th win, the recently crowned two-time titleholder appeared to have his hopes dashed after a slow pit stop put him behind his two biggest rivals, Leclerc and Hamilton. Following a successful on-track tussle with the Ferrari driver, Verstappen began to charge down Hamilton, giving fans a flashback to their epic 2021 feud. The race-winning move came on Lap 50 as the Dutch driver pulled off a lunge to overtake the seven-time champ, stamping Verstappen's name in the record books and giving Red Bull its first constructors' championship since 2013.