Key questions, tactical analysis, and predictions for World Cup semifinals
And then there were four. After a dramatic quarterfinal round, the World Cup nears its climax with a pair of intriguing semifinals this week. Below, we examine the key questions and tactical battles that'll determine which two nations will meet in the Dec. 18 final, along with a prediction for each game.
Argentina vs. Croatia
Date: Tuesday, Dec. 13 (2 p.m. ET)
Venue: Lusail Iconic Stadium
Betting odds: Croatia +380; Argentina -125
How much juice does Croatia have left?
Were this any other team, conventional wisdom would suggest it would run out of steam at some point soon. But we're long past the point of thinking Croatia has exerted its last ounce of force. Somehow, there's always something left in the tank.
"We showed that we have strength of character and that we never give up," manager Zlatko Dalic said after the improbable shootout win over Brazil, in which Croatia's lone shot on target was its extra-time equalizer in the 116th minute. Yet again, Luka Modric and his wily compatriots dug that little bit deeper. Yet again, it was enough to keep the run going.
Eight of Croatia's last nine knockout matches at major tournaments have gone to extra time, including both games in Qatar, which also required penalties. Just the thought of that is exhausting. But Croatia seems to relish the grind. "It's almost as if our opponents know they are going to lose when they get into a penalty shootout against us," Dalic said. That aura is undeniable.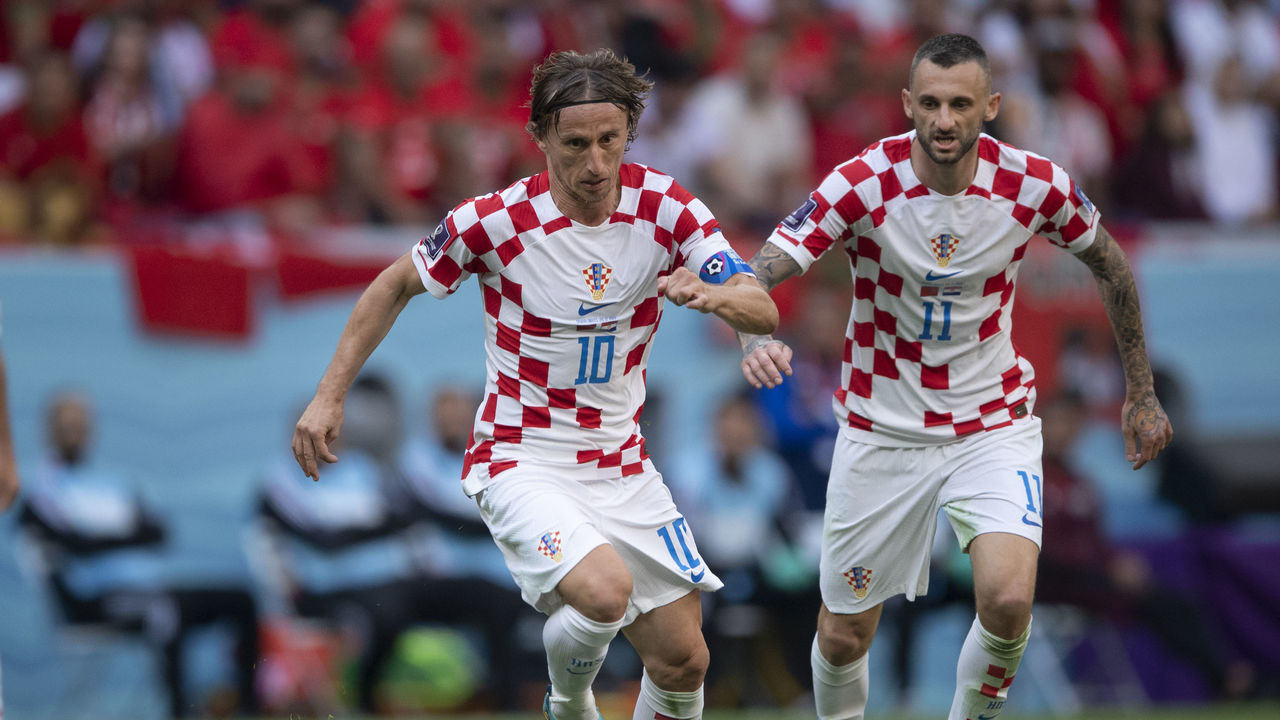 Whereas some teams would crumble under the mental fortitude needed to keep pushing your body and mind to the limit, and beyond, every single game, Croatia - and particularly its 37-year-old leader Modric - just soldier on.
There was a moment against Brazil in extra time when the relentless midfielder won a loose ball, wriggled through two Brazilian players as if bursting through a yellow cloud, and ran roughly 50 yards before passing the ball off to Bruno Petkovic. The big striker immediately ceded possession. Modric, though perturbed, dipped into the Fountain of Youth again, turned on a dime, and raced back into defensive position, ready to do it all over again.
Breaking that resolve will be a huge test for Argentina.
Can Argentina keep its cool?
Argentina's tempestuous quarterfinal clash with the Netherlands had absolutely no business going into extra time. When Lionel Messi doubled his team's advantage from the penalty spot in the 73rd minute, it should have been curtains for the Dutch.
But Argentina, rattled by Wout Weghorst, of all people, self-destructed in normal time. Leandro Paredes, brought on to bring more control in midfield, lost his head, riling up the opposition. German Pezzella, introduced to add more solidity to the backline, gave away a needless foul that led to Weghort's ingenious equalizer in the 101st minute. Yes, card-happy referee Mateu Lahoz was partly to blame for the sheer chaos of the match, but Argentina allowed itself to get sucked into the scrap and oftentimes initiated the commotion.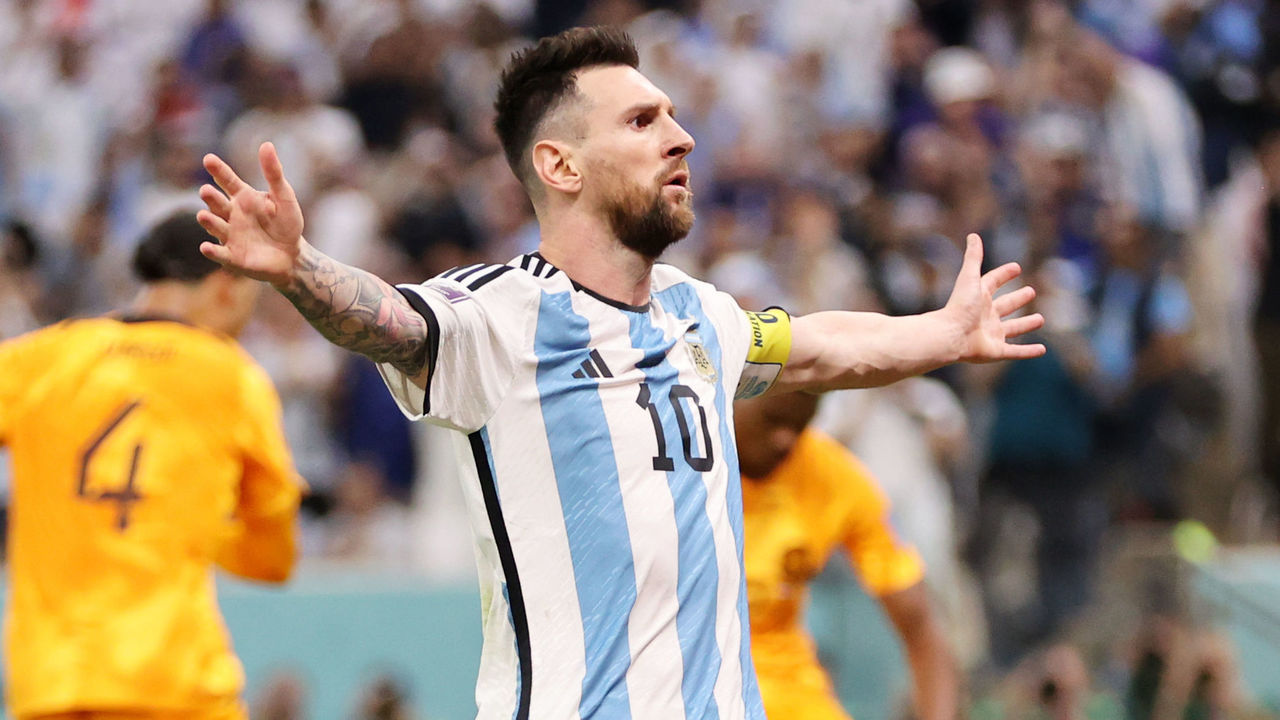 It was exactly the opposite of what Lionel Scaloni's team needed to do under the circumstances. Even Messi, who has developed a spikiness to his game that was notoriously absent in his younger years, was in a feisty mood.
That type of attitude can obviously be beneficial if channeled correctly. But against a battle-tested Croatian side, which absolutely will not be intimidated or thrown off-kilter by anything, Argentina needs to simply trust that having a more talented side - led by Messi, who appears to be on a mission in Qatar - will be enough to get back to the World Cup final.
Key battles to watch
Kovacic vs. Messi: As Messi ages and continues to bide his time in matches, waiting for the perfect opportunity to burst into life, the onus is increasingly on the opposing midfielders, not the defenders, to slow him down; Messi can finish attacking moves himself, of course, but he's also the chief orchestrator for Argentina, dropping deeper to initiate the attack. The first line of defense on Tuesday will likely be Mateo Kovacic. The 28-year-old is a mesmerizing dribbler in his own right, but his dogged defensive effort is an underrated part of his game. Against Brazil, Kovacic was everywhere, tirelessly tracking runners, making tackles, and winning possession back. He'll need to replicate that performance. If Messi does manage to break free, he'll then have to contend with man-mountain Josko Gvardiol, who has been the best central defender in the tournament thus far.
Juranovic vs. Tagliafico: There were times in the quarterfinal win over Brazil when Croatian right-back Josip Juranovic, against all the odds, looked like the best player on the pitch. It was equal parts confounding and impressive watching Juranovic shut down Vinicius Junior at one end and then race up the pitch in the other direction to provide Croatia's most credible attacking threat from the right flank. With Marcos Acuna suspended for the semifinal due to yellow card accumulation, Argentina will likely insert Nicolas Tagliafico at left-back, barring an unexpected change in shape and system from Scaloni. Tagliafico, more sound defensively but not as adventurous as Acuna going forward, hasn't started since the Albiceleste's stunning loss to Saudi Arabia in their opening match. He's clearly not the first choice. Croatia will likely allow Argentina to have the ball for large portions of the match, but when it gets turned over, Juranovic could find some joy on his side of the pitch.
Prediction: Argentina wins 2-1 in extra time
France vs. Morocco
Date: Wednesday, Dec. 14 (2 p.m. ET)
Venue: Al Bayt Stadium
Betting odds: Morocco +550; France -190
Can Amrabat hold hobbled team together?
Morocco's historic run to the semifinals has been inspirational on several fronts. The first African team to ever reach this stage at the men's World Cup - the first Arab nation, too - is being buoyed not only by spectacular crowd support in Qatar but by neutrals everywhere who have been swept up by the Atlas Lions' galvanizing victories over some of Europe's perennial titans.
Unless you're French, you're likely rooting for Walid Regragui's team right now. And why not? There's so much to love about this underdog side. The players are using their platform to speak up after each match. They invite their families and friends onto the pitch to dance and celebrate their victories. Despite an airtight defense being the foundation of the team, there are also spellbinding individual talents like Hakim Ziyech, Sofiane Boufal, and Azzedine Ounahi who can brighten up matches at any moment with a dazzling nutmeg or mazy dribble. You might think a team that has only conceded once - an own goal, at that - and scored just five times in as many matches isn't the most entertaining to watch. Not the case. Morocco is genuinely fun.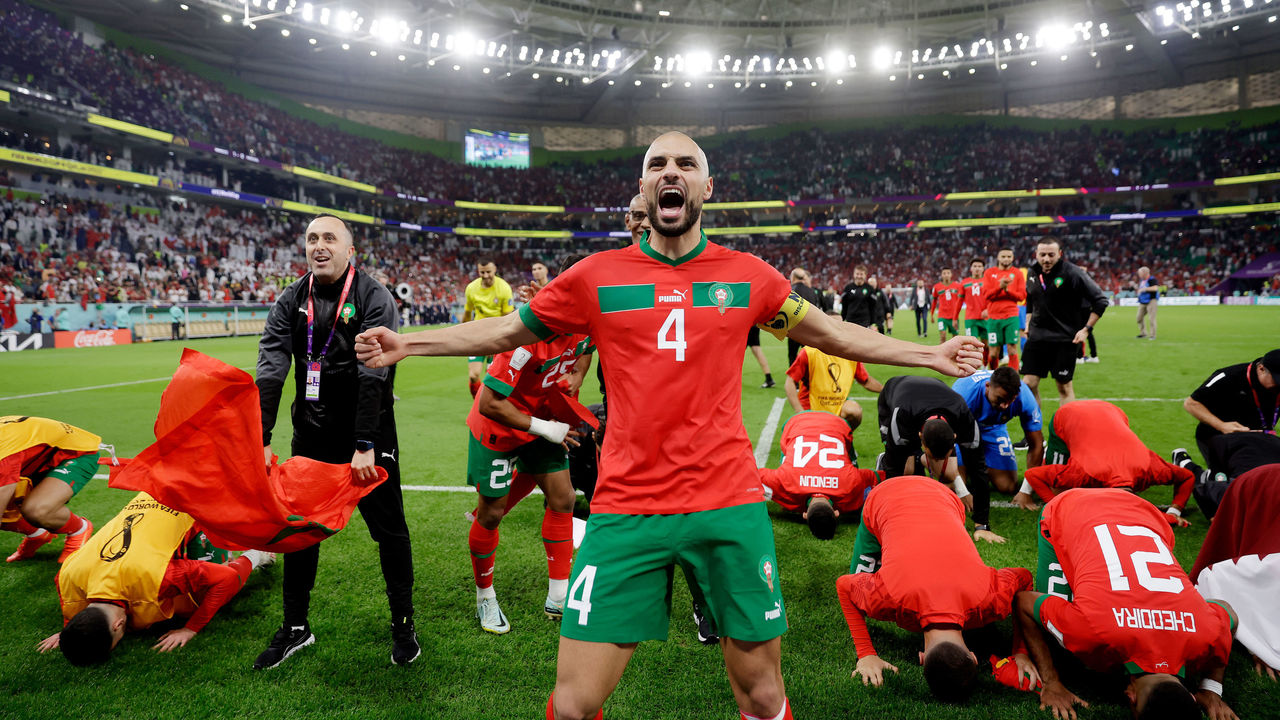 But it's also being held together by duct tape and adrenaline right now. Three of the four starting defenders are injured; captain Romain Saiss, playing through an ailment, couldn't last 90 minutes against Portugal. Noussair Mazraoui and Nayef Aguerd might miss the semifinal. Superstar Achraf Hakimi and primary scoring threat Youssef En-Nesyri appear worse for wear.
Beating the reigning World Cup champion amid all those fitness concerns might be a step too far. To pull off its biggest upset yet, Morocco will need combative midfielder Sofyan Amrabat to deliver yet another monstrous performance in the center of the pitch. Unyielding and irrepressible, the Fiorentina man was colossal against Portugal, delivering arguably the best showing of any individual player in Qatar. Can he do it again?
Will France be more adventurous?
"We played a superb England team who are strong technically and physically," France coach Didier Deschamps said after Les Bleus' slim quarterfinal win over the Three Lions. "We got a bit lucky although we gave away two penalties. We kept our lead with our hearts and our guts."
He's right on all counts.
France, objectively the most talented team at the World Cup, got outplayed by England. It survived to keep its title defense alive despite sleepwalking through a large of chunk of the match. Having brilliant individuals with big-game experience and nous makes that possible. Benefitting from an incomprehensible Harry Kane penalty miss doesn't hurt, either.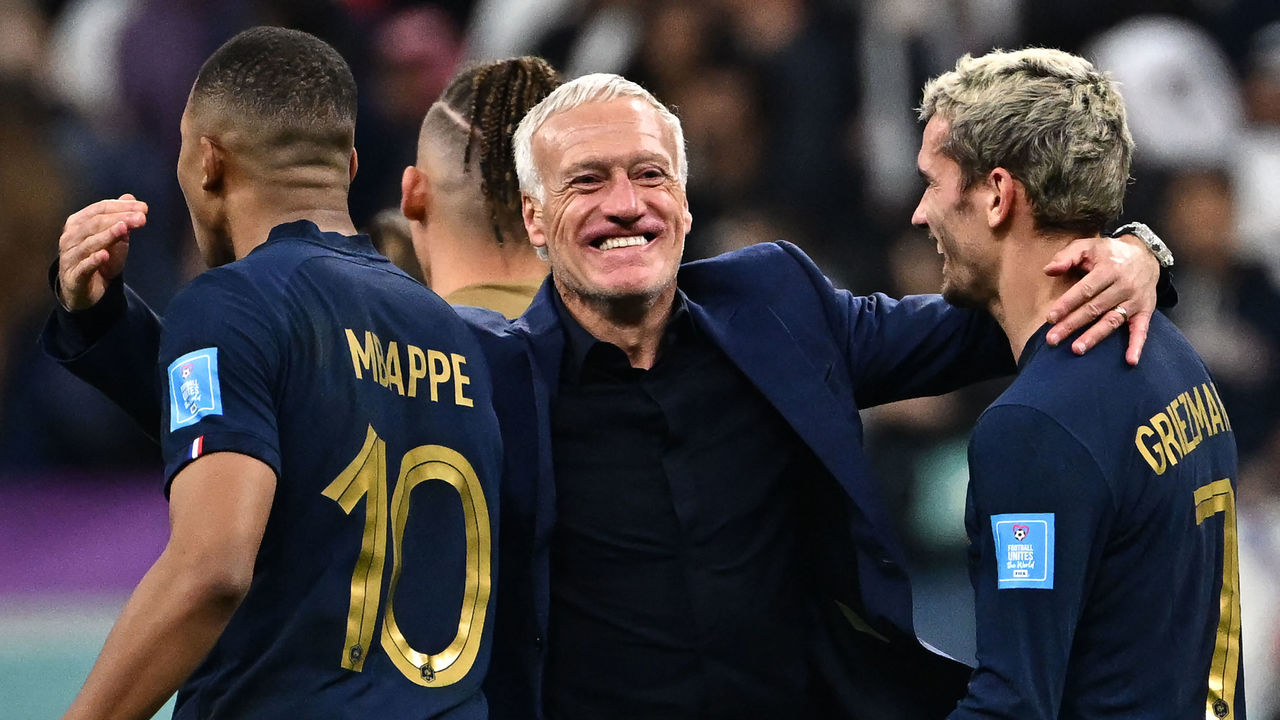 How will the flow of that game impact Deschamps' approach to the semifinal? Will the conservative tactician try to lock things down and ask Kylian Mbappe, Antoine Griezmann, Olivier Giroud, and Ousmane Dembele to simply make some magic happen? Or will France play on the front foot and try to steamroll its undermanned and ailing opponent?
At this point, questioning Deschamps and demanding that he fosters a more expansive style of play is of little value. That was clear four years ago, and the same is proving true in Qatar. Ultimately, the final result is all that matters, no matter how it's procured. France can win in a variety of ways.
Key battles to watch
Hakimi vs. Mbappe: Across both semifinals, no individual matchup has the potential to be as explosive as this clash between the pair of Paris Saint-Germain teammates and friends. Mbappe, coming off an uncharacteristically subdued performance against England where he was, for the most part, neutralized by Kyle Walker, now has to contend with Hakimi, who he has previously dubbed the best right-back on the planet. How Hakimi and Morocco approach the matchup will be interesting. Walker almost exclusively stayed at home against France, sitting back and shadowing Mbappe to make sure he couldn't get out in open space when England lost the ball. The offshoot, of course, was that he couldn't contribute to the attack - the one time he did venture forward, France, led by Mbappe, went the other way to score. Morocco will continue to use its well-drilled low block, but Hakimi's lively dashes into the opposing penalty area are a critical part of the African team's attacking arsenal. Can Morocco generate offense without that? Will Regragui risk leaving Mbappe some space if it means giving Hakimi freedom to get forward when there's an opening? And will we get to see a flat-out foot race between the two speedsters at any point?
El Yamiq vs. Giroud: At this point, it seems unlikely that both Saiss and Aguerd will be fit for Wednesday's encounter. There's a real chance that both could miss the match. Morocco's depth will, once again, be tested. One thing is certain, though: If tasked with starting, Jawad El Yamiq will be up for the fight. The imposing center-back was immense against Portugal, making a game-high 10 clearances, winning three aerial duels, and blocking two shots. Every time Portugal launched the ball into the penalty area, the formidable presence of El Yamiq seemed to be there, rising up to send the ball back from where it came and celebrating each header like a goal of his own. In Olivier Giroud, he'll face his toughest challenge yet. France's all-time leading scorer, now getting the recognition he deserves, is a craftsman inside the penalty area. His clever movement to find space and power home the winning goal against England in the last round was a perfect example. Any lapse in concentration from El Yamiq, and Giroud will pounce.
Prediction: France wins 1-0 in normal time