While hoops remain on hiatus, theScore's NBA editors will be compiling ultimate starting lineups for each team in the Association. The catch: Only players who have been in the league since the 1995-96 season can be included.
Out of North America's four major professional sports leagues, there are fewer organizations better run than the San Antonio Spurs. Entering the 2019-20 campaign, the Spurs held the highest winning percentage among active NBA franchises and shared the league record with 22 straight playoff appearances.
Even when things went south briefly in 1996-97, San Antonio lucked out by winning the draft lottery, which gave them the right to select Tim Duncan with the No. 1 overall pick that summer.
Over the last 25 seasons, only the Los Angeles Lakers have won as many NBA titles as the Spurs. At the center of San Antonio's success has been legendary head coach Gregg Popovich, who has done a masterful job managing his players and transitioning from one era of Spurs basketball to the next.
Without further ado, here's San Antonio's best five-man unit over the last quarter-century.
Guards
Tony Parker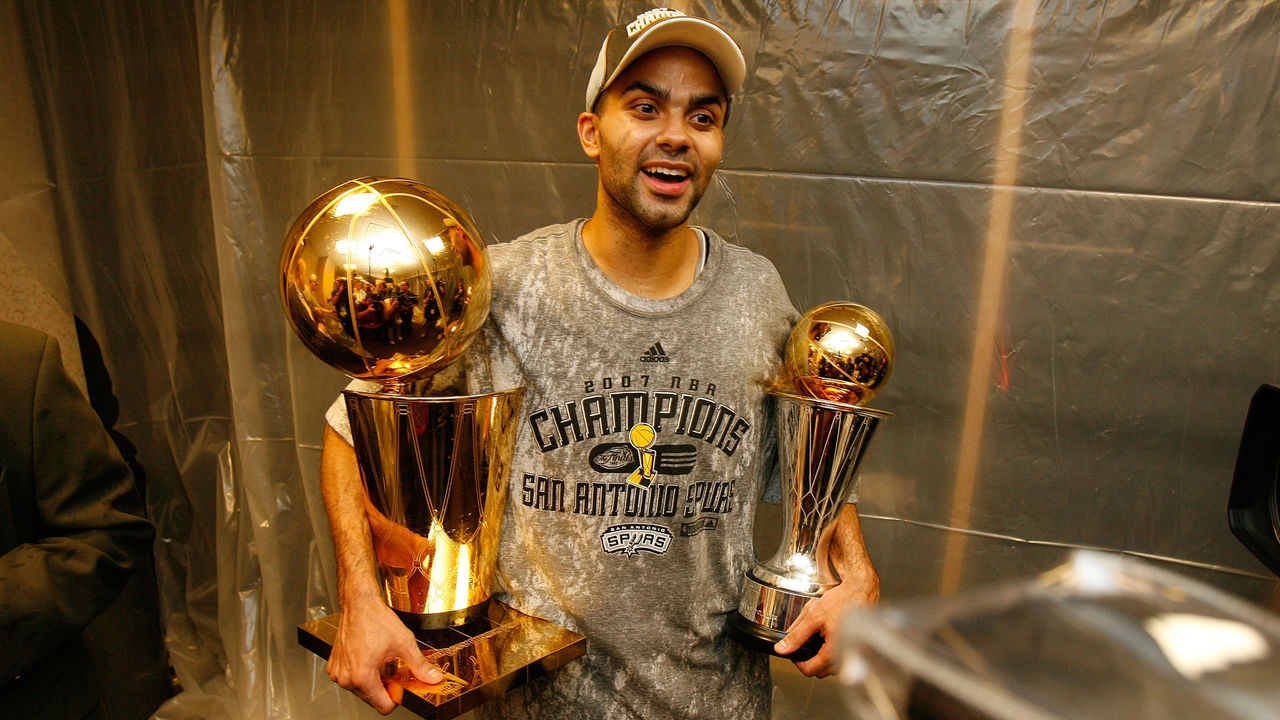 Parker was virtually a Day 1 starter and didn't relinquish his spot in the Spurs' first five for the remainder of his 17-year tenure. In 2001-02, the Frenchman led San Antonio in assists and steals en route to becoming the first foreign-born guard to earn All-Rookie first-team honors.
By Parker's fourth NBA campaign, he had a pair of championship rings. However, the six-time All-Star had some struggles in both series victories, shooting 38.6% from the field in the 2003 Finals and averaging 3.1 turnovers in the 2005 Finals.
Parker redeemed himself two years later by scoring a series-high 24.5 points on 56.8% shooting as he became the first European-born player to be named Finals MVP. He finished his career with four All-NBA selections and is the Spurs' all-time assists leader.
Manu Ginobili
If Parker was a steal at 28th overall, landing Ginobili near the end of the 1999 NBA Draft should be considered a heist. After a decorated stint in Italy, the 6-foot-6 guard eventually made his way to the Association in 2002. That season, Ginobili was named to the All-Rookie second team and saw an expanded role during the postseason as the club won its second championship.
The Argentinean became a full-time starter in 2004-05, earning his first of two All-Star appearances. But despite establishing himself as one of San Antonio's primary scoring options, Ginobili shifted back to the bench during the second half of the 2006-07 season. A year later, he took home Sixth Man honors by a near-unanimous vote and continued thriving in a reserve role for the rest of his NBA career.
Ginobili retired in August 2018 with four championship rings and a pair of All-NBA selections to his name, yet his impact on the league goes beyond that. The sharpshooting lefty popularized the Eurostep and changed the way coaches used reserve players.
Forward
Kawhi Leonard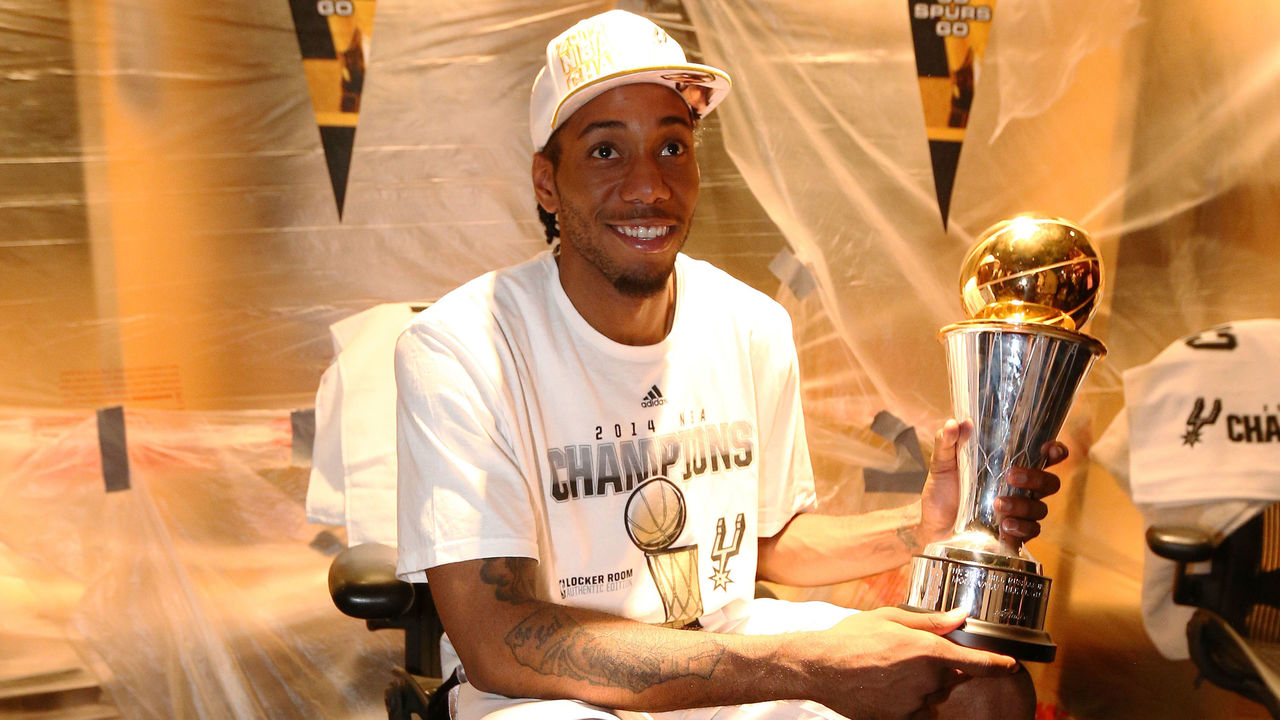 When acquiring Leonard meant parting with George Hill, who was a key rotational piece at the time, you knew the Spurs were onto something. In only his third NBA season, the "Klaw" earned NBA All-Defensive second-team honors and became the third-youngest Finals MVP in league history after locking down LeBron James in the 2014 Finals.
From that point onward, Leonard's offensive game expanded and he soon became one of the league's premier two-way threats. He had an Association-leading 2.3 steals per game in 2014-15 and won his first of two straight Defensive Player of the Year awards that same season. Leonard continued his ascent with a pair of All-Star and All-NBA first-team selections in 2016 and 2017.
Bigs
Tim Duncan
Duncan was never supposed to wind up in San Antonio. After recording 59 wins the year before, the Spurs stumbled to an unexpected 20-62 mark in 1996-97 as injuries limited star center David Robinson to six games. As mentioned above, the team's struggles ultimately netted the top selection that year - the rest is history.
Duncan quickly established himself among the league's elite, averaging 21.1 points, 11.9 boards, and 2.5 blocks during his Rookie of the Year campaign. By the end of his second season, Duncan was already an NBA champion, Finals MVP, two-time All-NBA first-team member, and two-time NBA All-Defensive selection.
"The Big Fundamental" couldn't have been a more appropriate nickname for a player with such a simple, yet highly effective style of play. Duncan had his go-to post moves, a reliable mid-range bank shot, and showed remarkable defensive instincts. The Spurs' all-time leading scorer will be inducted into the Naismith Hall of Fame in August.
David Robinson
The Admiral's best years were before the 1995-96 season, but he remained productive in the years that followed. Robinson racked up four more All-Star appearances, two additional NBA All-Defensive nods, and an All-NBA first-team selection over the next eight seasons.
With Robinson and Duncan at the forefront, San Antonio won its first two titles in franchise history. The duo became known as the "Twin Towers" and provided the Spurs with an imposing rim-protecting presence during their six seasons together. Perhaps more importantly, Robinson's willingness to mentor Duncan helped foster their great chemistry and prepared the latter for the long-term future without him.
Robinson rode off on top following San Antonio's championship in 2002-03 and trails only Duncan on the club's all-time list in rebounds and blocks.
Just missed
LaMarcus Aldridge
Although Aldridge has been a model of consistency over the past decade, he narrowly misses the Spurs' starting five thanks to a pair of all-time greats. Since joining San Antonio in 2015, Aldridge has been a stabilizing low-post and mid-range scorer. He's averaging 19.8 points on 50.4% shooting to go along with 8.2 boards per contest in parts of five seasons with the Spurs.
The big man has also added three more All-Star selections and earned All-NBA honors twice since coming over from the Portland Trail Blazers. At age 34, Aldridge is still going strong and has adapted to the modern game by shooting more 3-pointers than ever before.
Bruce Bowen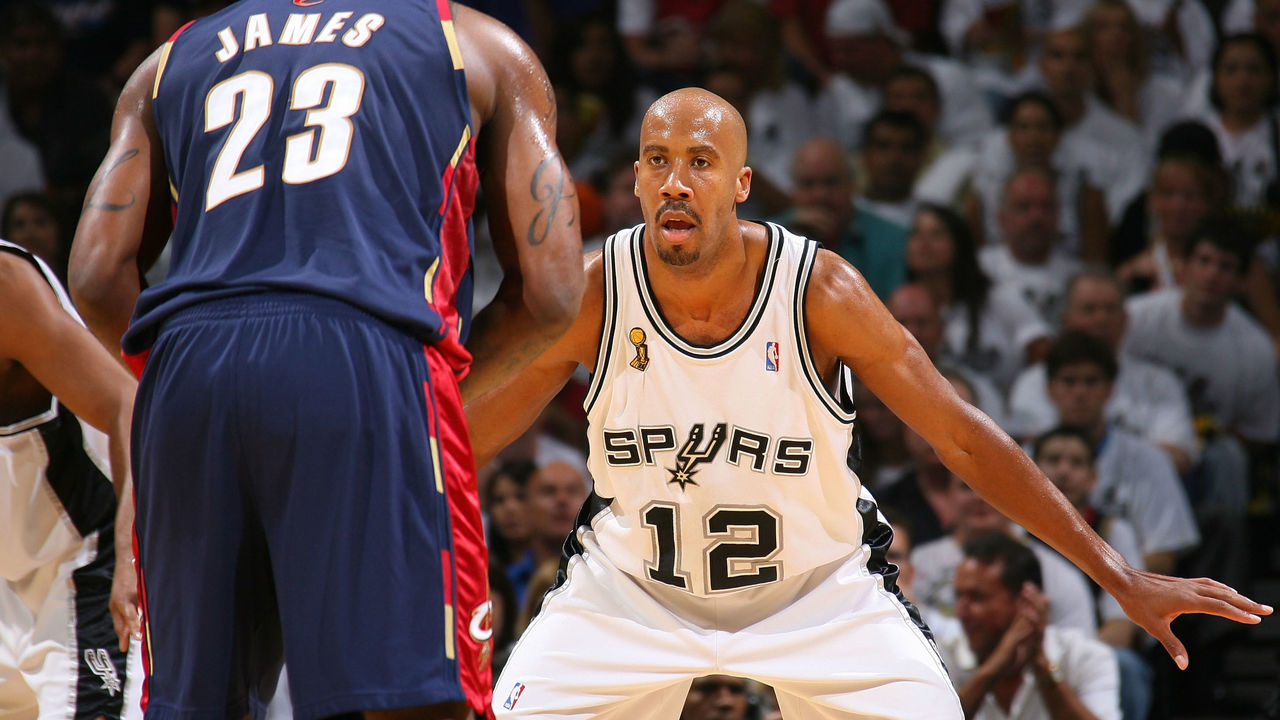 Long before "3-and-D" specialists became increasingly valued by NBA teams, the Spurs reaped the benefits. While Bowen never averaged double-digits in scoring, he was an exceptional outside shooter, particularly from the corner.
The 6-foot-7 forward shot 40.5% from deep - including a league-leading 44.1% in 2002-03 - across eight seasons in San Antonio. Bowen was also a seven-time NBA All-Defensive team selection, locking down the likes of Kobe Bryant and LeBron James over the years.
Sean Elliott
Elliott immediately preceded Bowen and held a similar role as his successor - but with much more offensive punch. In 1995-96, Elliott made his second All-Star appearance and recorded career highs in scoring (20 points per game) and 3-pointers made (161). From that point onward, he was never the same player due to injuries and a kidney disease.
However, Elliott had his moments during San Antonio's inaugural championship run, highlighted by the infamous "Memorial Day Miracle." In March 2005, he became the fifth Spurs player to have their number retired.