Reaching the cusp of the Finals was hard for the Heat. Making it back will be harder
Nathaniel S. Butler / Getty
You don't typically dole out moral victories to No. 1 seeds, or think of those teams as plucky underdogs, but watching the Miami Heat push a superior Boston Celtics team to the very limit in the Eastern Conference finals made those applications feel appropriate.
The Heat don't lack for talent, but their season was, as much as anything, a testament to their ingenuity and resilience. Amassing the East's best record, then waxing the Hawks, taming the 76ers, and dragging the Celtics the distance required both of those characteristics in equal and ample measure. This team weathered multiple extended absences to key players during the regular season, battled through injuries in the playoffs, and worked around some clear offensive limitations to put itself on the doorstep of the Finals, perhaps one too-short Jimmy Butler 3-ball from completing an all-time last-ditch comeback in Game 7 against Boston.
Miami was carried primarily by its elite defense - a snarling, handsy, switchy, intelligent, shape-shifting unit capable of playing any style and changing schemes on the fly. Whether they were switching, blitzing, or zoning up, the Heat's principles remained consistent: they pressured the ball, overloaded the strong side, jumped passing lanes, sealed off driving gaps, and rotated on a string behind their early help. Despite not being an especially athletic group, they could recover and close space on the perimeter in the blink of an eye. Connectivity and anticipation make up for a lot. So do Butler and Bam Adebayo.
The offense was more touch and go, though it was capable of real brilliance. Erik Spoelstra's unconventional system eschewed conventional pick-and-roll play in favor of dribble-handoffs and high-post split action, which often left opposing defenses flat-footed. Despite having two non-spacers in their starting lineup in Butler and Adebayo, and a third guy in P.J. Tucker who shot at low volume and went largely ignored above the break, the Heat cobbled together enough complementary movement shooting to finish the season ranked first in 3-point percentage (37.9%) and 10th in 3-point attempt rate.
When shooting regression reared its head in the playoffs, the Heat found other ways to score. After playing at one of the league's slowest tempos during the regular season, they placed an emphasis on getting out in the open court, ranking second only to Memphis in playoff transition frequency, per Cleaning the Glass. The Heat were also, somewhat surprisingly, the most efficient isolation scoring team of the postseason to date. They were led in that regard by a transcendent Butler, who averaged 1.33 points on nearly four iso possessions a game that finished with a shot, drawn foul, or turnover.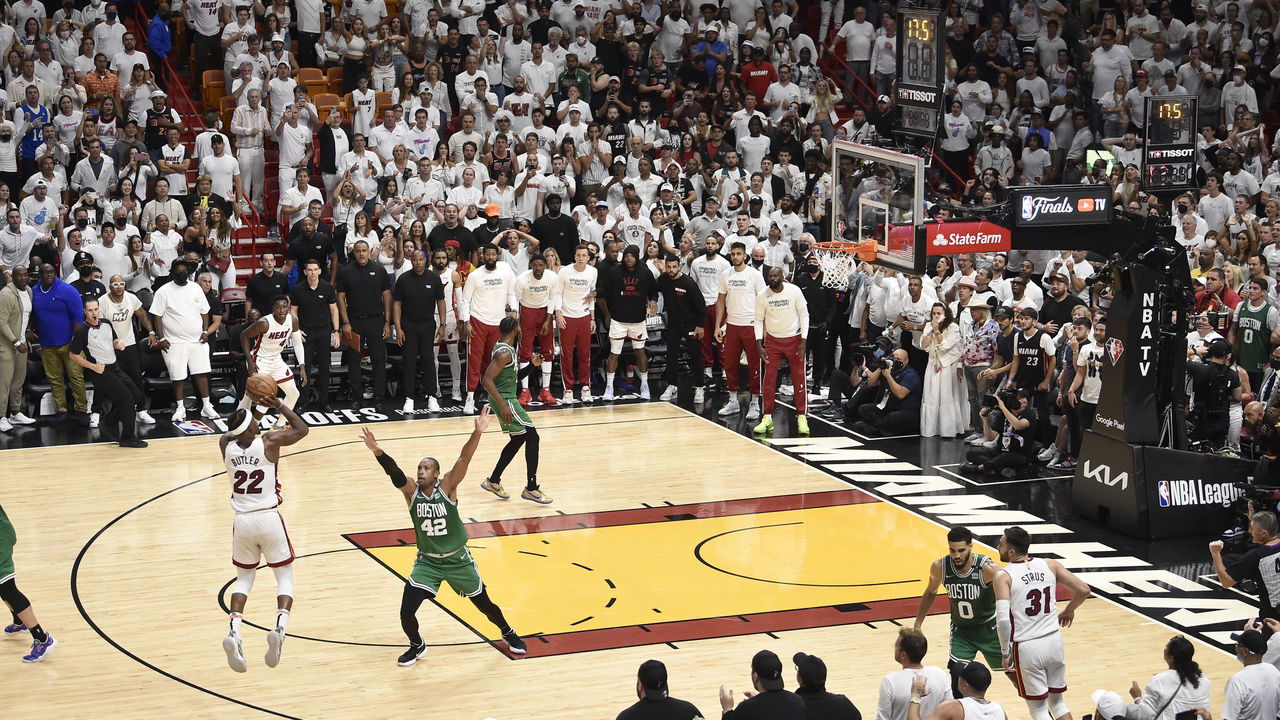 Now that their impressive campaign is over, the focus turns to what comes next, and that picture is a bit murky. For as many hurdles as the Heat had to clear in order to advance as far as they did, getting back to this stage in the near future will be a much bigger challenge. They probably can't afford to be as reliant on Butler's self-created scoring as they were this season, but improving the offense without compromising the defense is going to be extremely difficult. That's a delicate enough balance for Miami as it is, with defensive minuses like Tyler Herro and Gabe Vincent relied upon for shooting and off-the-dribble creation.
Miami finished with a 90.3 half-court offensive rating in the playoffs, worse than all but three teams. (Though in fairness, a lot of other teams would have fared worse if they had to go up against Boston's defense.) A healthy Kyle Lowry and Herro certainly would've helped, as would a more consistently assertive Adebayo. But the Heat still would've been running uphill without the kind of defense-bending threats capable of consistently drawing two to the ball. Boston was happy to defend all Miami's ball-screen actions two-on-two and stay at home on shooters.
As a result, a lot of the Heat's bread-and-butter catch-and-shoot looks disappeared. The Heat hit just 31.4% from distance in the playoffs, ranking 13th of 16 teams. They were undone by a series of disastrous 3-point performances in the East finals (including a 7-for-45 brickfest in Game 5 and a 6-for-30 showing in Game 7), and a persistent inability to hit shots off the dribble. After a blistering Game 1, they shot only 31.3% on pull-up jumpers (including 23.8% on threes) for the remainder of the series, allowing the Celtics to stay in a drop and duck under screens.
It was crucial that Miami was able to find and develop enough two-way role players to feel comfortable sitting a slumping Duncan Robinson in the playoffs, but Robinson becoming virtually unplayable still posed a major issue. The Heat really could've used his shooting and off-ball gravity to pump oxygen into their offense, but he just wasn't hitting enough shots - or even creating enough separation to get shots off in the first place - to justify the defensive implications of playing him in lieu of Max Strus, Victor Oladipo, or Caleb Martin. Taking pains to protect Robinson on defense was a lot easier to stomach when Robinson was scorching the net to the tune of 68.4% true shooting two seasons ago, as opposed to the pedestrian 57.3% mark he posted this season.
Meanwhile, Robinson has three guaranteed years worth about $55 million left on his contract and clearing that money without parting with draft assets will be next to impossible. The Heat are effectively capped out for the next two seasons, and they'll be locked into this group further if they offer Herro a significant extension this summer and look to bring back Oladipo - a sneakily important piece of this playoff run - for something like mid-level money.
The Heat are always on the lookout for superstars, but signing one outright is off the table and it's unclear if they have the trade assets to swing a blockbuster deal. They'd have to hope for a Butler-like situation where a free agent specifically wants Miami, and coaxes his incumbent team to work out a sign-and-trade. Faced with the prospect of losing a star for nothing, Herro would start to look like a pretty appealing return for most teams.
In the meantime, there are age and sustainability concerns for a number of this team's central figures.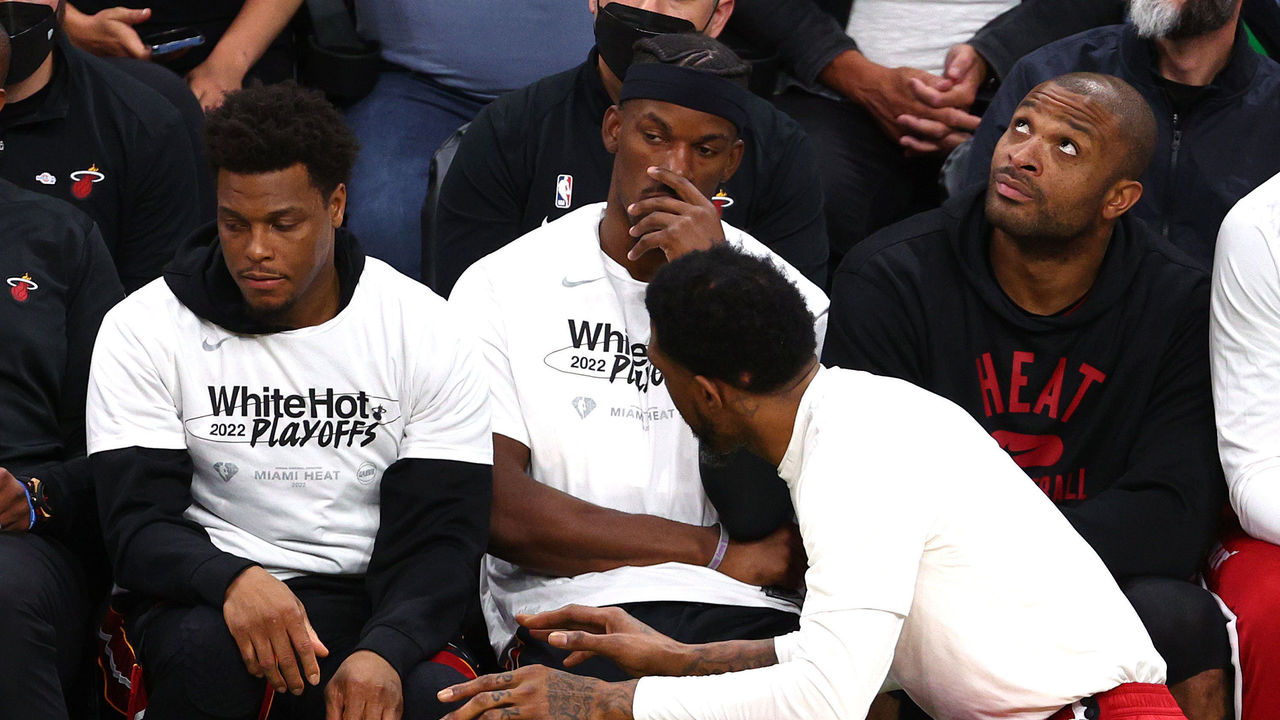 Butler played some of the best basketball of his career this postseason and has shown no signs of decline in any area apart from his jump shooting - an obviously meaningful skill to lose, but one he's offset by improving as a playmaker, cutter, and all-around off-ball weapon. (It's also a skill he seems to magically regain in the playoffs.) But he plays a punishing, high-impact style that relies on his ability to get to the rim and free-throw line. With so many hard-driving miles on his odometer, you have to wonder how much tread is left on those tires as he enters his age-33 season.
Lowry was acquired in a lucrative sign-and-trade with the idea that he'd give the Heat a sorely needed dual-shooting/playmaking threat, who could also inject them with pace, all while meshing perfectly with their physical, help-conscious defensive identity. That idea bore out as reality for most of the regular season, and may have continued to do so in the playoffs if not for the hamstring injury Lowry suffered in the first round (to say nothing of the personal matter that caused him to sit out 13 games this year). And while he isn't as cooked as he often looked while playing through that injury, he's a 6-footer who's going to turn 37 next season and at this point can't be expected to enter any postseason with a clean bill of health.
Lowry is already a significant anomaly in terms of production for players his size at his age, and even when he was healthy this season, signs of slippage were evident. You could see it in his declining rim frequency, his diminished agility on defense, and his increasing reluctance to shoot or attack. His 18.2% usage rate was his lowest in 13 years. He's not going to reduce Butler's self-creation load.
Tucker was also a major contributor to this team's success at both ends, authoring arguably his best season at age 37. He played his trademark brand of disruptive and immovable defense while flashing a previously unseen short-roll game and some connective playmaking chops that made him more than just the stationary corner shooter he'd long been at the offensive end. How much longer can he keep doing this?
Adebayo (24) and Herro (22) are the team's lone core pieces one can safely expect to either maintain their current level or meaningfully improve moving forward. Though they're both talented young players who specialize at one end of the floor, their ceilings could be capped by their shortcomings at the other. Herro can improve defensively (and did this season) but given his physical limitations it's hard to see him ever being a plus or even a neutral defender. That sets the bar for his offensive production extremely high if he's to transcend his sixth-man role and establish himself as a foundational star.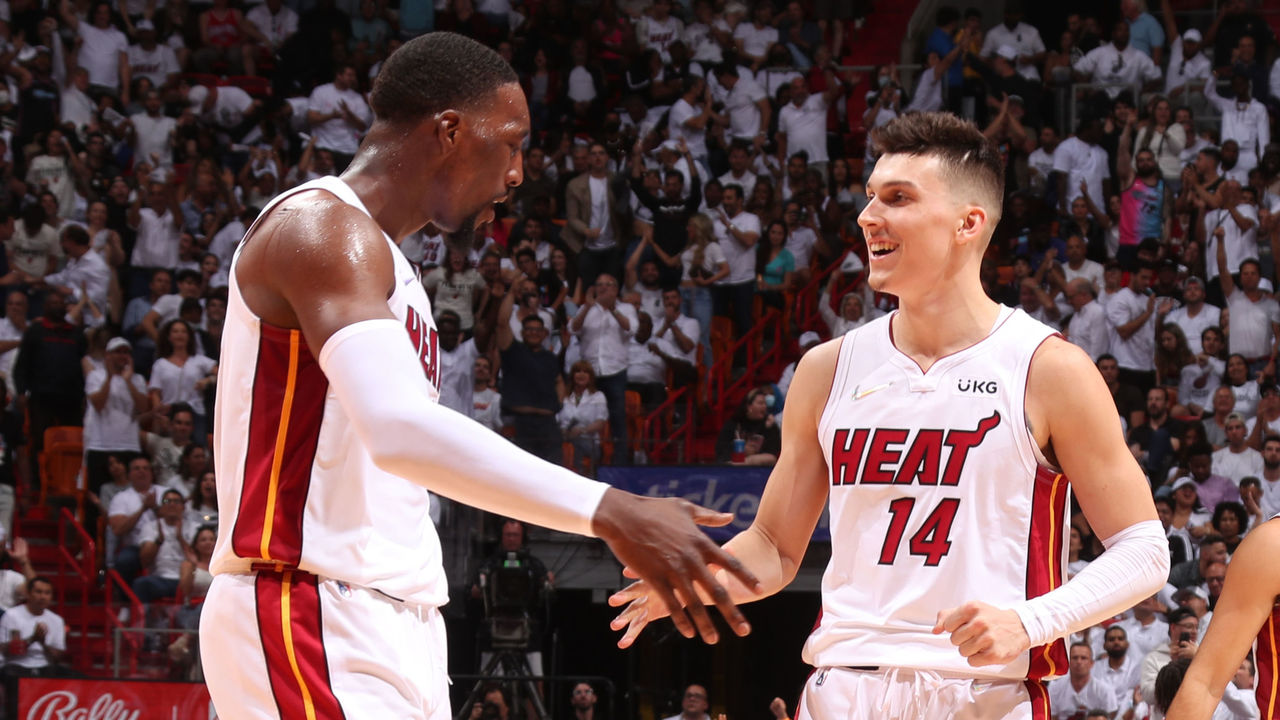 His shotmaking ability, on-the-move passing, and shiftiness with and without the ball deservedly earned him the NBA's Sixth Man of the Year award. But he rarely gets to the rim, struggles to create against length, and doesn't deal well with traps. Miami performed 20.5 points per 100 possessions worse with him on the floor in these playoffs, and hasn't registered a positive net rating with him on court in any of his three postseasons. The Heat will have to weigh those facts against their dependence on Herro's supplemental shot creation and investment in his continued growth as he becomes eligible for a rookie extension this offseason.
Adebayo is one of the league's most versatile defenders and probably its best switch big, full stop. For as long as he's around and in his prime, Miami will have a solid defensive bedrock on which to build any type of defensive scheme it wants. His offensive game, however, is frustratingly erratic, prone to bouts of passivity and liable to be neutralized by mobile rim-protectors or big wing defenders who can match his speed and strength (think Grant Williams or OG Anunoby). The Celtics' deep drops exposed his non-threatening in-between game and complete lack of pick-and-pop ability. Those should be major areas of developmental focus this offseason and beyond.
All of that is to say: Herro and Adebayo are tremendous complementary players, but the Heat can't necessarily bank on them picking up the slack if or when Butler starts to slip and Lowry continues to.
We've learned over and over that we doubt Butler, Spoelstra, and the rest of this organization at our own peril. The Heat's front office is creative, opportunistic, and adept at identifying undervalued talent. Their player development system has been at worst a top-two operation in basketball over the last half-decade. Their market will always be a draw for stars with wandering eyes, and a cluttered cap sheet hasn't deterred them from chasing or acquiring such stars in the past. It's not out of the question that Miami finds a way to make believers out of its doubters again next season.
But for a team that clearly isn't interested in moral victories, the road to a more substantial kind of triumph will be a tough one to navigate.
Comments
✕
Reaching the cusp of the Finals was hard for the Heat. Making it back will be harder
  Got something to say? Leave a comment below!