A national champion won't be crowned until April, but contenders are already beginning to emerge during early-season tournaments and out-of-conference battles.
Based on the first month of play, here are five teams that could be cutting down the nets in Atlanta.
Duke
Last season could be characterized as one of Mike Krzyzewski's more notable failures at Duke, as a roster featuring stars Zion Williamson, RJ Barrett, Cam Reddish, and Tre Jones crashed out in the Elite Eight. In truth, however, that wealth of talent never meshed with Krzyzewski's style. This year's squad, led by Jones, could be more up his alley.
While the template is similar to last season with up to four freshman starters, Jones leads a more balanced offense and defense that includes Vernon Carey Jr. and Matthew Hurt up front, and Cassius Stanley in the backcourt. Hurt and Stanley are affirmatively answering questions about whether they can be a threat from the perimeter.
Despite a stunning loss to Stephen F. Austin, there could be a variation of the "Ewing Theory" at play come March, so don't sleep on Duke.
Kansas
The Jayhawks are a popular pick to capture coach Bill Self's second national championship this spring, led by Preseason All-Big 12 honorees Devon Dotson and Udoka Azubuike. Experience counts in college basketball, and so far Self's primary eight-man rotation has featured no freshmen.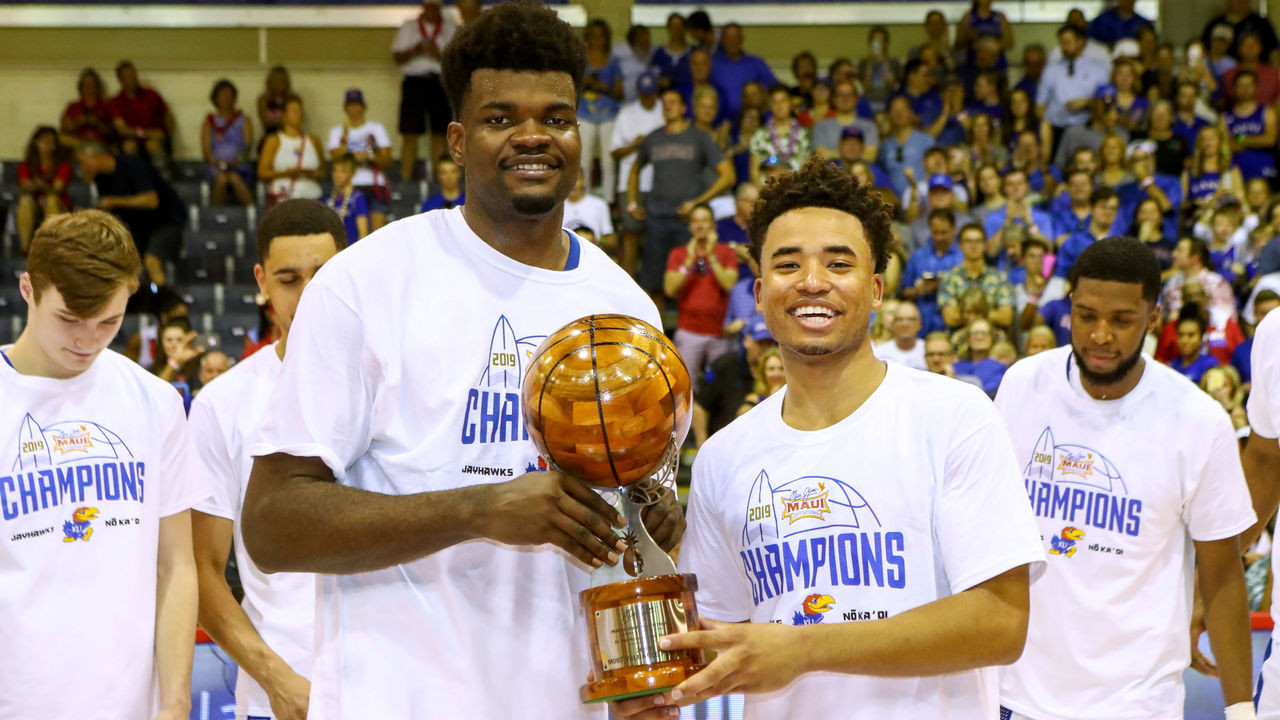 It's still early, but Dotson especially has been dominant. He's leading the Big 12 in scoring, hitting 87% of his free-throw attempts, and is a beast in transition. If Azubuike can stay healthy all season, the Jayhawks will be a force to be reckoned with.
Maryland
Maryland has the talent to reach its first Final Four since winning it all in 2002. Senior guard Anthony Cowan continues to orchestrate the Terrapins' offense, averaging a team-high 4.5 assists per contest. The fourth-year starter has also cut down his turnovers and improved his efficiency from beyond the arc.
Meanwhile, big man Jalen Smith is having the breakout season many anticipated after the departure of Bruno Fernando. The 6-foot-10 forward has been a force on both ends of the floor, posting 13.4 points, nine boards, and two blocks per contest across eight appearances.
Between Cowan's outside scoring and Smith's post presence, Maryland boasts one of the nation's most potent duos.
Louisville
Offensive efficiency was one of Xavier's hallmarks during Chris Mack's nine-year run as head coach. Now, Louisville is already molding into a similar squad less than two years into Mack's tenure. The Cardinals are tied for fifth in the nation in field-goal percentage (51.9%) and tied for 17th in 3-point percentage (40.8%).
Four different Louisville players are averaging double-digit scoring, led by National Player of the Year candidate Jordan Nwora. The 6-foot-7 forward transformed from a fringe rotation player during his freshman year into a bona fide star in 2018-19, being named the ACC's Most Improved Player as a result.
Strong guard play has historically been essential for March success, and the Cardinals feature a pair of solid floor generals in junior Darius Perry and grad transfer Lamarr Kimble. Perry is averaging just under six dimes per game while Kimble has recorded 2.7 assists per turnover. Collectively, Louisville shares the rock better than most teams in the country with 16.4 assists per game.
Michigan State
Michigan State has reached eight Final Fours under Tom Izzo, but the coach only has one national championship - way back in 2000 - to show for it. Perhaps in part because there's a feeling the Spartans are due, they entered the season ranked No. 1.
November losses to Kentucky and Virginia Tech aside, there's a lot of basketball yet to be played and Michigan State unquestionably has the talent to win it all. Point guard and Big Ten Preseason Player of the Year Cassius Winston can run an elite pick-and-roll with big Xavier Tillman, or he can kick it out to wing Aaron Henry.
There isn't one true dominant team in college basketball this season, but most would agree that outside of Kansas, Michigan State is the squad with the pieces to win it all.