theScore breaks down the top storylines from Saturday's college football games and what they might mean moving forward.
Wisconsin tests Ohio State like no other — but Buckeyes prove something with comeback win
For two quarters, Wisconsin outplayed Ohio State to the point that social media began to buzz about the Badgers as a potential playoff team, despite their two losses.
Wisconsin made the Buckeyes look mortal for the first time all year. Jack Coan was steady, Jonathan Taylor was dynamic, and the Badgers' defense was tough. Wisconsin's 14-point halftime lead marked the first time all year that Ohio State trailed after two quarters.
But the Buckeyes, No. 1 in the eyes of the College Football Playoff committee entering the weekend, made their run. They were relentless, scoring the game's final 27 points in a 34-21 victory to claim the Big Ten title and improve to 13-0.
Ohio State leaned heavily on J.K. Dobbins, who rushed for 172 yards on 33 carries. After a lackluster first half, Justin Fields bounced back to finish with 299 yards and three touchdowns. The Buckeyes also clamped down defensively on Taylor, holding him to 13 yards on seven second-half carries after he exploded for 135 in the first.
Remarkably, they managed to win by double digits for the 13th consecutive game, despite being thoroughly outplayed for half of the contest.
Did Ohio State do enough to hold off red-hot LSU for the No. 1 seed in the playoff? We'll find out soon. But either way, the Buckeyes gained valuable experience in advance of what should be a challenging semifinal.
Clemson keeps getting better — and that's scary
Clemson could very well be the best team in the country. We just won't find out for three more weeks.
The Tigers won again in dominating fashion on Saturday, pummelling Virginia 62-17 in the ACC Championship game. Trevor Lawrence threw for 302 yards and four touchdowns, Travis Etienne ran for 114, and Clemson was able to rest its starters in the fourth quarter of a conference title game.
The victory might not be enough to move Clemson higher than No. 3 in the final rankings on Sunday because of its schedule. Saturday marked the Tigers' first win over a ranked team (and who knows if Virginia maintains its spot in the top 25 on Sunday).
Since Clemson's only close call of the season, a 21-20 win over North Carolina on Sept. 28, the Tigers have dominated every opponent in their way. They've scored 45-plus points in seven of their last eight games. They've won eight in a row — and 11 of 13 overall — by 30-plus points.
Clemson's issue isn't its fault. The Tigers are a great team playing in a historically weak ACC. This fact will keep Clemson from the No. 1 spot in December — but don't be shocked if the Tigers are No. 1 in January.
Give LSU the top seed, and Burrow the Heisman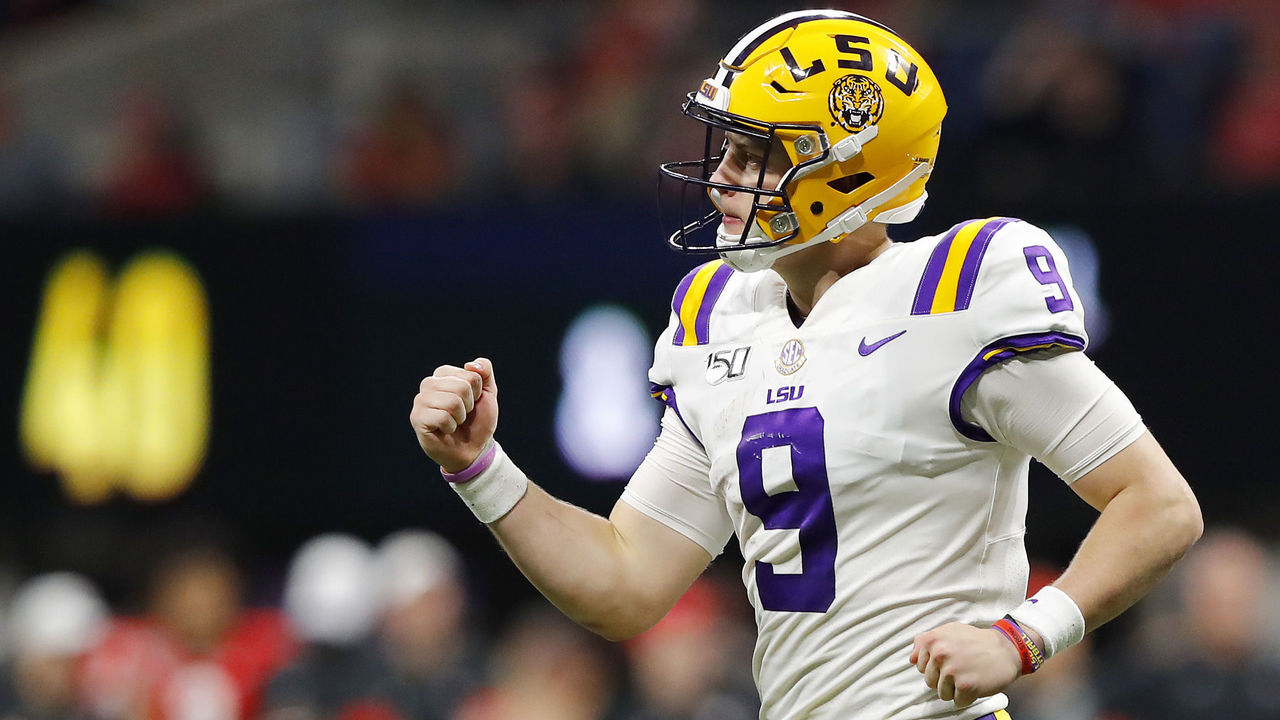 Television cameras caught LSU head coach Ed Orgeron handing the game ball to quarterback Joe Burrow following the Tigers' 37-10 demolition of Georgia in the SEC championship.
Burrow took the football and handed it right back.
The duo - a head coach whose hire was dismissed and a quarterback who transferred looking for a chance - are the faces of this college football season. And they should be the faces of the No. 1 team in the College Football Playoff.
Burrow, who has completed over 70% of his passes in every game this season, passed for 349 yards and four touchdowns Saturday against one of the best defenses in the country.
LSU's defense, which apparently got bumped from No. 1 to 2 two weeks ago, sucked the life out of Georgia's offense by stopping the run game (25 carries, 61 yards) and forcing Jake Fromm into mistakes. Freshman Derek Stingley, a rising star, intercepted two passes.
After falling behind Ohio State in the eyes of the committee, LSU outscored Texas A&M and Georgia 87-13. The Tigers enter Sunday with wins over No. 4 (Georgia), No. 9 (Florida), No. 11 (Auburn), and No. 12 (Alabama).
They're led by the quarterback who appears to be a near-lock to collect a Heisman Trophy next week. On Saturday, Burrow completed one of the best regular seasons in college football history. In 13 games, he threw for 4,765 yards and 51 touchdowns.
Here's your Heisman moment:
Memphis completes best season in school history
Mike Norvell appears headed for Florida State and its head coaching vacancy. The Tallahassee Democrat reported FSU will announce Norvell's hiring on Sunday.
But like Lane Kiffin did earlier at Florida Atlantic, Norvell completed what could be his final game at Memphis with a conference championship.
The Tigers didn't play great, but a late touchdown pass from Brady White to Antonio Gibson gave them a second consecutive win over Cincinnati, 29-24.
The win, no matter how ugly, means Memphis is likely headed for the Cotton Bowl, where it will get its shot against a top-tier Power 5 team. It's easily the best season in Memphis history.
When Norvell took the job in 2016, the Tigers had one 10-win season in its history - in 2014 under Justin Fuente. Memphis went 10-3 in 2017 but entered this season with its best chance to win the AAC since joining the conference in 2013.
The Tigers remained on track all year long, losing just once at Temple on Oct. 12.
If Norvell is done at Memphis, he leaves with the highest winning percentage (71.7) of any head coach in school history.
This Sooner team wins differently
It had the makings of one of those only-in-college football stories: A third-string quarterback with three career pass attempts coming in to rescue the game - and the season.
Jacob Zeno's first pass for Baylor on Saturday (and fourth of his career) went for an 81-yard touchdown to bring the Bears within three. The true freshman's second pass looked destined for 95 yards and another six points. It would have given Baylor a fourth-quarter lead - and a path to the College Football Playoff.
But Oklahoma cornerback Tre Brown never gave up on the play. He tracked receiver Chris Platt down and tugged him to the ground at the 17-yard line. Four plays later, the OU defense forced Baylor to settle for a game-tying field goal.
If Oklahoma is to reach the playoff for the fourth time in five seasons on Sunday, this will be the play that got it there in 2019. And it was one of many made by the formerly stigmatized OU defense, which showcased its improvement on the do-or-die stage.
In a 30-23 overtime win, Oklahoma stifled Baylor quarterback Charlie Brewer (3 of 6, 15 yards) until he exited the game in the second quarter with an injury. The defense made backup Gerry Bohanon (4 of 15, 56 yards) so ineffective that Matt Rhule turned to Zeno with the Bears trailing 23-13 in the fourth quarter.
Zeno, who was a quarterback at the 2018 Elite 11 Finals where OU quarterback Jalen Hurts was a counselor, caught fire.
But even then, backed against the wall for the first time all game, Oklahoma's defense responded.
It responded on a day where Hurts and the OU offense committed self-inflicted mistakes, including two first-half turnovers, as Baylor took a 13-10 lead at halftime. Hurts was ineffective for stretches of the game and ran for just 38 yards on 23 attempts.
In years past, those turnovers would have spelled the end. But the Sooners' hiring of defensive coordinator Alex Grinch from Ohio State has proven to be as valuable as the addition of Hurts. The defense was physical, recording a whopping 15 tackles for loss and six sacks. Kenneth Murray (10 tackles, three for loss) is the star, but nine different players contributed a tackle for loss. The mentality of the defense has changed.
Backed up behind the chains, Baylor converted just 3 of 15 third downs. While Rhule was forced to play quarterback roulette after Brewer's injury, Baylor showed no ability to run the football. The fact Baylor made it to overtime is remarkable.
But it ended quickly in the extra frame, as the OU defense pushed Baylor backward and into a fourth-and-20 with the game on the line. It marked the second consecutive week the Sooner defense showed up huge - last week, it limited Oklahoma State to one touchdown in a 34-16 victory.
And so the Sooners are 12-1 for the third year in a row under Lincoln Riley. Depending on the results this afternoon, they might be headed to a CFP semifinal game for the third consecutive season, too.
Lane Kiffin leaves FAU with a conference title
The Lane Kiffin redemption tour is headed to Oxford, Mississippi.
Ole Miss alluded to it on Twitter throughout Saturday's Conference USA title game, where Kiffin's Florida Atlantic team crushed UAB, 49-6. It didn't take long after the game for the hire to become official. Kiffin is once again an SEC head coach, a decade after he left his first SEC job (Tennessee) for USC.
Kiffin is well-traveled but hasn't always been successful. His four full seasons as a Power 5 head coach ended 7-6, 8-5, 10-2, and 7-6.
But Saturday's win, Florida Atlantic's 10th of the season, was another illustration of how he was able to quickly build the Owls program in three years.
When Kiffin arrived at FAU, the program was mostly irrelevant. Howard Schnellenberger took the team to back-to-back bowls in 2007 and 2008, but from 2009-16, it won 28 games - 3.5 per season.
Kiffin won 26 games in three years in Boca Raton. He won two conference championships, going 11-3 in 2017. More than that, he gave Florida Atlantic a brand by letting his personality loose.
It's clear Ole Miss is hoping for the same from Kiffin in the crowded SEC West.
App. State completes 12-1 season, likely not enough for G5 spot
Appalachian State's hopes of reaching the Cotton Bowl were likely dashed on Tuesday when the CFP committee released its penultimate rankings.
Both Memphis and Cincinnati were ranked ahead of Appalachian State - making it unlikely that the Mountaineers could jump both of the teams in the AAC title game to earn the Group of 5 spot in a New Year's Six Bowl.
Still, they completed an impressive 12-1 season with a 45-38 win over Louisiana-Lafayette in the Sun Belt championship game.
It's a remarkable debut for head coach Eliah Drinkwitz. Drinkwitz, who previously coordinated offenses at NC State and Boise State, was hired after Scott Satterfield left for Louisville. He could already be a hot name for Power-5 teams in need of a head coach.
The Mountaineers, projected by ESPN to play in the New Orleans Bowl, will lament their one blemish - a Thursday night, three-point loss to Georgia Southern on Halloween.
Younger Gabbert leads Miami (Ohio) to MAC title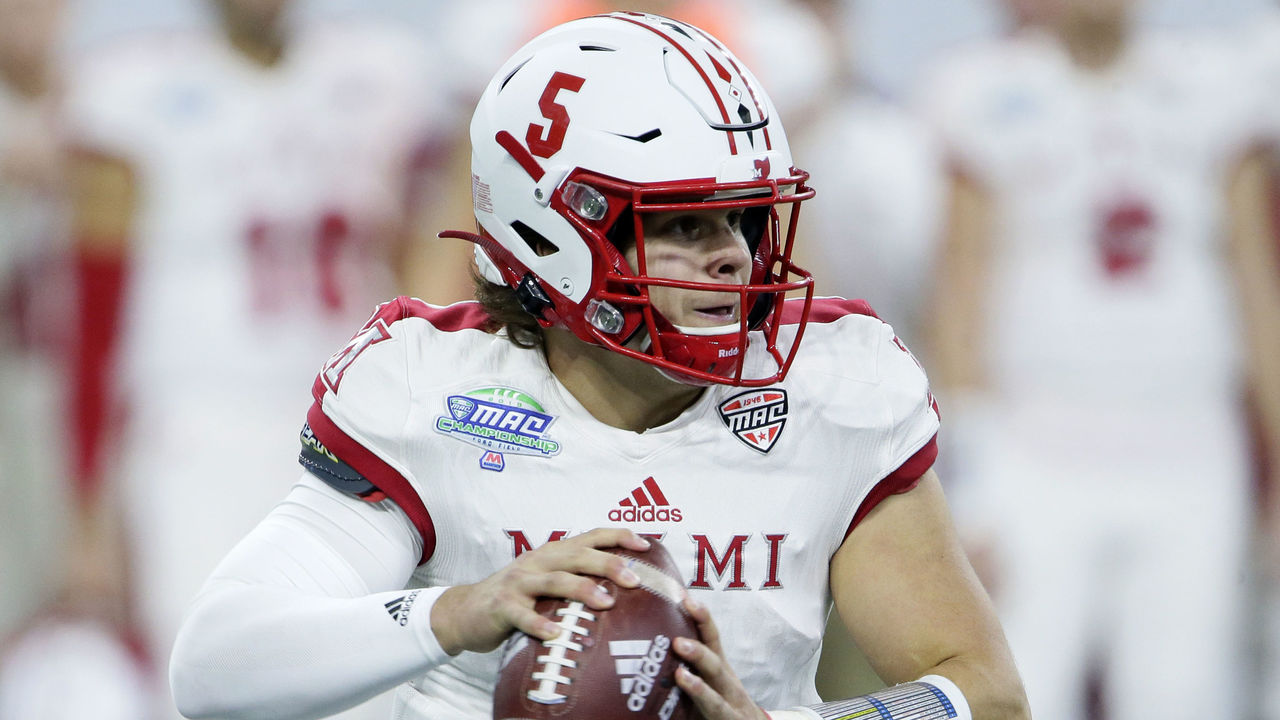 The MAC championship game was a who's who of recognizable names.
There was Jim McElwain, the former Florida head coach, who took a one-win Central Michigan team and led it to an 8-4 regular season in his first campaign with the Chippewas. And McElwain's quarterback, Quinten Dormady, was formerly a starter at Tennessee.
On the Miami (Ohio) side, there was Brett Gabbert. The younger brother of former Missouri signal-caller (and current Tampa Bay Buccaneer) Blaine Gabbert led the Redhawks to a MAC title, passing for 196 yards and a touchdown in a 26-21 win. It's the first time Miami (Ohio) has won the MAC since 2010, and only the third time in 33 years the Redhawks won their conference.
Gabbert could be one to watch moving forward. As a freshman, he has thrown for 2,163 yards.