Bowl season begins in the Bahamas on Dec. 20. It ends 24 days later in New Orleans, where college football will crown a national champion.
Of the 39 FBS bowl games leading up to that moment, only two play a role in which program will win the title. But that never stops us from enjoying the pageantry, theatrics, and trickery of bowl season.
To prepare you, theScore ranked the bowls from least to most intriguing from 39 to No. 1. Get your popcorn ready.
(All times ET)
39. Frisco Bowl (Dec. 20, 7:30 p.m.): Kent State (6-6) vs. Utah State (7-5)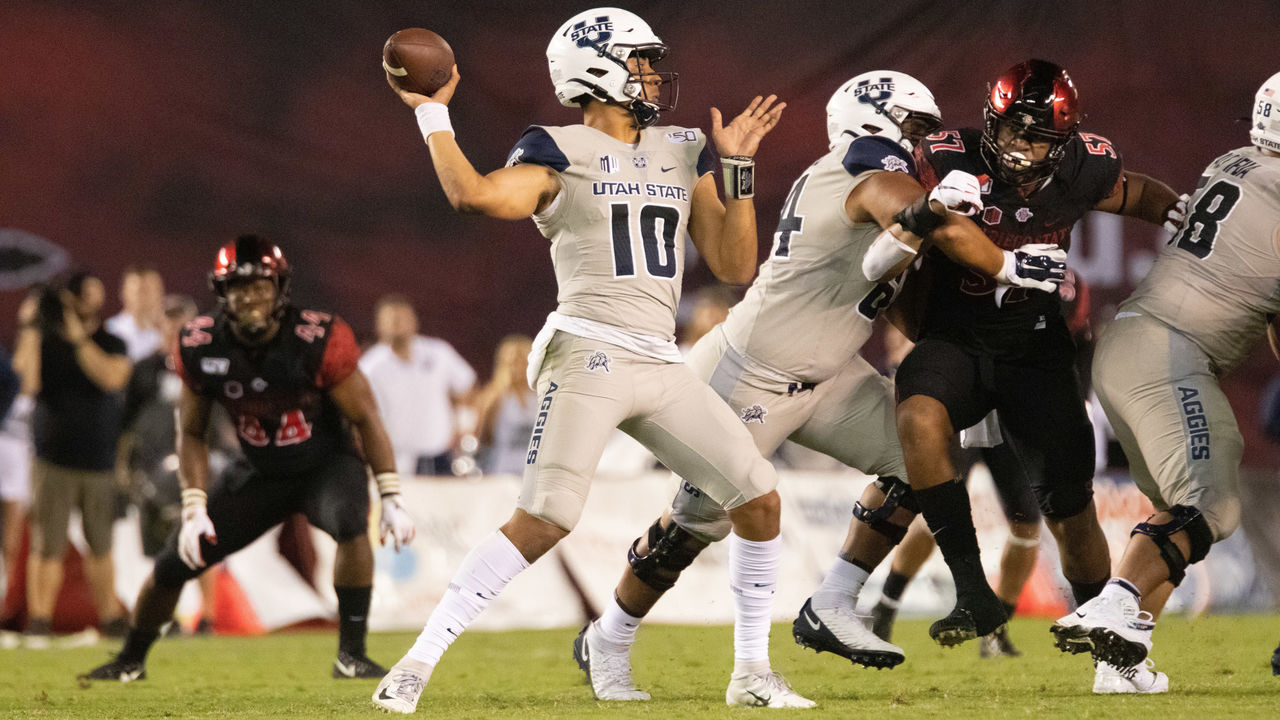 The first two Frisco Bowl games ended with final scores of 51-10 and 27-0. On paper, this year might not be much better - Utah State is a 9.5-point favorite. Motivation could be on Kent State's side, though. The Golden Flashes are in a bowl for the first time since 2012, second time since 1972, and third time ever. They're 0-3 in their previous trips.
Player to watch: Utah State QB Jordan Love (3,085 yards, 17 TD, 16 INT)
38. Arizona Bowl (Dec. 31, 4:30 p.m.): Georgia State (7-5) vs. Wyoming (7-5)
Both schools registered huge upsets in September when Georgia State topped Tennessee and Wyoming beat Missouri. But this game doesn't make for the most exciting bowl matchup. Wyoming was one of five programs to complete fewer than 50% of its passes this year. The Cowboys were the only one of those five to reach a bowl.
Player to watch: Wyoming S Alijah Haliburton (119 tackles, 10 TFL)
37. Quick Lane Bowl (Dec. 26, 8 p.m.): Eastern Michigan (6-6) vs. Pittsburgh (7-5)
Pittsburgh has lost four consecutive bowl games and is 3-9 in the postseason since 2002. After ending the campaign on a two-game losing streak, how motivated will the Panthers be to face a MAC foe in Detroit on the day after Christmas? Meanwhile Eastern Michigan lost bowl games in 2016 and 2018 by a combined six points.
Player to watch: EMU WR Arthur Jackson (39 receptions, 679 yards, 6 TD)
36. Camellia Bowl (Dec. 21, 5:30 p.m.): Arkansas State (7-5) vs. Florida International (6-6)
The Red Wolves and Golden Panthers met six times when both were members of the Sun Belt from 2007 to 2012. Arkansas State won four of those and is favored here, too. This one has the potential to be exciting at the end. FIU, coached by Butch Davis, defeated Miami (Fla.) last month.
Player to watch: ASU WR Omar Bayless (84 receptions, 1,473 yards, 16 TD)
35. Bahamas Bowl (Dec. 20, 2 p.m.): Buffalo (7-5) vs. Charlotte (7-5)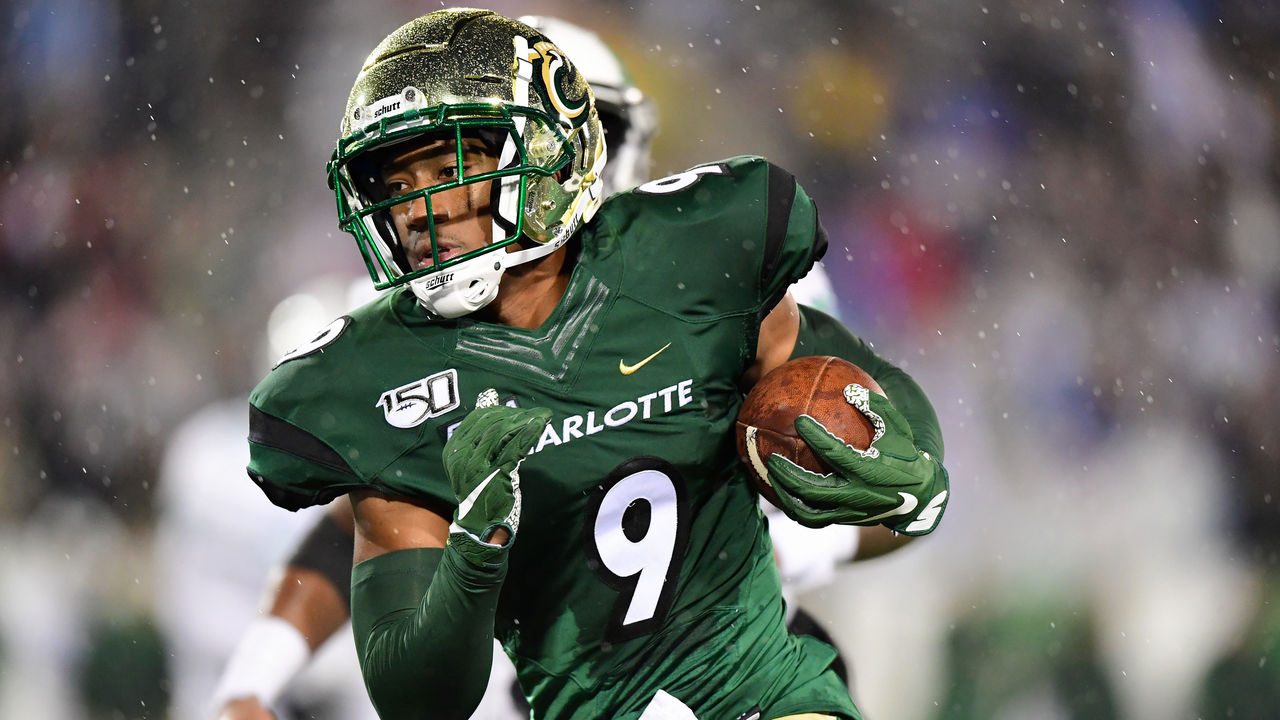 The game that kicks off bowl season is often evenly matched; three of the five previous Bahamas Bowl games were decided by four or fewer points. Neither Buffalo nor Charlotte has ever won a bowl game. In fact, this is the first bowl game for the 49ers. That should make for a great celebration no matter who wins.
Player to watch: Charlotte WR Victor Tucker (49 receptions, 848 yards, 6 TD)
34. Idaho Potato Bowl (Jan. 3, 3:30 p.m.): Ohio (6-6) vs. Nevada (6-6)
The Idaho Potato Bowl has been through a few name changes - it was previously the MPC Computers Bowl before becoming the Humanitarian Bowl. Six of the last seven games have been decided by double digits. This one trends that way, too, with Ohio the clear favorite. Still, it's worth watching Bobcats quarterback Nathan Rourke for the final time - the Canadian has scored 110 career passing, rushing, and receiving combined touchdowns.
Player to watch: Nevada DE Dom Peterson (13.5 TFL, 8 sacks)
33. New Mexico Bowl (Dec. 21, 2 p.m.): Central Michigan (8-5) vs. San Diego State (9-3)
These teams' styles could not be more different. Central Michigan, which won the MAC West in Jim McElwain's first season, averages 31.9 points per game. San Diego State scored 30 just once all season, winning three games in which it scored fewer than 20. If the Aztecs dictate the way it's played, take a Saturday afternoon nap.
Player to watch: CMU RB Jonathan Ward (1,082 yards, 15 TD)
32. Cure Bowl (Dec. 21, 2:30 p.m.): Georgia Southern (7-5) vs. Liberty (7-5)
The last time Hugh Freeze coached a bowl game, he led Ole Miss to a Sugar Bowl victory. The Cure Bowl, played four days before Christmas in a soccer stadium (home of Orlando City SC and the Orlando Pride), is a far cry from that. But it's the first bowl game in Liberty history, and the Flames have one of the better Group of 5 passing combos with quarterback "Buckshot" Calvert and receiver Antonio Gandy-Golden. Meanwhile, Georgia Southern is all about the ground game with three players over 600 yards rushing.
Player to watch: Gandy-Golden (74 receptions, 1,333 yards, 9 TD)
31. First Responder Bowl (Dec. 30, 12:30 p.m.): Western Kentucky (8-4) vs. Western Michigan (7-5)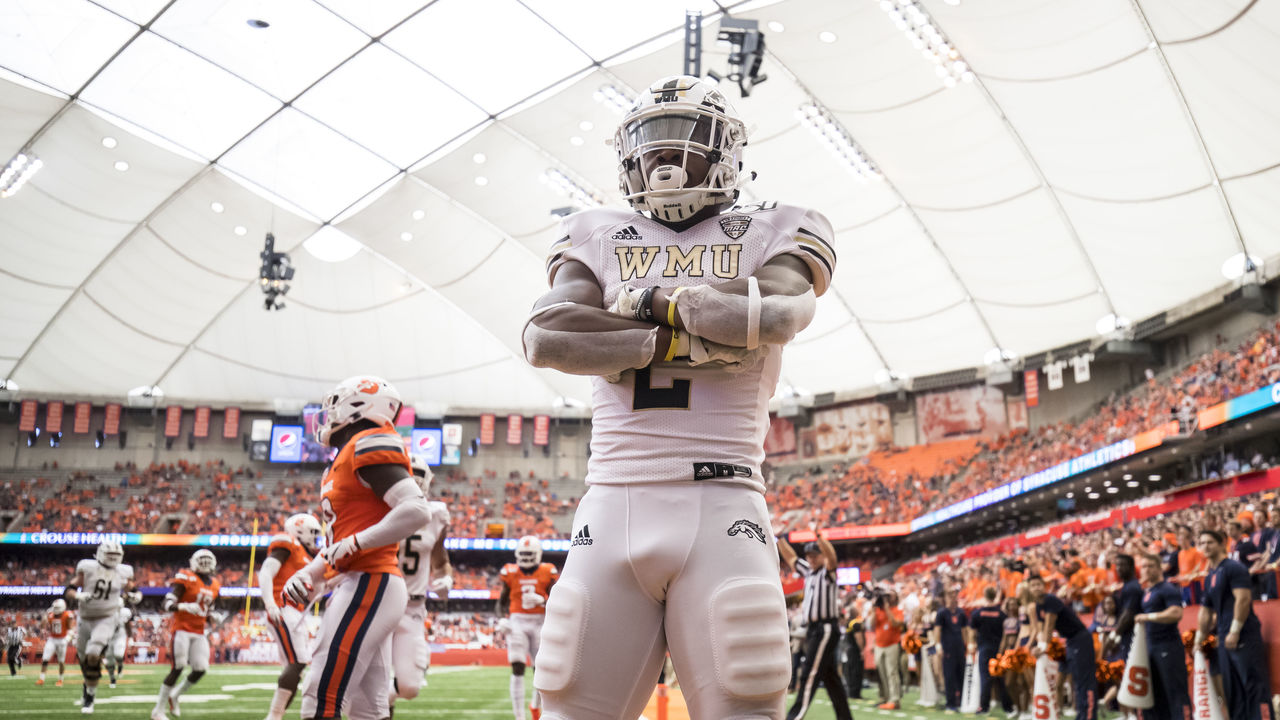 Last year's First Responder Bowl never took place. Boise State and Boston College played a quarter before the game was canceled because of bad weather.
Let's hope this one goes all four. The two FBS schools with Western in their names actually have a strangely storied history. They met 15 times from 1923 to 1947, with Western Michigan winning on 11 occasions.
Player to watch: WMU RB Levante Bellamy (1,412 yards, 23 TD)
30. New Orleans Bowl (Dec. 21, 9 p.m.): No. 20 Appalachian State (12-1) vs. UAB (9-4)
Yes, both of these teams played in their respective conference championship games. And yes, we won't know how the Mountaineers will be affected by losing head coach Eliah Drinkwitz to Missouri. But, on paper, this is one of the bigger mismatches of bowl season. Appalachian State came close to an undefeated season and beat two Power 5 teams. UAB went 1-4 against bowl-eligible squads.
Player to watch: Appalachian State QB Zac Thomas (2,576 yards, 26 TD)
29. Redbox Bowl (Dec. 30, 4 p.m.): California (7-5) vs. Illinois (6-6)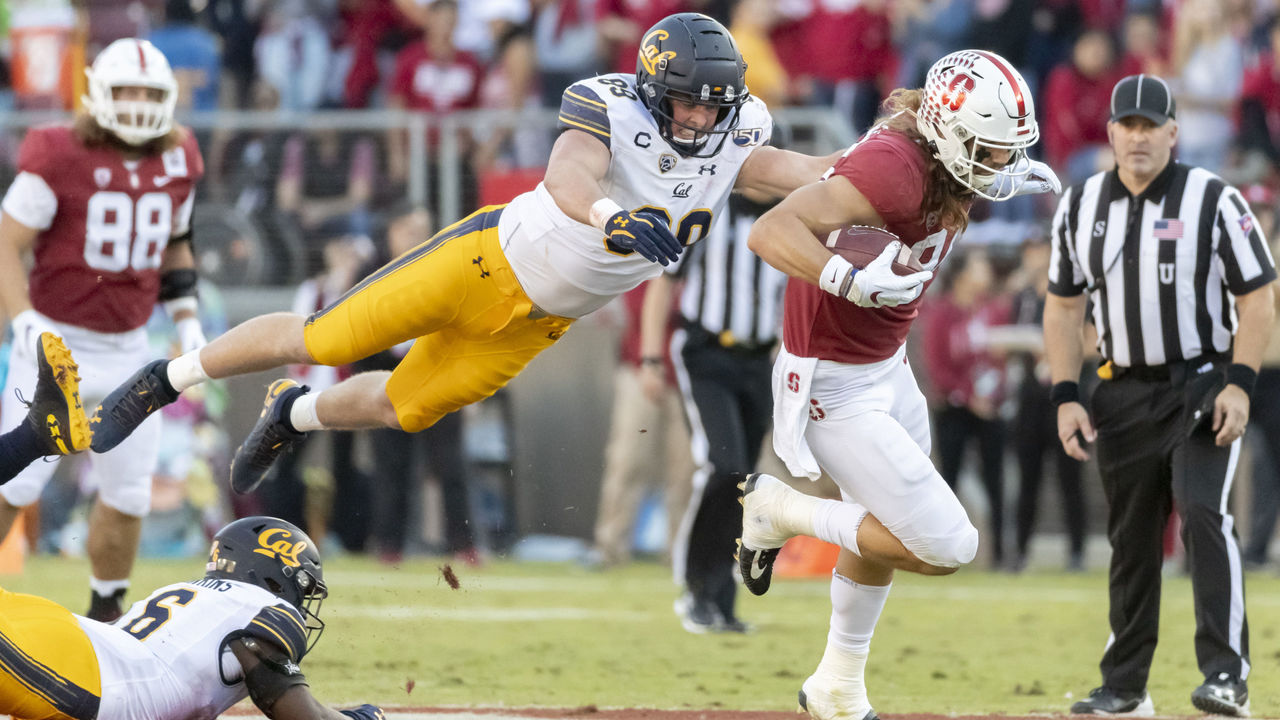 The Redbox Bowl will be hoping for something more exciting than a year ago when Oregon topped Michigan State by a score of 7-6 (yes, that was the final). Unfortunately, Cal was the lowest-scoring team in the Pac-12 this season and lost a bowl game by a similarly sad score of 10-7 just last year to TCU. Illinois is in a bowl game for the first time since 2014 thanks to its colossal upset of Wisconsin in October.
Player to watch: Cal LB Evan Weaver (173 tackles, 11 TFL)
28. LendingTree Bowl (Jan. 6, 7:30 p.m.): Louisiana (10-3) vs. Miami (Ohio) (8-5)
One week before the national championship, Louisiana and Miami (Ohio) get the honor of playing the penultimate (FBS) game of the college football season. And this one has the potential to be a fun one. The Ragin' Cajuns were terrific in Billy Napier's second season as head coach, averaging 6.4 yards per carry. Miami (Ohio) won the MAC with Brett Gabbert at quarterback and is playing a bowl game in Mobile, Alabama, for the third time. It won in 2003 (when it was the GMAC Bowl) and 2011 (when it was the GoDaddy.com Bowl).
Player to watch: Louisiana RB Elijah Mitchell (1,092 yards, 15 TD)
27. Independence Bowl (Dec. 26, 4 p.m.): Louisiana Tech (9-3) vs. Miami (Fla.) (6-6)
The Independence Bowl, played in Shreveport, Louisiana, has featured a Power 5 team against a Group of 5 team in three of the last four years, with the former winning all three.
Player to watch: Louisiana Tech QB J'Mar Smith (2,814 yards, 17 TD)
26. Armed Forces Bowl (Jan. 4, 11:30 a.m.): Southern Miss (7-5) vs. Tulane (6-6)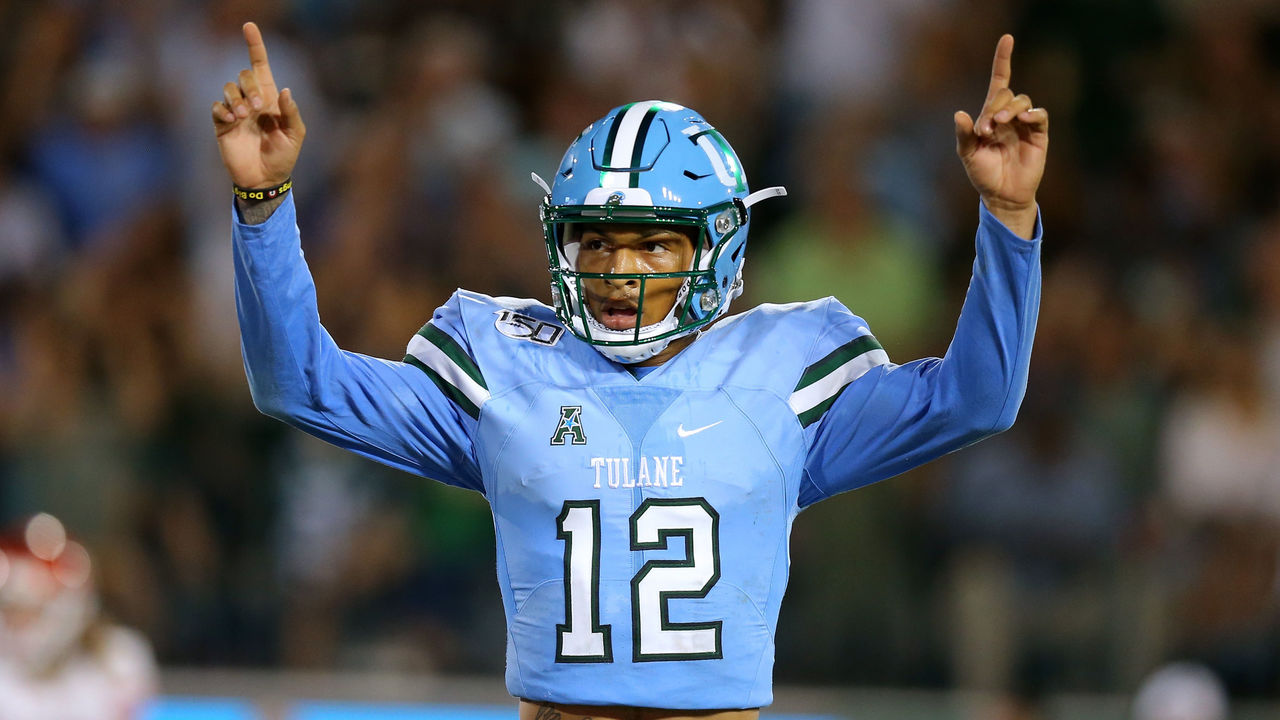 Played in TCU's home stadium in Fort Worth, Texas, the Armed Forces Bowl has seen its share of points. The last four matchups have each cleared 70 total, including Army's 70-14 rout of Houston last December.
Southern Miss and Tulane can light up a scoreboard, too, though each ended the season on sour notes. With a chance to win Conference USA, Southern Miss lost its final two games by double digits. Tulane, one of the most fun teams in the country early in the year, closed by losing its last three. Good thing both teams have a month to recuperate.
Player to watch: Southern Miss WR Quez Watkins (55 receptions, 1,024 yards, 5 TD)
25. Birmingham Bowl (Jan. 2, 3 p.m.): Boston College (6-6) vs. No. 21 Cincinnati (10-3)
Though both teams are former Big East members, they were never in the conference at the same time. On the sidelines, it's a matchup between one team (Cincinnati) that hopes to keep its coach (Luke Fickell) and one with an interim coach after firing Steve Addazio. Boston College running back AJ Dillon, who ran for 1,685 yards this season, has declared for the NFL draft and will not play in the bowl.
Players to watch: Cincinnati RB Michael Warren (1,160 yards, 14 TD)
24. Pinstripe Bowl (Dec. 27, 3:20 p.m.): Michigan State (6-6) vs. Wake Forest (8-4)
Michigan State alone almost makes this game unwatchable. But Wake Forest quarterback Jamie Newman was one of the more exciting signal-callers to watch during the regular season when he was healthy. Those two factors cancel each other out, making this a squarely middle-of-the-pack bowl game in terms of intrigue. That said, the fact this game is played in Yankee Stadium means there's always a possibility it turns into a snow bowl.
Player to watch: MSU DE Kenny Willekes (69 tackles, 14.5 TFL, 9 sacks)
23. Gasparilla Bowl (Dec. 23, 2:30 p.m.): Marshall (8-4) vs. UCF (9-3)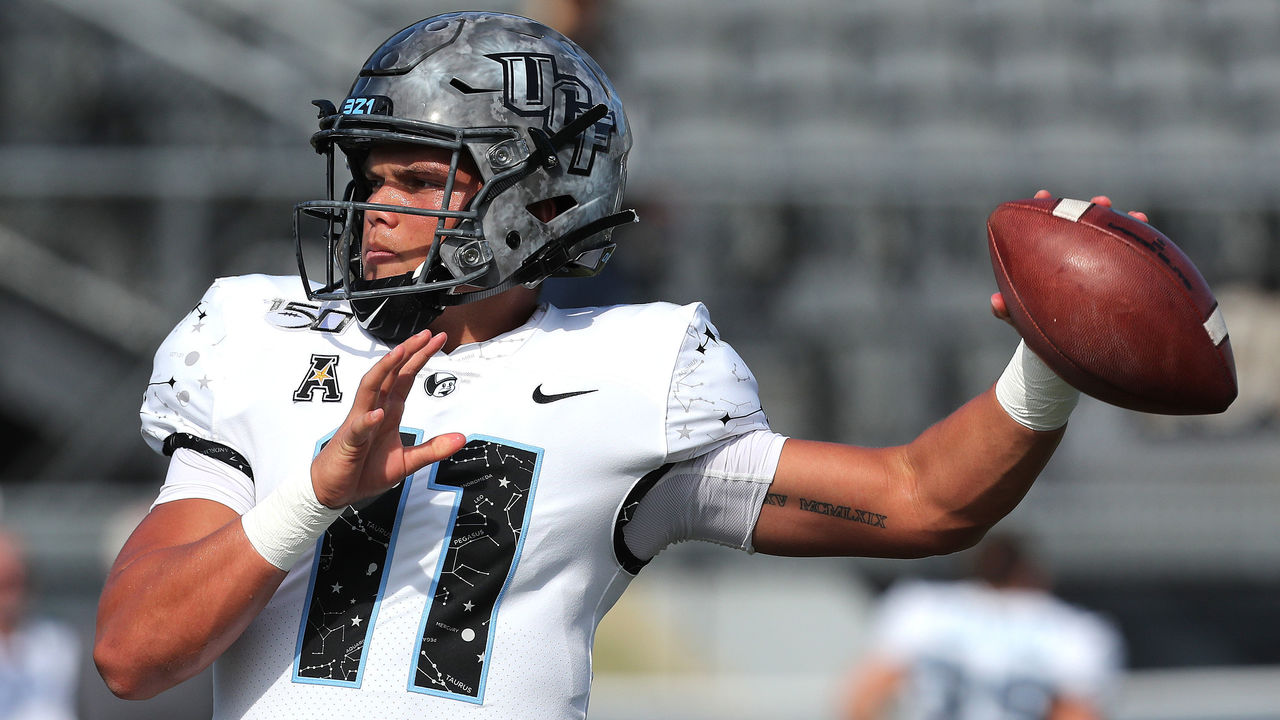 It's not often a team returns to the same bowl game it won a year ago, but the Gasparilla Bowl can't get enough of Marshall. The Thundering Herd won the bowl (played in Tampa) in 2011, 2015, and 2018. Marshall enters this year's game having won its last seven bowl games - including a 6-0 mark under head coach Doc Holliday. That streak will be tested this year, as UCF is a 17.5-point favorite.
Player to watch: UCF QB Dillon Gabriel (3,393 yards, 27 TD)
22. Sun Bowl (Dec. 31, 2 p.m.): Arizona State (7-5) vs. Florida State (6-6)
The Sun Bowl, which has been held since 1935, is sponsored by Tony the Tiger this year, so that's one reason to watch. Another reason is Arizona State freshman quarterback Jayden Daniels has the talent to eventually make the Sun Devils a Pac-12 title contender. One more reason: we'll get a better feel for what new Florida State head coach Mike Norvell will be inheriting in Tallahassee.
Player to watch: ASU WR Brandon Aiyuk (65 receptions, 1,192 yards, 8 TD)
21. Hawaii Bowl (Dec. 24, 8 p.m.): BYU (7-5) vs. Hawaii (9-5)
What better way to spend Christmas Eve than watching Cole McDonald sling touchdowns and interceptions all over the field one last time while BYU tries to take advantage of Hawaii's porous defense? BYU and Hawaii have met 31 times, with the Cougars winning the last five. The Rainbow Warriors last beat BYU in 2001 in a game that finished 72-45. We can only hope this one is as much fun.
Player to watch: McDonald (3,642 yards, 29 TD, 14 INT)
20. Music City Bowl (Dec. 30, 4 p.m.): Louisville (7-5) vs. Mississippi State (6-6)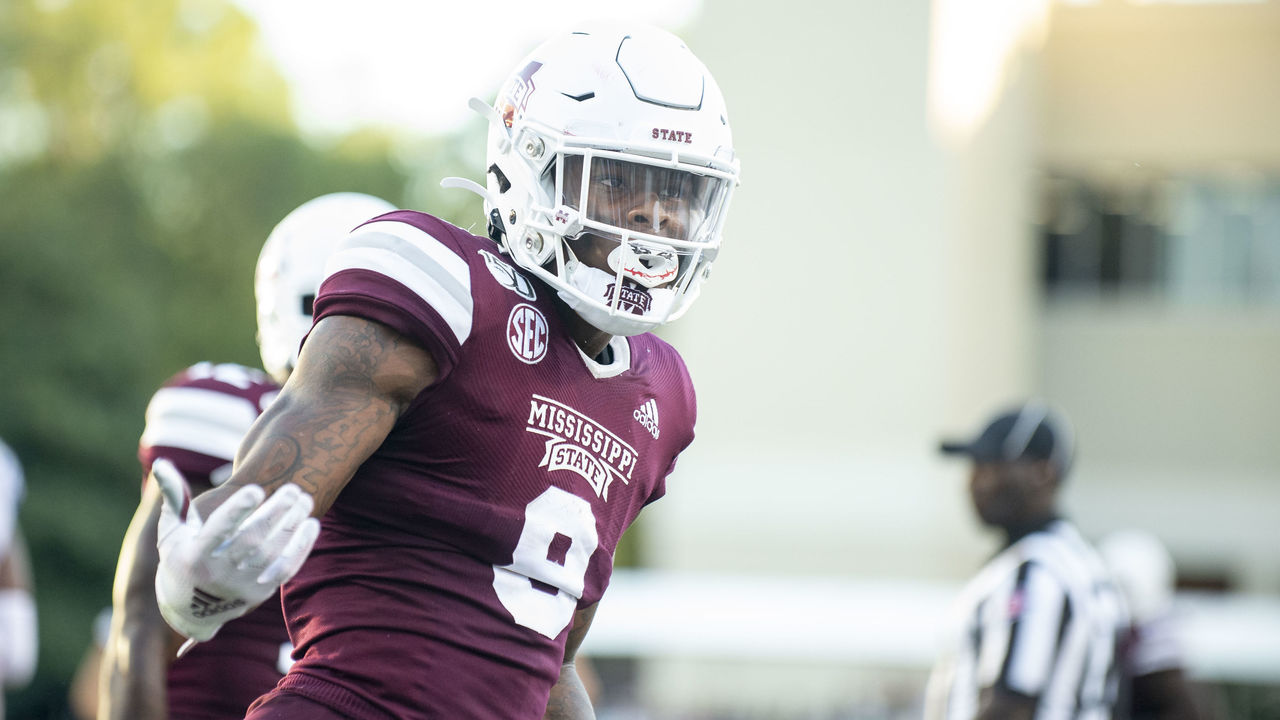 It's a rematch of Lamar Jackson's final college game when Mississippi State topped Louisville 31-27 in the 2017 Taxslayer Bowl. This one has the potential to be a high-scoring contest. Louisville's passing offense, led by Micale Cunningham, is efficient and faces an MSU pass defense that allowed 8.4 yards per attempt. The Bulldogs have one of the better rushing attacks in the SEC; Louisville allowed 5.5 yards per carry and 25 rushing touchdowns in 12 games.
Player to watch: MSU RB Kylin Hill (1,347 yards, 10 TD)
19. Military Bowl (Dec. 27, noon): North Carolina (6-6) vs. Temple (8-4)
A matchup between the Tar Heels and Owls just feels like a fun, close game. North Carolina quarterback Sam Howell ranked fourth among freshmen in yards per game and goes up against a Temple pass defense that ranked 10th in yards per attempt allowed. UNC head coach Mack Brown is 13-8 all time in bowl games.
Player to watch: UNC LB Chazz Surratt (110 tackles, 13.5 TFL)
18. Belk Bowl (Dec. 31, noon): Kentucky (7-5) vs. Virginia Tech (8-4)
The final Belk Bowl has a pair of intriguing storylines. On the field, it will be all about Kentucky's receiver-turned-quarterback Lynn Bowden, who saved UK's season and ran for 1,235 yards. Off the field, it's the swan song for Virginia Tech defensive coordinator Bud Foster, who is retiring after 33 years with the Hokies.
Player to watch (besides Bowden): VT QB Hendon Hooker (1,445 yards, 11 TD)
17. Liberty Bowl (Dec. 31, 3:45 p.m.): Kansas State (8-4) vs. No. 23 Navy (9-2)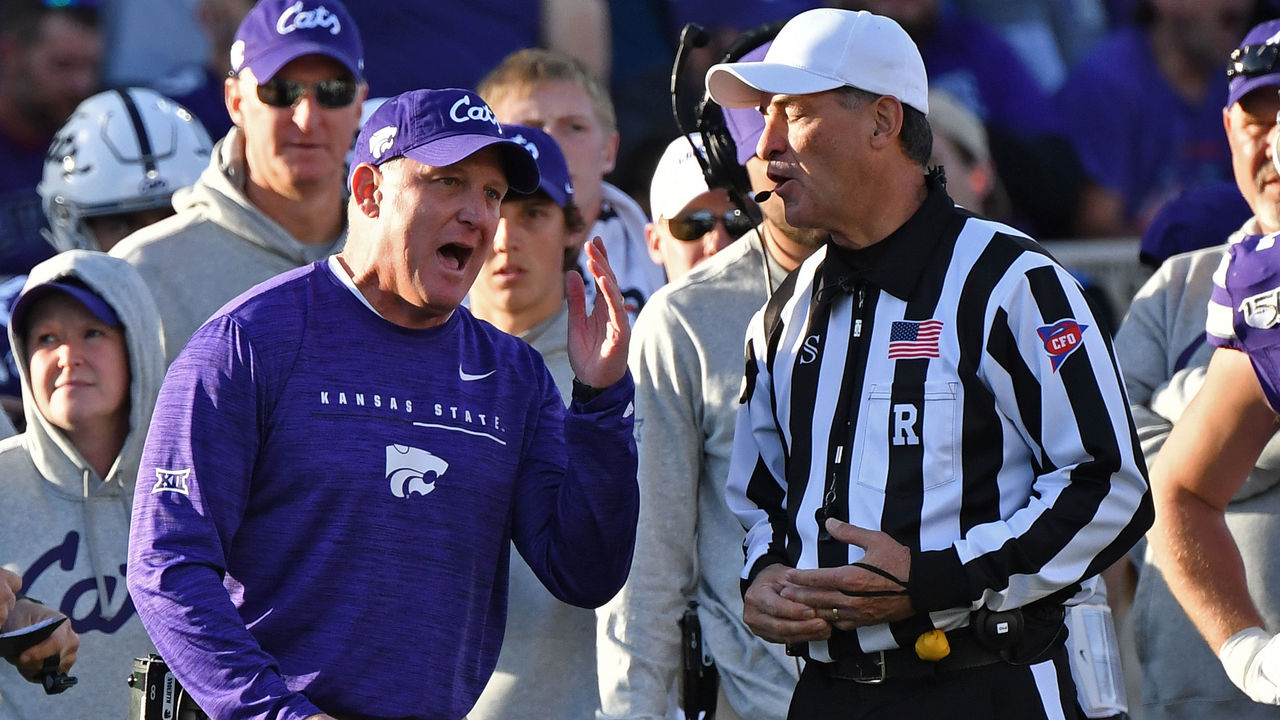 Take advantage of any opportunity to watch Navy play. Quarterback Malcolm Perry (1,500 rushing yards) has had a superb season and will get to end his career against a Kansas State team that has been weak against the run. The Wildcats will come to play, too; former North Dakota State head coach Chris Klieman did a fine job replacing legendary coach Bill Snyder.
Player to watch: Kansas State KR Joshua Youngblood (3 TD)
16. Gator Bowl (Jan. 2, 7 p.m.): Indiana (8-4) vs. Tennessee (7-5)
Both Indiana and Tennessee have to be happy with their respective seasons. The Hoosiers could win nine games for the first time since 1967 while the Volunteers overcame a horrific 0-2 start to finish with a winning record. Both are playing well enough to make this a competitive bowl game. The two have met only once, when the Volunteers won 27-22 in the 1988 Peach Bowl.
Player to watch: Indiana WR Whop Philyor (69 receptions, 1,001 yards, 5 TD)
15. Boca Raton Bowl (Dec. 21, 3:30 p.m.): Florida Atlantic (10-3) vs. SMU (10-2)
It loses a little intrigue with Lane Kiffin off to Ole Miss, but the Boca Raton Bowl should still produce fireworks in a game between 10-win teams. Texas transfer Shane Buechele thrived at quarterback for SMU this season, throwing for 3,626 yards and 33 touchdowns. FAU comes in a winner of six straight and 10 of 11, and quarterback Chris Robison has seven touchdowns in his last two games. (Robison was once dismissed by Oklahoma, so there's a tangential Red River matchup here, too.)
Player to watch: SMU WR James Proche (102 receptions, 1,139 yards, 14 TD)
14. Orange Bowl (Dec. 30, 8 p.m.): No. 9 Florida (10-2) vs. No. 24 Virginia (9-4)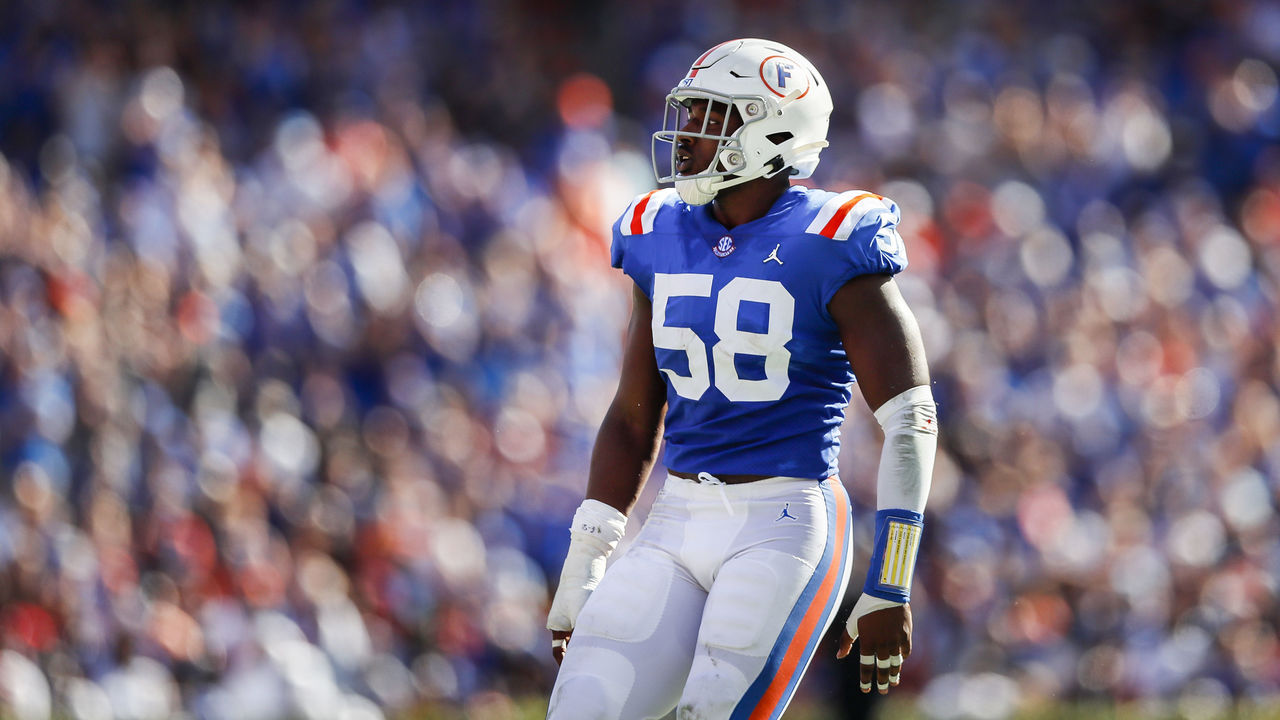 It's a New Year's Six bowl game, but it's also a potential mismatch. The only teams to beat Florida finished the season ranked No. 1 (LSU) and No. 5 (Georgia). The Cavaliers lost by 45 to Clemson last week in their only matchup against a top-10 team. It's hard to picture how Bryce Perkins and Co. will move the ball against Florida's defense, while Gators quarterback Kyle Trask could have a big game against a Virginia pass defense that allowed 761 yards to the top two quarterbacks in the ACC (Trevor Lawrence and Howell).
Player to watch: Florida LB Jonathan Greenard (52 tackles, 15 TFL, 9 sacks)
13. Texas Bowl (Dec. 27, 6:45 p.m.): No. 25 Oklahoma State (8-4) vs. Texas A&M (7-5)
It's a Big 12 reunion! Oklahoma State and Texas A&M have not played since the Aggies left the conference following the 2011 season. They're meeting in what should be one of the more evenly matched games of the bowl season. The Cowboys' improved defense stacks up well against an Aggies offense that averaged just 15.6 points per game against ranked opponents. On the other side, Texas A&M must find a way to stop the nation's leading rusher in Chuba Hubbard.
Player to watch: Hubbard (1,936 yards, 21 TD)
12. Alamo Bowl (Dec. 31, 7:30 p.m.): No. 11 Utah (11-2) vs. Texas (7-5)
Poor Utah. The Utes were potentially four quarters away from the College Football Playoff. Instead, they slid out of the top 10 and into a game in San Antonio against a five-loss Texas team. In the final game of 2019, Utah has the advantage on the field, especially on offense, as quarterback Tyler Huntley should pick apart a Texas secondary that allowed 27 touchdown passes. For the Longhorns, the game will fall on Sam Ehlinger's shoulders. Utah possesses the best run defense in the country.
Player to watch: Utah DE Bradlee Anae (12.5 sacks)
11. Holiday Bowl (Dec. 27, 8 p.m.): No. 16 Iowa (9-3) vs. No. 22 USC (8-4)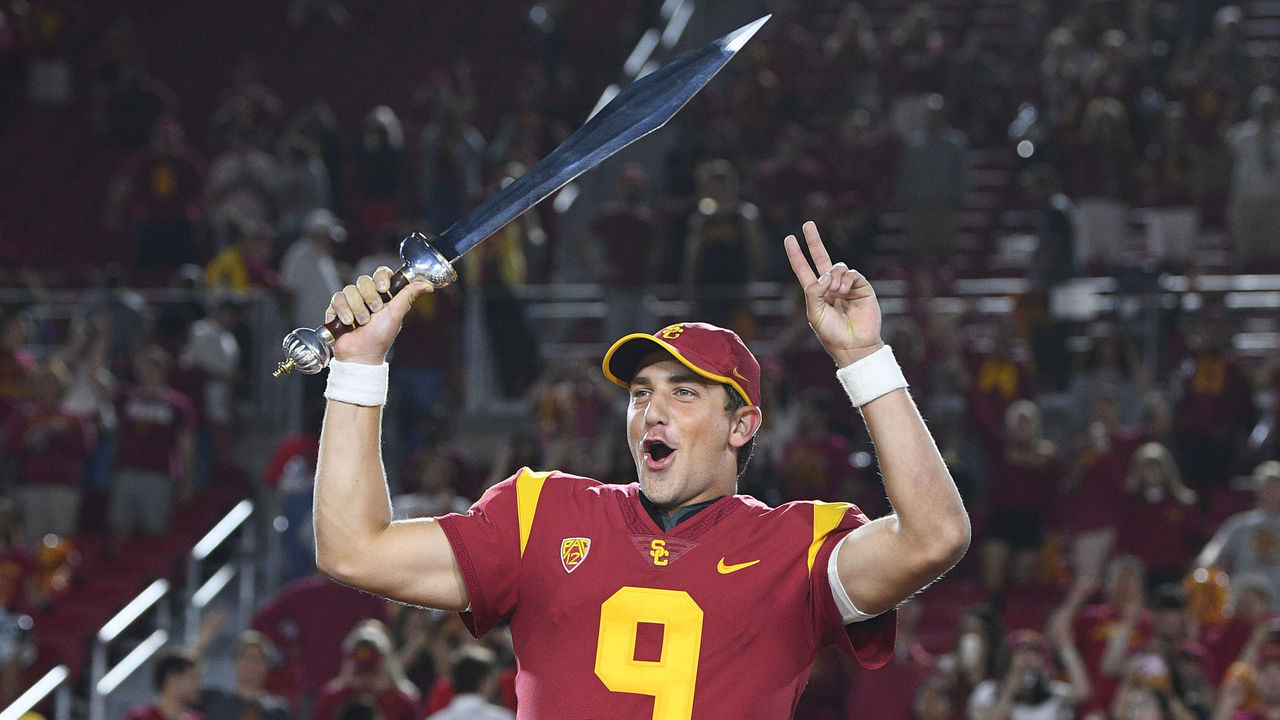 This is one of my favorite matchups of bowl season: USC quarterback Kedon Slovis versus the Iowa defense. The Trojans freshman is a budding star, ending the regular season with 1,353 yards and 12 touchdowns in his final three games. The Hawkeyes' defense allowed 12 touchdown passes all season. Regardless of what happens when Iowa has the football, this one is appointment television.
Player to watch: USC WR Michael Pittman (95 receptions, 1,222 yards, 11 TD)
10. Camping World Bowl (Dec. 28, noon): Iowa State (7-5) vs. No. 15 Notre Dame (10-2)
Iowa State might be the best 7-5 team in the country, losing three of its games by two points or less. Its fan base also travels extremely well, so the bowl organizers in Orlando have to be happy about a matchup between a national brand like Notre Dame and the Cyclones. There's potential for plenty of points, with quarterback Ian Book and receiver Chase Claypool on one side, and Brock Purdy and a deep group of pass-catchers on the other.
Player to watch: Purdy (3,760 yards, 27 TD)
9. Las Vegas Bowl (Dec. 21, 7:30 p.m.): No. 19 Boise State (12-1) vs. Washington (7-5)
This would still be a top-20 game without the storylines, but let's be real ... this one is all about the storylines. Chris Petersen, who will step down as Washington's head coach, works his final game against the school with which he created so many memories. Thirteen years after his Boise State team upset Oklahoma in the Fiesta Bowl, there's only one question: Does Petersen pull out the hook-and-lateral and Statue of Liberty plays on the Broncos, or does Boise State do it to him?
Player to watch: Boise State DE Curtis Weaver (18.5 TFL, 13.5 sacks)
8. Cheez-It Bowl (Dec. 27, 10:15 p.m.): Air Force (10-2) vs. Washington State (6-6)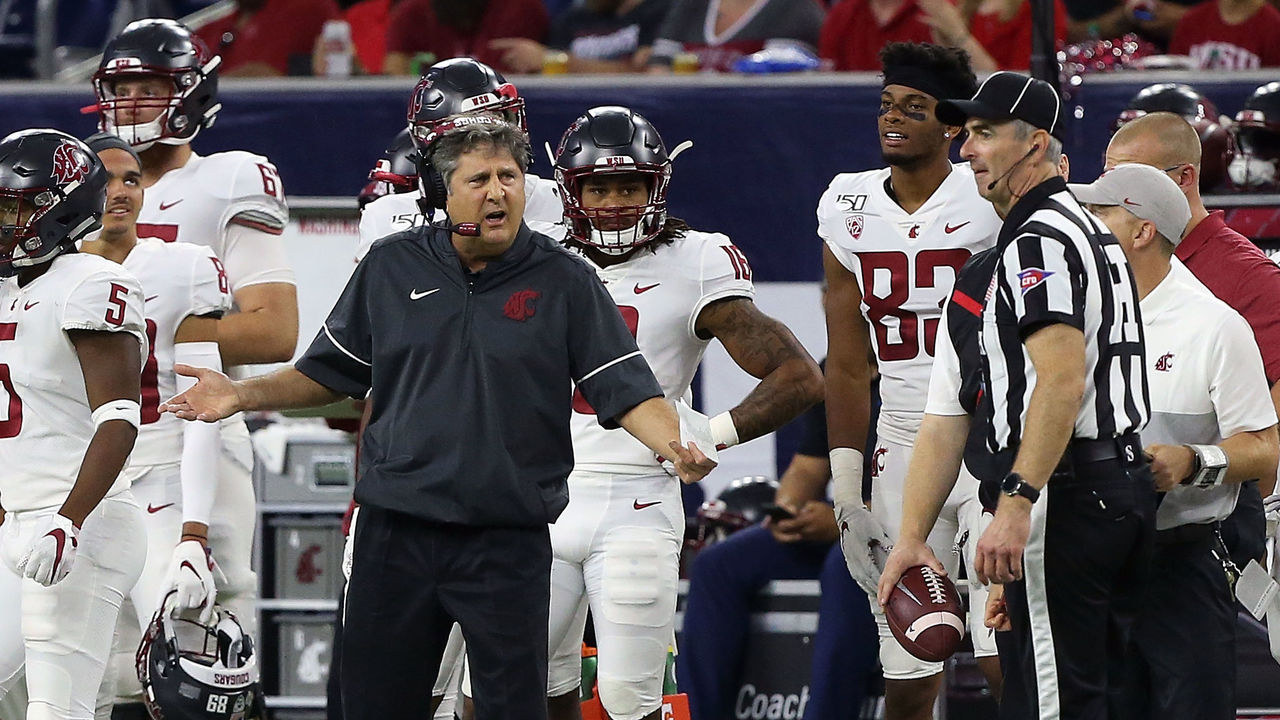 Here's the full list of names this bowl has taken on since its establishment in 1989: Copper Bowl, Insight.com Bowl, Insight Bowl, Buffalo Wild Wings Bowl, Cactus Bowl, and, finally, Cheez-It Bowl. This newest iteration is the perfect name for a bowl game that takes place in a baseball stadium (Chase Field) and kicks off later in the evening than any other.
This year's contest - Air Force versus Air Raid - gives off all kinds of Pac-12 After Dark vibes. Washington State quarterback Anthony Gordon (47 touchdowns) should have success against a pedestrian Falcons pass defense. But Air Force should face little resistance running on Wazzu's defense. This could be a case of the victorious team simply being the one that has the ball last.
Player to watch: Air Force QB Donald Hammond (1,286 yards, 13 TD passing; 491 yards, 11 TD rushing)
7. Sugar Bowl (Jan. 1, 8:45 p.m.): No. 7 Baylor (11-2) vs. No. 5 Georgia (11-2)
This one should be close, because Matt Rhule's Baylor team plays everyone close (even when it's down to a third-string quarterback). And if you like defense, you'll love this matchup. Both Baylor and Georgia rank in the top 10 in yards per pass attempt allowed. The Bulldogs also possess one of the best run defenses in the country. It may be a first-to-20 sort of game, but it also may come down to the final minute. Georgia should be motivated after losing to Texas in last year's Sugar Bowl.
Player to watch: Georgia RB D'Andre Swift (1,216 yards, 7 TD)
6. Outback Bowl (Jan. 1, 1 p.m.): No. 12 Auburn (9-3) vs. No. 18 Minnesota (10-2)
Few teams will be as amped for their bowl game as Minnesota should be, as the Golden Gophers could rank in the top 15 of the final AP Top 25 for the first time since 1962 with a win (it would also be Minnesota's first 11-win season since 1904). Plus, it's a proving ground for quarterback Tanner Morgan and receivers Rashod Bateman and Tyler Johnson. Auburn's pass defense has held opponents to 5.9 yards per attempt. After ending the regular season with an Iron Bowl victory, the Tigers would love nothing more than a 10th win to carry some momentum into the offseason as quarterback Bo Nix ends his freshman year.
Player to watch: Bateman (57 receptions, 1,170 yards, 11 TD)
5. Citrus Bowl (Jan. 1, 1 p.m.): No. 13 Alabama (10-2) vs. No. 14 Michigan (9-3)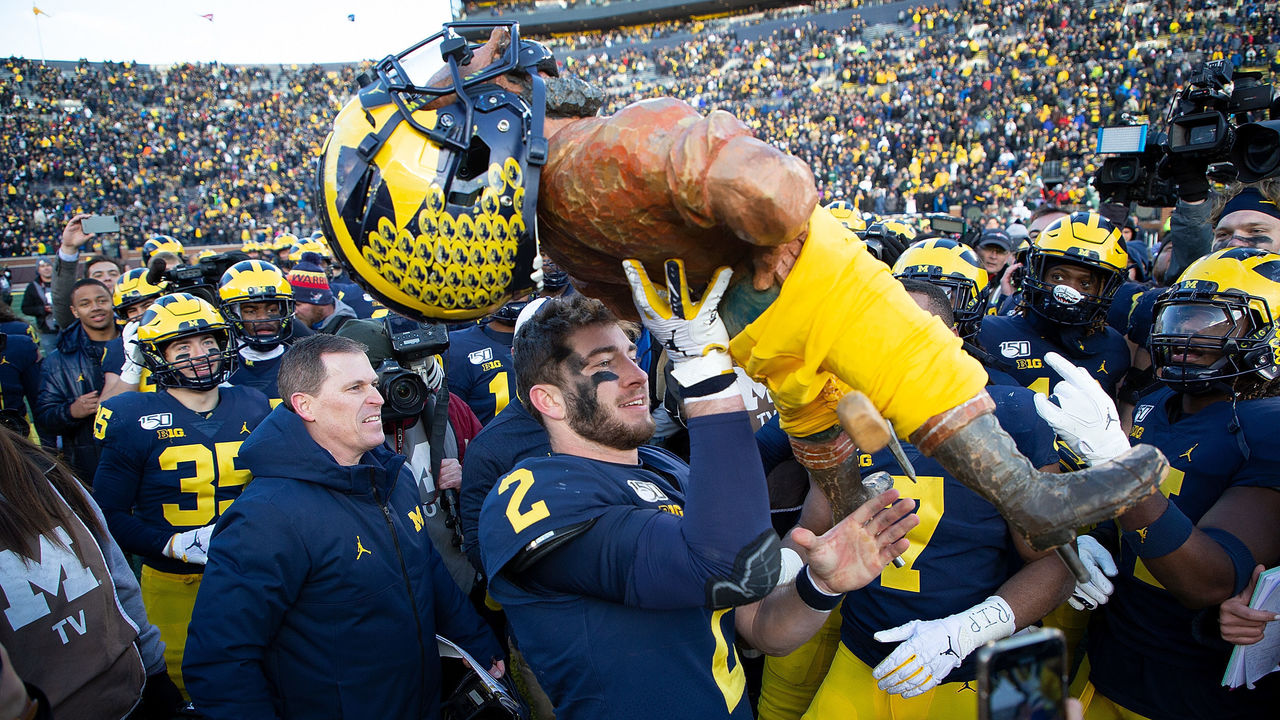 This one could be low on motivation. After all, it's the first time since 2013 that Alabama is playing a game that has no effect on the national championship. But it's hard to look away when two giants like this get together - and with two larger-than-life figures on the sidelines in Nick Saban and Jim Harbaugh. Michigan and Alabama have met only four times: the 1988 Hall of Fame Bowl (Michigan 28-24), the 1997 Outback Bowl (Alabama 17-14), the 2000 Orange Bowl (Michigan 35-34), and a neutral-site season-opener in 2012 (Alabama 41-14).
Player to watch: Michigan QB Shea Patterson (2,828 yards, 22 TD)
4. Rose Bowl (Jan. 1, 5 p.m.): No. 6 Oregon (11-2) vs. No. 8 Wisconsin (10-3)
"The Granddaddy of Them All" hosts an absolutely elite matchup, assuming all of the best players decide to play in the bowl game. Oregon, which last played in the Rose Bowl in 2014 when it throttled Florida State, brings quarterback Justin Herbert against a Badgers defense that held opposing quarterbacks to a 50.8% completion rate. Wisconsin running back Jonathan Taylor plays what could be his final collegiate game against a Ducks defense that allowed four rushing touchdowns in 13 games. Wisconsin played in the Rose Bowl for three consecutive years from 2011 to 2013 and lost all three, including a 45-38 defeat to Oregon in 2012. The Badgers are looking for their first Rose Bowl victory since 2000.
Player to watch: Taylor (1,909 yards, 21 TD)
3. Cotton Bowl (Dec. 28, noon): No. 17 Memphis (12-1) vs. No. 10 Penn State (10-2)
Hours before the CFP semifinals begin, the best Group of 5 team gets its shot at a top-10 program. Memphis will have to deal with the loss of Mike Norvell, who left to become Florida State's head coach. The Tigers will also have to deal with Penn State's stout defense, which allowed 20 total touchdowns in 12 games - Memphis allowed 36. Since the inception of the playoff and New Year's Six bowl concept, Group of 5 teams have a record of 3-2. Boise State (2014 Fiesta Bowl), Houston (2015 Peach Bowl), and UCF (2018 Peach Bowl) all emerged victorious.
Player to watch: Memphis RB Kenneth Gainwell (1,425 yards, 12 TD)
2. Peach Bowl (Dec. 28, 4 p.m.): No. 1 LSU (13-0) vs. No. 4 Oklahoma (12-1)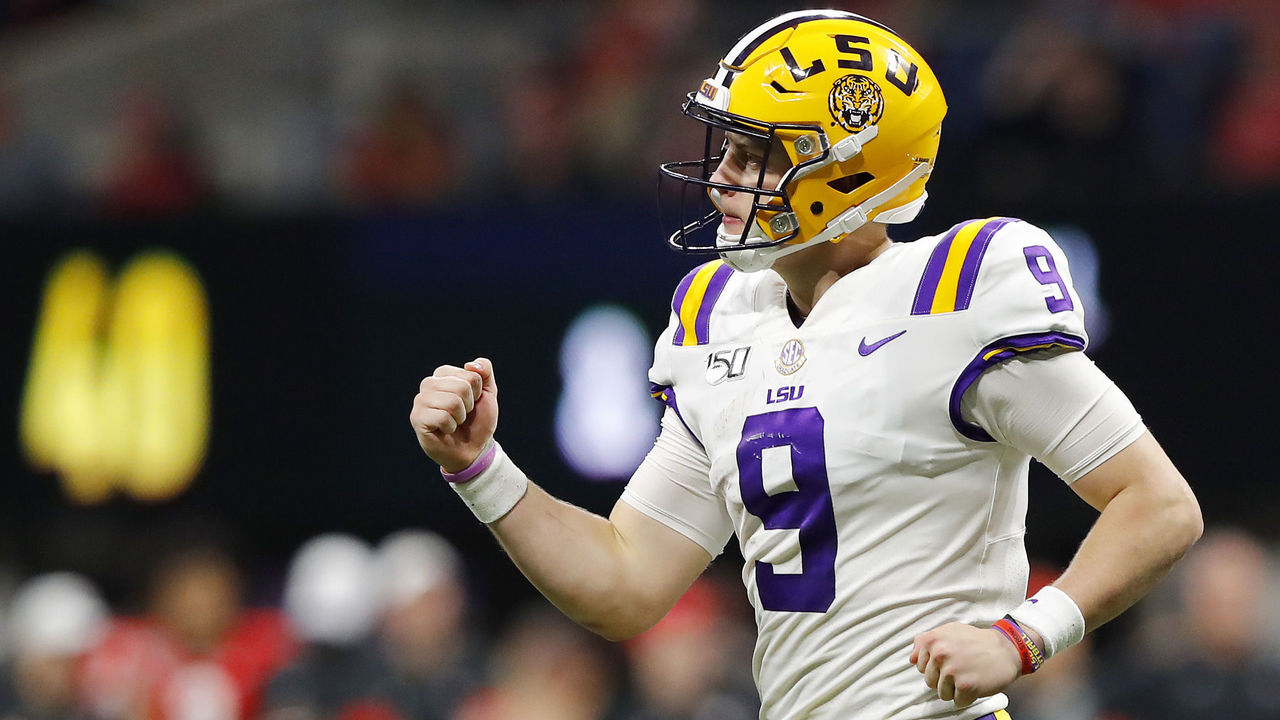 The Sooners are the outlier in this year's playoff as the only team to lose a game during the regular season. Now, they're about to hear three weeks' worth of disrespect, and it will be interesting to see how experienced players like quarterback Jalen Hurts and linebacker Kenneth Murray channel that as they prepare to go up against the behemoth that is LSU.
One would assume OU is going to have to score in bunches to upset the Tigers, which looks like a tougher task now than it did a few weeks ago. LSU's defense allowed just 17 points over its final two games against Texas A&M and Georgia, and has a secondary - led by Grant Delpit and Derek Stingley - that could give Hurts trouble if he's put into obvious passing situations. In two career games against LSU, Hurts has completed 21 of 43 passes for 290 yards with one touchdown and one interception.
Player to watch: LSU QB Joe Burrow (4,715 yards, 48 TD)
1. Fiesta Bowl (Dec. 28, 8 p.m.): No. 2 Ohio State (13-0) vs. No. 3 Clemson (13-0)
This is only the second undefeated-versus-undefeated matchup in CFP history. The first occurred last year when Clemson routed Notre Dame 30-3.
Three years ago, Clemson shut out Ohio State 31-0 in a Fiesta Bowl/CFP semifinal. But this one looks different. Against a more difficult schedule, the Buckeyes looked like the most complete team during the regular season - a statement validated by the fact they had both a quarterback (Justin Fields) and defensive end (Chase Young) chosen as two of the four Heisman Trophy finalists.
But to write off Clemson as the clear third-best team in the country would be ignoring recent history. Regardless of the fact Clemson has played only one ranked opponent this season, the Tigers look like the hottest team in the nation. They head to Arizona as winners of eight consecutive games by 30-plus points. And that Trevor Lawrence guy is pretty good, too.
Player to watch: Fields, Lawrence, J.K. Dobbins, Travis Etienne, Young, Isaiah Simmons ... there are too many to name. There's a reason this is the best game on the schedule.