These articles aren't intended to be rankings or tiers for drafting. The goal is to review what we learned during the 2019 fantasy campaign and offer a glimpse of what's to come next season.
You can view our complete quarterback rankings here.
2019 Fantasy reviews
The history-maker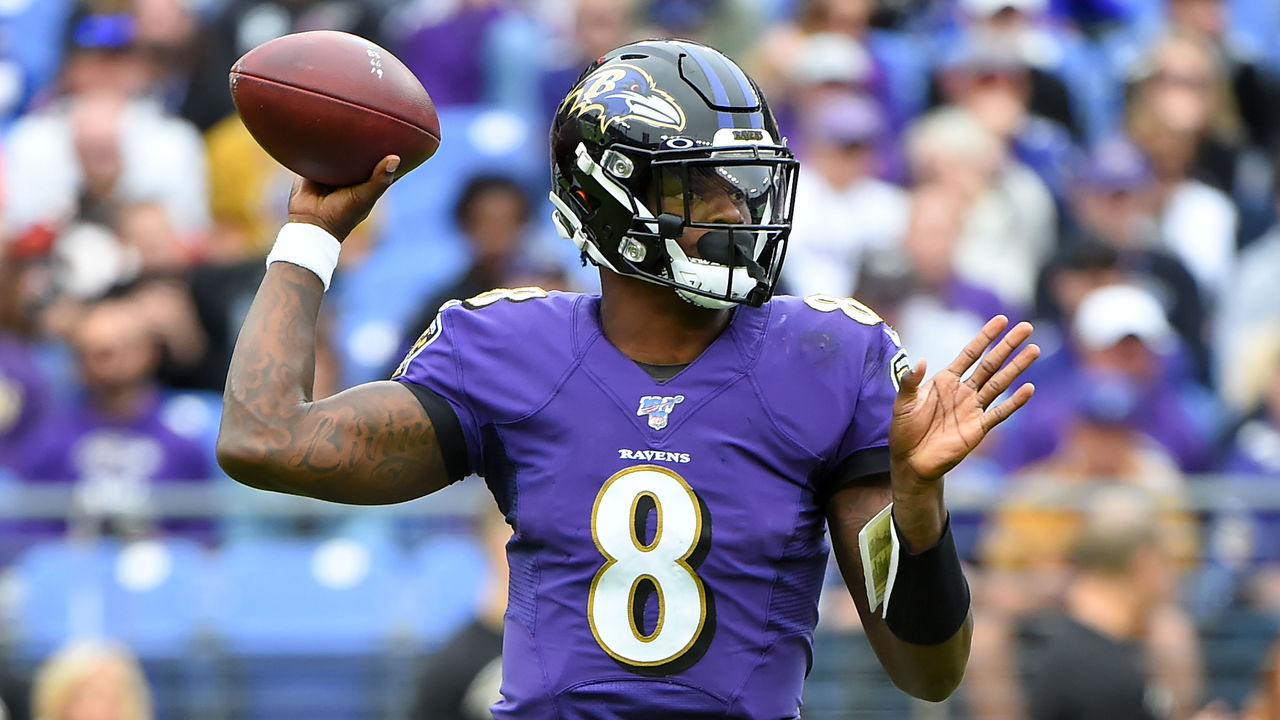 Lamar Jackson, Ravens - A year after Patrick Mahomes set a variety of records and raised the bar for fantasy quarterback production, Jackson took things one step further by averaging over two more fantasy points per game than his Chiefs counterpart did in 2018. It was the definition of a league-winning performance as Jackson threw for 36 touchdowns and just six interceptions while rushing for 1,206 yards and seven scores. Though it's frightening to consider, with their young crop of pass-catchers still acclimating to the pros, the Ravens have yet to tap into their full potential in the passing game. Injury concerns are a risk you take with any dual-threat quarterback, but Jackson is locked in as the top fantasy QB moving forward and will warrant consideration as early as the second round in drafts next season.
Worthy of the crown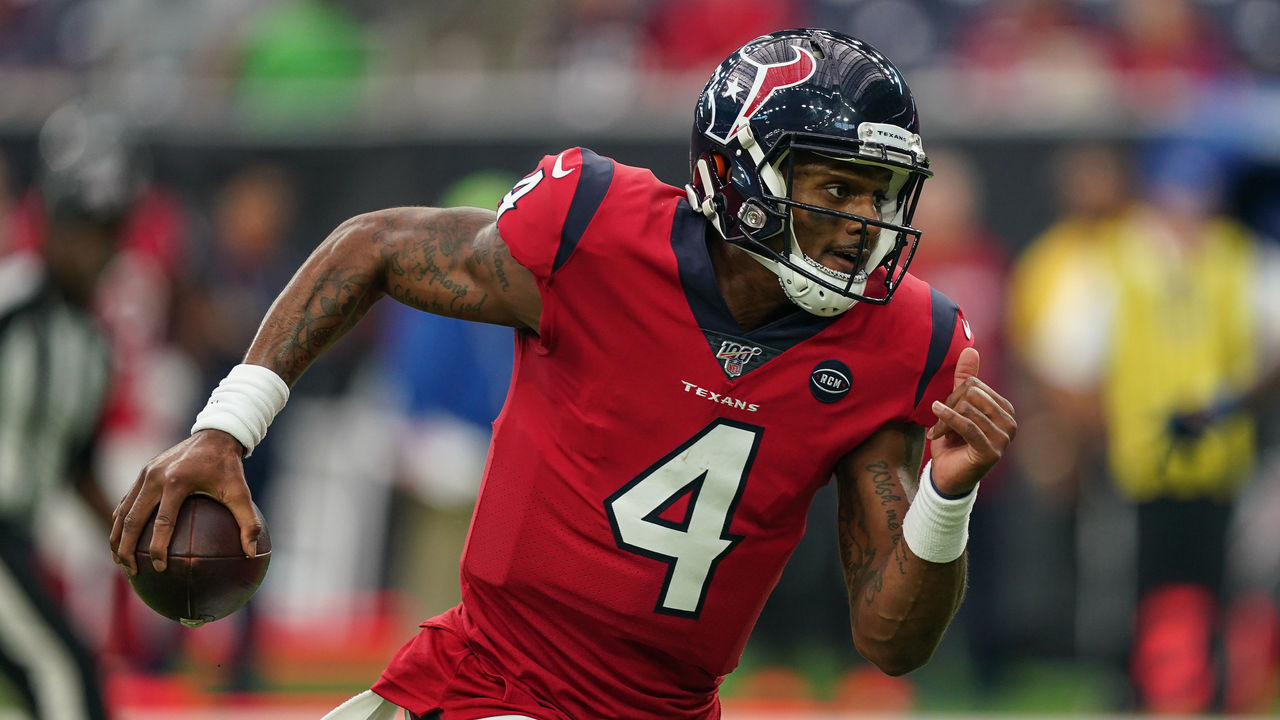 Deshaun Watson, Texans - Even though Houston made strides to improve its offensive line, the team still allowed the eighth-most sacks in 2019, bringing Watson's league-worst total to 106 over the last two seasons. Yet, he continued to produce at a high level, finishing second in fantasy points per game behind Jackson. With Will Fuller's health being a constant question mark, the Texans need to upgrade their offensive talent outside of DeAndre Hopkins. This could prove challenging for Houston after it traded away several early picks, including its next two first-round selections in the Laremy Tunsil deal. Despite the increased degree of difficulty, Watson remains a top-three fantasy quarterback who could challenge for the throne if a better supporting cast is brought in.
Patrick Mahomes, Chiefs - We knew touchdown regression was coming for Mahomes following his 50-TD effort in 2018, but he didn't get a fair shake as injuries hit the Chiefs' offense in Week 1. Tyreek Hill was lost for part of the season and Mahomes himself battled multiple ailments during the year. Through it all, the 24-year-old still ended the year as the QB6 on a per-game basis and will be poised to get back into the top three with some better injury luck in 2020.
Let them throw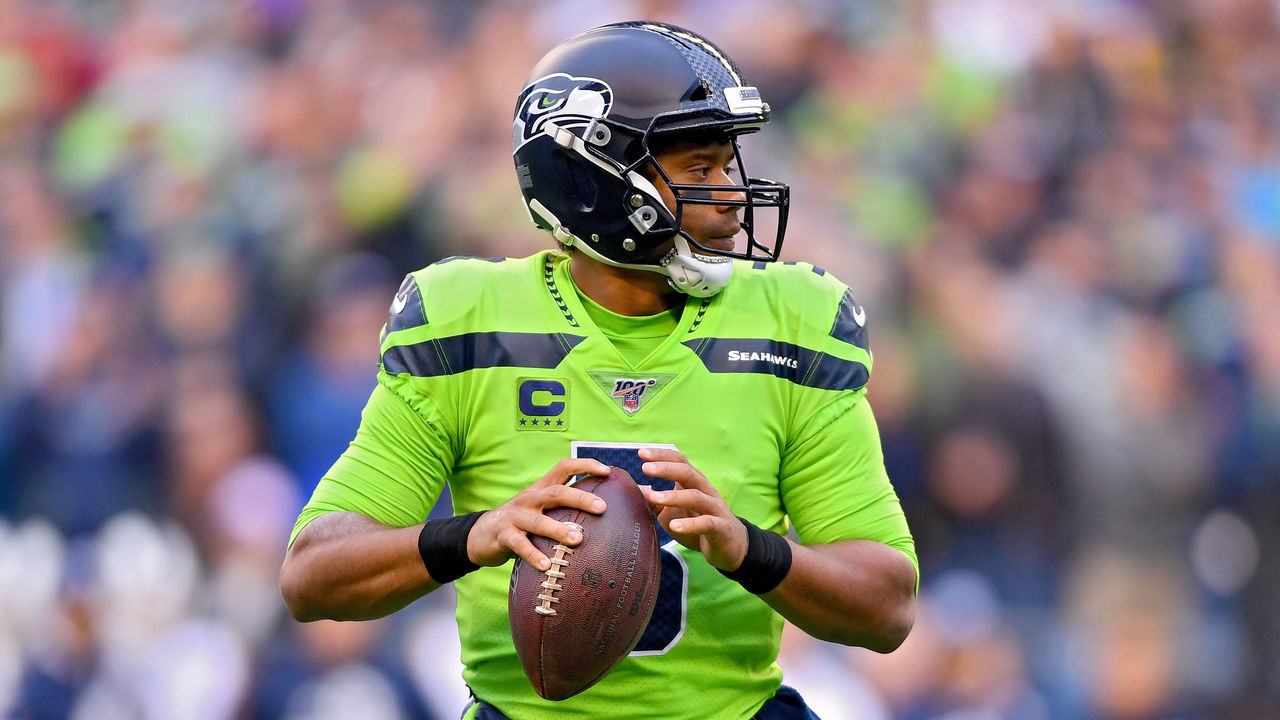 Russell Wilson, Seahawks - It was a tale of two seasons for Wilson, who averaged the second-most fantasy points among quarterbacks through the first nine weeks but the 27th most from Week 10 on. Wilson's talent is not in question; it's simply a scheme issue as the Seahawks prefer to grind games out with their rushing attack whenever possible. DK Metcalf's emergence as a legitimate weapon to pair with Tyler Lockett is great news for Wilson's long-term outlook, as fantasy owners daydream about what this offense could be if it were powered by the pivot's arm.
Kirk Cousins, Vikings - You won't see Cousins grouped with Wilson in many places, but remember, this isn't a ranking or tier. The thread connecting the two signal-callers here is run-heavy offenses. Despite their plethora of skill-position talent, the Vikings seem to have zero interest in removing the governor on Cousins, likely due to his ball security woes. The result is an uninspiring QB2 in fantasy and someone best left on the waiver wire in single-quarterback leagues.
Still underrated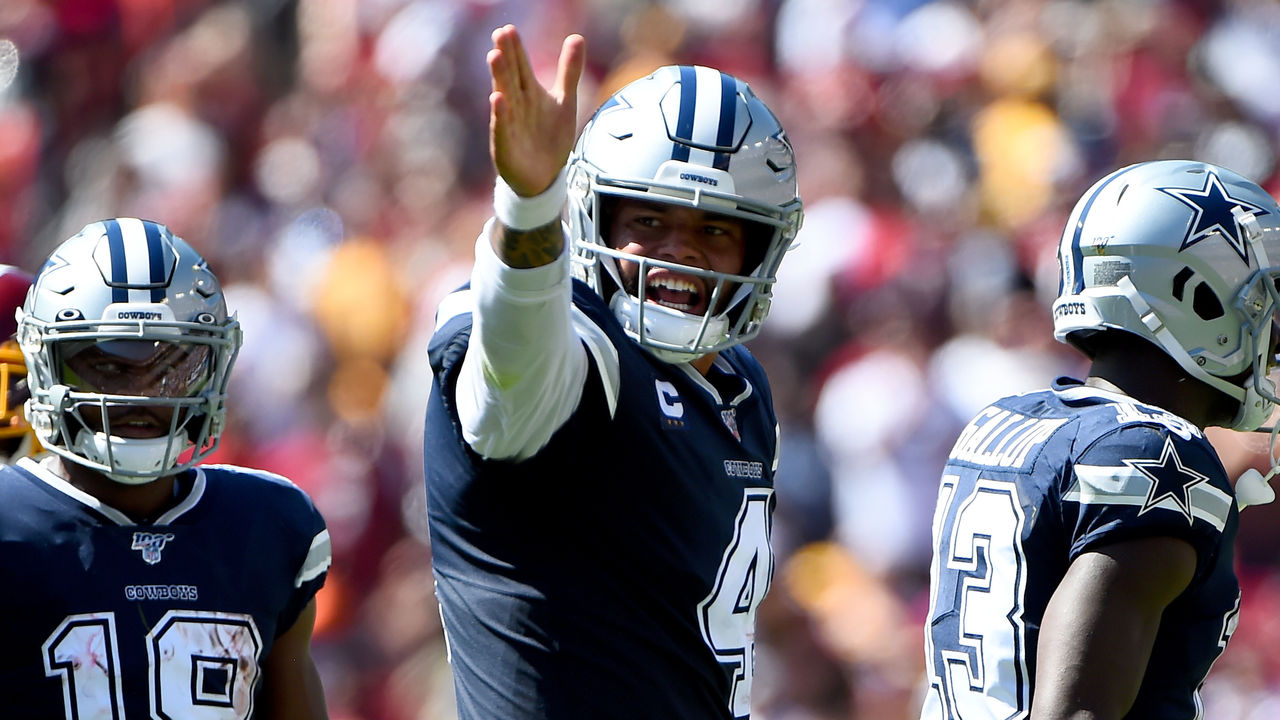 Dak Prescott, Cowboys - Since entering the NFL, Prescott has finished as the QB6, QB11, QB10, and a career-best QB2 in 2019. Amid their coaching reshuffle, it appears the Cowboys are leaning toward retaining offensive coordinator Kellen Moore, which would be beneficial for the formerly underrated Prescott. With his loaded arsenal, another top-five season is within reach.
Kyler Murray, Cardinals - Get ready for an offseason of people falling over themselves in an effort to draft Murray. That's what happens when a supremely talented signal-caller finishes as the QB7 in his rookie campaign and boasts the tools for a Lamar Jackson-esque leap in Year 2. Overcoming a below-average offensive line and a fairly weak group of pass-catchers, the former Heisman Trophy winner tossed for 3,722 yards and 20 touchdowns while rushing for 544 yards and four scores. Though he played in all 16 contests, Murray dealt with a hamstring injury in the second half of the year, which may have impacted his numbers. Don't be surprised if he forces his way into the top five.
Josh Allen, Bills - Allen established himself as a true QB1 in fantasy, picking up where he left off at the end of 2018. He displayed remarkable stability thanks to his rushing production, which included nine touchdowns. The 23-year-old will never be mistaken for a precision passer, but his head-scratching throws are becoming rarer and his development is well ahead of where most expected him to be at this point. If the Bills can add another quality outside receiver this offseason, Allen will be set up to repeat as a top-eight fantasy QB.
Carson Wentz, Eagles - Wentz managed to deliver a low-end QB1 fantasy campaign with over 4,000 yards and 27 touchdowns despite playing with a receiving corps decimated by injuries. More importantly, he was two years removed from his torn ACL this season. With his knee finally healthy, the North Dakota State product began running more; his 62 rushing attempts, 243 rushing yards, and one score might not seem like much compared to the likes of Jackson, Murray, or Allen, but it's the key to Wentz rising up the fantasy rankings. If his wideouts can stay on the field in 2020, Wentz will be a solid QB1 option.
Is this the end?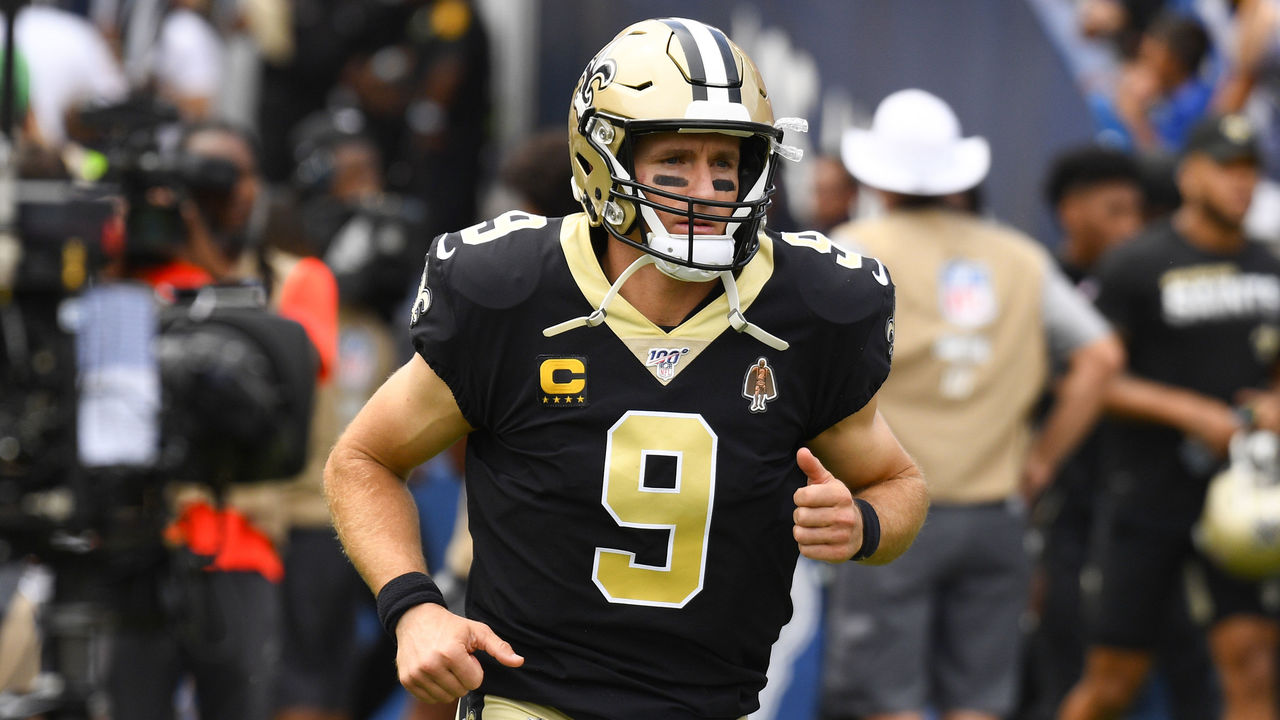 Drew Brees, Saints - Of all the aging passers considering retirement this offseason, Brees is the only one still playing at a high level. The 40-year-old unrestricted free agent completed 74.3% of his passes in 2019, nearly equalling the career high he set last season. Brees threw for three or more touchdowns in seven of his last nine regular-season games. Don't leave us yet, Drew.
Tom Brady, Patriots - The 42-year-old Brady has been vocal about having something left to prove. The pivot's numbers last season declined to the point where he'll be hard to trust as anything other than a short-term fantasy option in 2020. Whether he closes out his career as a member of the Patriots is undecided.
Philip Rivers, Chargers - Rivers might be the youngest name in this section at 38 years old, but he looked the closest to retirement. The signal-caller needs to realize he's no longer capable of making certain throws that used to be routine for him. Don't be fooled by his 4,615 passing yards, as plenty of that production came on short throws that his receivers turned into bigger plays. Rivers' 20 interceptions were often of the back-breaking variety, and the Chargers might not be interested in handcuffing themselves to a washed-up gunslinger moving forward.
On the mend
Cam Newton, Panthers - A valiant attempt to play through a painful foot injury turned out to be foolish as Newton was completely ineffective over Carolina's first two games and eventually succumbed to season-ending surgery. Fantasy owners are now waiting to discover the quarterback's fate under a new Panthers coaching staff led by innovative offensive mind Matt Rhule. It's hard to imagine Carolina moving on from Newton based on its options, especially since the former MVP was playing at a very high level for the bulk of 2018 before injuring his shoulder down the stretch. A fully healthy Newton could be a fantasy difference-maker given his weapons and Rhule's arrival. The pivot should also come at a significant discount due to his recent injury history.
Ben Roethlisberger, Steelers - Big Ben could have occupied a spot in the previous section since the 37-year-old has considered retirement in the past and is currently recovering from elbow surgery that cost him almost the entire 2019 campaign. Roethlisberger will undergo an evaluation in February, but his timetable for returning to the field is unknown. At the moment, it seems unlikely he'll take part in much of the Steelers' offseason program. Pittsburgh's offense, which is stocked with young talent, becomes far less dangerous without its veteran under center. Until we get a better idea of his recovery timeline, he's a risky proposition for fantasy.
Matthew Stafford, Lions - A back injury sent Stafford to the sidelines after Week 9, and though he seemed determined to make a late-season return, it made little sense with the Lions well out of the playoff mix. Worries about Stafford's fantasy outlook following Matt Patricia's decision to implement a more run-centric offense in 2018 turned out to be overblown. The 31-year-old tossed 19 touchdowns in his first eight games this season and was averaging the sixth-most fantasy points at his position before being lost for the year. It's enough to generate hope that he can push for top-12 numbers in 2020.
Steady starters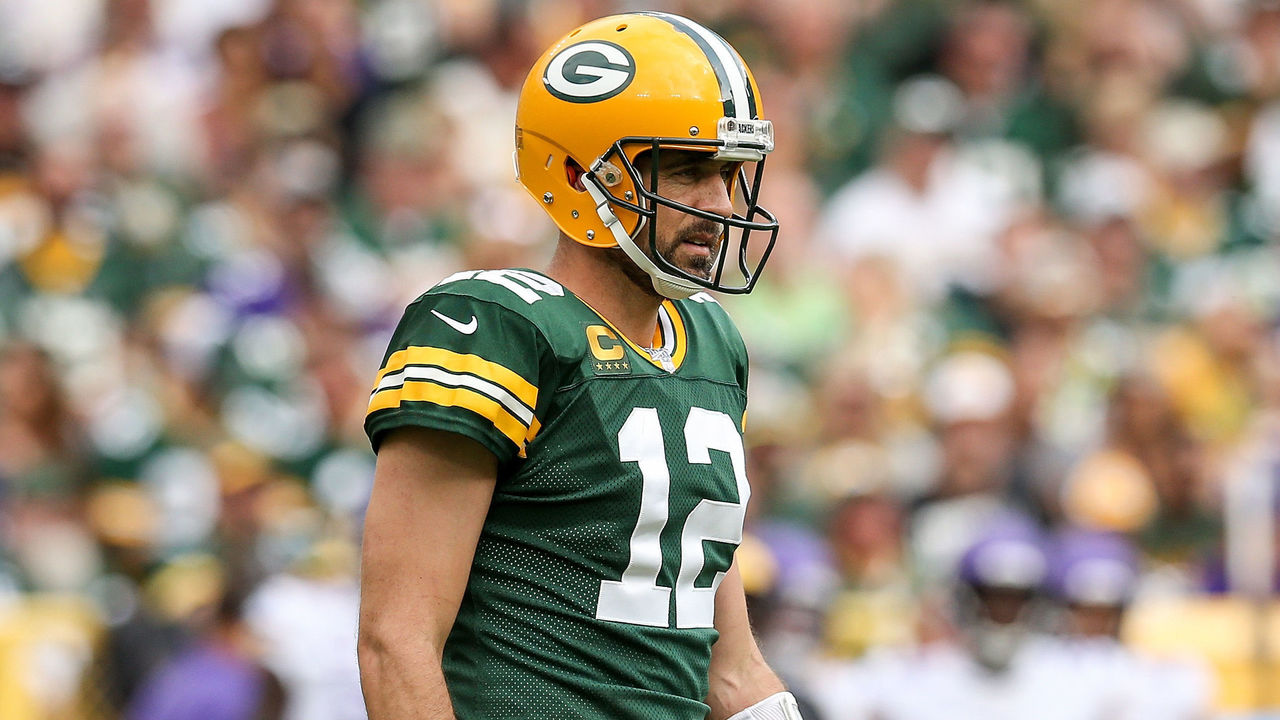 Aaron Rodgers, Packers - Rodgers will be 37 years old before the start of next season, and as he enters the later stages of his NFL career, his big fantasy days are fewer and further between. He threw for zero or one touchdown in nine of his 16 games in 2019, a crushing stat for his fantasy owners. If the Packers upgrade their pass-catchers outside of Davante Adams, then Rodgers may sneak back into my top-10, but for now, he's a low-end QB1 whose name recognition will likely cause him to be overvalued in next year's drafts.
Matt Ryan, Falcons - For the last eight seasons, Ryan has alternated between being inside and outside of the top-10 fantasy QBs. Don't believe me? Here are Ryan's finishes starting in 2012: QB5, QB12, QB6, QB17, QB2, QB15, QB2, and QB11. If we're operating under that pattern then a big season must be in store for the pivot in 2020. In reality, Ryan is a reliable fantasy starter who needs a big touchdown total to make up for the fact that he doesn't use his legs much. That leads to him being a boring play on most weeks. You should aim higher.
Roller-coaster rides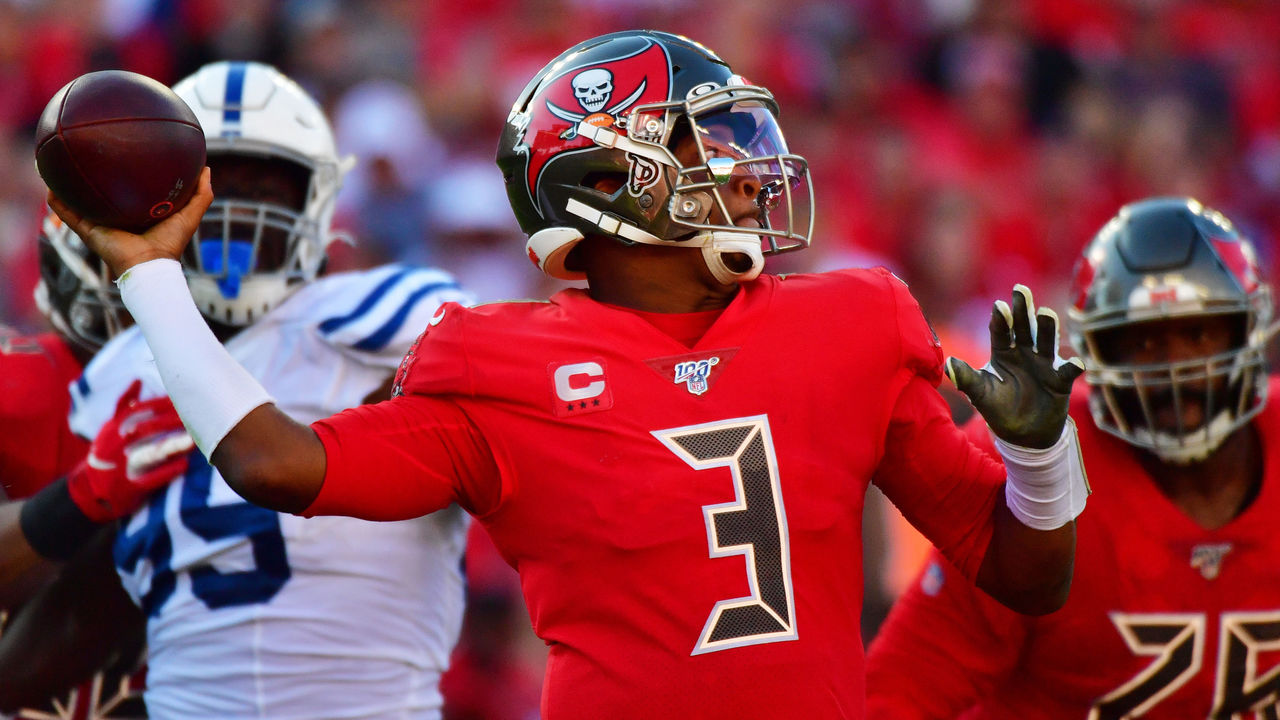 Jameis Winston, Buccaneers - There are few quarterbacks with a wider range of outcomes for 2020 than the W-eater. We could see Winston lead the league in passing yards and interceptions - a pair of feats he accomplished this year. It's also possible that he won't even be the Buccaneers' starter come Week 1. After five NFL seasons, it doesn't appear Winston's flaws will ever be fixed, so it's just a matter of whether the Bucs are willing to live with his wild ways or if they want to move on from the turnover parties. As long as he's in a starting role, Winston's upside makes him worthy of fantasy consideration.
Baker Mayfield, Browns - For all of his struggles during a subpar sophomore campaign, Mayfield's fantasy numbers actually improved over the second half of the season, making him a top-10 QB over his final eight games. It was still a disappointing year for the pivot. Mayfield's completion percentage dropped from 64% as a rookie to 59%, and he barely threw more touchdowns (22) than interceptions (21) despite Odell Beckham Jr. being added to the roster. A new coaching staff led by Kevin Stefanski should mark a step in the right direction, but the Browns need to improve their offensive line if Mayfield is going to reach his potential.
Ryan Tannehill, Titans - When I included Tannehill in my super-deep sleepers column, it never occurred to me that he could make such an enormous impact on the Titans. From Week 7 on, Tannehill posted the third-most fantasy points among quarterbacks and helped steer Tennessee's offense - powered by Derrick Henry - toward the AFC Championship Game. Even so, we'll need to see more from Tannehill before we anoint him as a strong fantasy starter.
Ryan Fitzpatrick, Dolphins - The 37-year-old probably won't return as the Dolphins' starter, and if he does, it'll be a short-term assignment until a rookie is ready to take over. As we witnessed again in 2019, Fitzpatrick isn't capable of sustaining high-end fantasy production over long stretches, but he can certainly dial it up as a bye-week replacement in the right matchups.
Works in progress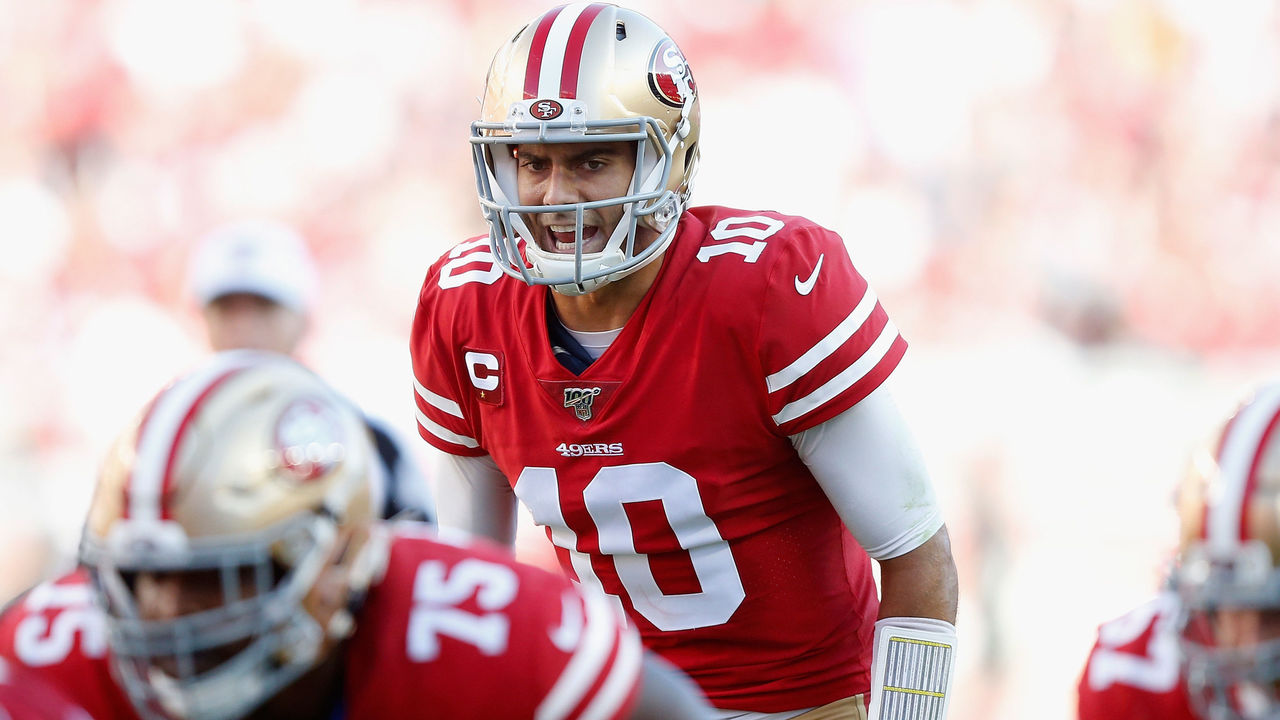 Jimmy Garoppolo, 49ers - Perhaps Garoppolo will show us more before the end of the postseason, but as it stands, he's not being asked to win games with his arm. Kyle Shanahan's rushing attack is the engine behind San Francisco's offensive success and it generally lowers Garoppolo's ceiling. When looking at the quarterback's season-long stats, remember that eight of his 27 touchdowns this season came against the Cardinals.
Jared Goff, Rams - Not to pick on the Cardinals, but a quick look at Goff's strong finish to 2019 reveals that two of his final five contests came against Arizona's defense. In a complete reversal from 2018, Goff started the year uneven, only to catch fire down the stretch when the passing attack focused on Robert Woods and an emerging Tyler Higbee at tight end. It led to Goff surpassing 4,600 passing yards for a second straight season, though it took 65 more attempts to get there. Sean McVay's starter can be part of a QBBC in fantasy, but be wary of trusting him as your main option.
Sam Darnold, Jets - The season started in bizarre fashion with Darnold contracting mono, and it ended with him playing through a thumb injury in his non-throwing hand. Add in head coach Adam Gase's head-scratching decision-making and you have the recipe for a disappointing season from a promising young quarterback. The 22-year-old needs the Jets to get serious about investing in his downfield threats since Robby Anderson is heading to free agency. Due to the lack of receiving talent, Darnold is stuck as a low-end QB2 in fantasy until further notice.
Mitch Trubisky, Bears - You know it was a bad year when the general manager has to confirm a quarterback's starting status for the following season. Trubisky showed regression across the board with his completion percentage and yards per attempt plummeting in 2019. He was also reluctant to run with the ball until the final month of the season, an aspect of his game that made him intriguing in fantasy. Until we see noticeable improvement, Trubisky is only an option in two-QB and superflex formats.
Hopeful sophomores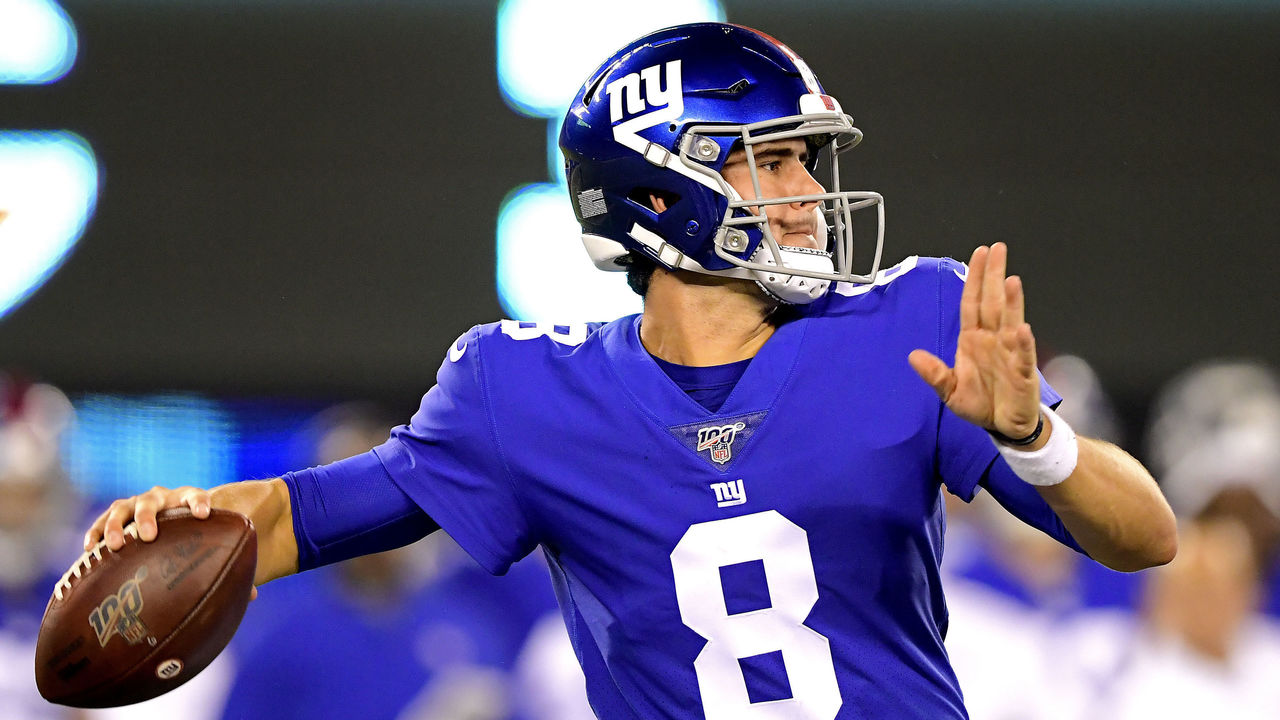 Daniel Jones, Giants - The sixth overall pick in last year's draft performed better than expected as a rookie. His three monster outings gave Giants fans hope for the future, even though they were sandwiched between a flurry of turnover-filled afternoons. Jones' fantasy upside is undeniable thanks to a supremely talented group of skill position players and an under-appreciated ability to gain yards on the ground, which resulted in 45 rushes, 279 yards, and two touchdowns.
Drew Lock, Broncos - Lock didn't get the opportunity to play until late in the season, so the sample size is far too small to make a definitive judgment. While his stats don't jump out of the box score, the Broncos posted a 4-1 record with Lock at the helm. A second-year leap is possible, so keep him on your radar.
Dwayne Haskins, Redskins - Haskins' tendency to overthrow his receivers often stifled the offense and handcuffed his top wideout and former college teammate Terry McLaurin in the second half of the year. If he can improve his accuracy, Haskins should benefit from the hiring of a new coaching staff that'll bring a more modern offense to Washington. We'll need to see more from him before he can crack fantasy lineups.
Gardner Minshew, Jaguars - The eccentric sixth-rounder is fun to follow, but he has a long way to go before he can prove himself as the Jaguars' answer at quarterback.
Limited ceiling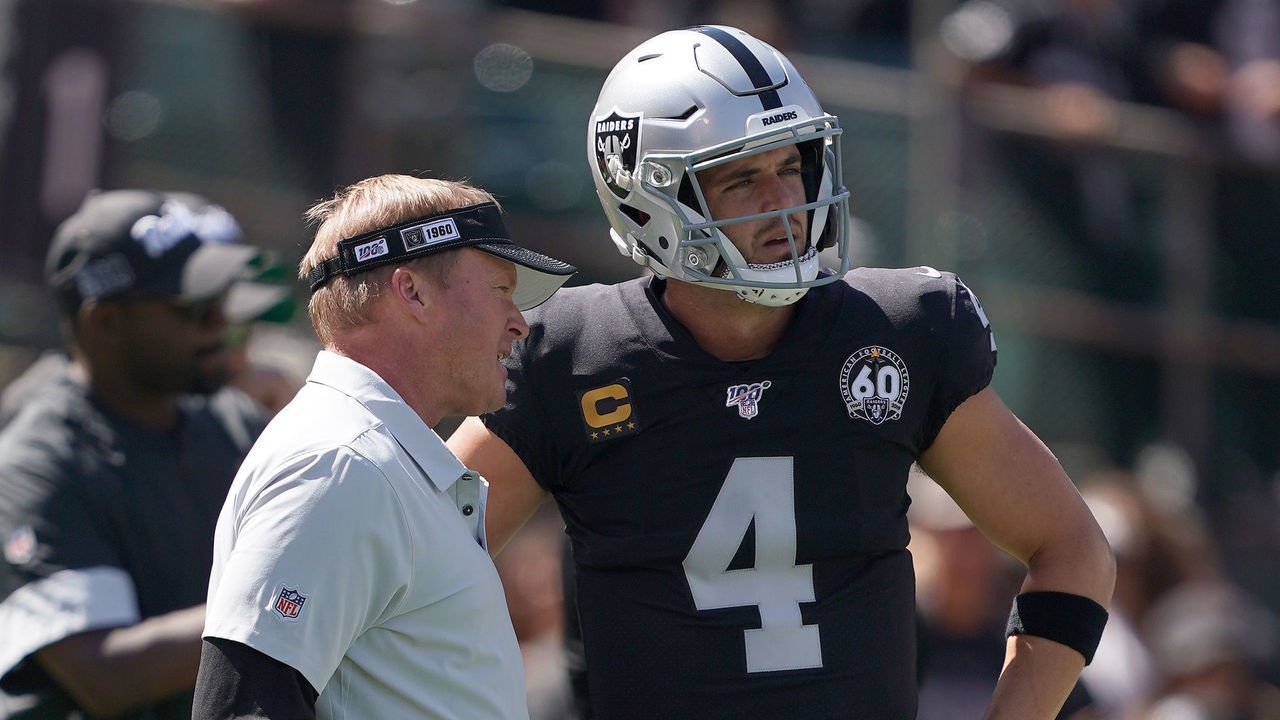 Derek Carr, Raiders - You can argue Carr hasn't had much to work with in terms of competent pass-catchers over the last couple seasons, but six years in Oakland have shown us that he's an average quarterback at best. The clock is ticking on his time as the Raiders' starter, and his fantasy value is limited to bye-week replacement status.
Jacoby Brissett, Colts - After a hot start to the year, which included 15 total touchdowns in his first six starts, Brissett came back to earth in a big way, struggling to move the offense through the air during the second half of the season. Colts GM Chris Ballard failed to give Brissett a vote of confidence in January, leaving the possibility open that Indy will make a move for a new starting quarterback before Week 1.
Andy Dalton, Bengals - Dalton's time as the Bengals' starter came to an end when he was benched in favor of unqualified rookie Ryan Finley. The veteran was eventually given the first-string job back down the stretch, but with Cincinnati holding the top pick in April's draft, a new era is about to begin. LSU product Joe Burrow appears poised to be the selection, so the only question that remains is whether Dalton will stick around to serve as a mentor or find a new club.
Waiting in the wings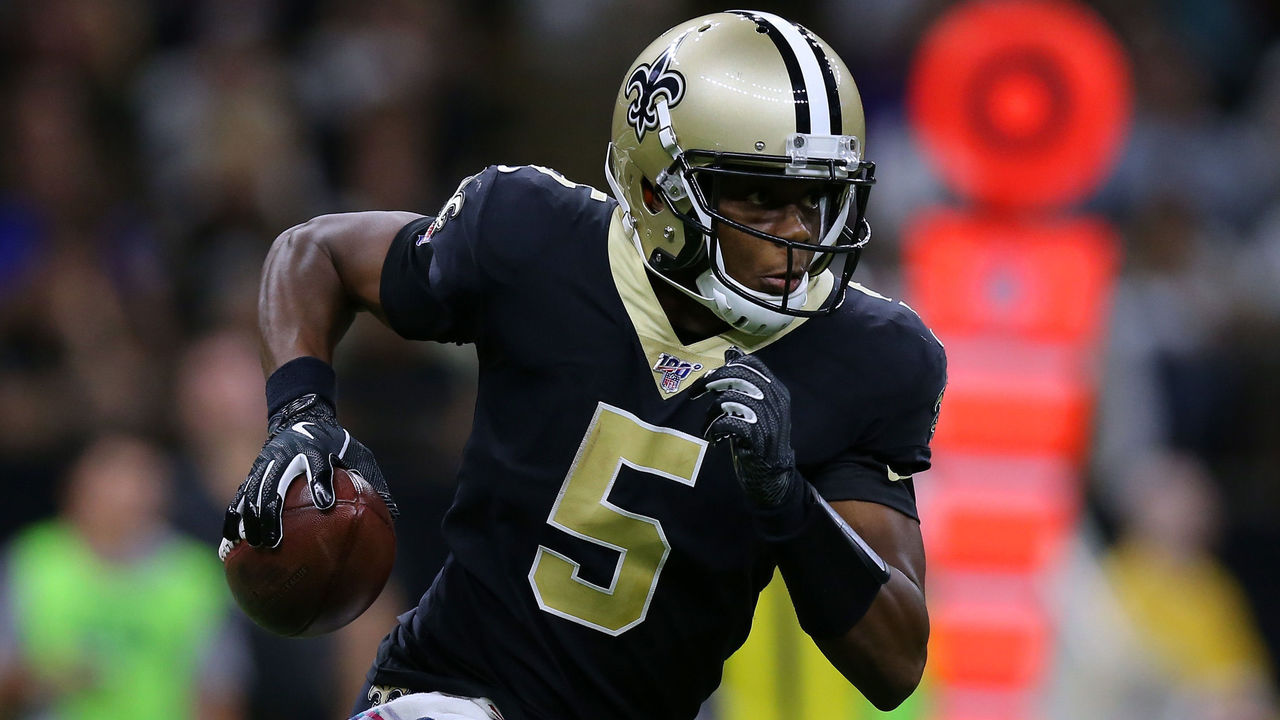 Teddy Bridgewater, Saints - Brees isn't the only Saints passer whose fate is up in the air. Bridgewater is once again an unrestricted free agent, and he'd be an enticing addition for several QB-needy teams. However, after spurning an offer from the Dolphins last offseason, it seems likely he'll return to New Orleans as Brees' eventual successor - which could happen as soon as 2020.
Jarrett Stidham, Patriots - Until we know Brady's plan for next season, Stidham needs to be on your radar, especially in dynasty leagues. Though the sample size is small heading into his sophomore campaign, Stidham has received praise from teammates for his practice performances. The Patriots' next starting quarterback might already be in-house.
2019 Fantasy reviews