Justin Fields faces an uncertain 2022 while Bears fix other problems
Robin Alam / Icon Sportswire / Getty Images
The Chicago Bears' plan to bring rookie Justin Fields along slowly last year didn't quite go as planned.
An early-season injury to Andy Dalton meant Fields had to take the wheel by Week 3, and that first start was an infamous doozy. From there, with head coach Matt Nagy's play-calling doing him no favors, Fields flashed occasional competence but mostly struggled. He endured injuries to his ribs, knee, hand, and ankle before finally being shelved in December after contracting COVID.
The final accounting is grim. Fields ranked 30th among quarterbacks in EPA per play, 31st in Total QBR and DYAR, and 32nd in QB DVOA. The Bears finished 6-11. Nagy and general manager Ryan Pace, who already screwed the pooch with Mitchell Trubisky, finally reached the end of their rope. Both were fired.
None of this meant Fields would be doomed going forward. It's true that a quarterback's performance influences whether a team succeeds or fails, but the resources and structure provided by a team likewise influence a quarterback's performance. New Bears GM Ryan Poles entered his first offseason with a mission to restock a barren roster. But he took a more holistic approach to free agency and the draft that did not prioritize the creation of a quality support structure around Fields. The Bears are clearly taking the long view, but they appear to be doing this at the expense of Fields, as Fields begins a crucial second season.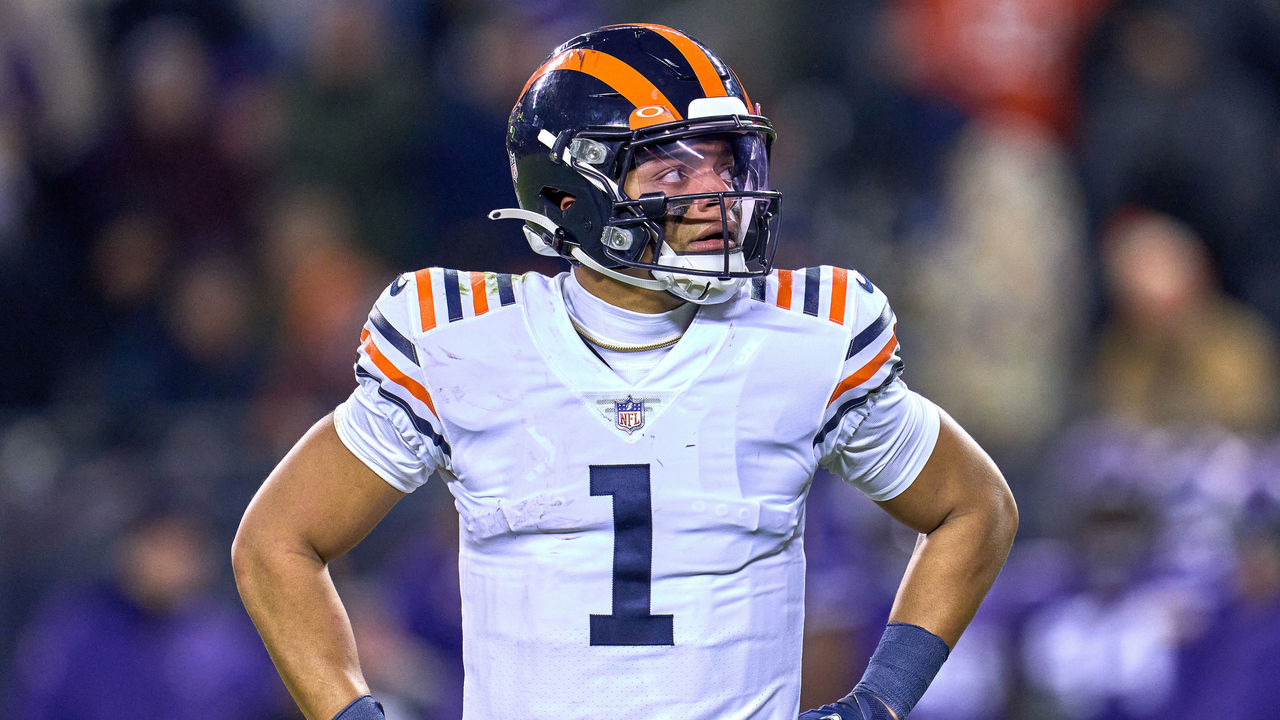 Darnell Mooney, far and away the team's top receiving target in 2021, is still in Chicago. Allen Robinson surely counted the days until free agency and never looked back. The Bears replaced him with Byron Pringle, Equanimeous St. Brown, David Moore, Dante Pettis, and Tajae Sharpe. Pringle caught 42 passes as the fifth wheel slot man on the Kansas City Chiefs' high-wire act last year; the other four acquisitions caught 44 throws combined. Cole Kmet is Chicago's top tight end, which is … fine.
Along the offensive line, the Bears hope to have left tackle Teven Jenkins - last year's second-round pick - back after he missed most of 2021 with a back injury. They let right guard James Daniels leave in free agency but added Dakota Dozier, who spent most of last season on the Minnesota Vikings' practice squad. Lucas Patrick was brought on to play center, a role he performed well after being thrust into a starting job for the Green Bay Packers.
The Bears have allocated $64 million of their salary cap toward the offense - the second-lowest total in the league, according to Over the Cap's database. No team has invested less in its receivers, and only two teams have fewer cap dollars going toward the O-line.
Yes, Poles and new head coach Matt Eberflus did not draft Fields, but it's hard to see what they have to gain by possibly giving up on him so soon. If Fields were to fail, Poles and Eberflus will have to find a replacement, which is only the most difficult task in sports.
Surely the draft was going to be the place where the Bears would pick up some additional offensive reinforcements, especially with so many quality receivers there for the taking. Chicago lacked a first-round pick, which was traded away last year to move up to select Fields, but the Bears used their two second-round choices on cornerback Kyler Gordon and safety Jaquan Brisker. They finally got around to drafting wideout Velus Jones Jr. with the 71st pick - after 13 other receivers came off the board.
"It comes down to the board and where guys are valued," Poles said after the draft. "And … where we sat, there were two good starting-level defensive players, and I would have made a huge mistake for this organization to say, 'Let's leave them there; let someone else take them,' and we're going to go to offense where they're not on the same level. And then you're kicking yourself a year or two later when that guy's an All-Pro."
Poles then made four trades on Day 3 of the draft to turn three picks into eight selections between rounds four and seven. The object was clearly to increase the team's hit rate. He used four of those Day 3 picks on offensive linemen.
This is all fine since it's obvious what the addition of a pair of potential immediate starters in Gordon and Brisker can do for the secondary. Plus, Poles' decision to trade edge rusher Khalil Mack in March provided the pick that resulted in Brisker. Mack's departure accounts for $24 million of the league-high $52.8 million in dead money the Bears must absorb on this year's salary cap, but by taking their medicine this year, Chicago's books will be wiped clean for 2023. Again, Poles had a lot of work to do.
Yet by 2023, Fields will be entering his third season. The belief appears to be that new offensive coordinator Luke Getsy can cook something up to get the most out of Fields, whose average depth of target of 13.3 yards on play-action passes in 2021 led the league, per PFF. But it may not be enough.
The rookie contract is supposed to offer teams the certainty to plan by providing substantial resources to lift the entire roster. The Jacksonville Jaguars, New York Jets, and New England Patriots all made substantial investments (at least compared to the Bears) to surround their second-year QBs with weapons and protection. It will therefore be easier for those teams to evaluate what they have in Trevor Lawrence, Zach Wilson, and Mac Jones.
How tough will it be for the Bears to assess Fields in 2022, given his surroundings? If he struggles again, it won't be on him to provide the answer.
Dom Cosentino is a senior features writer at theScore.
Comments
✕
Justin Fields faces an uncertain 2022 while Bears fix other problems
  Got something to say? Leave a comment below!