Are the Flames better after summer of blockbuster moves?
The Calgary Flames have defined the 2022 NHL offseason.
Fresh off a 111-point season, the club's competitive window appeared to slam shut when Johnny Gaudreau opted to hit the open market and Matthew Tkachuk asked for a trade. Instead of embarking on a full-scale rebuild, general manager Brad Treliving pushed his chips to the middle of the table and pulled off one of the most impressive retools of the salary-cap era.
Treliving recouped a bigger haul for Tkachuk than anyone expected, landing a four-piece package from the Florida Panthers headlined by stars Jonathan Huberdeau and MacKenzie Weegar. Both were scheduled for unrestricted free agency next summer, but Huberdeau then inked an eight-year extension, and Weegar said he's open to re-upping as well.
As if the biggest trade in recent NHL history wasn't enough, Treliving emphasized his desire for Calgary to remain a Cup contender by landing prized free agent Nazem Kadri on a seven-year deal Thursday.
It's been a chaotic few months for Flames fans since the team's disappointing showing in the postseason Battle of Alberta. But now that the dust has settled - we think - it's time to analyze: Is Calgary better than it was last season?
The departures
Gaudreau was Calgary's best player for much of his tenure and had his most dominant NHL campaign in 2021-22 with a team-leading 115 points. His playmaking on the top line and the first power-play unit was the catalyst for much of the Flames' offense last season. Losing a fan favorite in the prime of his career is a bitter pill to swallow.
While Gaudreau was the face of the franchise, Tkachuk was the heart and soul. The 24-year-old also broke the 100-point barrier last season, and Flames fans admired his physical edge and hard-nosed brand of hockey. Tkachuk is a unicorn - his blend of offensive skills and defensive responsibility is incredibly difficult to find, and any team would love to have him.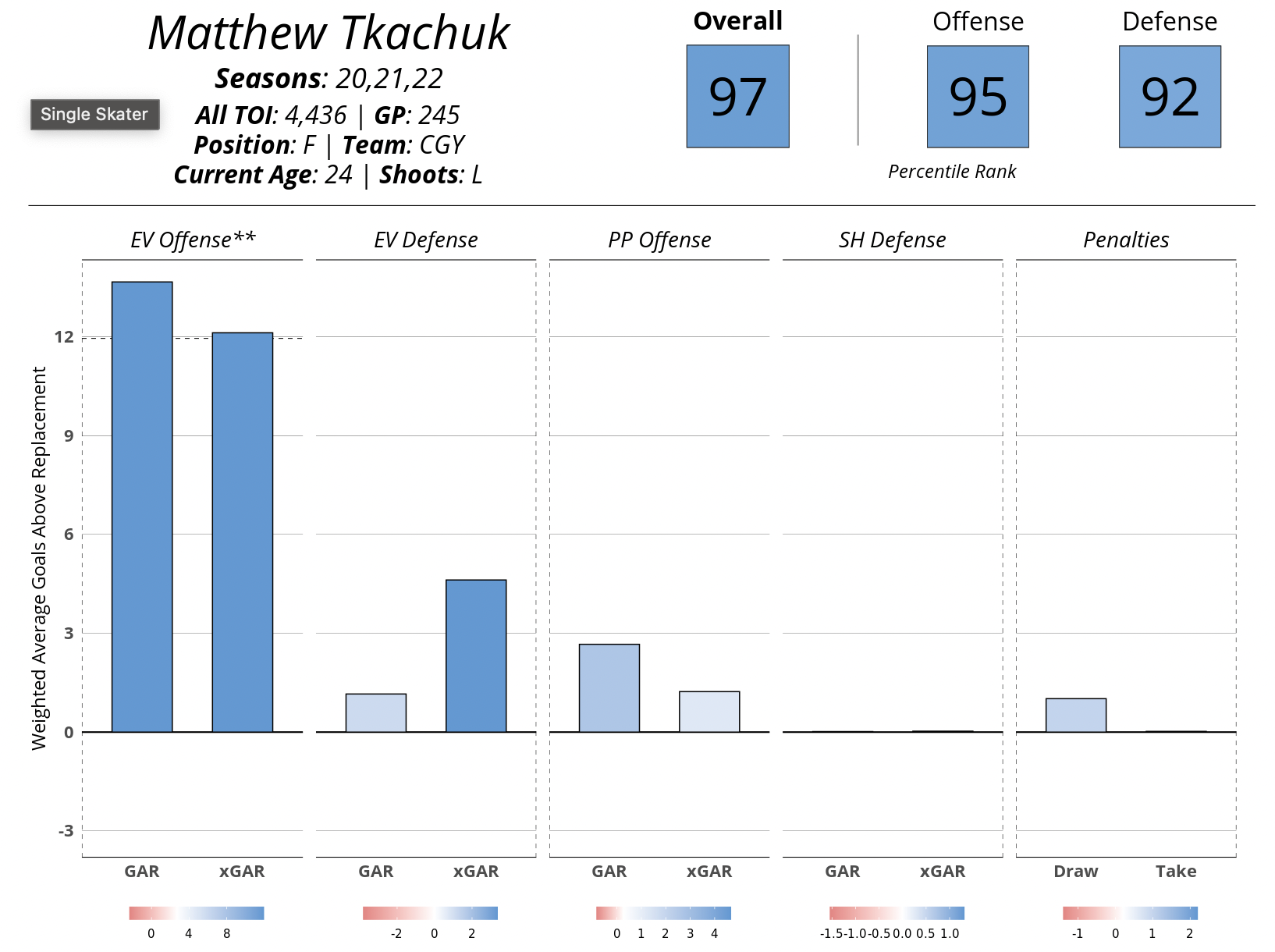 (Source: Evolving-Hockey)
Each individual represents an enormous loss, but perhaps more importantly, Gaudreau and Tkachuk flanked Elias Lindholm on the top line last season to form one of the most dominant trios in hockey. Together at five-on-five, they outscored opponents 73-31 and controlled 61.1% of expected goals across nearly 1,000 minutes. It's unlikely that kind of chemistry can be replicated.
The final departure from Calgary's core this summer is Sean Monahan. Hip injuries made him a shell of the three-time 30-goal scorer he once was, and clearing his salary to facilitate signing Kadri was a no-brainer. Monahan may rediscover his game, but another year hoping for a breakthrough while he counts for $6.375 million against the cap wasn't worth it for the Flames. While attaching a first-round pick to offload him stings, that's the cost of doing business in the flat-cap world.
The arrivals
If Treliving sought a direct replacement for Gaudreau, scooping Huberdeau was the right move. The two talented wingers are among the top playmakers in the game, and the former Panther's passing skills should mesh well with Lindholm, who potted 42 goals last season. Huberdeau has a size advantage on Gaudreau, but Johnny Hockey has more speed and better defensive impacts. That said, if any coach can add some defensive awareness to a star offensive player's repertoire, it's probably Darryl Sutter.
As mentioned, Tkachuk's skill set isn't exactly replaceable - so Treliving seemingly drew inspiration from "Moneyball" to recreate him in the aggregate. Does Huberdeau's skill combined with Kadri's grit equal what Tkachuk brought to the table? Maybe not, but it does give Calgary a deeper attack.
Kadri as the Flames' second-line center is a significant upgrade. Mikael Backlund occupied the role down the stretch and into the playoffs last season, and while he's a solid contributor, he's better suited to serving a primarily defensive role on the third line. Kadri is coming off an 87-point showing with Colorado in 2021-22 and added 15 points in 16 playoff games en route to the Stanley Cup.
Although Kadri's offensive outburst this past season is likely an outlier, his career 82-game average is a respectable 25 goals and 57 points. A seven-year deal may age poorly, but he likely has a few more strong seasons left in the tank. The 31-year-old is smart defensively, will help out immensely in the faceoff circle, and has proven to be an effective power-play contributor at the netfront or bumper position.
While the offensive arrivals attracted much of the spotlight, Weegar is an unbelievable addition to an already loaded blue line that only lost Erik Gudbranson. The 28-year-old is one of the best transition rearguards in the NHL and drives play in both the offensive and defensive zone. He averaged nearly 24 minutes per game last season, put up 40 points, and can run a power play. Adding his toolkit to a top four that already featured Noah Hanifin, Rasmus Andersson, and Chris Tanev gives the Flames an elite, versatile backline in front of star netminder Jacob Markstrom.
Verdict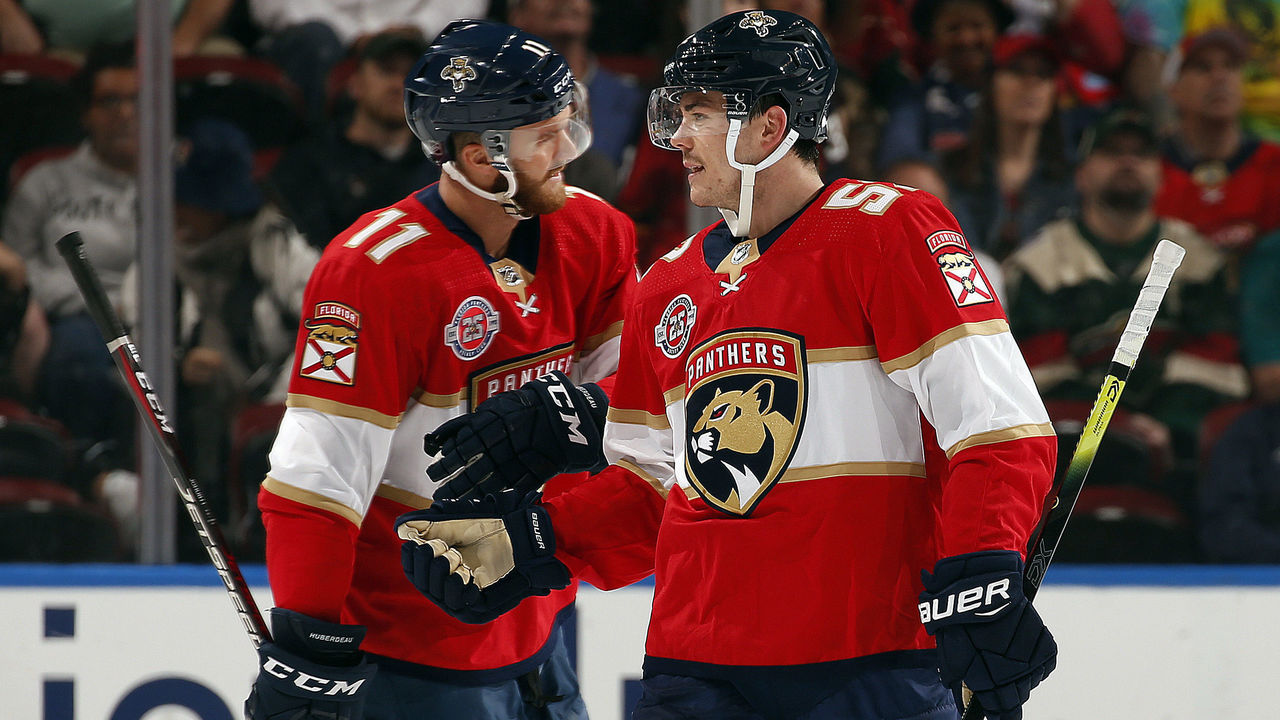 Calgary lost a lot of star power this summer but did a more than adequate job finding appropriate replacements. The Flames are deeper in more areas and no longer need to rely on a single line to do the scoring. Roster balance is a key characteristic of Sutter's brand of hockey, and it was a successful recipe for two Stanley Cups in Los Angeles. We see no reason why it can't work again as the Flames seek to end a championship drought dating back to 1989.
Here's a look at potential line combinations for the Flames come October.
| LW | C | RW |
| --- | --- | --- |
| Jonathan Huberdeau | Elias Lindholm | Andrew Mangiapane |
| Blake Coleman | Nazem Kadri | Tyler Toffoli |
| Jakob Pelletier | Mikael Backlund | Dillon Dube |
| Milan Lucic | Kevin Rooney | Trevor Lewis |
A one-two punch of Lindholm-Kadri down the middle is one of the better tandems in the Western Conference. Mangiapane and Toffoli are interchangeable, but both are 30-goal threats. While Pelletier hasn't broken into the NHL yet, the 2019 first-round pick put up 62 points in 66 AHL games as a rookie last season and might get a real look. If he's not cut out for Sutter's system just yet, perhaps the Flames will target left-wing depth at the trade deadline.
Calgary won the Pacific Division by a seven-point margin last season, and it should be the favorite to win it again in 2022-23. It's arguably the weakest division in the league and the Flames have the deepest roster of the eight teams in the mix. The Oilers are a threat, but they're worse off in net and thinner on the blue line. The Golden Knights are stacked on paper, but question marks about their goaltending situation loom large in the wake of Robin Lehner's season-ending surgery.
A month ago, the Flames had no clear direction. But thanks to a shrewd and aggressive approach from Treliving, Calgary is better off than ever before.
Comments
✕
Are the Flames better after summer of blockbuster moves?
  Got something to say? Leave a comment below!