How the Western Conference champion Golden Knights were built
Zak Krill / National Hockey League / Getty
The Vegas Golden Knights are back in the Stanley Cup Final for the second time in franchise history and the first since their dream debut season in 2017-18.
After making tidy work of the Winnipeg Jets, Edmonton Oilers, and Dallas Stars, only the Florida Panthers stand in the way of the Golden Knights completing owner Bill Foley's prophetic prediction of winning a Stanley Cup within six years of entering the league.
Vegas has been arguably the league's most aggressive team in the trade market since entering the fold, and its bold strategy is on the precipice of paying the ultimate dividends. We took a look at how the Panthers were built on Thursday, so here's a breakdown of how president George McPhee and general manager Kelly McCrimmon built Sin City's Stanley Cup-caliber roster.
| Method | Players |
| --- | --- |
| Expansion draft | 4 |
| Homegrown | 3 |
| Trade | 13 |
| Free agency | 7 |
| Waivers | 1 |
Expansion draft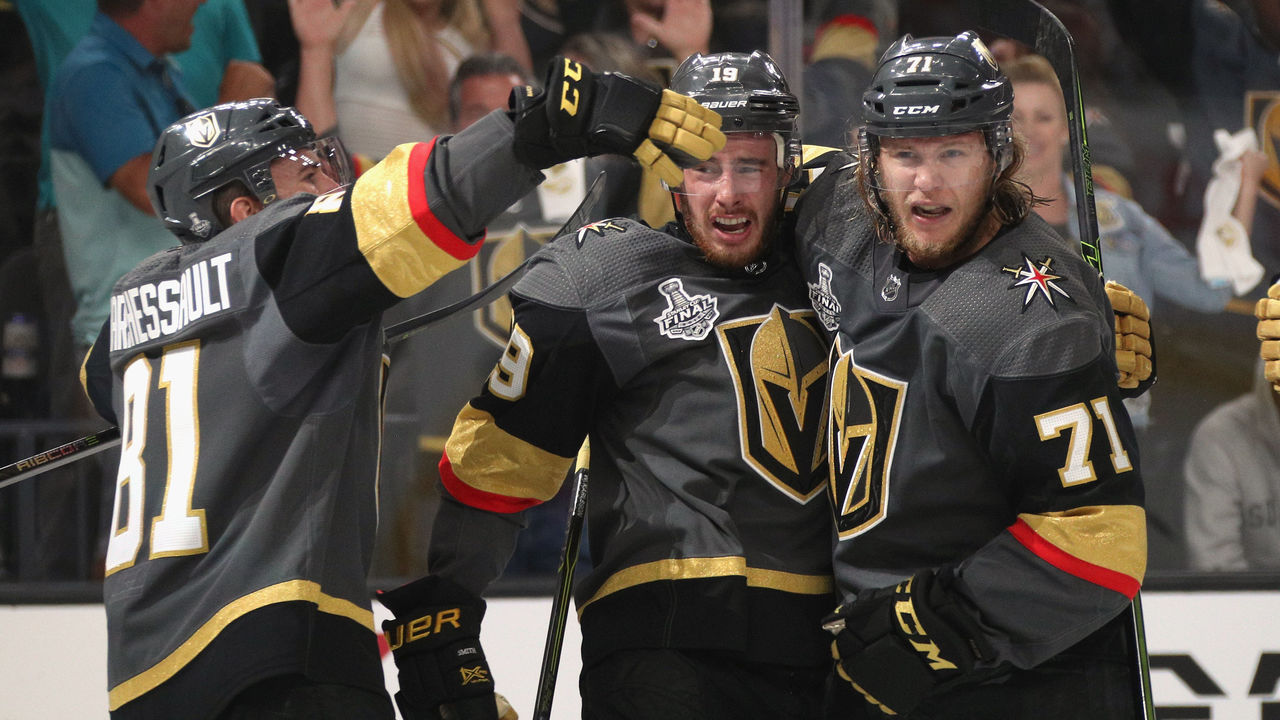 William Carrier (Sabres): Carrier wasn't the flashiest pick in the Golden Knights' expansion draft, but the 2013 second-rounder has been a staple in Vegas' bottom six since arriving. He flourished this past regular season with career highs in goals (16), points (25), and average ice time (12:35).
William Karlsson (Blue Jackets): One of the original "Golden Misfits" that helped form Vegas' identity, Karlsson is one of the club's most recognizable names. He's never replicated the magic of his 40-goal debut season with the club but remains a steady two-way presence down the middle for the Golden Knights.
Jonathan Marchessault (Panthers): Marchessault was one of the Panthers' cast-offs in their infamous bungling of the 2017 expansion draft, and its safe to assume the winger will have revenge on his mind when he faces his former team with a championship on the line. Marchessault has bagged 20 or more goals in five of six years with the Golden Knights and is in the midst of a stellar playoff run with 17 points in 17 games.
Brayden McNabb (Kings): McNabb doesn't grab headlines among a deep Vegas D-corps, but he's a reliable top-four presence that proves his worth with physicality and shot-blocking. He's logged at least 19 minutes per game each season since becoming a Golden Knight.
Homegrown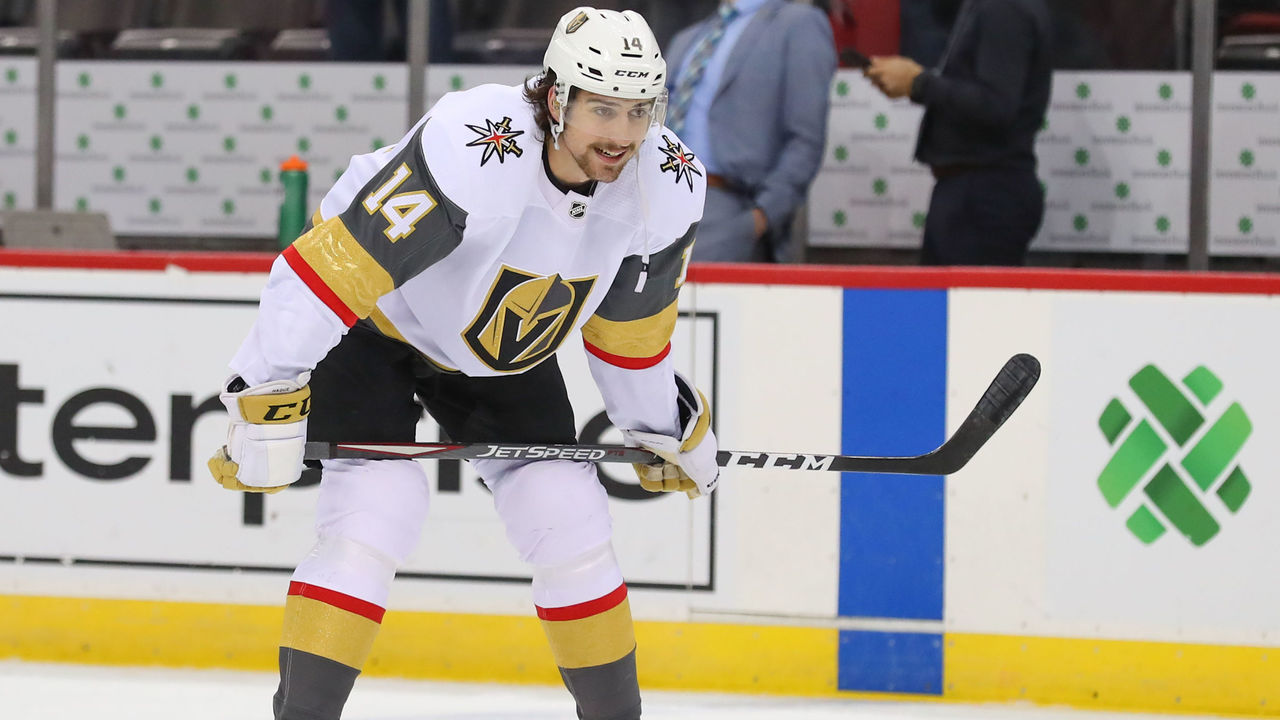 Nicolas Hague (June 23, 2017): The Golden Knights have traded away many of their high-profile draft picks, but Hague has stuck around and blossomed into a dependable contributor on the back end. The 24-year-old appeared in a career-high 81 regular-season games in 2022-23.
Paul Cotter (June 22, 2018): Cotter hasn't played in the playoffs but made his mark as a depth option in the regular season with 13 goals in 55 games.
Pavel Dorofeyev (June 21, 2019): The 22-year-old Russian has primarily been an AHLer this season but is on the roster as a long-shot option to play in the final. Dorofeyev has only played 20 career NHL games.
Trade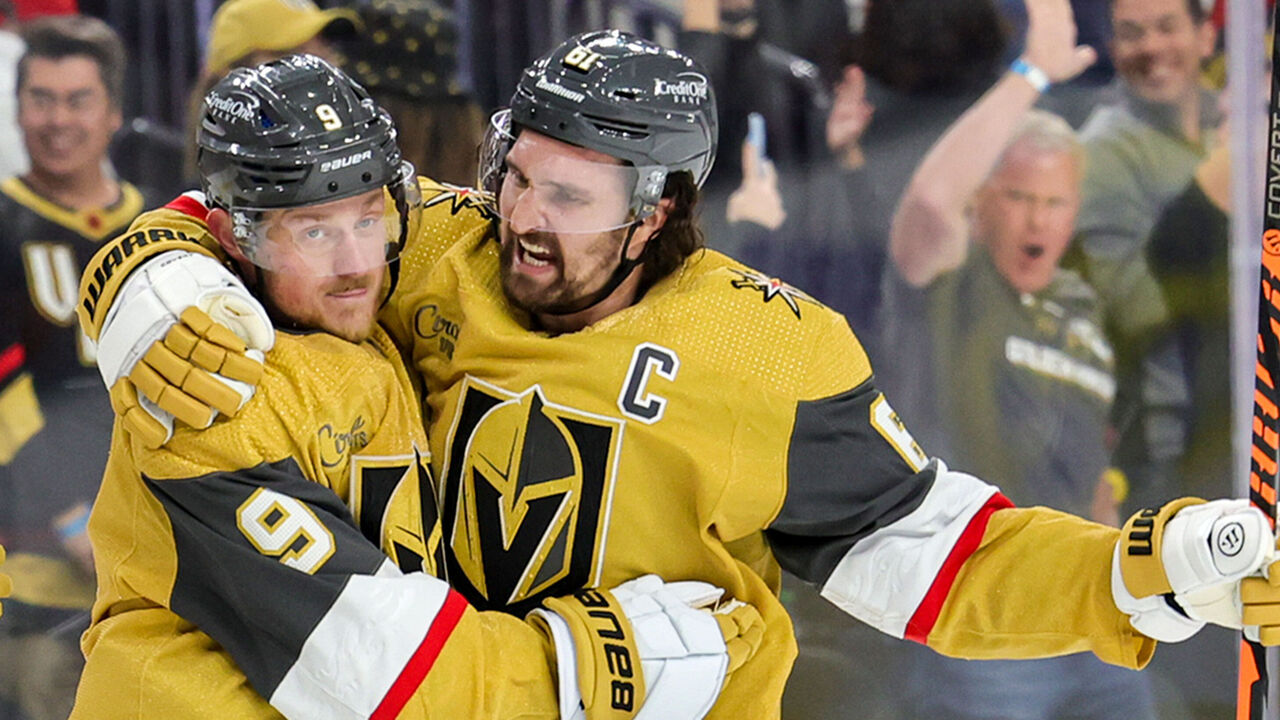 Reilly Smith (June 21, 2017): Smith wasn't an expansion draft pick but joined the Golden Knights the same night via trade from Florida in exchange for a fourth-round selection. The veteran winger has gone on to record 286 points in 399 regular-season games with the Golden Knights, while the Panthers can only look back on their protected list with regret.
Shea Theodore (June 21, 2017): The Anaheim Ducks had an overflow of quality defensemen when the Golden Knights entered the league and opted to sacrifice Theodore to their new Pacific Division rivals in order to keep Josh Manson and Sami Vatanen on top of their three officially protected blue-liners. Theodore has grown into the best of the bunch and is an integral piece of Vegas' core. He's finished top-10 in Norris Trophy voting twice and has posted 40-plus points each of the past four seasons.
Keegan Kolesar (June 24, 2017): Kolesar was acquired for a second-round pick after a promising junior career, and he established himself as a regular NHLer in 2021-22. He's not one to light up the scoresheet, but he's trusted in his fourth-line role and is a constant physical threat.
Mark Stone (Feb. 25, 2019): Prying Stone from the Ottawa Senators five deadlines ago is one of the defining transactions of Vegas' free-wheeling tenure as Western Conference contenders and changed the trajectory of the franchise. He soon signed an eight-year, $76-million extension, was later named captain, and despite injuries in recent seasons, has been one of the Golden Knights' most productive players.
Nicolas Roy (June 27, 2019): Roy was added from the Carolina Hurricanes in exchange for Erik Haula and now anchors Vegas' sturdy fourth line. He managed a modest 30 points this past season but was trusted enough by Golden Knights brass to earn a five-year, $15-million extension in 2022.
Chandler Stephenson (Dec. 2, 2019): Stephenson was a member of the Washington Capitals club that broke Vegas' heart in the 2018 Stanley Cup Final, but the Golden Knights have got their money's worth from the Saskatchewan native since adding him for only a fifth-round pick. He's evolved into the club's second-line center and has posted back-to-back 60-plus point seasons after never eclipsing 26 in D.C.
Alec Martinez (Feb. 19, 2020): The two-time Cup winner with the Los Angeles Kings is deployed on Vegas' top pairing and is a rock in the defensive zone. Martinez, 35, led the league in blocks with 244 this season and ranks second among all playoff skaters this spring with 44.
Brett Howden (July 17, 2021): Howden was a first-round pick of the Tampa Bay Lightning in 2016 but has had trouble finding consistency at the NHL level. The 25-year-old has been a quality contributor in these playoffs, though, recording six points and a game-winning goal through three rounds.
Jack Eichel (Nov. 4, 2021): Of all Vegas' blockbusters over recent years, the Eichel deal takes the cake. After months of speculation regarding the superstar's health and potential suitors, the Golden Knights won the sweepstakes and landed the elite top-line pivot they always craved. The Buffalo Sabres are certainly happy with the package they landed for the formerly disgruntled Eichel, but Vegas is four wins from being slam-dunk winners of one of the biggest trades in recent memory.
Adin Hill (Aug. 29, 2022): Who would have thought when the Golden Knights sent a fourth-round pick to the San Jose Sharks for a career backup netminder that they'd be landing their starter for the Stanley Cup Final? A slew of injuries between the pipes has thrust Hill into the spotlight, and he's been up to the task so far with a .937 save percentage in 11 playoff appearances.
Ivan Barbashev (Feb. 26, 2023): The Golden Knights dipped into the rental market to land Barbashev for AHLer Zach Dean before March's deadline, and what a deal it's turned out to be. Barbashev notched 16 points in the regular season and ranks third on the team in playoff scoring with six goals and nine assists.
Teddy Blueger (March 1, 2023): Blueger was brought in from the Pittsburgh Penguins for some added center depth but hasn't made much of an impact in his new environment. The Latvian has only played in six games during the Golden Knights' run to the final.
Jonathan Quick (March 2, 2023): With so much uncertainty between the pipes, Vegas added Quick before the deadline for some added security. The two-time Cup winner looked decent in nine regular-season games but hasn't made a playoff appearance yet.
Free agency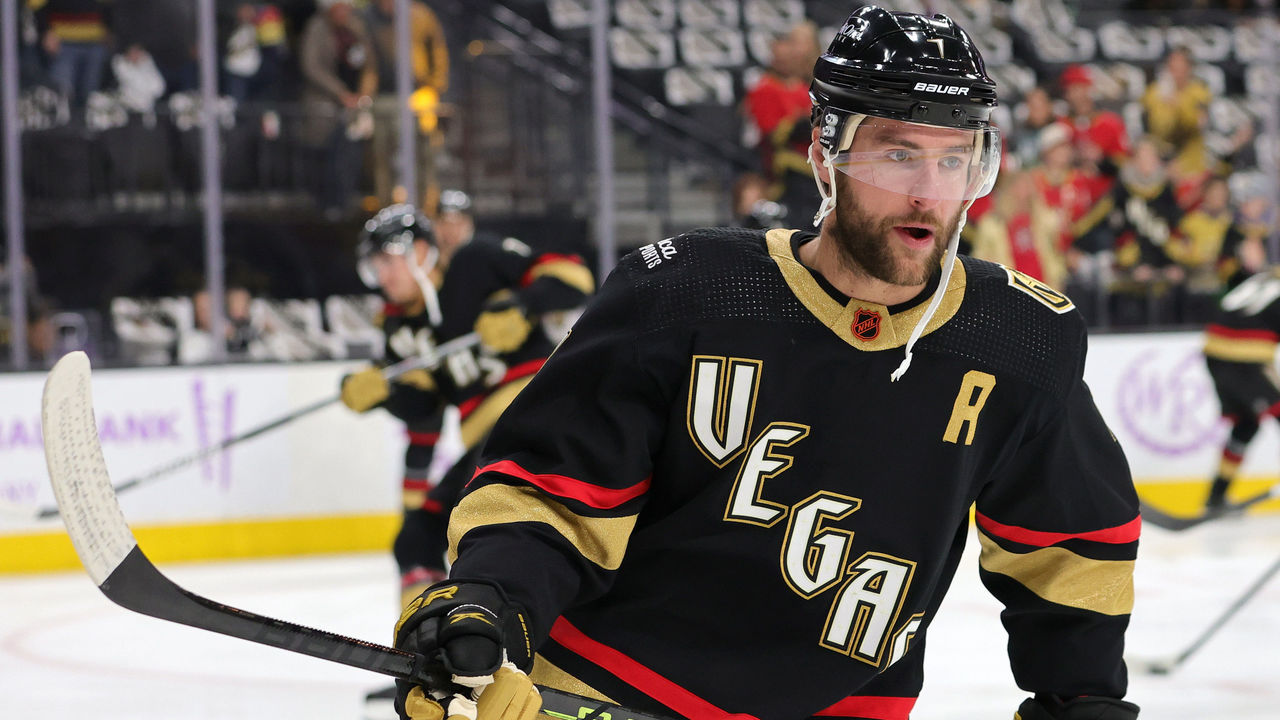 Logan Thompson (July 13, 2020): A collection of lengthy injury stints derailed Thompson's breakout campaign in which it appeared he had a stranglehold on Vegas' starting goaltending gig. The undrafted 26-year-old posted a .915 clip in 37 appearances and even made the All-Star Game, but he hasn't played since March 23.
Alex Pietrangelo (Oct. 12, 2020): The Golden Knights landed 2020's biggest free agent on a monster seven-year, $61.6-million contract, and while it made Vegas' perennially tight salary cap situation even tighter, the financial strain looks well worth it nearly three years later. Pietrangelo remains an elite top-pairing defender and matched a personal best with 54 points this season.
Laurent Brossoit (July 28, 2021): Brossoit began the playoffs as Vegas' starter, but a lower-body injury in Game 3 of the Oilers series looks to have ended his year. The 30-year-old had a strong regular season, failing to lose in regulation in 11 appearances while recording a .927 save percentage.
Brayden Pachal (Sept. 20, 2021): Pachal is on the playoff roster but has only taken the ice once this spring. The undrafted blue-liner has 12 NHL games to his credit.
Ben Hutton (Oct. 28, 2021): Another depth blue-liner, Hutton's usage has dropped significantly since signing a two-year deal with the Golden Knights. He played 58 regular-season games last season compared to 31 this year and has only cracked the lineup twice in the playoffs.
Phil Kessel (August 24, 2022): The NHL's all-time ironman hasn't played since Game 3 of the first round, meaning the writing is likely on the wall for the one-year deal Kessel signed with the Golden Knights and perhaps even for his career. The 35-year-old produced 36 points this season, the second-lowest total of his accomplished 17-year tenure in the NHL.
Waivers
Michael Amadio (Oct. 30, 2021): Amadio was claimed from the Toronto Maple Leafs early last season and had a career year with 16 goals for Vegas in 2022-23. The 27-year-old has added three tallies in the playoffs, including an overtime winner in Round 1.
Comments
✕
How the Western Conference champion Golden Knights were built
  Got something to say? Leave a comment below!