PGA Championship: 103rd edition
Where: Ocean Course at Kiawah Island, South Carolina
When: May 20-23
How to watch
In the United States
| DATE | CHANNEL | TIME (ET) |
| --- | --- | --- |
| May 20 | ESPN+ (streaming) | 7 a.m. - 7 p.m. |
| | ESPN | 1 p.m. - 7 p.m. |
| May 21 | ESPN+ (streaming) | 7 a.m. - 7 p.m. |
| | ESPN | 1 p.m. - 7 p.m. |
| May 22 | ESPN+ (streaming) | 8 a.m. - 7 p.m. |
| | ESPN | 10 a.m. - 1 p.m. |
| | CBS | 1 p.m. - 7 p.m. |
| May 23 | ESPN+ (streaming) | 8 a.m. - 7 p.m. |
| | ESPN | 10 a.m. - 1 p.m. |
| | CBS | 1 p.m. - 7 p.m. |
In Canada
| DATE | CHANNEL | TIME (ET) |
| --- | --- | --- |
| May 20 | TSN 3/4/5 | 7 a.m. - 7 p.m. |
| May 21 | TSN 4/5 | 7 a.m. - 7 p.m. |
| | TSN 1/3 | 3:30 p.m. - 7 p.m. |
| May 22 | TSN 4 | 8 a.m. - 7 p.m. |
| | CBS | 1 p.m. - 7 p.m. |
| May 23 | TSN 4 | 8 a.m. - 7 p.m. |
| | CBS | 1 p.m. - 7 p.m. |
| | TSN 1 | 3:30 p.m. - 7 p.m. |
Featured groups (all times ET)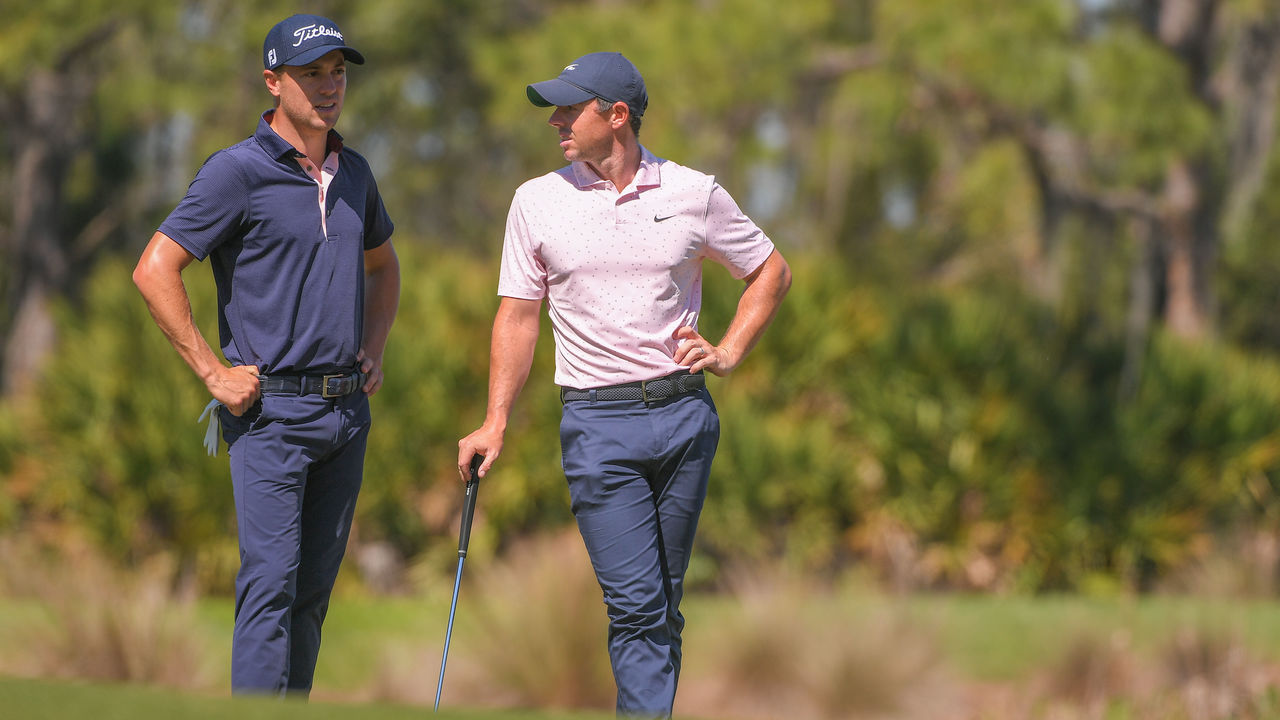 Group: Rory McIlroy, Justin Thomas, Brooks Koepka
Thursday - 8:33 a.m.
Friday - 1:58 p.m.
Group: Collin Morikawa, Bryson DeChambeau, Hideki Matsuyama
Thursday - 8:44 a.m.
Friday - 2:09 p.m.
Group: Lee Westwood, Viktor Hovland, Xander Schauffele
Thursday - 8:22 a.m.
Friday - 1:47 p.m.
Group: Tommy Fleetwood, Patrick Reed, Jon Rahm
Thursday - 1:25 p.m.
Friday - 8:00 a.m.
Group: Dustin Johnson, Sergio Garcia, Shane Lowry
Thursday - 2:09 p.m.
Friday - 8:44 a.m.
Group: Webb Simpson, Jordan Spieth, Will Zalatoris
Thursday - 1:58 p.m.
Friday - 8:33 a.m.
The full list of groups and tee times can be found here.
Odds to win
Justin Thomas +1100
Rory McIlroy +1400
Dustin Johnson +1400
Jon Rahm +1400
Xander Schauffele +1400
Bryson DeChambeau +1500
Jordan Spieth +1500
Viktor Hovland +1800
Brooks Koepka +2400
Collin Morikawa +2500
Daniel Berger +2500
(Odds source: theScore Bet)
Read the complete PGA Championship betting preview with tier breakdowns and picks here.
The course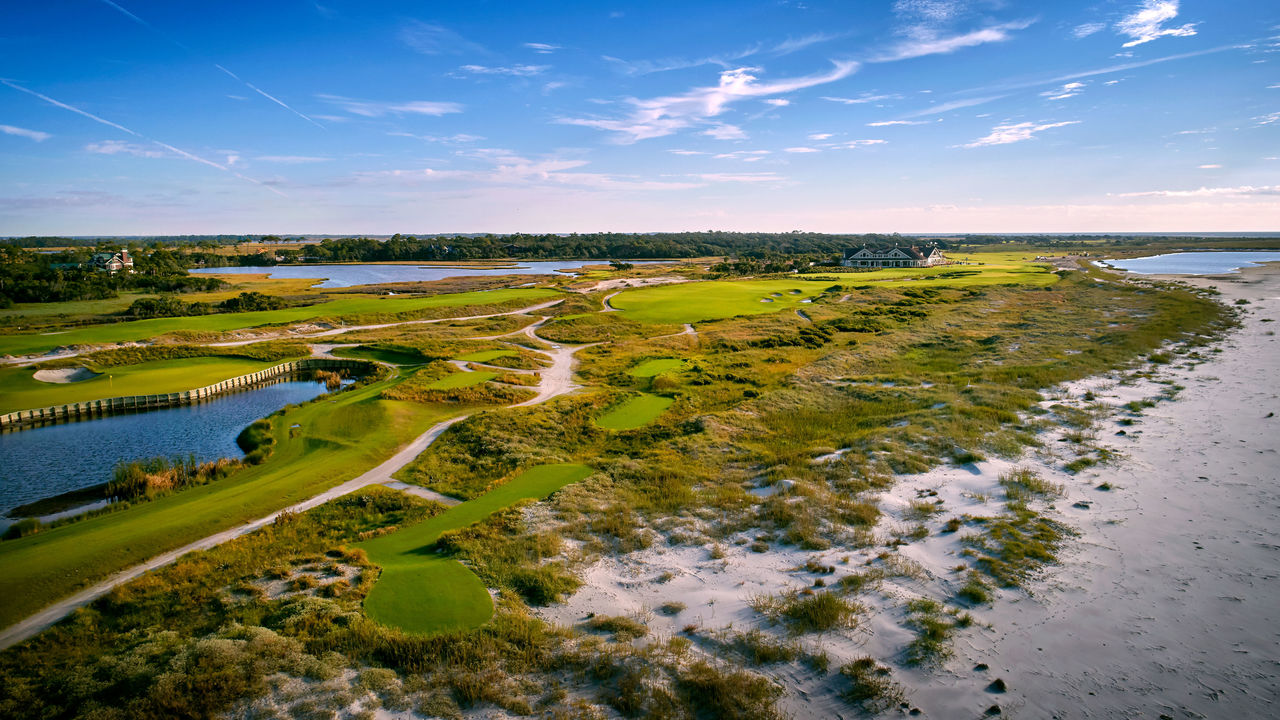 Just as it did when it hosted this event in 2012, the Ocean Course at Kiawah Island will break the record for longest venue in major championship history at a whopping 7,876 yards. The course was awarded the 1991 Ryder Cup before it was built, forcing famed architect Pete Dye into work to have the setup ready for the event. Built on two-and-a-half miles of beachside property just outside Charleston, South Carolina, the course features a figure-eight design and 10 holes on the ocean - more than any other course in North America.
The challenging layout will play to a par of 72 for the PGA Championship and feature seven par-4s that will play over 460 yards in length. The course's primary protection is the wind off the Atlantic Ocean; with routine gusts over 25 mph, the layout can give the world's best golfers plenty of nightmares.
McIlroy claimed the second major of his career at the last PGA Championship played at Kiawah, finishing 13-under to win by an impressive eight strokes.
News and preview content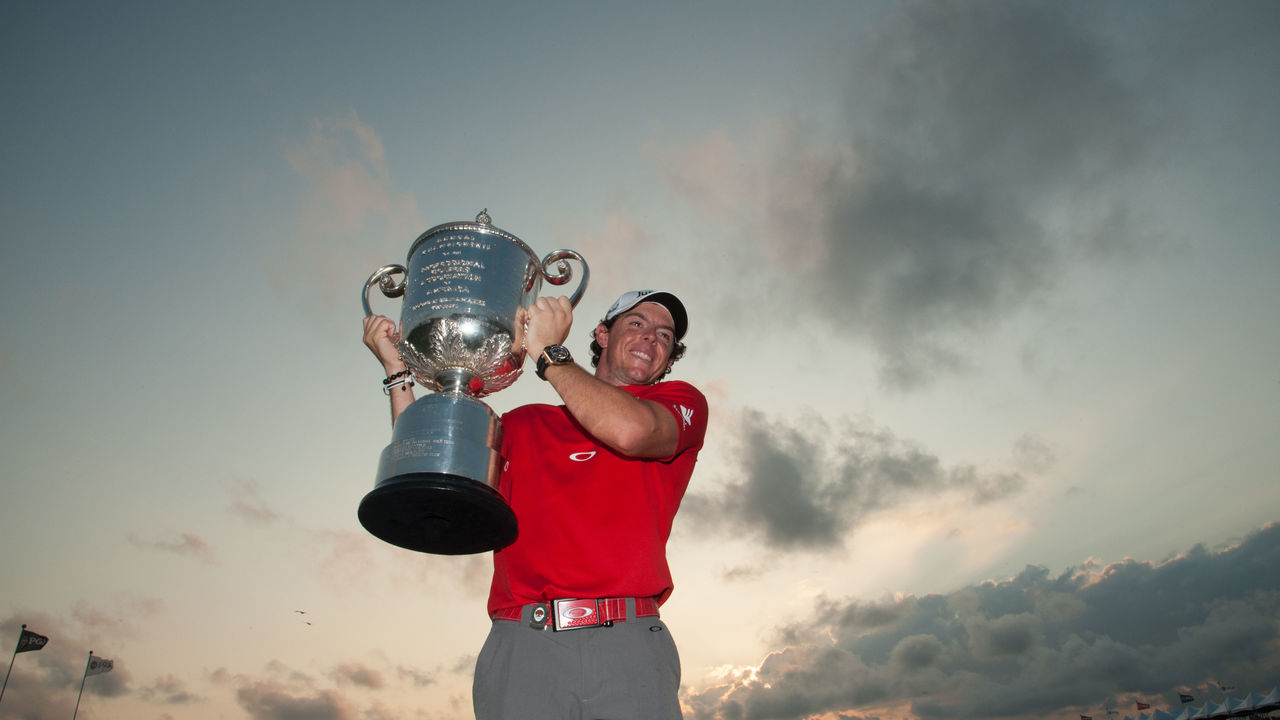 • Remembering Rory's romp at Kiawah
• JT-Rory-Brooks headlines groups for opening rounds
• Ranking the top 6 storylines for the 103rd PGA Championship
• McIlroy not satisfied after recent win: 'There's still a long way to go'
• Spieth in good place at PGA with career grand slam within reach
• Koepka's knee remains problematic: Still have days 'where it sucks'
• Morikawa gets crash course on traditions for PGA Championship winner
• Fowler receives special invite to PGA Championship
Previous champions
2020 - Collin Morikawa (-13)
2019 - Brooks Koepka (-8)
2018 - Brooks Koepka (-16)
2017 - Justin Thomas (-8)
2016 - Jimmy Walker (-14)
2015 - Jason Day (-20)
2014 - Rory McIlroy (-16)
2013 - Jason Dufner (-10)
2012 - Rory McIlroy (-13)
2011 - Keegan Bradley (-8)