NBA MVP rankings: Historic starts lead to tough front-runner debate
Photo illustration by Nick Roy/theScore
As the 2021-22 NBA season nears its quarter mark, the league's best and brightest have begun to state their respective case for MVP. Here, we discuss the top 10 candidates.
10. Joel Embiid, 76ers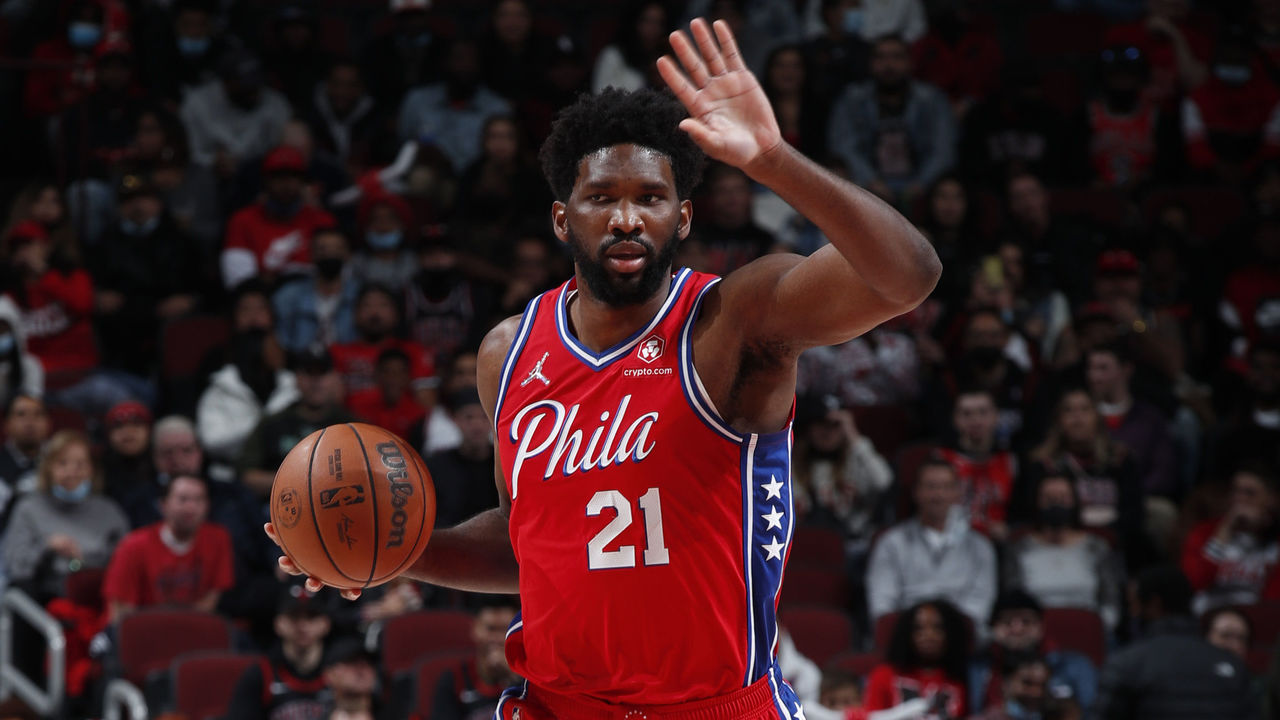 Previous: 3
Joel Embiid has had a rough start to the year - his scoring has dropped from 28.5 points per game last season to just 21.4, owing in large part to a career-worst 44.8% accuracy on twos.
Embiid's also missed seven games to date, largely due to health protocols. Still, when Embiid's taken the floor this campaign, the Philadelphia 76ers are 7-2, and they're 2-5 without him. For generally keeping the team afloat - especially in light of fellow All-Star Ben Simmons' holdout - Embiid deserves some props.
9. Chris Paul, Suns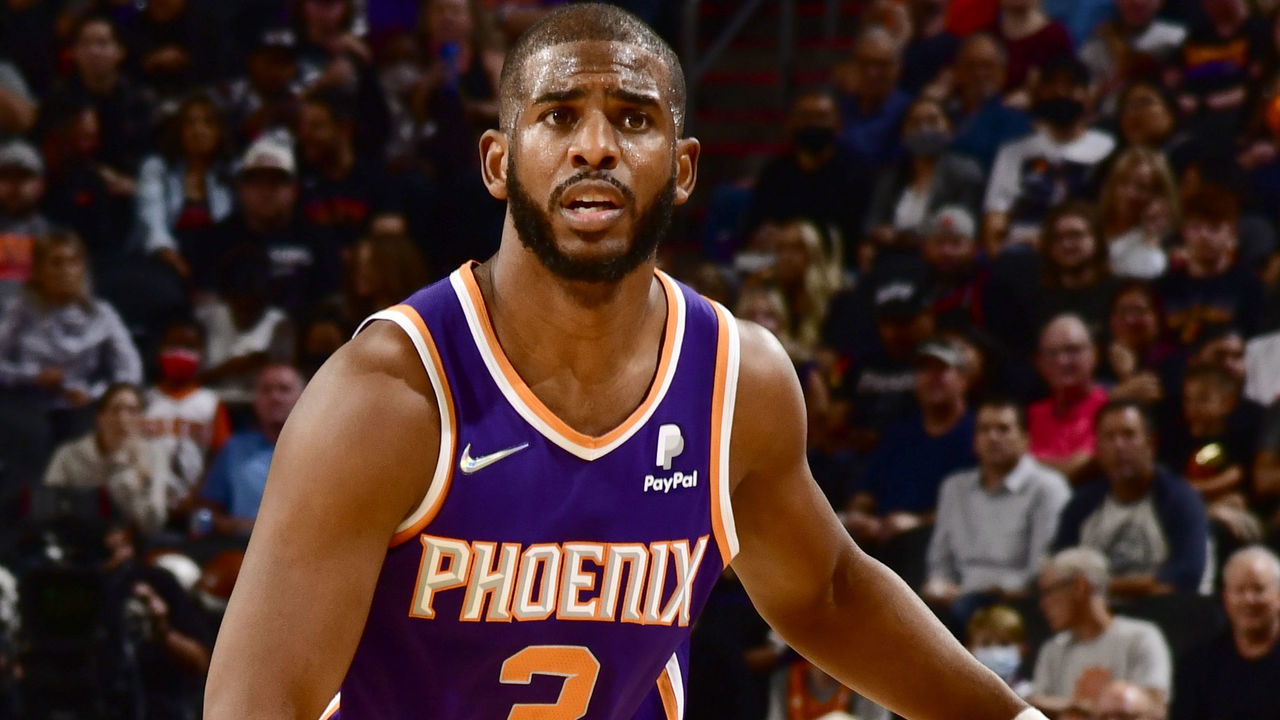 Previous: N/A
Players who average 14.1 points per game don't typically garner much love in the MVP conversation, but for Chris Paul, who pairs his modest scoring output with a league-best 10.7 assists and 2.3 steals per contest, you have to give credit where it's due.
The way the Phoenix Suns have built their squad will make it tough for a sole player to emerge as the MVP candidate. Devin Booker has his moments of stardom, and Deandre Ayton has been a star in his own right when healthy.
But Paul remains the tone-setter on both ends of the floor, and there's no way the reigning Western Conference champs rip off a 12-game winning streak without the 36-year-old's steady hand at the wheel.
8. Giannis Antetokounmpo, Bucks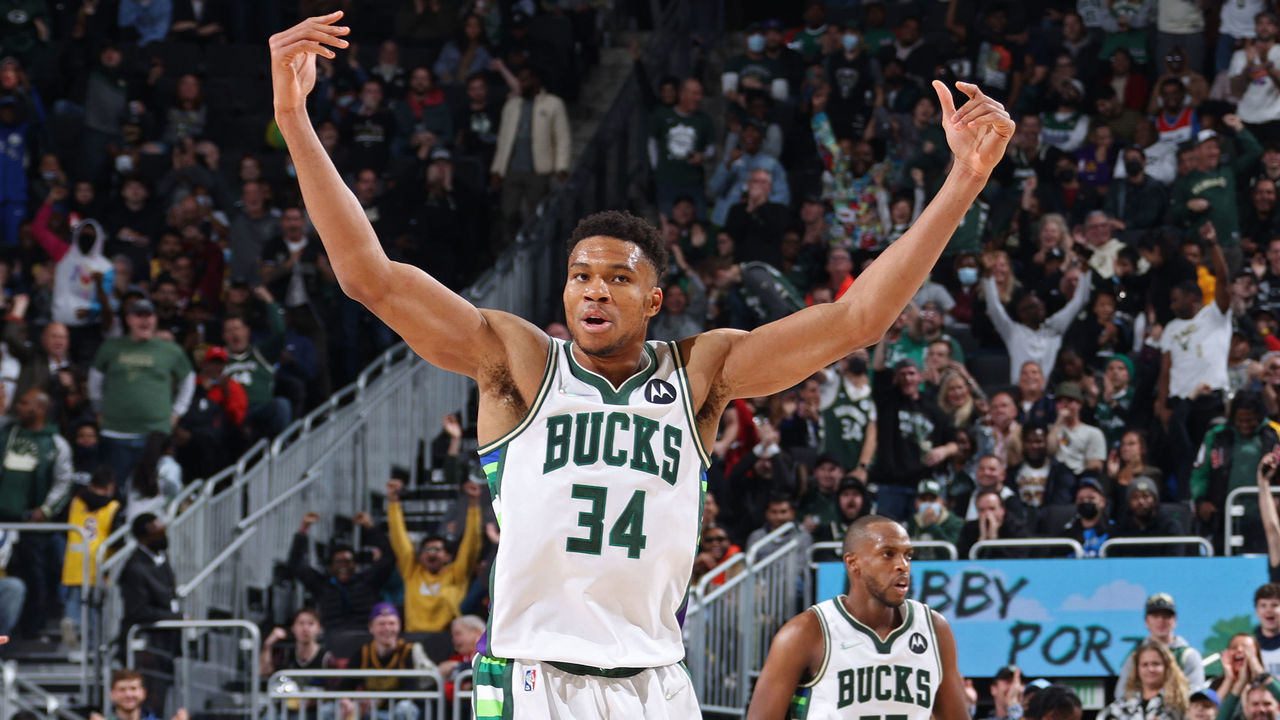 Previous: 4
The Greek Freak's numbers are close to his production in 2018-19 when he won his first of two consecutive MVPs. Through 16 games this year - about half of them without All-Star running mate Khris Middleton - Giannis Antetokounmpo has averaged 27.8 points, 12.2 rebounds, 5.8 assists, 1.9 blocks, and 1.2 steals per game with all-world defense.
If the Milwaukee Bucks weren't sitting on an uninspired 9-8 record right now, Antetokounmpo would once again have a top-five case for MVP consideration. Whether or not the voters are simply tired of voting for him at this point is a question for another day.
7. Paul George, Clippers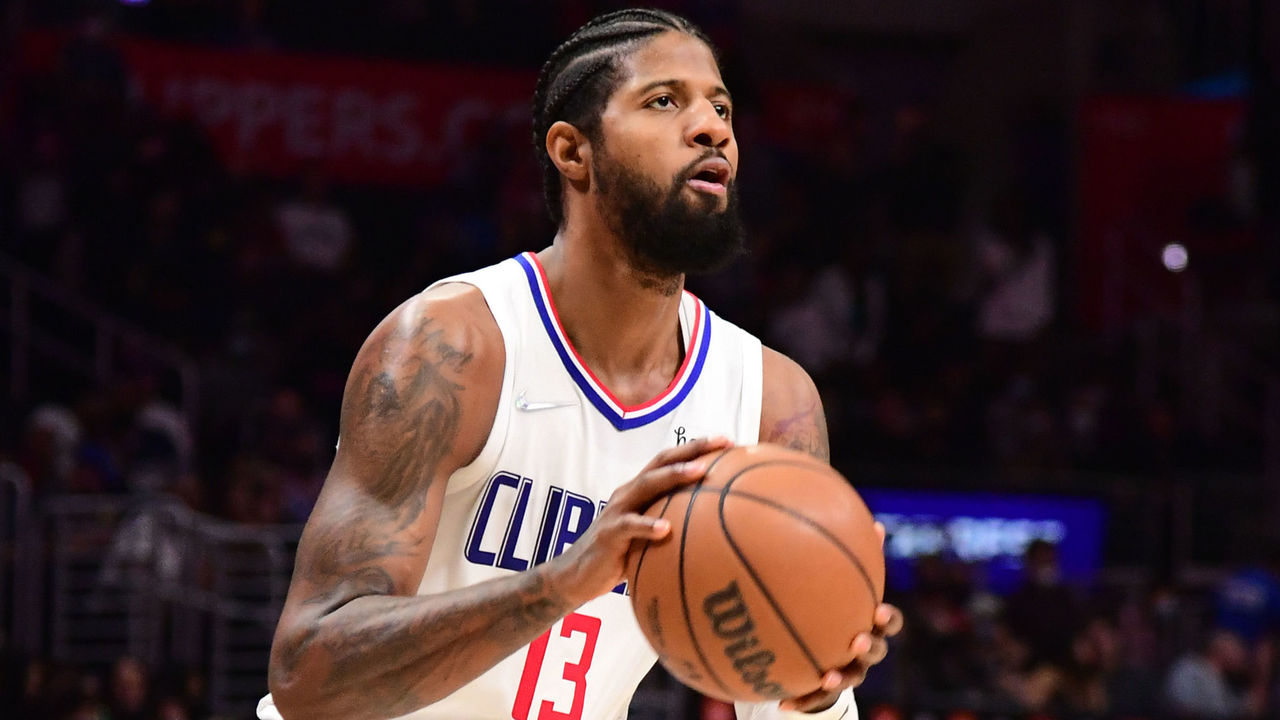 Previous: 5
Paul George has performed admirably with Kawhi Leonard shelved long term, leading the Los Angeles Clippers to a 10-7 record in the early going. His 26.4 points per game represent the second-best single-season output of his career, while his 7.7 rebounds, 5.2 assists, and 1.9 steals per game all approach or match previous career highs.
The 31-year-old has been used considerably more often as a power forward this campaign - about 85% of his minutes so far, per Cleaning the Glass, which is up from 21% in 2020-21. While the club's defense hasn't been the best with the 6-foot-8 George in small-ball lineups, it's hard to argue with the overall results: L.A. currently boasts the second-best defensive rating in the NBA, conceding just 102 points allowed per 100 possessions.
6. DeMar DeRozan, Bulls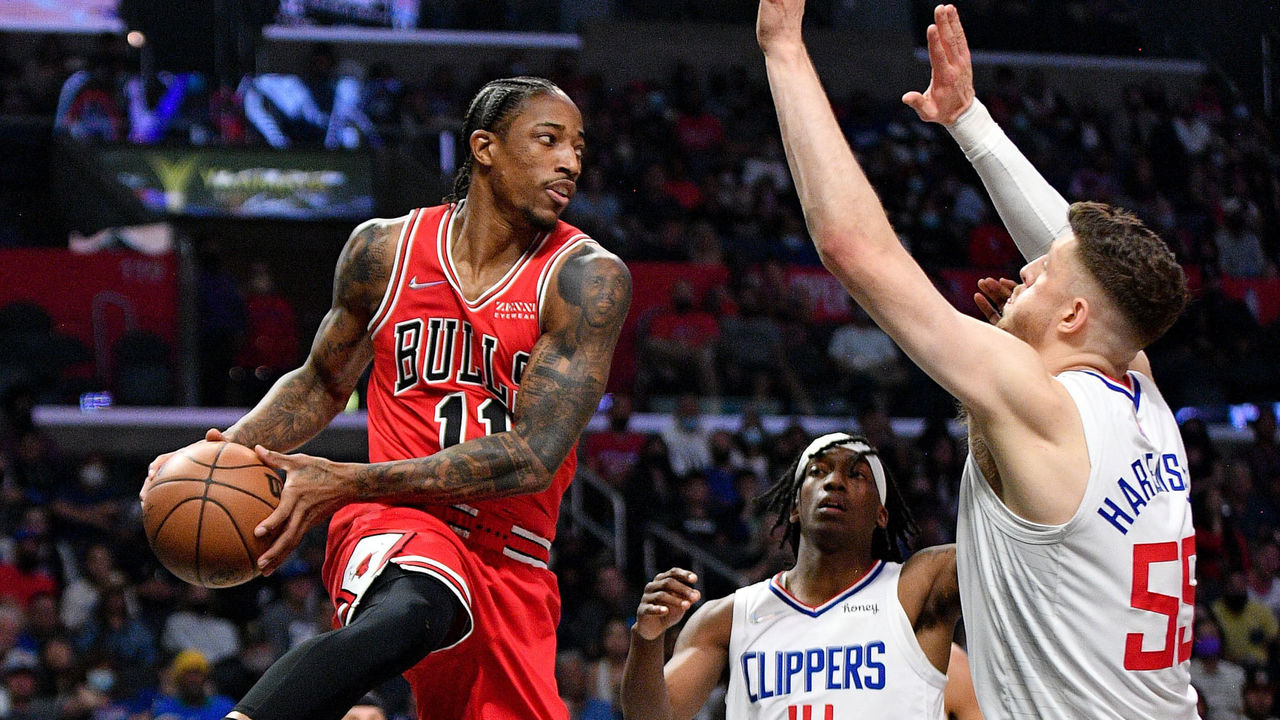 Previous: N/A
Speaking of small-ball fours, DeMar DeRozan has played about two-thirds of his minutes at power forward since joining the Chicago Bulls. At the four, DeRozan's 36.4% accuracy on 2.6 threes per game isn't so unpalatable. He also ranks highly as one of the better setup men for his position, ranking in the 89th percentile in assist percentage, per Cleaning the Glass.
And, of course, DeRozan remains a lethal isolation scorer, using his athleticism and timing to burn opponents for 1.11 points per isolation possession - on par with the likes of Kevin Durant, Jimmy Butler, and teammate Zach LaVine. DeRozan still reigns supreme on shots most of the league has stopped taking altogether: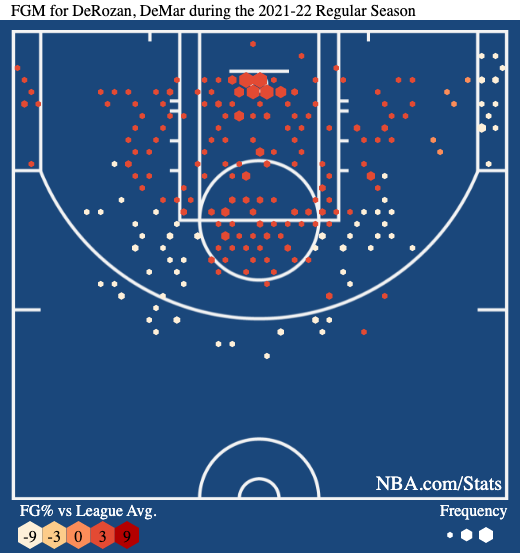 Put the whole package together, and you've got 26.8 points, 5.4 rebounds, and 4.2 assists per contest for a team on pace for about 58 wins.
5. Rudy Gobert, Jazz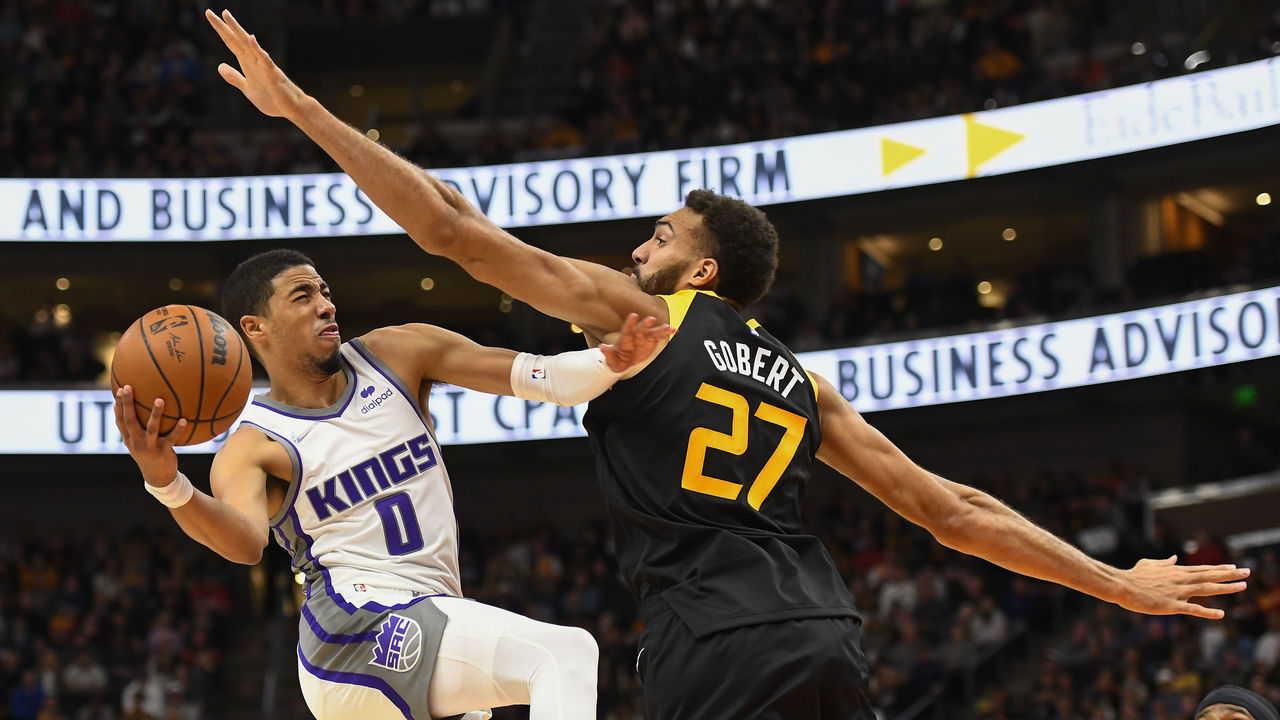 Previous: N/A
The Utah Jazz have the NBA's second-best net rating - a combination of the best offense and sixth-best defense. For the latter, you can thank Rudy Gobert, who is currently putting up 15.3 points, 15.1 rebounds, 1.8 blocks, and a steal per game.
The rebounding has been particularly impressive. Gobert has reached new heights this season, corralling a league-leading 36.4% of the opposing sides' misses while on the floor, per Cleaning the Glass.
Gobert remains an elite presence around the rim on defense. Opponents have shot just 45.7% within six feet of the hoop with the 7-foot-1 Frenchman defending.
4. Jimmy Butler, Heat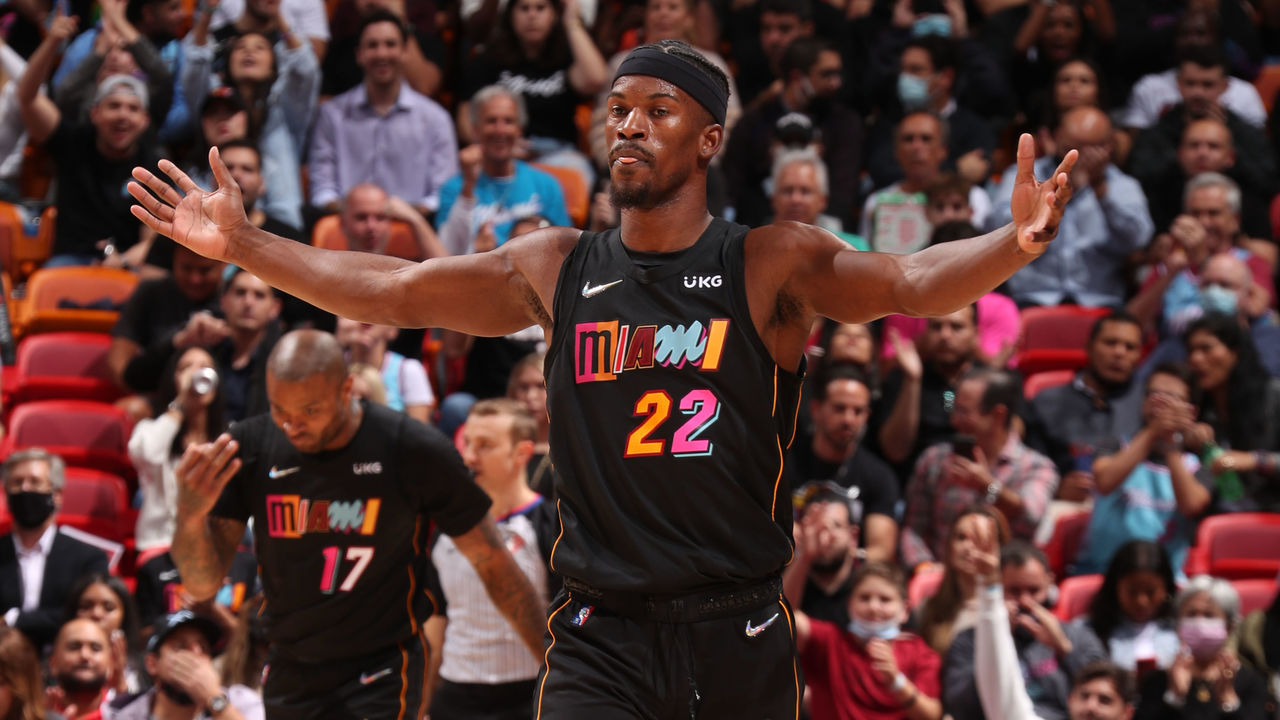 Previous: N/A
Jimmy Butler's current player efficiency rating of 30.6 would rank as the 21st-highest single-campaign mark of all time - ahead of the career-best single-season PERs from modern legends Dwyane Wade and Tracy McGrady.
What does a 30.6 PER look like using more traditional stats? It looks like Butler scoring 25.1 points on 53.8% shooting, getting to the foul line nearly nine times a night (and hitting 85.5% of his freebies), and chipping in 5.6 rebounds, 5.4 assists, and 2.1 steals per contest.
Still, you do get the sense the Miami Heat overlook Butler's brilliance. Why does he sometimes feel like more of a cog in the machine than the man with his hands on the levers? Maybe it's because his individual identity aligns so well with #HeatCulture - an all-for-one mentality should keep Miami in the mix for homecourt advantage in the first round of the playoffs but won't do Butler any favors when it comes time for MVP balloting.
3. Kevin Durant, Nets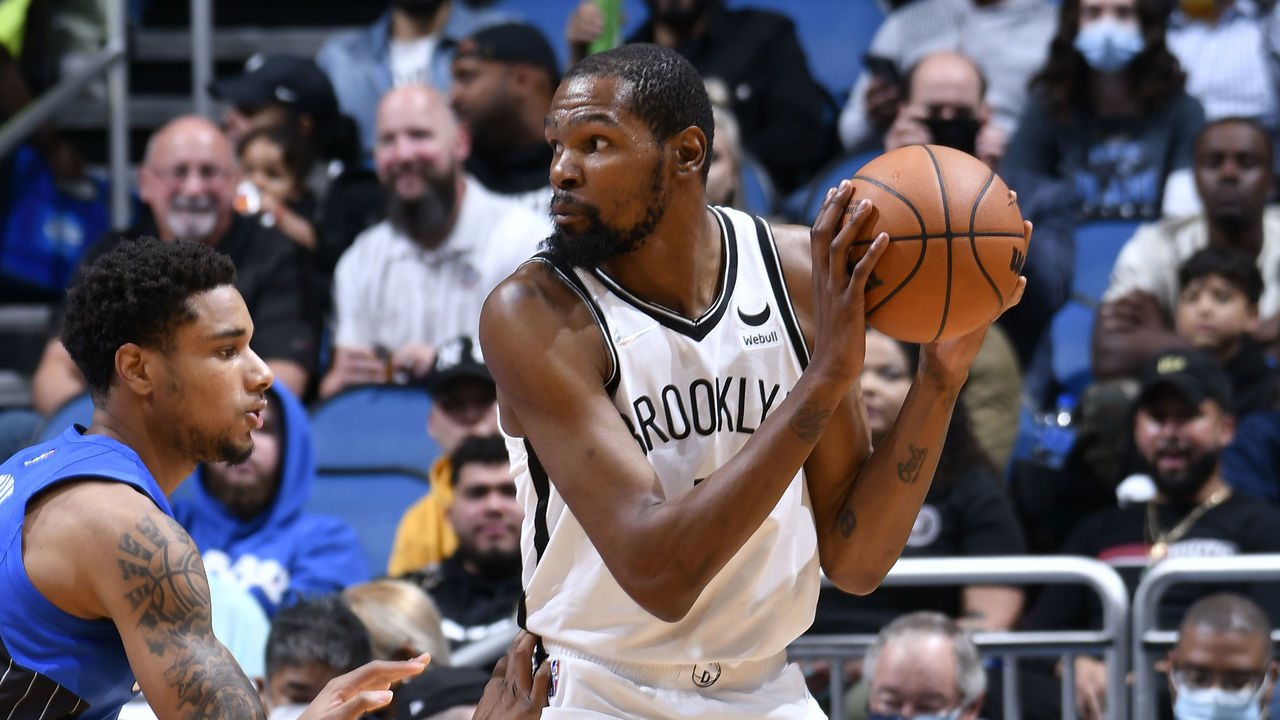 Previous: 7
At 12-5, the Brooklyn Nets are exactly where pundits thought they'd be - sitting atop the Eastern Conference. Of course, how they've staked their early lead in the standings has certainly gone off-script. James Harden has struggled to score efficiently in the early going, while Kyrie Irving is ... off doing things that do not include dribbling a basketball.
Enter Kevin Durant, just two-and-a-half years removed from a potential career-wrecking Achilles injury, setting the NBA ablaze. The 33-year-old has averaged 28.6 points on a career-best effective field-goal rate of 62.1% through 16 appearances, adding 7.9 boards and 4.9 dimes in nearly 35 minutes each night.
The situation in Brooklyn has broken pretty well for Durant, who MVP voters likely would've penalized before the year's tipoff for headlining what appeared to be a star-studded roster. Given the consistency and availability issues afflicting his fellow superstars, KD deserves the lion's share of credit for maintaining the Nets' status as legit title contenders.
2. Nikola Jokic, Nuggets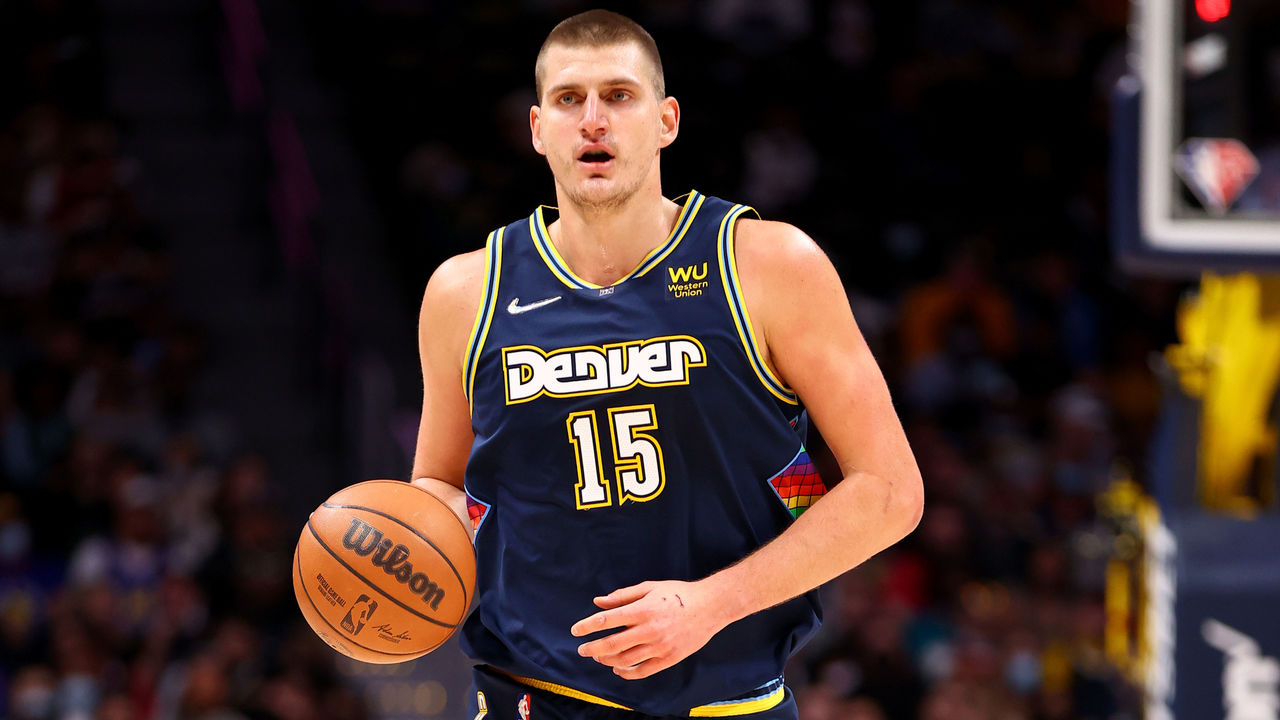 Previous: 1
Before this campaign, the single-season record for Player Efficiency Rating was 31.9, which Giannis set during his second MVP campaign in 2019-20. Nikola Jokic's PER is currently 35.3. Read that again.
LeBron James' best single-season PER? 31.7 in 2008-09. Michael Jordan? Also 31.7, set back in 1987-88.
Jokic this year? 35.3.
We have literally never seen a campaign like this. Not even close.
There's a gulf between Jokic and the aforementioned Jimmy Butler, owner of this year's second-ranked PER of 30.6.
If you're looking for less abstract markers of the Joker's wild run, here's the brass tacks: The 6-foot-11 center is shooting 65.4% on twos and 41% on threes (!!!), ranks second in the Association with 13.6 rebounds per game (with more contested rebounds than league-leader Gobert), and is dishing 6.4 assists per contest. As a center. These are video game numbers.
With Jamal Murray out long-term and now Michael Porter Jr. dealing with injuries, too, you can thank Jokic for keeping the Denver Nuggets in the heart of the Western Conference's busy playoff picture. Frankly, we're probably overthinking this - strictly in terms of what he means to his club, there has been no player more valuable than the reigning MVP.
1. Stephen Curry, Warriors
Previous: 6
If this isn't peak Stephen Curry, it's pretty damn close. At 33, he's been the best player on the best team in basketball this year, averaging a hyper-efficient 28.4 points to go along with 6.6 dimes and a career-best 5.9 boards per game.
No, Chef Curry's advanced numbers don't quite give him the edge - again, Jokic and Butler are having ridiculously efficient seasons so far - but they certainly back up his status as a top-flight MVP candidate.
Here's where Curry ranks in Player Efficiency Rating, Win Shares, Box Plus-Minus, and Value Over Replacement Player:
| STAT | VALUE | RANK |
| --- | --- | --- |
| PER | 27.7 | 6th |
| WS | 3.3 | 2nd |
| BPM | 9.3 | 4th |
| VORP | 1.5 | 3rd |
The Golden State Warriors have posted a net rating of plus-19.4 points per 100 possessions with Curry on the court compared to just plus-1.8 when he sits. For comparison, lineups featuring Curry during the Warriors' 73-win campaign posted a plus-17.7 net rating in 2015-16 - and those lineups featured a healthy Klay Thompson.
Historically, superlative team performance has served as the tiebreaker between worthy MVP candidates. While Nuggets fans might've been checking lottery odds and mock drafts by now if it weren't for their franchise center, there's something to be said about the Warriors' dominance with their franchise icon leading the charge. With plenty of season left, Curry tops our MVP rankings - for now.
Comments
✕
NBA MVP rankings: Historic starts lead to tough front-runner debate
  Got something to say? Leave a comment below!