10 biggest NBA stories of 2021
Another eventful NBA year is in the books, but trying to recall everything that happened is a near-impossible task. To help refresh your memory, here's a countdown of the 10 biggest topics of the last 12 months.
10. Zion's delayed recovery
Each passing update on Zion Williamson's enduring recovery from a broken foot is more ominous than the previous. The delayed return of the New Orleans Pelicans' franchise cornerstone from offseason surgery was again shelved last week due to a "regression in the bone healing." Zion will be re-evaluated in mid-January at the earliest.
It's now impossible not to compare the Pelicans big man with fellow frontcourt standouts who suffered problematic foot injuries. Joel Embiid missed the entirety of his first two years with the Philadelphia 76ers, while foot problems cost Greg Oden, a former No. 1 selection, his career. Pelicans diehards and neutral supporters alike will hope Zion's misfortunes mirror those of Embiid and not Oden.
9. Portland in panic mode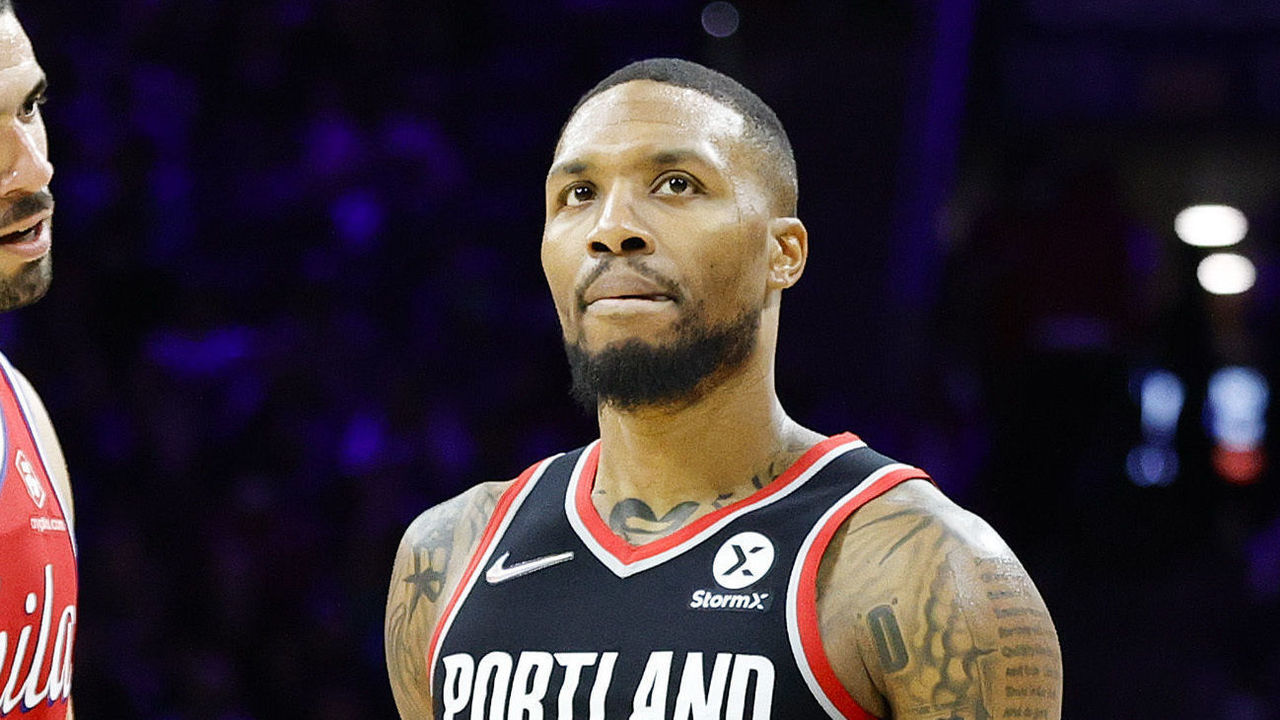 Damian Lillard insists he's "not asking for a trade," a claim that hasn't done much to quell speculation about his future in Portland. Reports suggest Lillard is keen to sign a two-year, $107-million deal in the offseason, which would guarantee the six-time All-Star $51.2 million in his age-35 season (2025-26), plus an additional $55.3 million for the 2026-27 campaign. That's a lot of money for an organization that's proven inept at building a title-caliber squad.
Never mind a 2-12 road record this season - the 13-20 Blazers haven't exactly been a model franchise over the calendar year, either. The team fired president and general manager Neil Olshey in November due to numerous workplace misconduct violations. And that's after Olshey hired Chauncey Billups while he and Portland's PR team dodged queries about vetting the freshly minted head coach amid sexual assault allegations with "take our word."
8. Jokic defies MVP odds
Nikola Jokic's incredible play last season made him a clear favorite for 2021's Most Valuable Player honor, but the Denver Nuggets sensation had to overcome plenty of history stacked against him. He was the first center to win the NBA's premier individual prize since Shaquille O'Neal in 2000, and as the 41st overall selection in 2014, he became the lowest pick ever to be named MVP. In fact, Willis Reed is the only other second-round pick to do so, and that happened 51 years ago.
Jokic is also the only Serbian to ever claim the accolade and just the third European overall, joining Dirk Nowitzki and Giannis Antetokounmpo. Together, Jokic and Antetokounmpo have made it three straight campaigns without an American-born MVP, and there's a very good chance one of them stretches that streak to four in 2022.
7. Blockbuster swap sends Westbrook home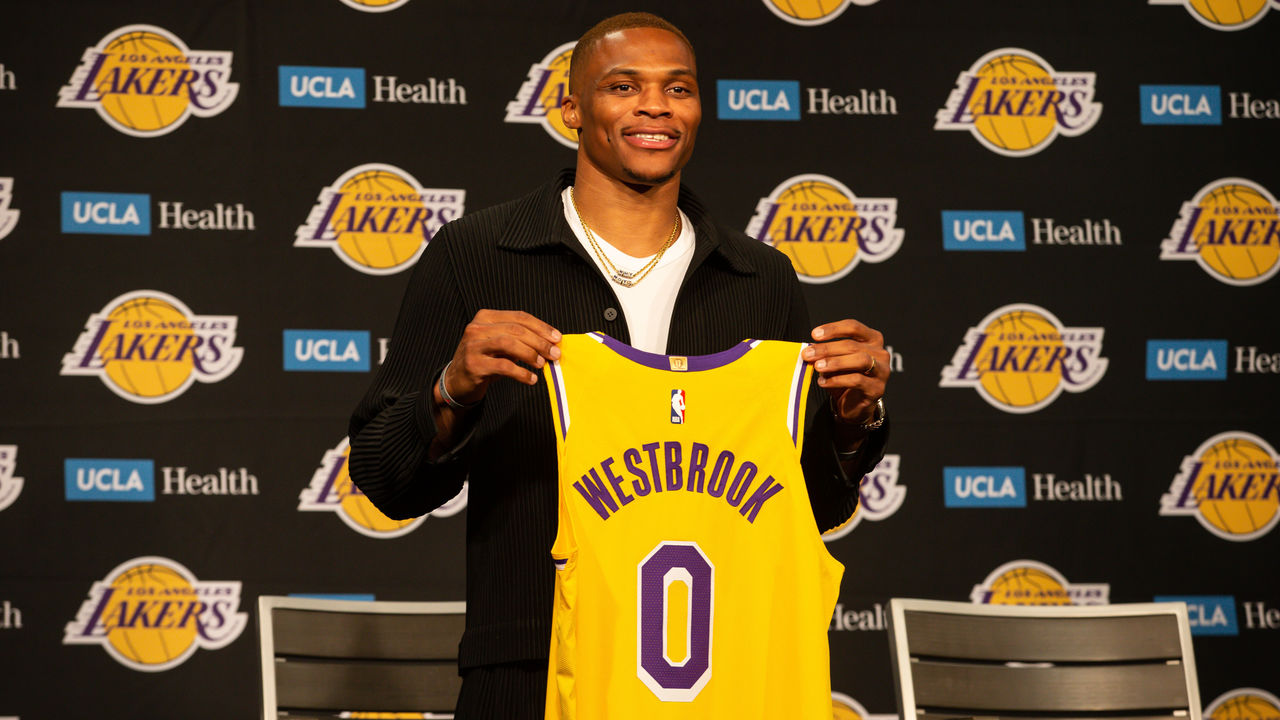 After Russell Westbrook's one season in D.C. alongside Bradley Beal produced mixed results, the Washington Wizards shipped him to the Los Angeles Lakers on Aug. 6 for Kentavious Caldwell-Pope, Montrezl Harrell, Kyle Kuzma, and Isaiah Jackson's draft rights. On the surface, turning three role players and a pick into a talent still capable of performing at an elite level was a win for Frank Vogel's side.
However, the Lakers soon realized that Westbrook's addition was more complicated than initially suspected. Despite the hometown cooking, the nine-time All-Star continues to struggle mightily without the ball, which is frequently in LeBron James' hands. Westbrook is also an inefficient scorer plagued by defensive lapses. His recruitment, combined with the departures of adequate threats in Caldwell-Pope and Kuzma, has only exacerbated L.A.'s worrisome spacing issues.
6. Curry makes 3-point history
In what seemed a foregone conclusion years ago, Golden State Warriors star Stephen Curry cemented his legacy as the game's greatest shooter ever this month. With both Ray Allen and Reggie Miller in attendance at Madison Square Garden, Curry converted 3-pointer No. 2,974 on Dec. 14 against the New York Knicks, placing him above Allen and all alone atop the NBA's all-time leaderboard.
Not only is Curry, 33, expected to pad that record significantly over the coming seasons, but the efficiency at which he surpassed the mark is historic, too. He owns the best 3-point percentage among the top 50 players on the list. Part of that is the differing offensive styles across multiple NBA eras, but it also speaks to how much Curry has impacted the league's 3-point shooting shift during his 13-year career.
5. Nets form Big Three with Harden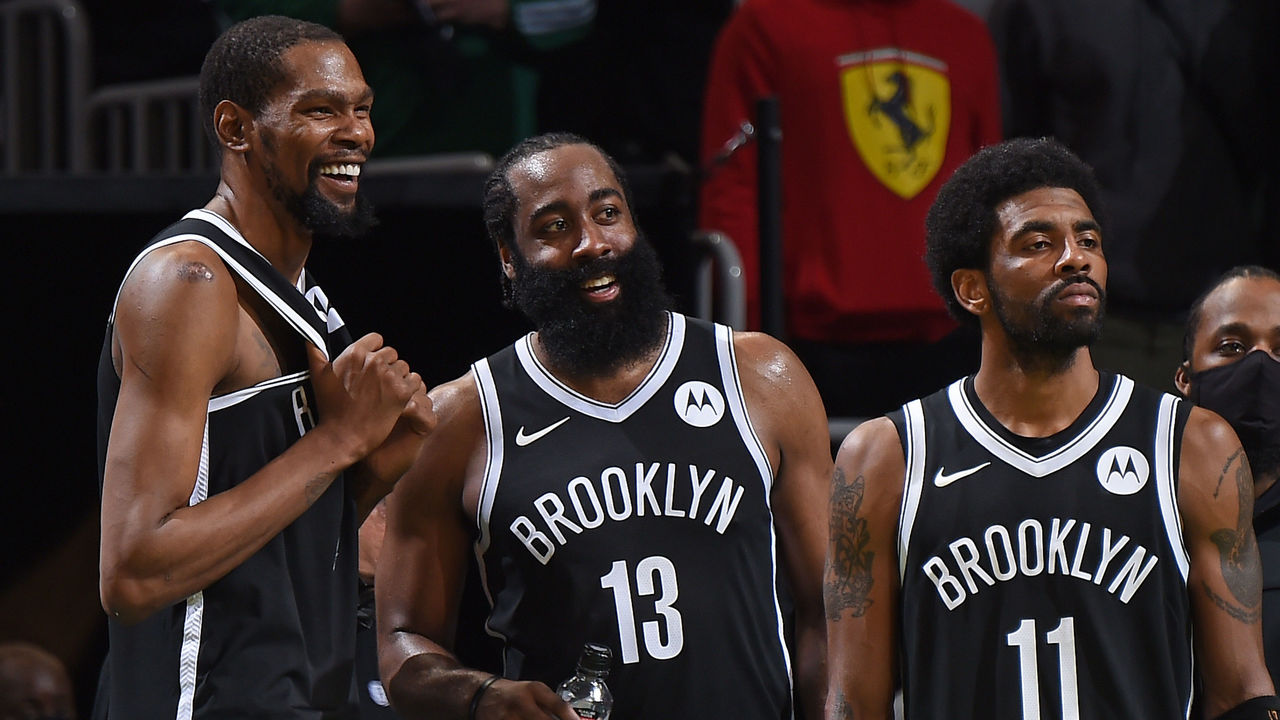 Following a seven-and-a-half-year run in Houston highlighted by three scoring titles and six first-team All-NBA selections, James Harden was the crown jewel of a blockbuster four-team trade in mid-January. The move united Harden with star guard Kyrie Irving and former Thunder teammate Kevin Durant in Brooklyn, giving the NBA its newest superteam.
The ordeal didn't reflect well on the Rockets organization, though credit is due to rookie GM Rafael Stone and first-time head coach Stephen Silas for navigating a nightmare scenario the best they could. Not so much for Houston's owner Tilman Fertitta, who's overseen the franchise's transformation over the past four-plus years into a dysfunctional calamity that hemorrhages marquee players. Perhaps Harden was right when he said the Rockets were "something that I don't think can be fixed."
4. Kyrie holds out
With COVID-19 having thrown the past two seasons into disarray, the NBA lobbied all personnel to get vaccinated as soon as possible. Team staff and referees agreed to mandatory vaccinations ahead of 2021-22, but the players' union shut the proposal down. Although most athletes took the vaccine, some refused for personal reasons. Yet no player's objection drew more controversy than Irving's.
New York's decision to require partial vaccination for local employees at indoor venues meant Irving could no longer play at home. Road appearances were still possible, but Nets GM Sean Marks initially erased that option, too. Brooklyn then invited Irving back as a part-time player after two months of exile, but a reported positive test sidelined those plans as well. The situation is unprecedented, and it doesn't appear the Nets will have Irving on a full-time basis in 2022, either.
3. Simmons saga leaves Sixers hanging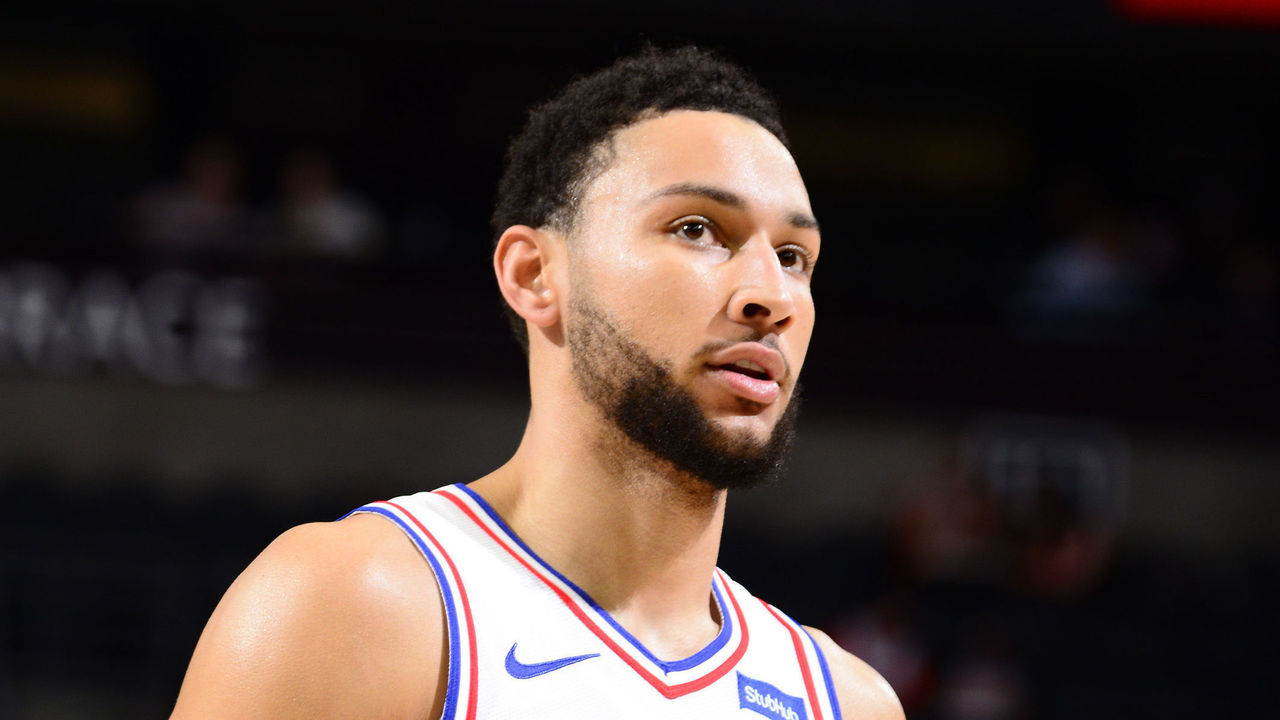 Ben Simmons passing up a dunk late in Game 7 of the conference semifinals effectively brought an end to his Sixers tenure. After Philadelphia crashed out of the postseason yet again, head coach Doc Rivers and longtime Simmons teammate Embiid publicly criticized the 25-year-old. What's followed has been an unrelenting battle of obstinance between Simmons and president of basketball operations Daryl Morey.
Simmons told the franchise he wouldn't play for them again, but Morey refuses to trade him for anything less than what he believes the player is worth. Simmons has since said mental health concerns prevent him from returning, while the 76ers have issued significant fines for his absences. Save for brief practice appearances that soured quickly, Simmons has been away all campaign. Trade talks reportedly gained momentum in recent weeks, but a proper solution seems nowhere close.
2. Bucks snap 50-year championship drought
The Milwaukee Bucks pushed all their chips into the middle of the table for the 2020-21 season, and it paid off spectacularly. The franchise's first title in half a century justified the king's ransom in draft compensation Milwaukee paid to pry Jrue Holiday from the New Orleans Pelicans late last year, and it capped off an enthralling campaign that was buoyant from the get-go thanks to Giannis Antetokounmpo's long-term commitment to the club.
But Bucks fans arguably weren't alone in celebrating their title. Milwaukee's victory over the Phoenix Suns in The Finals was also a shared win for small-market NBA sides, which have generally struggled to keep hold of some of their best players in an era dominated by super teams. The Bucks' success wasn't entirely homegrown, but it's provided other small markets with a blueprint and hope that they can establish their own championship core.
1. COVID-19 mars a 3rd season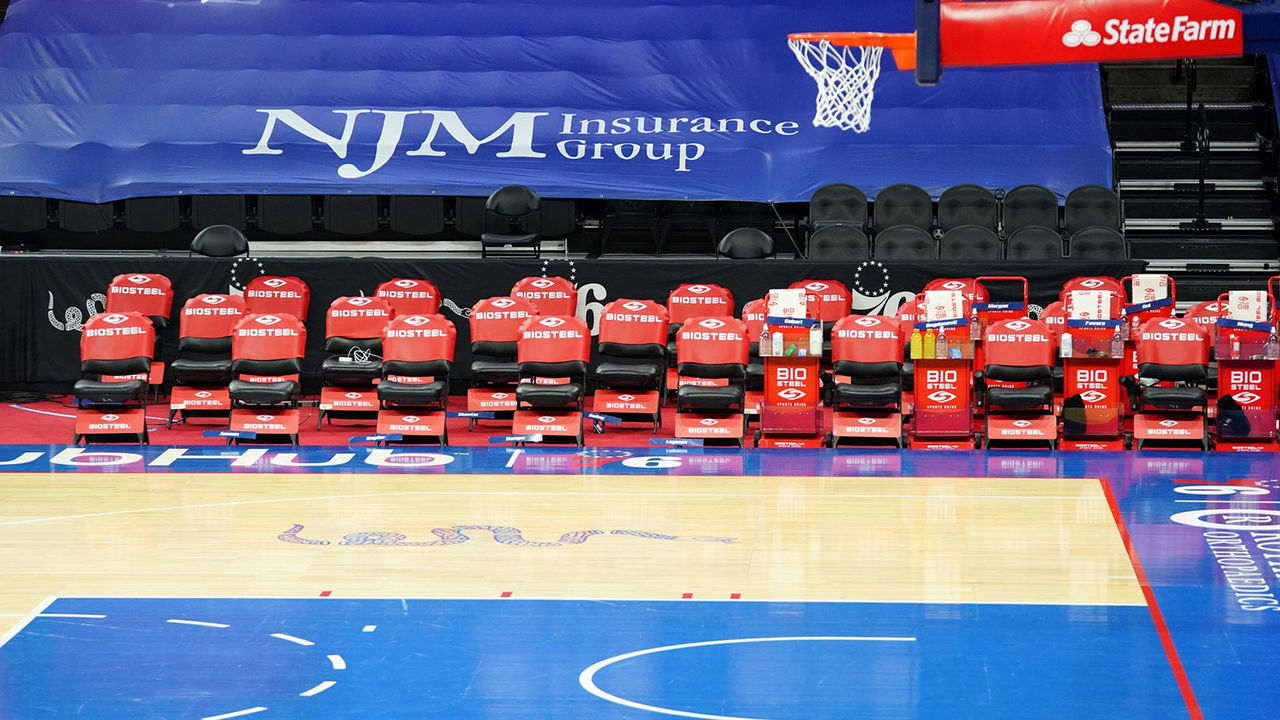 The NBA has experienced its latest surge in COVID-19 cases two months into the 2021-22 season, this time as a result of the Omicron variant. Over the first six weeks of the campaign, 16 players entered health and safety protocols, requiring an individual to miss team activities for a minimum of 10 days. Then December came, and there were over 200 absentees (four players entered twice during the month), sending the total for the season skyrocketing.
And that doesn't even take into account the seven head coaches and countless staffers to hit protocols. The league postponed nine games when teams failed to submit a roster of eight or more active players. Multiple outfits, like the Hawks and Raptors, compiled concurrent double-digit lists of protocol-related absentees, prompting the Association to tweak rules permitting 10-day hardship signings. The move has provided relief for rosters beset by short-term vacancies - not so much for fans who've forked over hundreds of dollars in advance to see Lance Stephenson play 16 minutes a game for Atlanta.
Comments
✕
10 biggest NBA stories of 2021
  Got something to say? Leave a comment below!