Anthony Davis has the power to reopen the Lakers' title window
Getty Images / Photo illustration by Nick Roy / theScore
With the 2022-23 campaign approaching, we're diving deep into some of the players we're most interested to watch in the season to come. Last up, a onetime MVP candidate looking to regain his form in time to save a sinking franchise.
Previous entries: Tyrese Maxey, James Wiseman, Anthony Edwards, Kawhi Leonard/Zion Williamson/Jamal Murray, Ben Simmons
There are any number of ways to explain the Los Angeles Lakers' titanically disappointing 2021-22 season, in which they failed to even crack the 10-team play-in field in the Western Conference just two years after winning the championship.
Pick your favorite: The team was ancient, it had zero depth, it lacked two-way role players, the perimeter defense was a tire fire, there wasn't nearly enough shooting around LeBron James, and Russell Westbrook was a terrible fit who compounded all of those problems. Even James, for all his continued brilliance in his 19th season, contributed to the disappointment with a putrid defensive effort amid some signs of physical decline.
But perhaps the simplest and most compelling explanation is that Anthony Davis wasn't who the Lakers needed him to be, neither in terms of his ability or his performance on the sporadic occasions he was able to suit up.
Davis played just 40 games due to a litany of lower-body injuries, and the Lakers didn't exactly look like world-beaters in the games when he was healthy. They were just 17-23 with Davis in the lineup and were outscored by three points per 100 possessions with him on the floor. It's worth noting that James, who also missed extended time, only overlapped with Davis for 22 contests. But it feels pointless to play the "what if" game with that superstar tandem when the team still soundly lost the pair's shared minutes.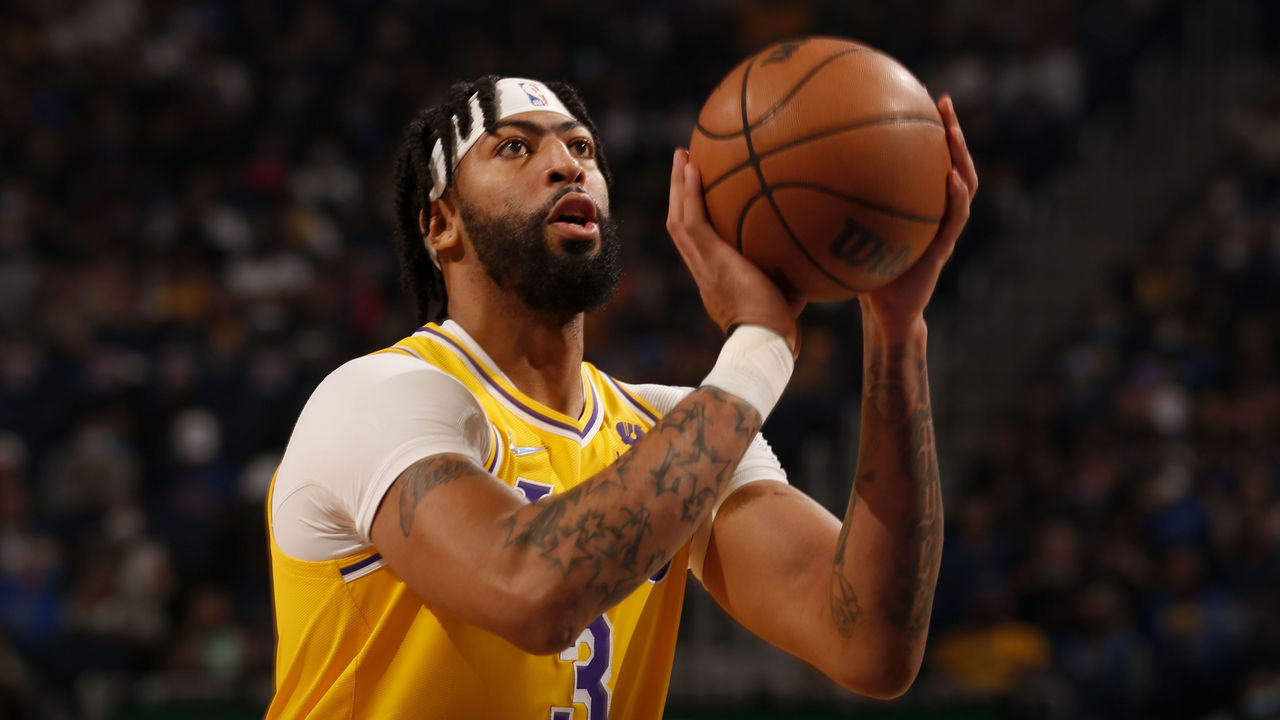 To be clear, individually, Davis was still very good when he played. He averaged 23.2 points, shot a career-high 57% from 2-point range, led the league in combined steals and blocks per game (3.5), and offered the only thing that passed for interior defense on the Lakers. But the success of a team this top-heavy was predicated on him continuing to perform like the top-10 player he'd been for most of the previous decade. Last season, he was not up to that standard.
Davis added some muscle mass last offseason, presumably to help weather the demands of playing center and to protect against injuries. He did play at the 5 more frequently than he had the two seasons prior, but he also looked a step slower, which negated some of the advantages that came with playing him at that position. And the extra padding obviously didn't do much to insulate him from injury. It didn't help that an aging James and a threadbare supporting cast held a magnifying glass to all of Davis' struggles and areas of slippage, however minor.
His rim-protecting numbers paint a clear picture of both his underwhelming play (by his standards) and the roster issues that made his job such a challenge. Though Davis continued to rack up blocks, opponents shot 62.3% at the rim when he was in the vicinity, way up from the 51.8% mark he posted during L.A.'s championship campaign. He was also forced to defend more of those at-rim shots (6.3 per game) than in any other season of his career, a reflection of his role as the last line of defense and of the leaky perimeter corps that often hung him out to dry.
Offensively, Davis was always going to be hard-pressed to replicate his insane shooting stretch in the Disney bubble en route to the 2020 title, but it's a bit jarring how far and how rapidly the pendulum swung back in the opposite direction. He shot just 19% from 3-point range and 39% on non-rim 2-pointers last season, and even his free-throw shooting dipped to a career-low 71.3%. This is why, despite remaining one of the game's elite interior finishers, he posted the second-worst relative true shooting percentage of his career.
Though he's made incremental improvements over the years, Davis is still a limited playmaker. His ability to face up and score consistently out of the triple threat is what permits him to be more than just a play finisher on offense. Unfortunately, his attempts to self-create went poorly last season, when he ranked in the 35th percentile as an isolation scorer. The optimistic interpretation is that those struggles were mainly tied to his wonky shooting, which can probably be expected to return closer to his mean.
His dribble-drive and post-up games remained strong, and although his scoring efficiency as a roll man declined sharply, that was owed in large part to the Lakers' awful spacing and lack of pull-up shooting threats on the other end of those pick-and-rolls. It wouldn't take much for Davis' offensive game to rebound in a big way. His defensive dropoff is the bigger concern, especially because the team once again requires him to do a lot of heavy lifting at that end. The hope is that with better health, and a bit more help in front of him, we'll see something more akin to All-Defense AD.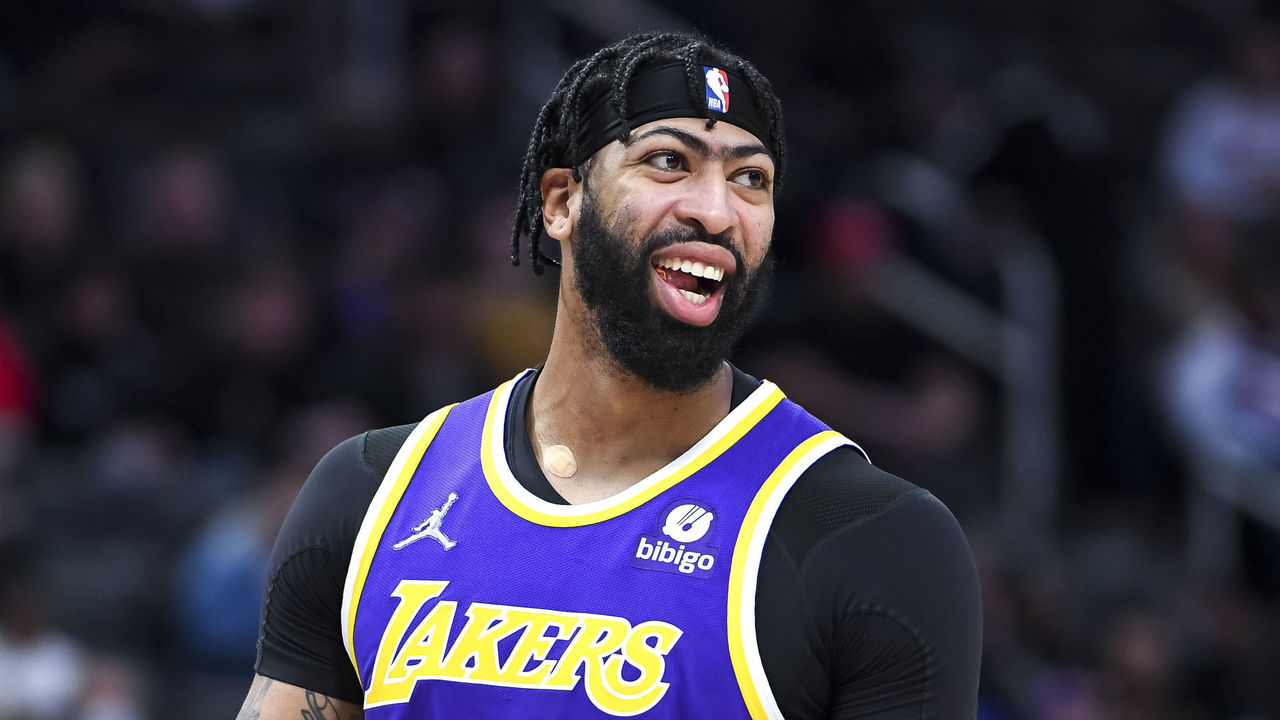 The Lakers didn't have the kind of offseason their front office and fans likely envisioned - which is to say, Westbrook is still on the roster, Kyrie Irving is not, and the team's two tradeable first-round picks remain in the holster. But they made some subtly important improvements on the margins. Patrick Beverley will fortify their defense at the point of attack while also giving them a sorely needed catch-and-shoot threat, and they should get a bit more versatility and dynamism from depth players such as Troy Brown Jr., Lonnie Walker, and Juan Toscano-Anderson. The expected return of Kendrick Nunn from a lost season theoretically gives them a supplemental off-the-bounce creator and some added offensive dimension.
For any of those marginal upgrades to really matter, though, L.A. needs a mostly healthy season from both James and Davis, and for Davis to return to his 2020 form. If that happens, the Lakers might well find themselves right back in the title hunt.
Is that a realistic expectation? Davis has been riddled with all manner of injuries throughout his career, and he's missed more than half the team's games over the last two seasons. He's also only 29, ostensibly still in his prime. It's not time to close the door on him as a top-10 player just yet, which means it's not quite time to close the door on the Lakers as a playoff antagonist.
How well and how often Davis plays might be the biggest swing factor in the entire league for this coming season.
Comments
✕
Anthony Davis has the power to reopen the Lakers' title window
  Got something to say? Leave a comment below!