theScore's 2021 NFL All-Pro team
Photo illustration by Nick Roy/theScore
The NFL's first 17-game regular season gave players more opportunities than ever before to make their mark. Plenty of stars emerged in the 2021 season, but only the very best made it onto our roster.
Here are theScore's All-Pro selections.
* = unanimous selection
Quarterback
Aaron Rodgers, Packers
Rodgers is in line to become just the sixth player in NFL history to win back-to-back MVP awards. All but one of our panelists believed he was the best quarterback of the season, with Tom Brady garnering the outlier vote. Rodgers threw for 4,115 yards and 37 touchdowns against four interceptions, leading Green Bay to a first-round bye yet again - even though he couldn't quite replicate his otherworldly production from the 2020 season. Moreover, the veteran's advanced stats jump off the screen. Rodgers led the NFL in QBR and EPA and was second to only Joe Burrow in completion percentage over expectation.
Running back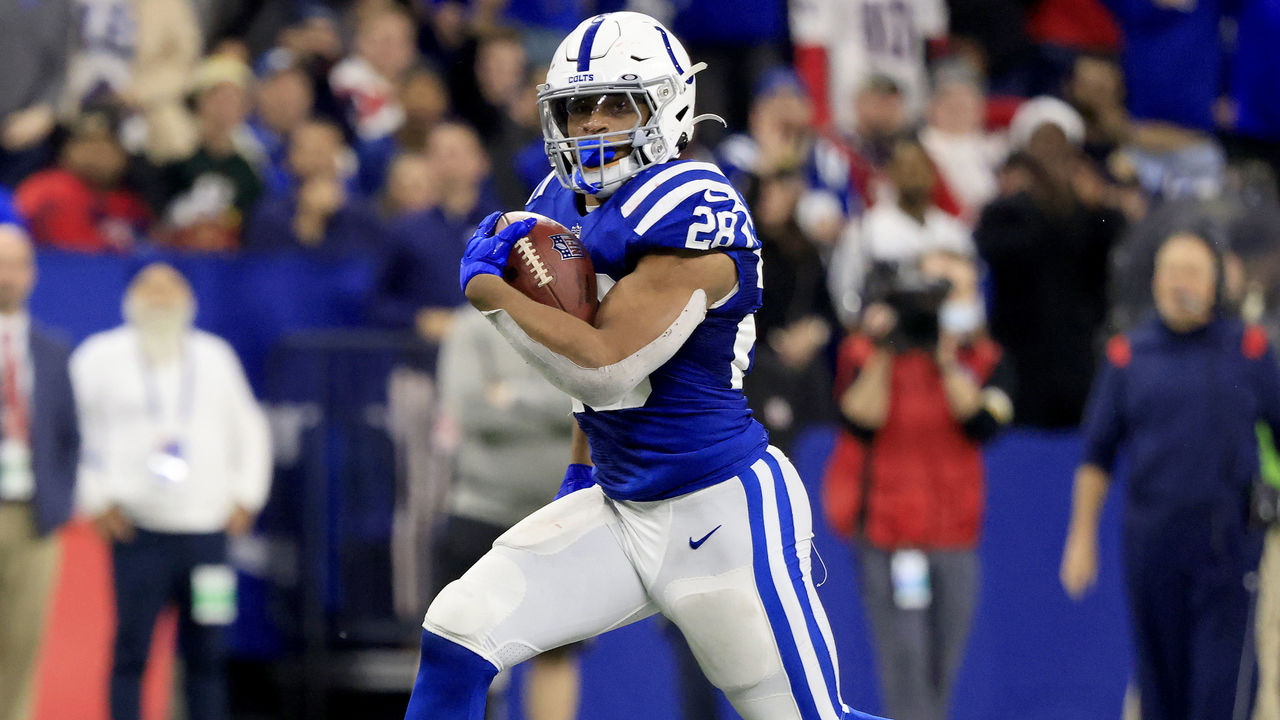 Jonathan Taylor, Colts*
Were you expecting anyone else? Taylor lapped the competition: He scored a league-high 18 rushing touchdowns, racked up 1,272 yards after contact, and set the Colts' single-season records for rushing yards (1,811) and touchdowns. The 22-year-old also proved that he's more than just the between-the-tackles runner that some had labeled him when he entered the league. He posted 30-plus receptions for the second consecutive campaign, establishing himself as a threat in the passing game to go along with his dominance on the ground.
Wide receiver
Cooper Kupp, Rams*
Justin Jefferson, Vikings
We can debate who's the best wide receiver in the NFL, but there's no arguing who had the best season. Kupp led the league in catches, receiving yards, and touchdown receptions, becoming only the fourth player in the Super Bowl era to capture the receiving triple crown. He also became the first player ever to record 90-plus receiving yards in at least 10 straight games. We could rattle off more accomplishments, but let's put it this way: Kupp's campaign will go down as one of the greatest ever at the position.
A wealth of candidates were in the running for the second spot out wide, but we couldn't deny Jefferson the nod. He picked up in 2021 where he left off last season, topping the 1,400-yard mark again while solidifying himself as one of the NFL's finest pass-catchers. While other wide receivers like Davante Adams and Tyreek Hill also had great seasons, Jefferson was more dangerous when he touched the ball, recording an impressive 15 yards per catch.
Tight end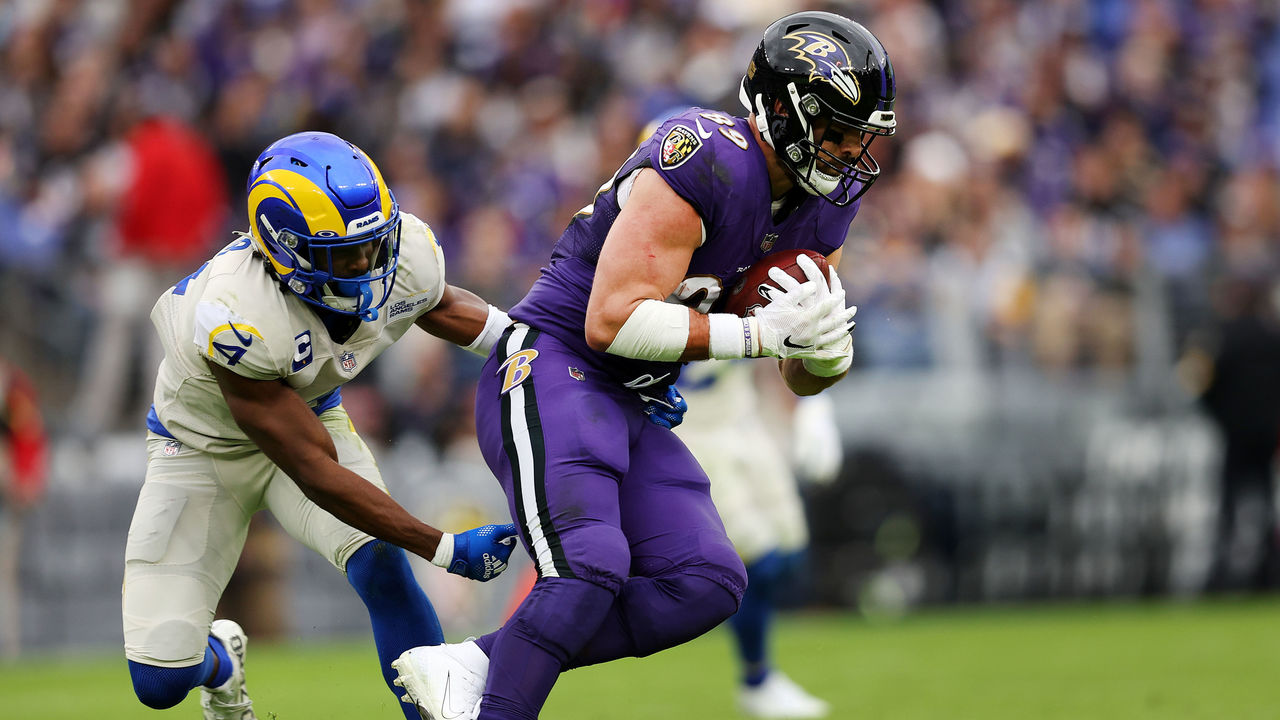 Mark Andrews, Ravens
Andrews ascended to the top of his position group with a truly special season. He became the first tight end in Ravens history to eclipse the 1,000-yard mark and also excelled as a blocker - an often overlooked aspect of the position. He finished the campaign with 1,361 yards despite missing Lamar Jackson for a number of contests, topping Travis Kelce - who usually dominates that category - and every other tight end by a significant margin.
Flex
Deebo Samuel, 49ers*
Samuel lined up out wide, in the slot, and in the backfield over the course of the season and was unstoppable in all three spots. The agile receiver frustrated tacklers, racking up yards after the catch and totaling over 1,700 offensive yards. Kyle Shanahan devised new ways to get the ball to his top playmaker every week, and Samuel rewarded him with one of the most unique seasons we've seen from a receiver in quite some time.
Offensive tackle
Trent Williams, 49ers*
Tristan Wirfs, Buccaneers
Greatness is expected of a nine-time Pro Bowler, but Williams somehow took his game to another level this season. He was not only a stellar bodyguard for the 49ers' quarterbacks, but he also cemented himself as one of the top run-blockers the NFL's ever seen. A master in trench warfare, Williams punished every defender tasked with defeating him.
Wirfs followed up an excellent rookie campaign with an even better sophomore season. The 22-year-old excelled in pass protection, allowing just two sacks. But Wirfs' greatest feat was looking like a seasoned pro blocking for Tom Brady on a veteran-filled Buccaneers team.
Guard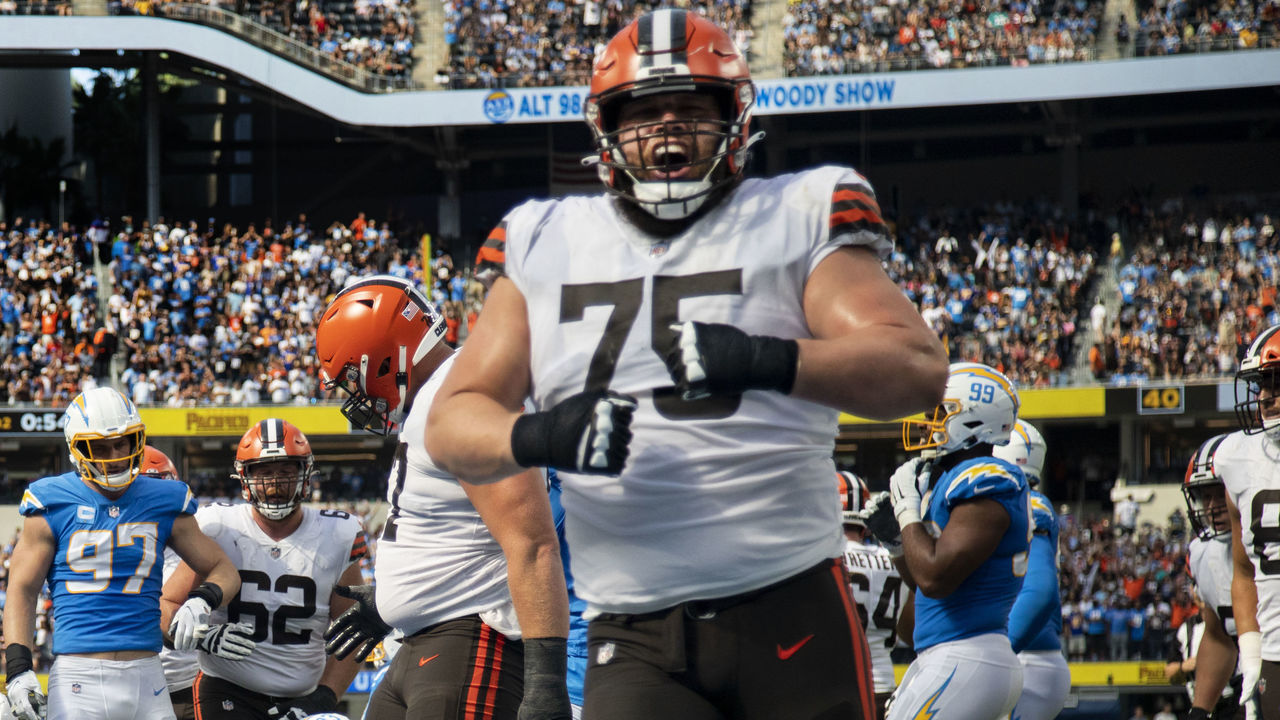 Joel Bitonio, Browns
Zack Martin, Cowboys
While Bitonio and Martin are on the wrong side of 30, both remained at the very top of their game to hold off two of the younger guns in Quenton Nelson and Wyatt Teller for our picks.
Bitonio always starred in run blocking, but he may have had his best season in 2021, helping the Browns rank fourth in yards on the ground (2,471) and first in yards per carry (5.1). He was also unmovable as a pass-blocker, giving up only 17 pressures and two sacks, one of which came when he was forced to step over to left tackle for two games.
Martin's been the gold standard for right guards ever since he stepped into the league. The veteran, who's never given up more than three sacks or 21 pressures in a single campaign, only allowed Dak Prescott to go down once this season. Remarkably, he was credited with one or zero pressures allowed in 11 different games. Fit this man for his gold jacket now.
Center
Jason Kelce, Eagles
Kelce anchored a dominant Eagles offensive line yet again. While the center provided his usual stability for Philadelphia's solid rushing attack, he also stood out in pass-blocking, allowing just one sack this season. Even at 34 years old, Kelce's still one of the best offensive linemen in the game, bringing athleticism and good leverage to the position.
Edge rusher
T.J. Watt, Steelers*
Myles Garrett, Browns
Watt was a man on a mission this season as he tied Michael Strahan's official single-season sack record. The Steelers star managed to make the remarkable look ordinary. His 22.5 sacks led the league for the second year in a row, an astonishing feat considering he didn't play the full season. Quarterbacks weren't the only players feeling Watt's wrath - he was a force in run defense, too.
Teams rarely had an answer for Garrett. The 6-foot-4, 272-pound pass-rusher was too strong to overpower and too explosive for even the most quick-footed offensive tackles. A superb year saw Garrett set new career highs in sacks (16), tackles for loss (17), and quarterback hits (33).
Interior defensive line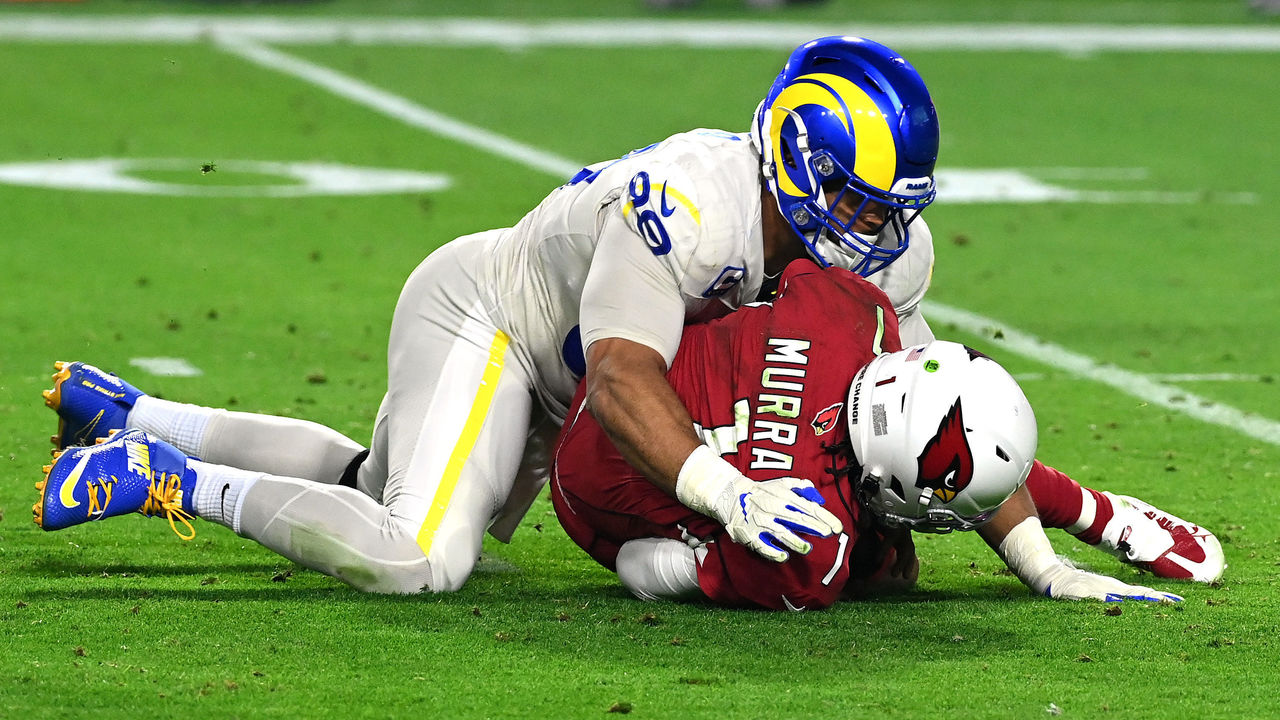 Aaron Donald, Rams*
Cam Heyward, Steelers
We witness history every time Donald puts his hand in the dirt. The three-time Defensive Player of the Year is the best interior defender in football by a significant margin. He was once again in a league of his own in 2021, dominating opponents week after week despite facing more double teams than any other player. Donald led his position in sacks (12.5) and tackles for loss (19).
The Steelers' defense took a step backward, but that sure didn't have anything to do with Heyward's play. The veteran remained one of the cornerstones of Pittsburgh's blue-collar unit, and his ability to pressure quarterbacks from the inside as one of the league's most consistent run defenders stood out again. Heyward ranked first among interior linemen in tackles (89) and second in sacks (10).
Linebacker
Darius Leonard, Colts*
Micah Parsons, Cowboys
Demario Davis, Saints
Even if the football's in midair or in the grasp of the strongest ball carrier, there's a good chance Leonard will find a way to grab it. The Colts linebacker was a turnover machine, recording four interceptions and eight forced fumbles in a campaign to remember. Leonard's game is powered by the instincts to be a step ahead of his competitors, and his awareness makes him the ultimate ball magnet.
While comparisons to Lawrence Taylor might creep slightly toward hyperbole, the high praise for Parsons is definitely warranted. He was a master of all trades for the Cowboys as a rookie. Whether he was going after the quarterback in a relentless pursuit or roaming sideline-to-sideline with blazing athleticism, Parsons documented one of the NFL's fastest transitions to superstardom - an incredible feat considering he'd last played football in 2019.
Davis was snubbed from the Pro Bowl, but he gets his due on our All-Pro team. The veteran was a model of consistency once again for the Saints. With over 100 tackles and 13 tackles for loss, Davis set the tone for a New Orleans defense that carried the club through the season.
Cornerback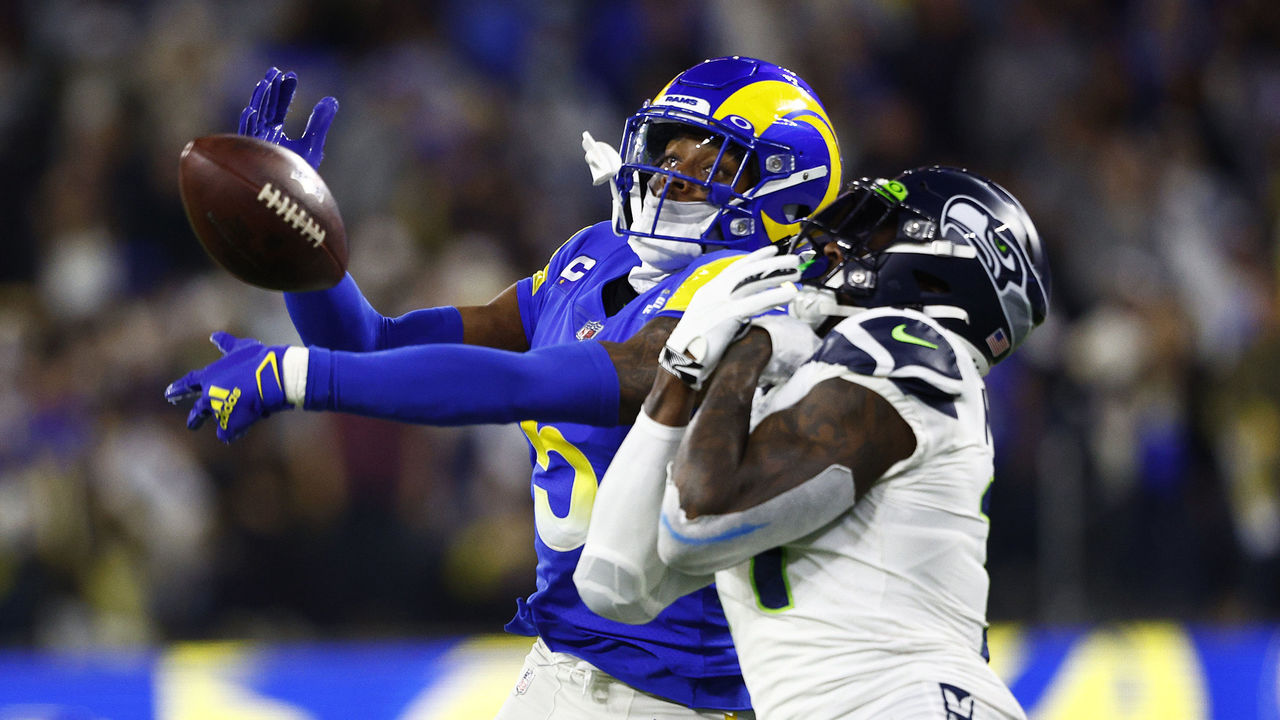 Jalen Ramsey, Rams*
J.C. Jackson, Patriots
At a position where few sustain elite performances from one year to the next, Ramsey's become a constant. An All-Pro in the 2020 season, the 27-year-old held opponents to a near-identical 74.4 passer rating in 2021, even while rotating across the formation more frequently. He broke up 16 passes, intercepted four, and remained one of the top run defenders at his position.
Jackson was equally tough to throw against, hauling in eight interceptions for the Patriots. He developed into the legitimate No. 1 corner that Bill Belichick loves building his defenses around. Jackson surrendered nearly 400 fewer yards than the Cowboys' Trevon Diggs, who built a solid All-Pro case of his own by pulling down 11 picks.
Safety
Kevin Byard, Titans
Harrison Smith, Vikings
Byard was everywhere for the Titans' defense, which was one of the most improved units from the previous season. The safety has always been an All-Pro-caliber player, but with a strong pass rush in front of him, he consistently hit that top-level play. Byard tied for fourth in interceptions (five), had two forced fumbles, and scored twice off turnovers.
Smith, meanwhile, was one of the few bright spots on an otherwise uncharacteristically poor Vikings defense. The always-dependable veteran was again a star in coverage, allowing zero touchdowns and only giving up 83 total yards after the catch. He also provided value as a blitzer.
Defensive back
A.J. Terrell, Falcons
In an era when the term "lockdown corner" is virtually extinct, Terrell did his best impression of Darrelle Revis this season. The sophomore allowed 29 receptions on 66 targets (43.9%) for a total of 200 yards (6.9 per catch) and didn't allow more than 32 yards in any game. His numbers are on par with Ramsey - the Falcons' budding star hauled in one fewer interception (three) but recorded one more pass breakup (13).
Kicker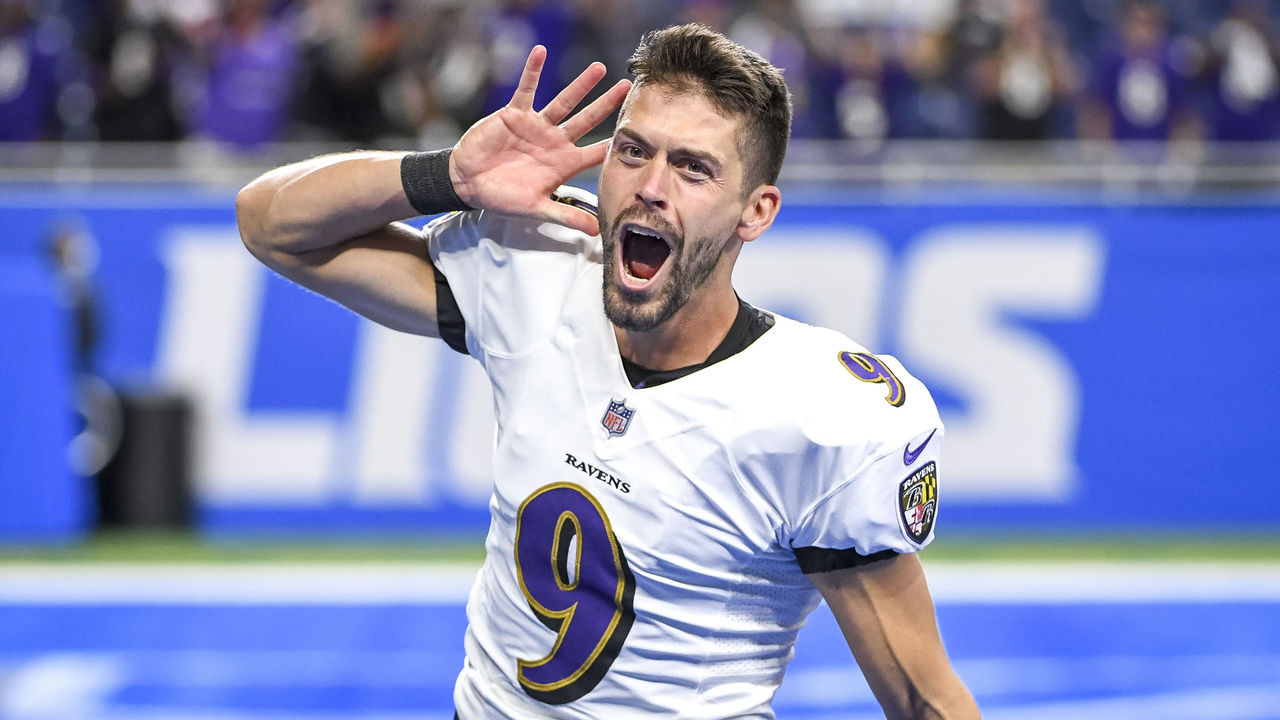 Justin Tucker, Ravens
Tucker wasn't selected as an All-Pro based on name recognition alone. The Ravens kicker once again displayed his excellence by booting an NFL-record 66-yard field goal to elevate his team over the Lions on Sept. 26 and went on to convert numerous other clutch tries. Tucker was also a perfect six-for-six on field goals 50 yards or further. The five-time Pro Bowler became the fastest kicker to reach 300 career field goals in league history, adding to his legacy as the most accurate kicker ever.
Punter
A.J. Cole, Raiders
While Cole ranked near the top of the league in touchbacks, he also led the NFL in yards per punt (50) and sat fifth in net yards per punt (42.5). His massive leg helped the Raiders repeatedly flip field position - and he forced one fumble for good measure.
Return specialist
Kene Nwangwu, Vikings
Nwangwu didn't have nearly as many return attempts as other kick returners, but he was certainly the most explosive of the bunch. The Vikings' rookie running back was the only NFL player with multiple touchdowns on kickoff or punt returns and averaged a whopping 32.2 yards per runback on kickoffs.
Special teamer
J.T. Gray, Saints
A cornerback by trade, Gray led the league in special teams tackles for the second time in three years, collecting 19. The 25-year-old has blossomed into a team captain and a star in the game's third phase.
Stats sources: PFF, Pro Football Reference
Comments
✕
theScore's 2021 NFL All-Pro team
  Got something to say? Leave a comment below!