There are hockey geeks. And then there are lifetime obsessives like Mark Stone.
Long before Stone arrived in Vegas to star for the Golden Knights, he was a hockey-mad kid from the Canadian Prairies who would pour over camcorder-recorded game film of him and his minor hockey teammates. Later, he would pop in a new disc to dissect footage of his older brother and his teammates.
In the early 2000s, the Stone family DVD player was seemingly always filled with youth hockey material. "I thought that was the coolest thing in the world," Stone, now a veteran of 500 NHL games, said last year of reviewing the footage at his leisure. "I literally watched them all the time."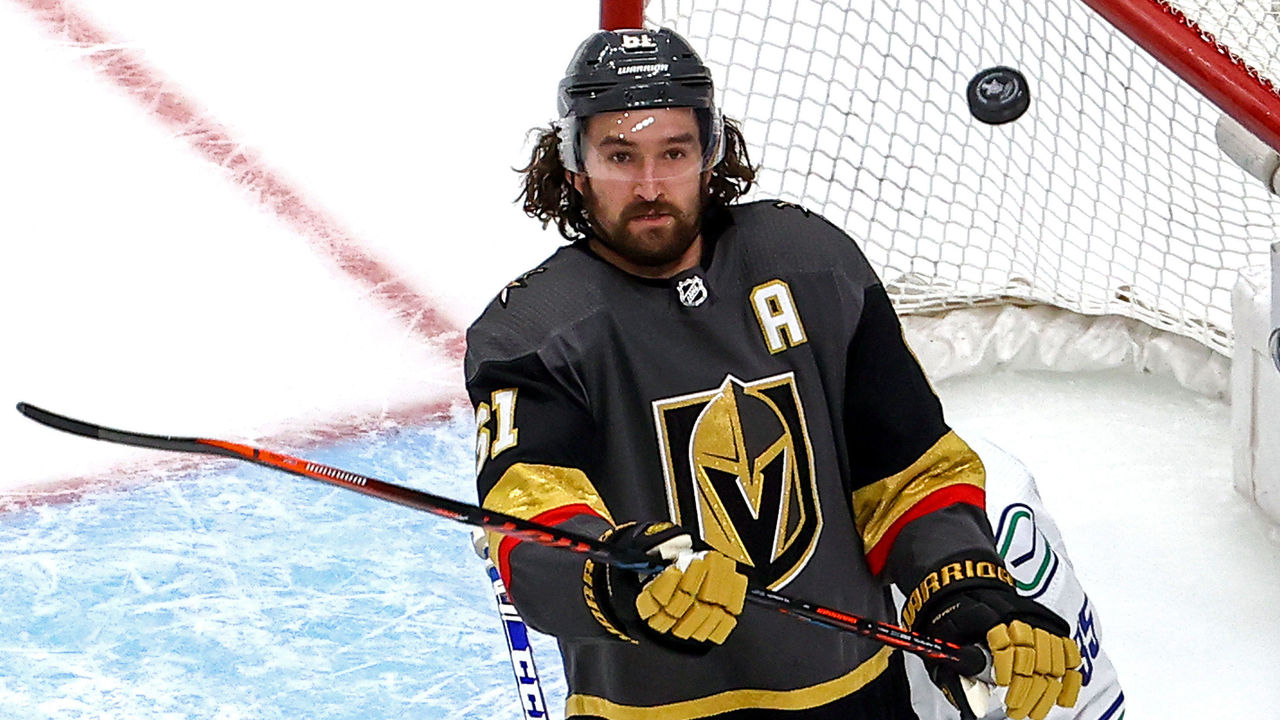 You can see the hockey nerd persona in Stone's body of work these playoffs.
Heading into Game 4 of the Western Conference final, which goes Saturday night in Edmonton, the crafty right-winger has racked up 17 points in 18 games by consistently outsmarting the opposition. "He's not the fastest skater, but he plays fast because he's always thinking ahead of the other players," is how Darren Ritchie, one of Stone's junior hockey coaches, put it.
Ritchie, general manager for the Brandon Wheat Kings, was an assistant coach with the WHL club during Stone's four years there. He knows the Winnipeg native well as a player and a person, and on Friday afternoon helped theScore analyze a handful of Stone-related clips. Consider the following a lesson in why and how Stone has been one of the restart's premier two-way forwards:
The stick work
Stone is probably best described as organized chaos on skates.
His long brown hair bulges out of his helmet, his abnormally long Warrior stick is always up to something, and his skating stride won't ever be described as majestic. Yet, good luck finding an NHL winger who is better at defending in the neutral zone, a place where nifty and responsible stick work can shine.
The clip below, pulled from Game 7 of Vegas' second-round series against the Vancouver Canucks, perfectly demonstrates this uniquely Stone quirk:
Notice how Stone practically begs Vancouver's Tanner Pearson to move the puck to the middle of the ice. His body language is focused but standoffish right up until the moment he lunges downward, and his timing is impeccable.
"He forces Pearson to make that pass. It's almost like Mark goads him into it, right?" Ritchie said. "He gets opponents to feel like they're comfortable. But, at the same time, he knows if they try to get a puck through there, he's going to get a stick on it. He gets a lot of stick on it in this case."
Despite appearing in only 65 games, Stone finished tied for second in takeaways in the 2019-20 regular season, with 78. He possesses an uncanny ability to force turnovers and not miss a beat while transitioning to attack mode. Thus far in the playoffs, he's accumulated 16 takeaways, and it feels like almost half of them have blossomed into a scoring chance the other way.
"That's because he's always got really good angles," Ritchie said of the 6-foot-3, 202-pound Stone. "He's always in the proper position when he approaches the player, so he doesn't have to hook the guy's hands. He doesn't take many penalties, and he's always on the right side of the puck."
Stone was a menace all night Thursday in Game 3 of the West final, a 3-2 overtime win for the Dallas Stars. He factored into both Vegas markers in the loss, contributing a primary assist and a goal. The off-balance neutral-zone poke check showcased in the clip below is from a shift that didn't lead to a red light flashing, though it was a beautiful display of angling nonetheless:
Stone quickly converts a clean steal into a blue-line give-and-go with teammate Chandler Stephenson and then pings the crossbar with a long-range shot. His proud ex-coach enjoyed a laugh upon realizing how familiar both examples of Stone's fine stick work looked after a few loops of each.
"We've seen this a thousand times," Ritchie said, referencing Stone's time in Brandon. "We'd have players on our bench turn back and look at us coaches and say, 'Don't these guys know he can do this?!' It got to the point where our players would just laugh. It was completely routine of him to strip guys of pucks in the neutral zone and go the other way on a breakaway or 2-on-1s."
The goal scoring
Ritchie remembers checking in on Stone the season before the youngster joined the Wheat Kings and was blown away by one particular shootout goal. Stone, at the time dominating Manitoba's Midget AAA loop, pulled off a deke affectionately known as The Forsberg. It was something extraordinary, a rare dash of wow from an otherwise nuanced star player.
"He's not polished, he's nothing fancy, he's a hockey player," Ritchie said of Stone then and now. He made the remark after rewatching his former player's power-play goal in Game 3 of the second round. It wasn't an insult. Ritchie was instead emphasizing the understated nature of Stone's full toolbox:
Sure, that's a quality top-corner snipe, but there isn't anything particularly flashy about how Stone released the shot. As per usual, he was in the right place at the right time, and he used pinpoint accuracy to nail an opening.
Stone's calling card is his hockey I.Q. - or hockey sense, whatever you want to call it - which Ritchie estimates is "top five in the NHL." The 2010 sixth-round pick of the Ottawa Senators anticipates on-ice developments so well that he's rarely caught off guard by the run of play, which can often turn on a dime.
Case in point, in the sequence below from the first round against the Chicago Blackhawks, Stone scoops up the puck at the blue line, calmly finds a streaking teammate, glides through the hash marks, and then deflects a pass to the back of the net. Each task is completed at a pretty slow speed:
"He just finishes the play. He goes to the net with his stick on the ice," Ritchie said of the 28-year-old. "Basic stuff, but you also can't really teach it. That's probably the biggest thing that people don't understand about hockey sense. You either have it or you don't.
"Another thing about Mark," he continued, "is that he never lets the opponent have his stick. His stick is always free. They may have his body, but if you ever watch closely, notice his stick is always free. He's never tangled up. They may think they have him in some way or another, but he's still free because his stick is."
Ritchie, like many others in the hockey world, sees a little Pavel Datsyuk in Stone. The Detroit Red Wings legend was a prolific skater while Stone is not, but there's a comparison to be made based on the stick work, puck stripping, and, overall, game-to-game consistency. Two two-way giants.
The dependability and versatility in Stone's game allow Golden Knights coach Peter DeBoer to lean heavily on him in all situations. Stone has logged an average of 18:28 a night in the playoffs, four minutes of which are spent on special teams - three on the power play and one on the penalty kill.
The celebrations
Theory: Maybe Stone has such good hand-eye coordination because his stick is essentially an extension of his body. Based on the length, giant knob at the handle, and how he deploys the blade like a fire poker, Stone's stick may be closer to an instrument or a tool than anything else.
"It's like he's holding a candle," Ritchie said when asked about Stone's habit of skating with his stick upright. "A five-foot candle."
The stick is one eccentricity. Another is his animated goal celebrations, which have become legendary over the years. Perhaps nobody, it's been said a thousand times over, gets as hyped about a goal. Exhibit A from last round:
This next clip comes after a Western Conference final victory. Not a goal, a full-fledge win, which explains why Stone morphs into a WWE Superstar:
Ritchie loved the second clip: "Knowing that they need to win that game, that they can't go down 2-0, you see the emotion that says, 'Hey, we're back in it!' It's a great feeling. Some guys don't show it like him, but he lets it out."
That expressive side of Stone - the part of him that celebrates every achievement like it's his last on Earth - is undeniably infectious. You can tell it's genuine and rooted in competitiveness. Mind you, this is nothing new from the Prairie kid. "He's been like this since he was 16 years old," Ritchie said.
Pulling for Vegas in the restart hasn't been difficult for Ritchie since forward Ryan Reaves, black ace Reid Duke, assistant coach Ryan Craig, director of player personnel Vaughn Karpan, assistant director of player personnel Bob Lowes, and GM Kelly McCrimmon also have ties to the Wheat Kings.
It makes you wonder what Stone's reaction might be if they win the Cup. "Oh God, no kidding," Ritchie said. "I hope we get to see it. It'd be pretty cool."
John Matisz is theScore's national hockey writer.