Two seasons ago, with Kawhi Leonard sidelined due to a mysterious quad injury that would ultimately lead to his ugly divorce from the franchise, San Antonio Spurs coach Gregg Popovich empowered veteran big man LaMarcus Aldridge to serve as the focal point of the offense, and to do it in his own way.
During his first two years in San Antonio, Aldridge had become disillusioned with his complementary role alongside Leonard - to the point that he approached Popovich about the possibility of a trade.
Popovich responded by taking his hands off the steering wheel. He allowed Aldridge to do what made him most comfortable, which was playing with his back to the basket and shooting mid-range jumpers. Aldridge responded by submitting arguably his finest season, posting his best per-possession scoring rate on career-best 2-point shooting en route to being voted to the All-NBA second team.
"He'd been in the league nine years and there's one way he plays on the offensive end and feels comfortable with," Popovich said at the time. "I tried to turn him into Jack Sikma - told him I was going to teach him how to play on the elbow, go on the wing, face up. It was confusing for him. It really didn't fit his style of play. I was guilty of over-coaching in a sense."
Last season, Aldridge continued to play his old-school game, leading the league in post-up frequency for the second straight year as the Spurs continued to run their offense through him. His production took a slight dip from its 2017-18 zenith, though he was still an All-Star and San Antonio posted the league's sixth-best offensive rating.
But the Spurs' roster has changed over the past two years, in ways that have made it less tenable for Aldridge to cram the entirety of his offensive game inside the arc. In the summer of 2018, the team traded Leonard and Danny Green (its two best outside shooters) for DeMar DeRozan and Jakob Poeltl, two non-threats from 3-point range.
Complicating matters further, Dejounte Murray returned this season after a year on the shelf with an ACL tear. Despite being a massively promising talent, Murray is similarly unthreatening as a 3-point shooter. That meant the Spurs couldn't put their best players on the court together without completely compromising their already-limited spacing.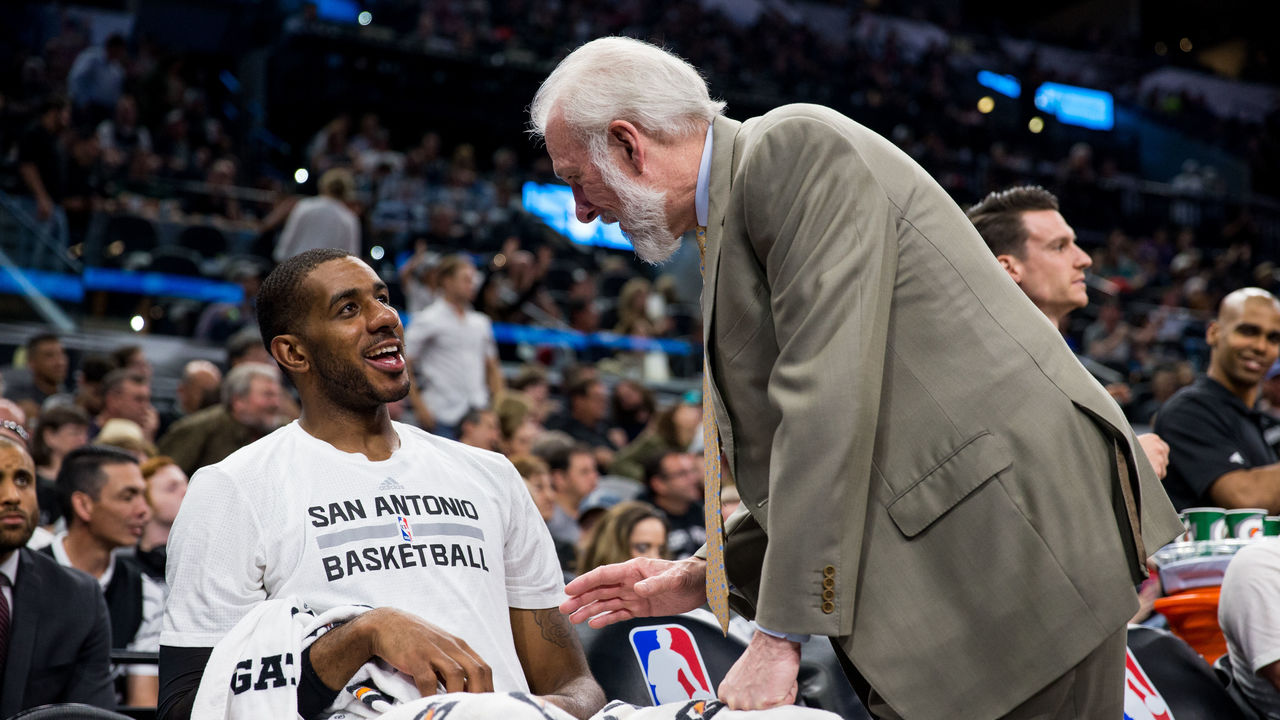 For the first two months of this season, Aldridge staunchly remained within his comfort zone, even though it meant San Antonio was frequently running out lineups with three or four players who flat-out refused to shoot threes. The Spurs made it work to a certain extent - hovering around the top 10 in offensive rating - but that had a lot more to do with their bench and transitional lineups than their starters.
Then, suddenly, something changed.
More specifically, Aldridge began stepping out and letting it fly from deep. After attempting just 44 threes in his first 26 games, he's launched 50 over his past 10. Put another way, his rate of 3-pointers has more than tripled as a percentage of his total field-goal attempts.
Even better, Aldridge has quickly proven to be a 3-point threat worth taking seriously. The accuracy on those 50 attempts has been staggering, as he's cashed in 28 of them (56%), which is also more total threes than he made in 12 of his previous 13 seasons. He's up to 44.7% from deep on the year, good for seventh in the league among players who've attempted at least 75 such shots. His 58.4% true shooting mark is the best of his career.
Allow me to channel Destiny's Child: Why the sudden change?
Seriously, what prompted Aldridge's newfound appetite for the long ball? What impels a player - partway through the 14th year of his NBA career - to make such a dramatic, fundamental shift? Was it his decision, the coaching staff's, or both? Will it actually stick, or is it just a blip?
Popovich was characteristically cagey when asked about the impetus for the adjustment before San Antonio's come-from-behind win over the Toronto Raptors on Sunday, in which Aldridge attempted six 3-pointers and converted a 4-point play.
"That's not LaMarcus," Popovich insisted. "It's his twin. It's an impersonator."
So, how does Pop feel about what that twin is bringing to the table? "He's doing a hell of a job."
Aldridge was a bit more forthright when asked about his long-range spike, even if he didn't quite answer my biggest burning question (why now?).
"I've worked on it for years," he said. "My last year in Portland, I thought I was pretty confident with it. I think I've gotten more confident with it now. Last summer was a great summer of just drilling it. I'm a guy where I have to put in time with it. Got a lot of time with it last summer, and Pop's let me play my game. Some of them are off the dribble, I'm just kind of finding my spots.
"(Popovich) came to me and said, 'Shoot 'em.' He really wanted me to," Aldridge continued. "It wasn't, 'Shoot 'em or don't shoot 'em.' It was, 'Shoot 'em.' I've always been able to, but I think when you have the green light to really just shoot it, you know, I've taken ones that people don't really see me take. Step-back, off the dribble, things like that."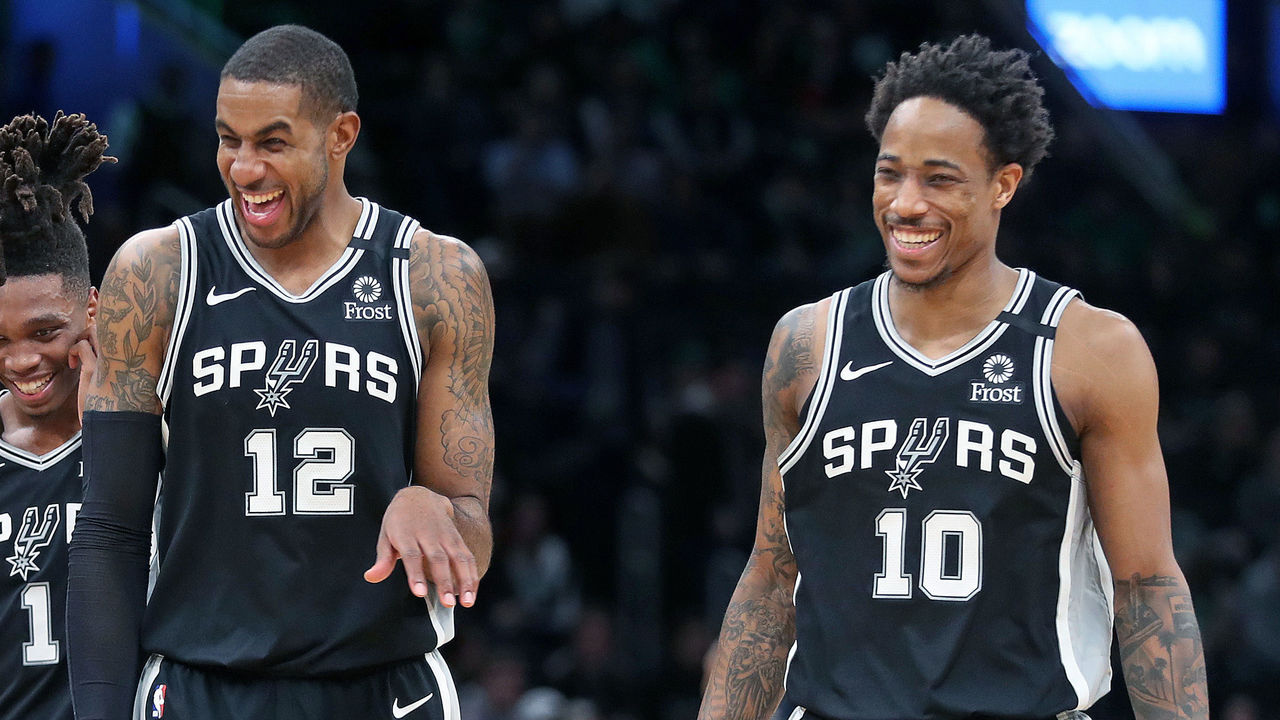 Amid his 3-point boom, Aldridge's work on the low block has scaled back significantly. He still ranks third league-wide in possessions finished out of the post, but he's at 5.2 such plays per game, down from 8.6 last season and 9.4 in 2017-18. His post touches have come down from 13.9 per game two years ago to 9.7 this season to 7.4 over the past 10 contests.
"You have to evolve in this game," said Aldridge, who stubbornly stayed true to his back-to-the-basket roots for 13-plus campaigns. "When they're doubling me on the block like (the Raptors) were tonight, I couldn't even get one look at the rim. It helps to be able to knock down that trey-ball to still help the team out."
It sounds shockingly simple, but when you've played one particular way for nearly a decade and a half, successfully making the kind of change Aldridge is currently making - in the middle of a season, no less - is no small feat.
The benefits of his migration away from the basket have been manifold. They go beyond Aldridge regularly hoisting shots that are worth 50% more than the shots he was almost exclusively taking before, and hitting those higher-value shots at a preposterous rate. He's also making things easier for his teammates - especially the ones who are similarly inclined to operate inside the arc, but who haven't demonstrated the ability to take a few steps back and consistently knock down triples.
It's not a coincidence that over this same 10-game stretch, DeRozan has shot 63.9% from 2-point range and 81.5% inside the restricted area. Those numbers aren't remotely sustainable, but Aldridge's willingness to spot up - even if it means camping out in the corner and serving merely as a help-side decoy who doesn't touch the ball for consecutive possessions - has opened up the middle of the court. DeRozan has attempted half as many threes this season as Aldridge has attempted over the past three weeks alone, but the Spurs are now effectively inverting the floor, with DeRozan going to work in the post while Aldridge spaces things out for him.
The upshot: San Antonio's posted a 124.1 offensive rating with its two stars on the floor over the last 10 games compared to 105.4 beforehand. What once looked like a tenuous offensive fit between two players who stepped on each other's toes now looks downright symbiotic.
Aldridge's refashioned approach has coincided with an overall change in offense from the Spurs, who've begun to modernize their shot profile. These last 10 games have seen the team attempt 35.6% of its shots from 3-point range, which ranks 18th in the league. Before that, San Antonio ranked dead last at 29%. The Spurs have produced a modest 6-4 record during this stretch, but that undersells how impressive they've been, as the run includes road wins over the Bucks, Celtics, and Raptors (three of the top four teams in the Eastern Conference by record), a 118.8 offensive rating, and a 7.0 net rating.
Who knows if this shift will add up to anything meaningful in the big picture. The Spurs' defense still has major holes that will be difficult to patch. The team is still four games under .500, jockeying with a handful of mediocre opponents for an uninspiring playoff berth that will almost certainly be met with a quick first-round elimination. But, if he can keep up even a shadow of his current 3-point efficiency on similar volume, it could very well change Aldridge's future with the team, and in the NBA.
Meanwhile, with the Spurs now in a virtual tie with a green Grizzlies team for eighth in the West, it suddenly looks very possible (maybe even probable) that they'll run their postseason appearance streak to 24 years. If they do, the dramatic change in Aldridge's approach will be the hinge on which their season swung.